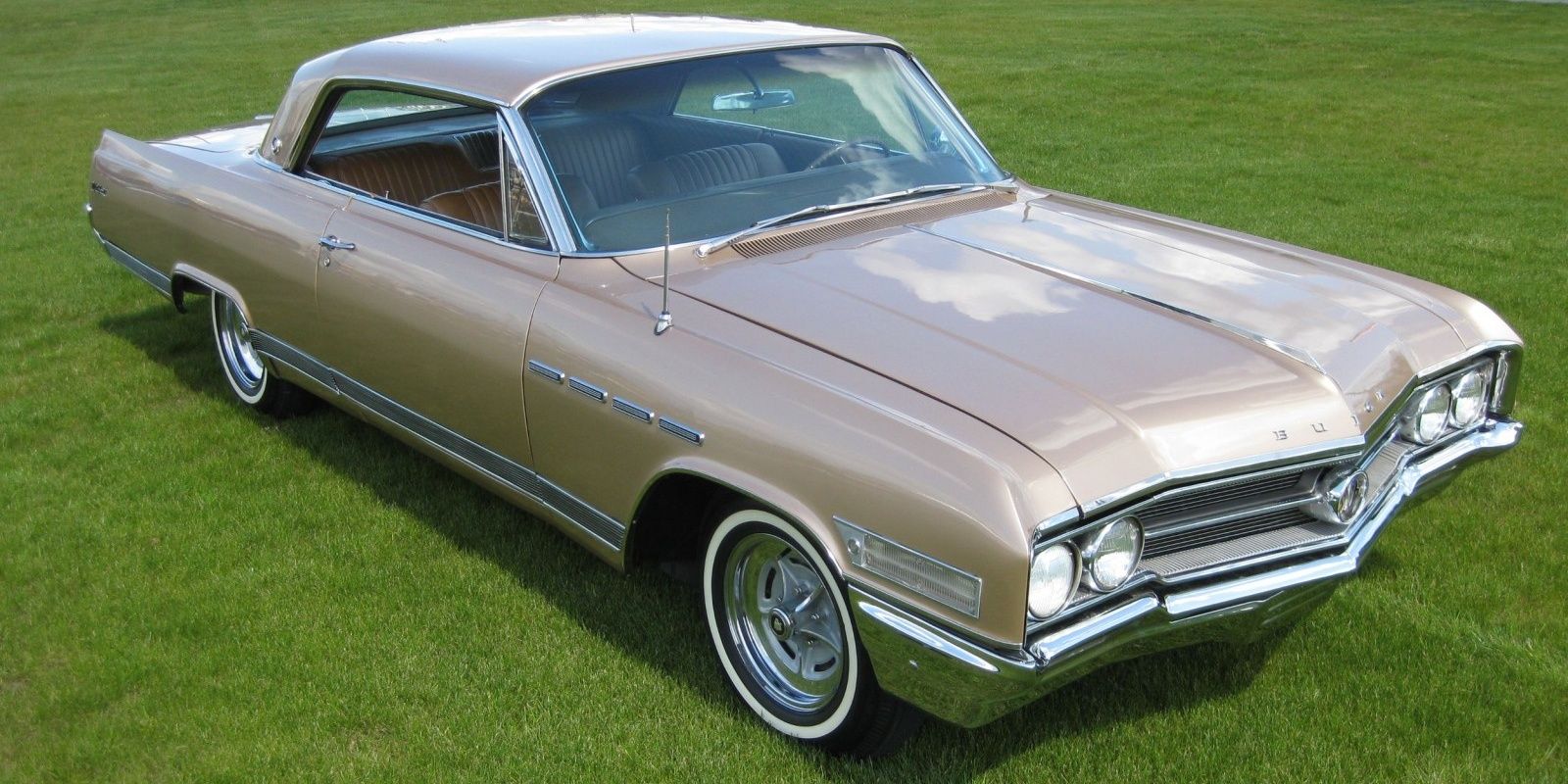 These Are The 10 Most Underrated Cars Of The 1960s
The auto industry underwent a quantum leap in the 1960s. It was an era where car design advanced significantly and offered better performance. Even today's cars still bear the design legacy of this decade. It was also the time that witnessed an upsurge in car ownership thanks to an uptick in optimism and rising wages.
Related: 10 Underrated And Forgotten American Performance Cars
The '60s gave us some of the most enduring classics of all time such as the Shelby Cobra, Porsche 911, Lamborghini Miura, Jaguar E-type, Chevy Corvette Sting Ray, Pontiac GTO, and Ford Mustang. However, there were a lot of legendary models from this period that remained underappreciated and overlooked. Few of these underrated gems are now even considered masterpieces of the sixties. Let's explore ten of the most underrated classic cars from the 1960s.
10

1967 Sunbeam Tiger
The Shelby Cobra is Carroll Shelby's most renowned creation. However, only a few gearheads are aware of his other masterpiece, the Sunbeam Tiger. Built from 1964 to 1967, the Tiger was a high-performance V8 variant of a Sunbeam Alpine roadster. Developed in two versions, the Mark I and Mark II, this sports roadster featured contemporary styling for the period. Its fate may have been different if Shelby had been able to reserve the rights to this two-door sports car.
Under the hood, the Mark I and Mark II had 4.3-liter and 4.7-liter Ford engines, producing 166 hp and 200 hp, respectively. Dealers also offered a variety of customizations to boost the horsepower to 245 for an extra $250. Despite being a handsome and potent sports car, it was largely overlooked and mocked as "the poor man's Cobra."
9

1969 Ford Torino GT
Ford has built some of the most classic muscle cars of the '60s that graced the streets, like the 1965 Shelby GT350 and 1969 Boss 429. But for the 1969 Torino GT, things turned out differently. This two-door fastback remained underrated despite being able to outperform numerous other top Mopar cars of its time.
Related: 10 Classic Fords That Should Be On Every Gearhead's Wishlist
In addition to its exhilarating performance, the Torino GT was also among Ford's most menacing and intimidating models. It also had outstanding handling. Plus, it was a visual feast thanks to its divider bars, fiberglass hood scoop featuring a turn signal indicator, and the distinctive GT badge on the left corner.
8

1967-69 Ferrari Dino 206 GT
The Dino 206 GT deserves more respect from racing enthusiasts and Ferrari fans. Introduced to make the Ferrari more approachable, the marque failed to attract a wider populace. Many folks didn't believe it was a true Ferrari.
Even though it boasted ground-breaking styling, outstanding handling, and superior maneuverability, this Italian sports car was largely ignored. Furthermore, its mid-engine layout represented a significant advancement in sports car design. It sported a 2.0-liter Dino V6 engine that developed 180 horsepower and could clock a top speed of 146 mph.
7

1964 Buick Wildcat Sport Coupe 425 (Power Pack)
Buick had all the necessary elements with the 1964 Wildcat Sport Coupe 425 to make it a fantastic muscle car. This large-sized American muscle car was one of the most attractive and potent muscle cars at the time.
The Wildcat Sport Coupe 425 with power pack was an absolute performance beast. It featured a 425 cubic-inch Buick V8 engine that churned out a solid 360 horses. It could rocket to 60 mph in just 6.8 seconds and run a quarter-mile in 15.4 seconds. Even some of the renowned sports cars of that era struggled to match. Sadly, despite its many virtues and fast pace, it failed to pique people's interest.
6

1962 Iso Rivolta IR 300
Even though the Iso Rivolta IR 300 may not be one of the sixties' best-known cars, it deserves praise. When it first appeared in 1962, it was a very impressive grand tourer for a brand that had formerly only created motor scooters. It was distinctive from other GTs at that point thanks to its GM-sourced V8 engine.
Related: 10 Things Everyone Forgot About Iso And Its Cars
Additionally, Giotto Bizzarrini, a former Ferrari engineer, devised its peculiar bodywork, which further distinguishes it. A 5.4-liter V8 engine making 295 horsepower is placed under the hood. The engine was originally developed for the Chevy Corvette. Moreover, it offered terrific driving comfort in addition to a well-crafted cabin featuring leather seats. The Rivolta IR 300 was unfortunately forgotten and overshadowed since it wasn't as well-liked as the Ferraris at the time.
5

1966 Oldsmobile Toronado
There's no doubt that the Oldsmobile Toronado best exemplifies General Motor's styling prowess in the mid-60s. It was the marque's first front-wheel-drive vehicle. Debuting in 1966, the Olds Toronado was one of the most audacious and glamorous coupes. Still, it only received little attention.
This luxurious two-door fastback boasted a massive 7-liter Rocket V8 engine that generated an incredible 385 horsepower. Plus, it was inimitable thanks to its aesthetic styling, which featured a horizontal grille, large wheel arches, and hidden headlamps. In a nutshell, it was a great combination of power, grace, and creativity but was mostly ignored by car buyers and collectors.
4

1961 Chevrolet Impala SS 409
The Chevy Impala SS is one of the most recognizable nameplates in the history of American cars. It was the first Chevy to receive a Super-Sports (SS) badge. However, it might surprise many to learn about the 1961 Impala SS 409, which remained unnoticed and forgotten.
It was truly a performance behemoth with three available carburetor setups. The standard four-barrel engines made 360 ponies, whereas triple two-barrels produced 380 ponies. But it was the dual quads that churned out a whopping 409 hp. Despite having the brand's performance package, the SS 409 struggled to entice buyers. Only 140 of the Impala SS 409 were ever sold.
3

1966-68 Chevrolet Biscayne 427
The fourth-gen Biscayne 427 is another model from Chevy that, although being a classic performance car, stayed underrated. It was a racing monster thanks to its lightweight and Big-Block engine.
Related: 10 Classic Chevrolets That Should Be On Every Gearhead's Wishlist
A monstrous 427 cubic-inch V8 engine with a staggering 425 horses powered the sedan. This ferocious machine was capable of beating rivals on the drag strip. It was so quick that the racing fans and auto aficionados nicknamed it "The Bisquick." Furthermore, it also had excellent drivability and a sleek dashboard.
2

1965-67 Pontiac 2+2
It's quite easy to forget that Pontiac once made stunning cars, and the 2+2 was one of their most gorgeous cars. Promoted as the bigger cousin of the iconic GTO, the 2+2 first appeared as a Catalina trim option. But the Catalina nameplate was dropped in 1965. It was instantly recognizable from other cars of the time thanks to its dual circular headlamps on the side of the grille. Plus, it featured a comfy interior with individual bucket seats.
This flamboyantly styled coupe was also a formidable car of the mid-sixties. The top of the range had a 7-liter V8 engine that bumped out a solid 376 ponies and 462 lb-ft of torque. Sadly, it was short-lived and never received the attention it deserved despite being adored by car buffs and motor critics.
1

1964 Mercury Marauder 427
To be honest, the first-generation Mercury Marauder 427 holds a special place in the hearts of some muscle car fanatics and auto collectors. There aren't enough folks, however, which is unfortunate. It was one of those American cars that buyers simply ignored.
It was Ford's attempt to compete with the Olds 88 and Chevy Biscayne under the Mercury division. The two-door hardtop sported a NASCAR-spec, 8-barrel, 427 cubic-inch V8 engine that pumped out a mind-blowing 425 hp. It was also fun to drive. With only 42 copies sold, it's a shame that a car of such stature was treated so poorly and neglected.