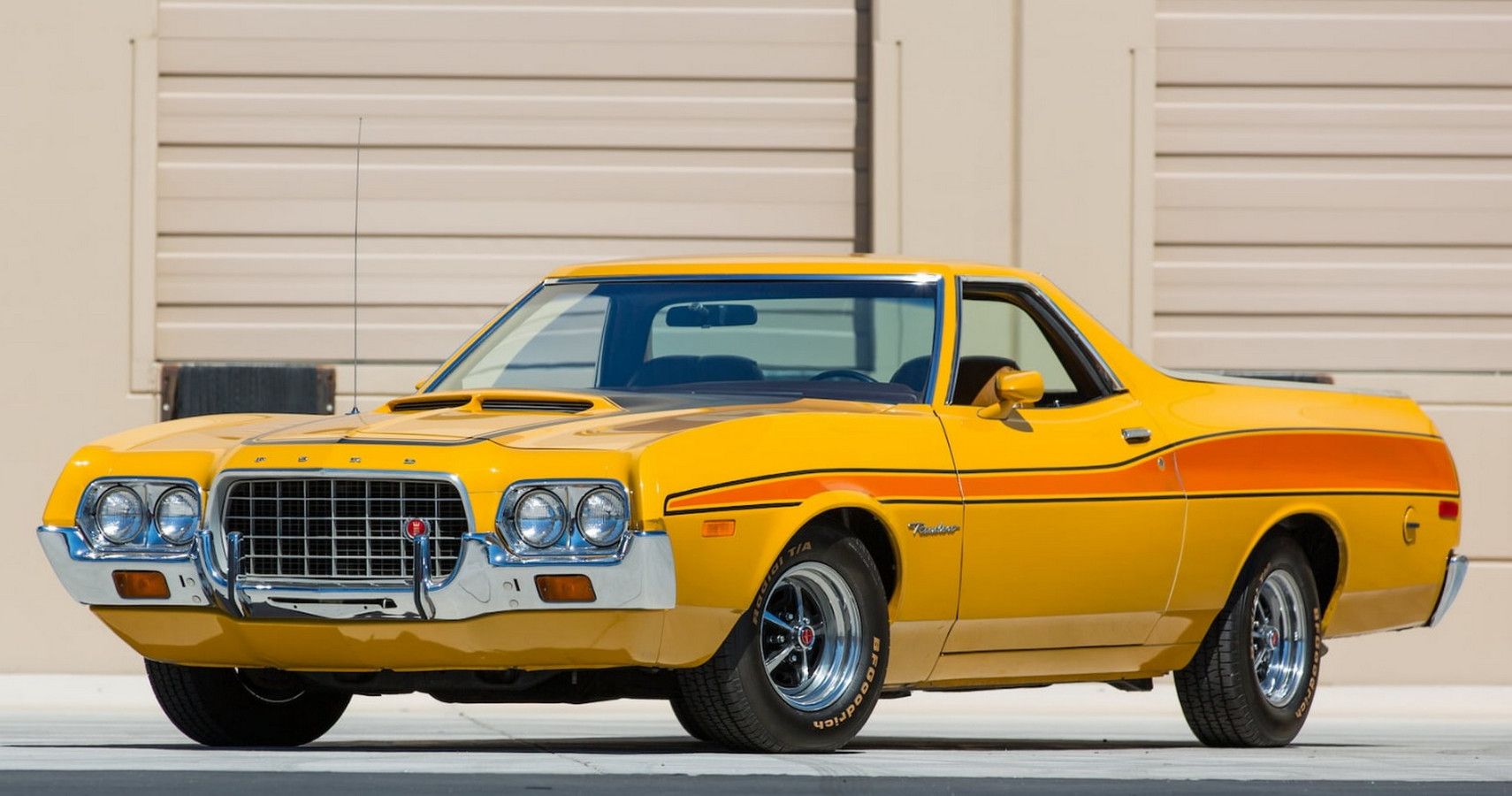 10 Classic Muscle Cars That Will Bankrupt You With Maintenance Bills And Repairs
And yet few gearheads will walk away from a muscle car. Even the bad ones are collectible. Sought-after emotion-tugging pieces of machinery that come accompanied by big bills. Where the muscle car originated is debatable. Some sources claim General Motors kicked off proceedings with their 1949 Oldsmobile 88. For other gearheads, the genre got serious with the Pontiac GTO. Either way muscle cars have been popular ever since.
Between greatness and failure is a slew of muscle car motoring mayhem that aren't sound used buys. Naturally, age plays a part in running costs. Parts are hard to find, as are the required skills to keep these motors on the road. The bad news is, no classic muscle car is perfect. Aside from picking the worst ones, raiding your savings will become unavoidable.
10/10

Jensen Interceptor III Convertible
Kicking off with an unlikely choice. The Jensen Interceptor despite its British origins is American muscle at its best. Underneath a Carrozzeria body lays the beating heart of a MOPAR-tuned V8 ranging from 5.9-7.2 liters. In six-pack form cranking out up to 390 ponies.
For the most part, Interceptors wore a two-door coupe body, with In only built 267 convertibles. Taking into account rarity makes maintaining an Interceptor financially challenging. Add into the mix a rust-prone chassis made worse by chopping the roof off.
9/10

De Tomaso Longchamp
Of a similar concept to the Interceptor, the Longchamp was another US V8-engined exotic. Designed by Tom Tjaarda of Ghia the Longchamp was a svelte two-door coupe with a big heart. Under the hood of this classic Italian, you'll find a 5.8-liter version of Ford's Cleveland V8 putting down 330 hp.
The problem with this one comes down to build quality. While Ford's V8 was dependable and would go on forever, the rest of the car just wouldn't. Fewer than 500 Longchamps found homes, making parts and repairs an expensive headache.
RELATED: Here's What Only True Gearheads About The De Tomaso Longchamp
8/10

Dodge Viper RT/10 Roadster
It doesn't seem all that long ago that we waved goodbye to the Viper when Chrysler pulled the plug in 2017. Yet, the original dates back to 1991 qualifying for classic car status. Unlike the majority of muscle cars powered by V8s, the Viper went a few cylinders further with an 8-liter V10.
Without question, the V10 is near bombproof needing little more than plus and an oil change. Yet it's also the biggest cause of maintenance bills. Not through mechanical wear and tear, but from overzealous owners. Devoid of safety aids, mashing the throttle too hard is going to end in a crash. It's here that repairs get pricey, bodywork, even in fiberglass is scarily expensive.
7/10

Chevrolet Camaro Z28
Camaro's deserve a place among any gearheads wishlist of classic muscle cars. In second-generation spec, Chevy rolled out dozens of engines from sixes to eights. Sitting somewhere in the middle is the 5.7-liter engined Z28.
The perfect muscle car? Not quite. As desirable as the Z28 is, the bits you cannot always see are the most worrisome. Notoriously prone to rust, suspension and engine mounts are a weak area to take note of.
6/10

Ford Thunderbird
Ford's revamped Thunderbird arrived in 1989 to a mixed reception. While the smoother 2-door coupe was a matter of taste, under the hood all was not well. In the Thunderbird's long history, the tenth gen was the only one not to ship with V8. Despite the Super Coupes blown V6, Ford relented in 1990 offering a 4.9-liter V8.
Whichever engine option you crave you're in for a list of reliability issues. Among these are, blown gaskets, coolant leaks, and wiring gremlins that blighted the Thunderbird.
RELATED: Here's What We Love About the 1989 Ford Thunderbird
5/10

Pontiac Firebird Trans-Am
The Pontiac Firebird was a muscle car facing a two-fronted crisis in the late '70s in need of a fix. For 1982 that mean a new shared F-body design with a veiled emphasis on efficiency. While V8s remained a big plus point, cost and weight savings were abundant elsewhere.
Despite a great design, the Firebird's body hid a few nasty surprises. Thinner and cheaper bodywork was prone to denting and scratching. Worse still, the budget build continued through the Firebirds suspension and steering. It may be cheap to buy these days, but you'll invest more time and money later in repairs.
4/10

Dodge Aspen RT Super Coupe
Sporting various carmakers' names. The Aspen RT Super Coupe is a little-known '70s muscle car. Filling a niche that was already filled by the Volare, the Aspen RT Super Coupe sold just over 500 cars. Depending on which state you lived in, Dodge offered two V8 engine options with up to 170 hp on tap.
Side-stepping the eras' performance woes, the Aspen's biggest problem was poor build quality. Given the low production numbers, you might think Dodge fine-tuned the assembly process. Wrong! Instead, production cars left the factory with no corrosion protection. The Super Coupe became a ticking time bomb of rust worries.
3/10

Ford Ranchero GT
Muscle car manners in a pick-up truck, the Ranchero GT is one of those rare rides every gearhead should drive. Sadly for Ford, sales of its hottest model were never a huge success. Its rarity makes owning one a potential money pit should things go wrong.
While the 7.0-liter Cleveland V8 was dependable kicking out 375 hp, anything bolted to it was less so. Leaky hydraulics, defective air-con, and other less critical kit are common Ranchero issues. Fault fixing is more of a tiresome chore of tracking down spares and parts. Yet finding a mechanic with the know-how to put things right is even harder.
2/10

Dodge Charger RT
Enjoying a cult status thanks to big and small screen fame the Dodge Charger RT is highly sought after. Yet bargains are to be had at auction with prices dipping as low as $45,000. At these prices, it's a tempting proposition that few gearheads will be able to resist.
Nowhere else does the saying cheap for a reason come into play. At the top end, mint examples fetch upwards of $150,000. This makes any bargain motor a worrisome temptation. Rust is an ever-present worry with badly corroded rear quarters, trunks, and roofs hard to replace.
1/10

Buick GNX
The Buick GNX is the only muscle car here not to use a V8 engine. Instead, Buick chose a 3.8-liter turbocharged V6 cranking out between 245-300 hp. While Buick claimed one figure, gearheads proved otherwise on a dyno rig.
Whatever the real number the GNX is a proper muscle car. In a drag race on boost, junior supercar owners faced a shock as the GNX took off like a scalded cat. But, it falls a long way short of perfect. Mechanical faults include oil leaks, frail turbos, and gasket failure.
Sources: De Tomaso Automobili, Dodge RT Club, Hemmings, Bring A Trailer