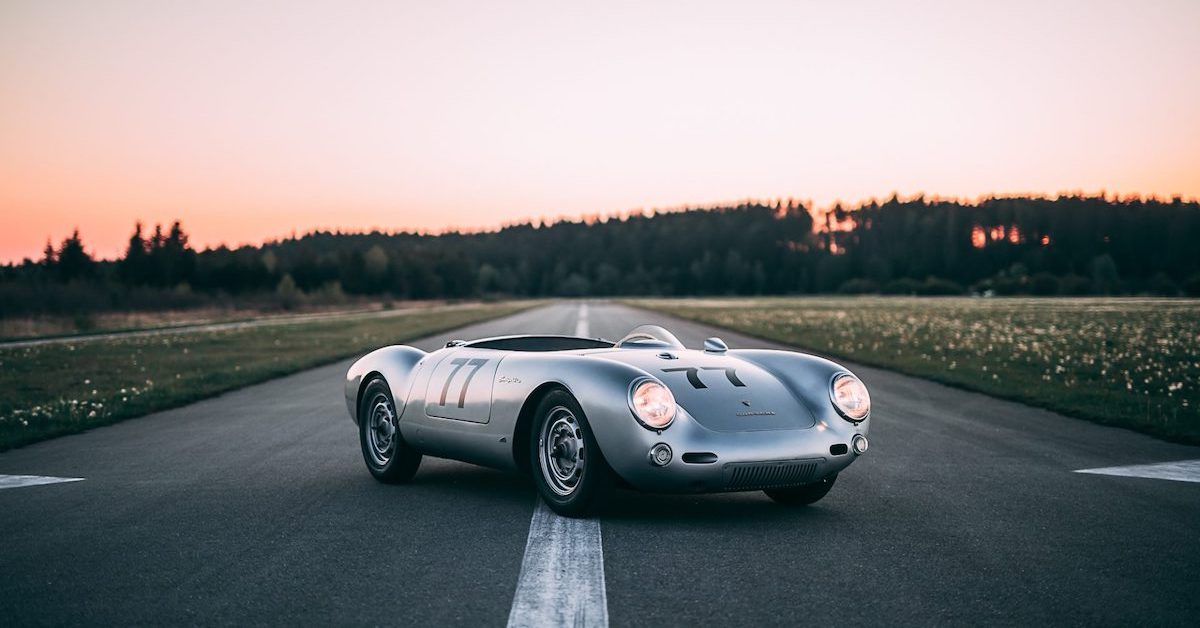 Why We Love The Porsche 550
Also known as 550 Spyder, Porsche 550's most distinct feature is its low-slung, all-aluminum aerodynamic build. The compact roadster is a de-facto silhouette car, which means the 550 is a racer garbed as a production model.
Porsche introduced the 550 Spyder at the 1953 Paris Auto Show. The car would go on to be produced through 1956. Its low-slung profile and small front windshield advanced its raison d'être. Neither the most iconic nor the best Porsche ever made, the Porsche 550 occupies a special place in the history of the German marquee. It is the company's first-ever racing car.
Careful to achieve strength and lightweight while cradling a small-displacement engine, the Porsche factory adopted a unique platform for the 550 comprising a ladder chassis, tubular frame, and sheet steel internal structure. Although the 550's tubular frame was revised a handful of times by three different construction companies, the platform would be replicated in future sports cars for a long time in the future.
Porsche built 90 units of the 550 in three years, but the low production volume did not prevent the nameplate from dominating the 1.1- and 1.5L racetrack. 550 Spyders made Porsche proud, both at Le Mans and the legendary Nürburgring.
Related: 10 Fastest Hot-Hatches Around The Nürburgring
The Porsche 550: Why Would We Want One?
The more apt question is; why wouldn't we want one? Owning a Porsche 550 today is like owning a piece of not just the marque's but car racing history. No wonder the car costs an arm and a foot on the market today– we'll get to that soon.
Owning one today, in our opinion, is even better than buying one fresh in the '50s. Why, what are the odds that you'd have in your garage a 550 RS Spyder that had competed in Europe or the Americas? Considering that less than a hundred 550s were built, the odds are pretty good.
Both professionals and amateur racers piloted the Spyder in small and big circuits. We're talking about a purpose-built racecar that pioneered Porsche's foray into the racing world. You have to have an eye for inner beauty to appreciate the Porsche 550. We don't want a 550 because it is pulchritudinous.
It comes with a basic exterior aesthetic reprised in the interior. The interior looks like Ferdinand couldn't wait to wheel the darn thing out of the factory. The Spyder took minimalism to a new level by sporting a Spartan interior and a cockpit with little more than a 3-spoke steering wheel, a 3-instrument dashboard, and some flip switches.
The monastic design didn't raise eyebrows, since that was typical of racecars in that era.
We want one because of the emotional connection to an oldie with a bespoke engine. Weighing just 1,300 lbs., Porsche 550 was nimble but couldn't optimize its ultra-lightweight quality using the Type 528 4-cylinder petrol engine with 70 horsepower. So, Ferry had the renowned engineer, Ernst Fuhrman, develop the Type 547 engine for Porsche 550.
It was a 1.5L V4 with twin overhead cam, air-cooled, including dual ignition, roller bearing camshaft, aluminum pistons, aluminum crankcase, and aluminum cylinder heads with one intake and one exhaust valve per cylinder. Tied to a 4-speed synchronized transmission that delivers power to the rear wheels, the motor could belch out 110 horsepower at 6,200 rpm and 89 lb-ft of torque at 5,200 rpm. This time, the car could achieve a 140 mph top speed.
Yes, we're thrilled by the balance offered by meshing the Type 547 engine power and the Type 550's aerodynamic frame.
Related: Here's What We Love About The 1956 Porsche 550 RS Spyder
How Rare Is The Porsche 550?
Indeed, the odds of snagging a Porsche 550 with a lived history of competitive sports are good, but one might also get a virgin Porsche 550 that has never been raced. A virgin like that, an unrestored, unbesmirched Porsche 550 Spyder, sold for $6.1 million at Bonhams' Goodwood Revival sale in 2016. It was a record sale at the time, but the point is collectors are willing to pay bucket loads of money for this old car because it is a priced piece of rare machinery with significant history.
Yes, Porsche 550 is rare enough that a buyer would cough up millions of dollars without blinking. It's not every Tuesday you see a Spyder for sale. About two years after the Goodwood Revival record Spyder sale, a Porsche 550- 0082 edition sold for more than $3 million. It didn't cost as much as the virgin, but its old-hand status also meant it could easily have been a warhorse with plenty of titillating war stories.
Mother of all lucks, you might actually end up with James Dean's fateful Little Bastard. After all, preserving history is a major driving force for collectors, even more than the thrill of the hunt and the pride of exquisite machines stashed in a private garage. If you're reading this, your hunt for the Spyder could be over if you quickly shove over to RM-Sotheby's. They've got a US-registered Porsche 550 (0054 edition) waiting for a buyer with a $4.2 million portfolio.
If that price tag sounds intimidating to you, there is no shame in going for a replica Porsche 550. In fact, a handful of companies has been offering reproduced 550s for more than two decades now, and you don't have to sweat as much to get one. The price depends on several factors, particularly the guts and build quality.
As with most luxury items, all Porsche 550 replicas aren't equal. You could get a fiberglass replica for around $20,000 to $50,000, while an aluminum body replica can nudge the $500,000 ceiling. Oh, you can also take the darn thing for a virtual spin in the Need for Speed: Porsche Unleashed racing game.
Most Gearheads Never Knew These Rare Porsches Existed
Read Next
About The Author