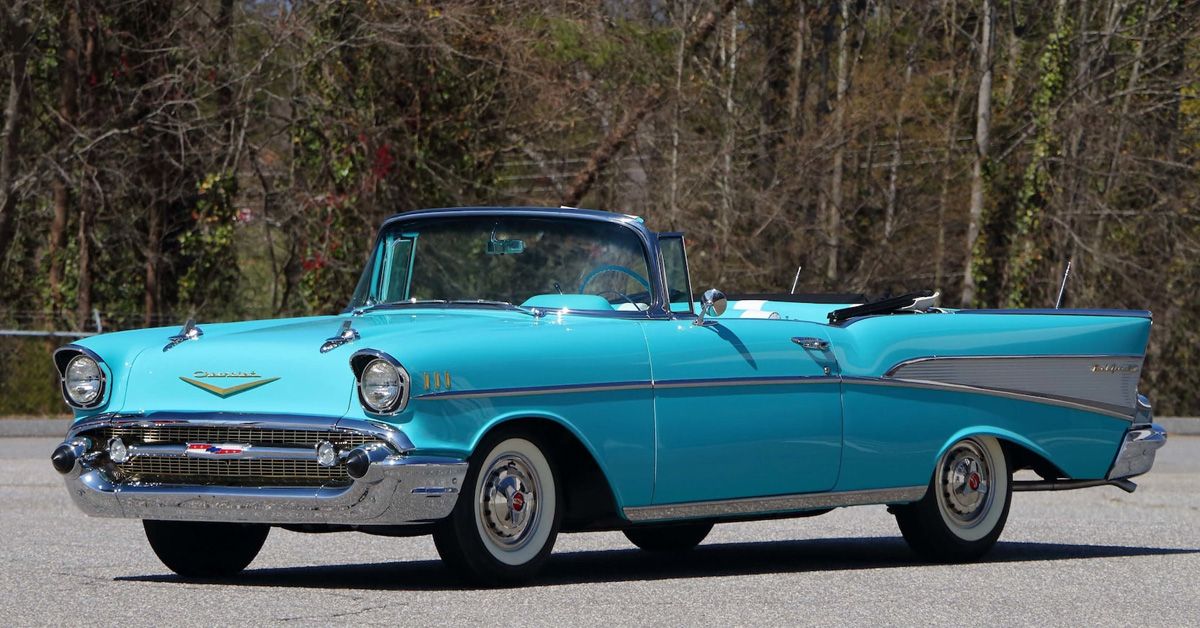 Why The 1957 Chevrolet Bel Air Has Remained A Timeless Classic Car
Long touted as one of America's favorite cars and affectionately called Chevy Bel Air, the 1957 Chevrolet Bel Air is an American icon that most of us associate with the careless, cool days when Elvis Presley was the King and Rock 'n' Roll reigned supreme. Given the success of the Chevy, it is hardly surprising that the King of Rock 'n' Roll himself has showed up in this royal car during the 1957 annual Christmas parade in Austin. More recently, in a segment of "Comedians in Cars Getting Coffee," Jerry Seinfeld tried to impress his guest Steve Harvey by showing up in a 1957 Chevy Bel Air convertible. Foreseeably, even entertainment kings love this beautiful car.
Time and time again, Hollywood expressed its love for this timeless automobile. As such, most fans know that the 1957 Chevrolet Bel Air showed up in several Box-Office successes and sitcoms. From appearing in the "Gone in Sixty Seconds," "Dr. No" and "Sin City" to showing up in episode 57 of "Mike & Molly," where a conflicted Mike is persuaded to buy Vince's 1957 Chevy Bel Air, this emblematic vehicle is everywhere.
Baby Boomers consider the 1957 Chevy Bel Air "iconic" and so do we, but in case you don't believe us, here are the reasons why this car is timeless.
Related: Barrett-Jackson Preview: 1957 Chevy Bel Air With C5 Corvette Engine
The 1957 Chevrolet Bel Air: Shaping The Zeitgeist And Creating The All-American Legend
Many see this mythical car as "an icon of its age…right alongside Elvis, Marilyn Monroe and Leave it to Beaver," remaining "among the most recognizable American cars of all time," according to Raleigh Classic Car Auctions.
Generally speaking, it didn't hurt that the 1957 Bel Air was released in an age of economic prosperity and technological advances, when average wages and consumerism were growing at an unprecedented speed.
As more blue-collar workers were entering the urban middle-class, they were overcoming "the traditional American uneasiness with consumption" and spending their disposable income on houses, cars and televisions. As such, Chevrolet (General Motors) understood how to leverage the zeitgeist and bring to the public the right product in the right place at the right time. The 1957 Chevy Bel Air was an affordable and yet beautiful-looking car that was perfectly adapted for the rising middle-class.
Today, most consumers associate the car with that unique time in American history; thus, although the model is far from rare, it still holds its value because of nostalgia.
The 1957 Chevrolet Bel Air Features A Roaring Engine
The 1957 Chevy Bel Air automobiles were equipped with a 283 cubic inch V-8 engine that could deliver between 185 and 283 horsepower, depending on specs. Some engines featured a special fuel injection system which boosted horsepower to 283, while others used a four-barrel carburetor. Meanwhile, the 1957 Chevrolet Bel Air accelerated from 0 to 60 miles per hour in 7.7 seconds and had a top speed of 128 miles per hour.
Related: Hemmings Find: 1957 Chevrolet Corvette Racecar
The 1957 Chevrolet Bel Air: More Options To Express The Driver's Individuality
While most Americans remember the legendary Chevy as a two-door sedan, few recall the car was offered in several body styles and trims: the base model 150, the mid-range 210, and the top-tier Bel Air. Naturally, this encouraged personalization and promoted individuality.
Moreover, customers could select between the convertible, which allowed for more flexibility and was an excellent option for snowbirds and retiree tourists, the two-door Sport Coupe that seemed designed for rebel souls like Elvis Presley, two- and four-door sedans, and the four-door wagon and nomad station wagon that came with plenty of legroom and additional cargo space.
In general, offering an automobile in different body styles and trims is a good idea. This way, carmakers can conquer different customer segments, demographics, and diverging markets. Not for nothing, snowbirds in Florida have other needs than professionals in Washington D.C. or young families in Connecticut.
Nearly all Americans consider the 1957 Chevrolet Bel Air, the most beautiful and endearing of all Chevy options. It is worth noting, the popularity of the model soared even because of the elaborate design elements, unique features and on-board technologies like a signal seeking radio. Usually, these features were reserved for highly expensive luxury cars.
How Much Is A 1957 Chevrolet Bel Air Worth Today?
Those who hope for a 50s revival or just love this legendary Chevy model can buy one for a reasonable price. According to Hagerty Agent, the 1957 Chevrolet Bel Air has an average value of $52,600. Naturally, the condition of the car, body style, optional equipment and engine type influence the final price.
For instance, a concours-quality 1957 Chevy Bel Air is around $121,000. And if the automobile is in excellent condition, it costs $80,600, while if it is in good condition, it would cost around $52,600. Lastly, a Chevy that is in fair condition and requires significant refurbishing work would cost around $36,100.
This Is The Best Feature Of The 1957 Chevy Bel Air
Read Next
About The Author