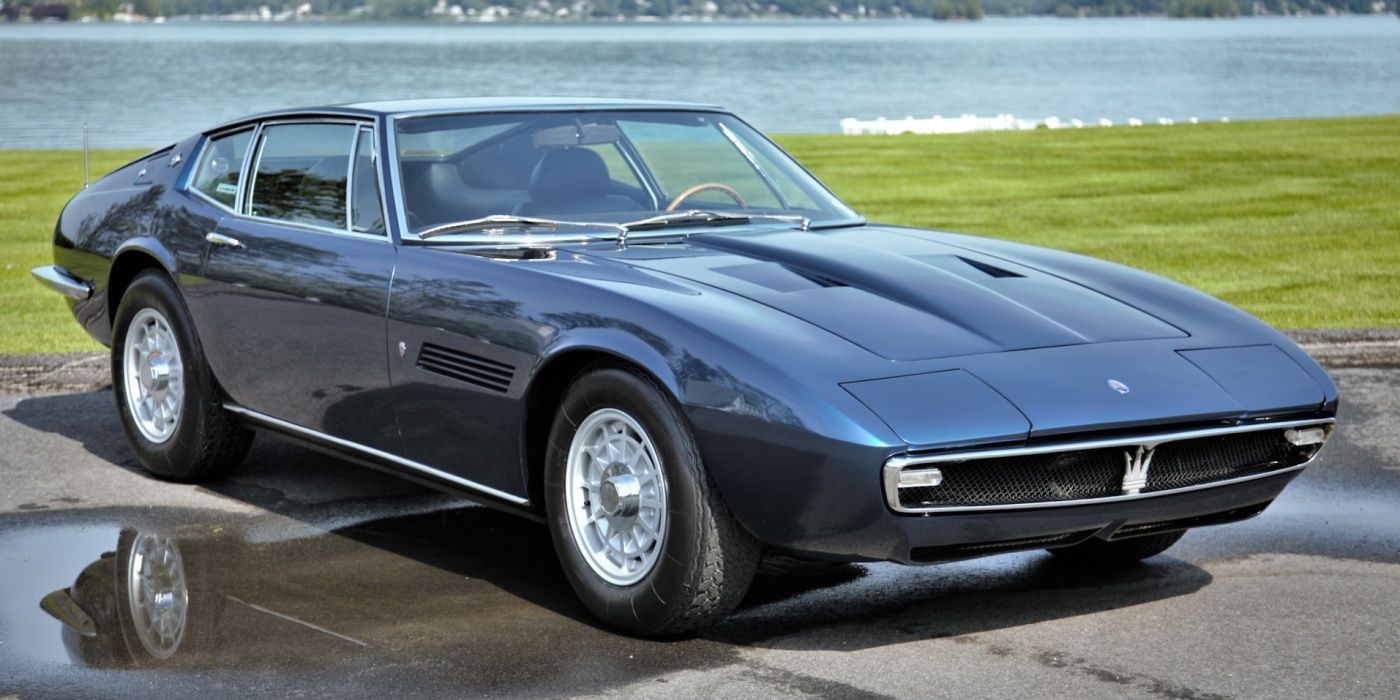 We'd Buy These Classic Coupes Over A Muscle Car Any Day
Although these classic coupes were not built purposefully for drag racing, they have just the proper credentials that make them more exciting than muscle cars. With their robust V8 power plants and intimidating presence, muscle cars play an essential role in the US car culture. While some of them are designed to catch the eyes, what they hide under the hood truly stands out.
Muscle cars offered the ordinary American gearhead breathtaking performance at budget prices. Some people measure a car's worth by how far it can get them from one point to another, while others look beyond raw speed. Most classic cars may not pack the same punch as muscle cars, but they turn more heads with their timeless charm and sheer cool factor. That said, we'd buy these classic coupes over a muscle car any day based on beauty, exclusivity, and desirability.
8

1973 Porsche 911 2.7 RS
When it comes to Porsche 911s, the 1973 Porsche 911 Carrera RS 2.7 might be one of the best Porsches ever made. Introduced in October 1972, power was supplied by a 2.7-liter flat-6 engine that pumped a peak output of 207 hp at 6300 rpm and 188 lb-ft of torque at 5100 rpm.
Coupled with a 5-speed manual transmission, it gave a 0-60 mph time of 5.5 seconds and a top speed of 152 mph. In addition to straight-line quickness and an intoxicating driving impression, the RS 2.7 is easy to drive at high speeds.
7

1969 Toyota 2000GT
The limited-production 2000GT, created by Toyota in collaboration with Yamaha with styling inspiration from the E-Type Jaguar, was unlike anything Toyota had ever built. Under the long hood, a 2-liter inline-6 engine sent 148 hp and 130 lb-ft of torque to the rear wheels through a 5-speed manual transmission.
Boasting a curb weight of about 2400 pounds and a near-perfect front to rear weight distribution, the 2000GT was agile and exciting to drive. Capable of hitting 135 mph top speed, it set several world records on a test track in 1966 and commands a reasonable price today.
RELATED: 10 Reliable Classic Coupes You Can Buy On A Budget
6

1967 Maserati Ghibli 4.7
Unveiled at the 1966 Turin Auto Show, the Maserati Ghibli 4.7 was pure elegance on four wheels with its low shark-shaped nose. Under the hood, it sported a quad-cam 4.7-liter V8 mill mated either to a 5-speed manual transmission or an optional 3-speed automatic transmission.
Output from this setup was 306 hp and 290 lb-ft of torque – enough for a 6.8-second sprint to 60 mph and a top speed of 155 mph. Add impeccable road manners to the mix, and you'll see why it outsold icons like the Ferrari Daytona and the Lamborghini Miura.
RELATED: These Stunning Classic Coupes From Italy Are Severely Underrated
5

1964 Aston Martin DB5
When launched in September 1963, the standard Aston Martin DB5 came with the engine that powered the Vantage version of the DB4. The 4-liter inline-6 unit churned out 282 hp and 288 lb-ft of torque to give the DB5 a top speed of 145 mph.
The fighter jet-styled interior was fully trimmed in leather featured reclining seats and power windows, while the chrome wire wheels boasted a central lug nut. Since it made its Bond movie debut in the 1964 Goldfinger, the hand-built DB5 has grown into an iconic model that we would pick over any muscle car any day.
4

1996 Dodge Viper GTS
Arriving in 1996, the Viper GTS coupe boasted more features and more power than the spartan RT/10 roadster that had been on sale since 1992. Equipped with air conditioning, power windows/door locks, airbags, and a 6-speaker CD player, one could be tempted to believe that the elemental Viper had gone soft.
That wasn't the case as the 8-liter V10 power plant now made 450 hp at 5200 rpm and 490 lb-ft of torque at 3700 rpm. Despite the additional equipment, the Viper GTS could hit 60 mph in 4.4 seconds and max out at 185 mph.
RELATED: 2013-2017 Dodge Viper GTS: Costs, Facts, And Figures
3

1968 Shelby GT350
Yes, this coupe also happens to be a muscle car…and one of the best ones ever, at that. For 1968, the Shelby GT350, marketed under the Cobra name, was produced in Michigan, with Ford Motor Company doing almost all the product planning. Top among several changes that the '68 model came with was the 4.9-liter V8 it sported under the hood.
Rated a disappointing 250 hp, it could be optioned with a Paxton supercharger that bumped power to a whopping 335 hp at 5200 rpm. With that on tap, the Shelby Cobra GT350 could sprint from zero to 60 mph in 5.9 seconds and max out at 142 mph.
2

1961 Jaguar E-Type
The E-Type, which took cues from the D-Type Le Mans winner, was built on a monocoque chassis and unveiled at the 1961 Geneva Motor Show. Apart from being one of the most beautiful cars, it was an aerodynamic wonder that delivered a smooth ride, thanks to all-round independent suspension.
Powered by a naturally aspirated 3.8-liter I-6 engine rated 265 hp and 260 lb-ft of torque, it was capable of hitting a top speed of 150 mph. Well-balanced, it handles well even at high speeds, while a low center of gravity ensures impressive corner carving.
RELATED: The Coolest Classic Jaguars That Aren't An E-Type
1

1967 Chevrolet Corvette Sting Ray
The 1967 Corvette was the last and the best of the C2 Corvettes, thanks to 5 years of continuous refinements. While most people were attracted by the ever-fresh breathtaking design, gearheads were explicitly drawn by what it had under the hood.
Several engine options drove the '67 Corvette, with the base 5.4-liter V8 making 300 hp while the next in line made 340 hp and 360 lb-ft of torque. Top of the pecking order was the L88 engine, a 7-liter big-block tri-power V8, rated 435 hp and sold with several mandatory options.
Here Are The Cheapest Classic Coupes You Can Buy In 2022
Read Next
About The Author