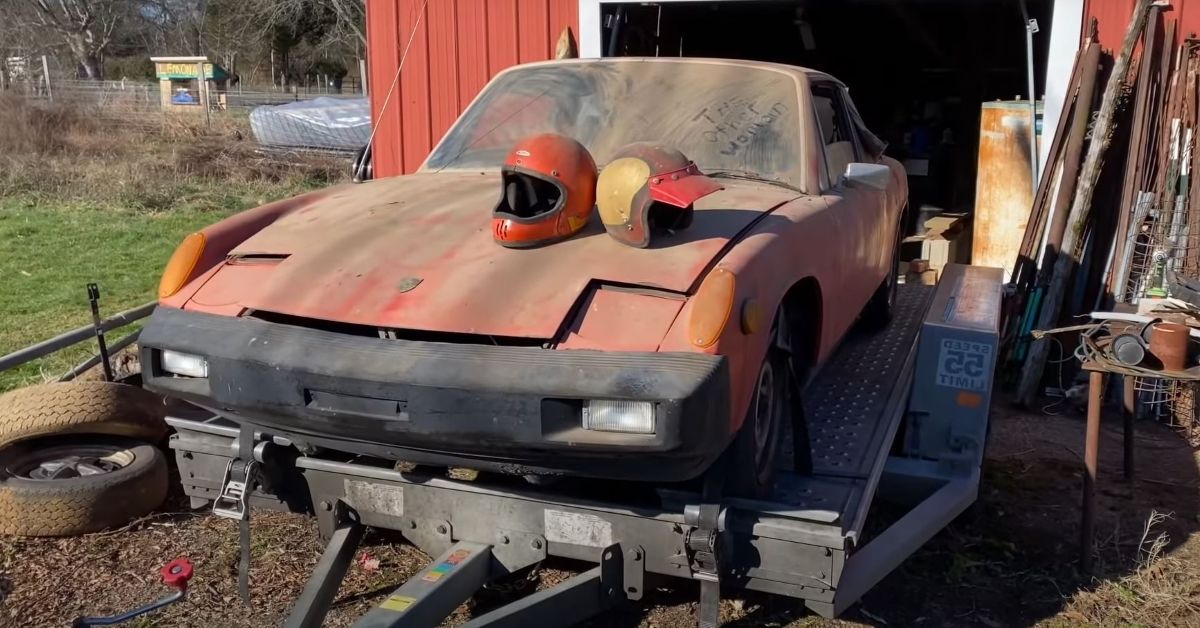 Watch Someone Rescue This Classic Porsche 914 From A Tennessee Barn
Nowadays, the brain of a human car enthusiast expects the absolute rarest possible automobile whenever one sees the words "barn find." Maybe it's the prominence of clickbait on the internet or the calculated choice of content creators to share only the most shocking and jaw-dropping barn finds they encounter.
But a barn find, by definition, can be any dusty, smelly old car sitting in a garage or barn. So, in defiance of the rare '70 Cuda convertible or big-block Shelby Cobra that you've seen a thousand times, we offer you a piece of German automotive history found ironically in the whiskey-soaked capitol of America: Tennessee.
The Porsche 914 is often set aside by classic car and even Porsche enthusiasts for its lack of collectability, horsepower, iconic design, or some other sorry excuse. But this YouTuber and project car gatherer who goes by the name CT thought the little orange sports car was worth it and recorded his purchase of the car.
Related: Here's How Much A Classic Porsche 914 Is Worth Today
Sitting For 20 Years And Finally Moved From Storage
This particular 914 is a 1976 model, the final year for the 914 lineage. The older gentleman in the video, who has great taste in sideburns as well as cars, was the owner of the car for 20 years before CT bought it in this YouTube video.
The gentleman said he had bought it two decades ago with the intent that his two teenage sons would find the interest and time to restore it. But, as most classic car enthusiasts know, project cars tend to sit for longer than intended.
The car sat in the garage awaiting a mechanic, but 20 years later, it remained on the same blocks. Assuming the 914 landed in the barn as soon as it came home and hasn't moved, it's safe to assume the man purchased the car somewhere roughly between 1999 and 2002.
A Quick Reminder About The Porsche 914
It's no secret that older German cars have been rising in price constantly. The 914 technically falls into that category and the really fresh ones are steadily creeping up on price. However, there is a certain disdain for the 914 that likely stems from its unique conception.
When the 914 went on sale, Porsche wasn't a mass-production automotive company like they are now. In fact, Porsche was largely an engineering consulting company for other manufacturers throughout the 20th century. They built tanks for the German military in 1942 (awkward), modified 500E bodies for Mercedes-Benz in the early 1990s and collaborated with Volkswagen to build the Porsche 914.
Now, the 914 project wasn't technically a consulting gig, but the point remains that Porsche was no stranger to being a third party or working with one either. In 1969, Volkswagen and Porsche came together to create a car that would replace VW's Karmann Ghia and give Porsche's lineup a freshly designed four-cylinder two-seater to back up the 911.
All of this craziness resulted in a design that, while honest, was a little wacky. Culprit? The groovy '60s of course! The 914 would eventually grow up and get a flat-six engine in 1970, dubbed the 914-6. Porsche also built two prototype 914 race cars with a 350 hp flat-eight engine, but neither ever saw a race and one of them sits in the Porsche museum right now.
In conclusion of this history lesson, the 914 has garnered nowhere near the collector acclaim that the 911 or other entry-level Porsches have.
Related: Here's Everything You Need To Know About The Porsche 914
The Orange 914 Needs A Lot Of Work
Porsches, and German cars in general, are notorious money-pits for restorers, so much so that a commenter on CT's video called him a "glutton for punishment." It was all in good fun, but the truth shines through the rusty holes in the floor.
The video shows almost every part of the car in all its faded burnt-orange glory and reveals just how much will need to happen to make the 914 road-worthy again. The license plate tabs shown in the video are from 1994, meaning that it likely hasn't seen public roads for almost 30 years.
The seats, dash and door panels, though coated in dust, aren't in all that bad of shape considering this car's situation. Though the underside of the car may be a different story as the floor pans, as well as the suspension components, are either rusty or rusted through.
Parts will likely be CT's toughest feat when it comes time to work on his new 914. On Pelican Parts, a well-known Porsche parts outlet, a new front and rear floor pan can cost upwards of $800 for the set. And that's just sheet metal. A new timing chain sprocket, a metal gear that weighs less than a pound, costs around $225.
But, regardless of price, seeing someone save an old car will always put a smile on an enthusiast's face. First, because they love cars, and second because they won't have to do it themselves.
A Look Back At 50 Years Of Porsche Design
This year Porsche Design celebrates 50 years as a premium lifestyle brand, famous for functional and durable products with a purist aesthetic
Read Next
About The Author