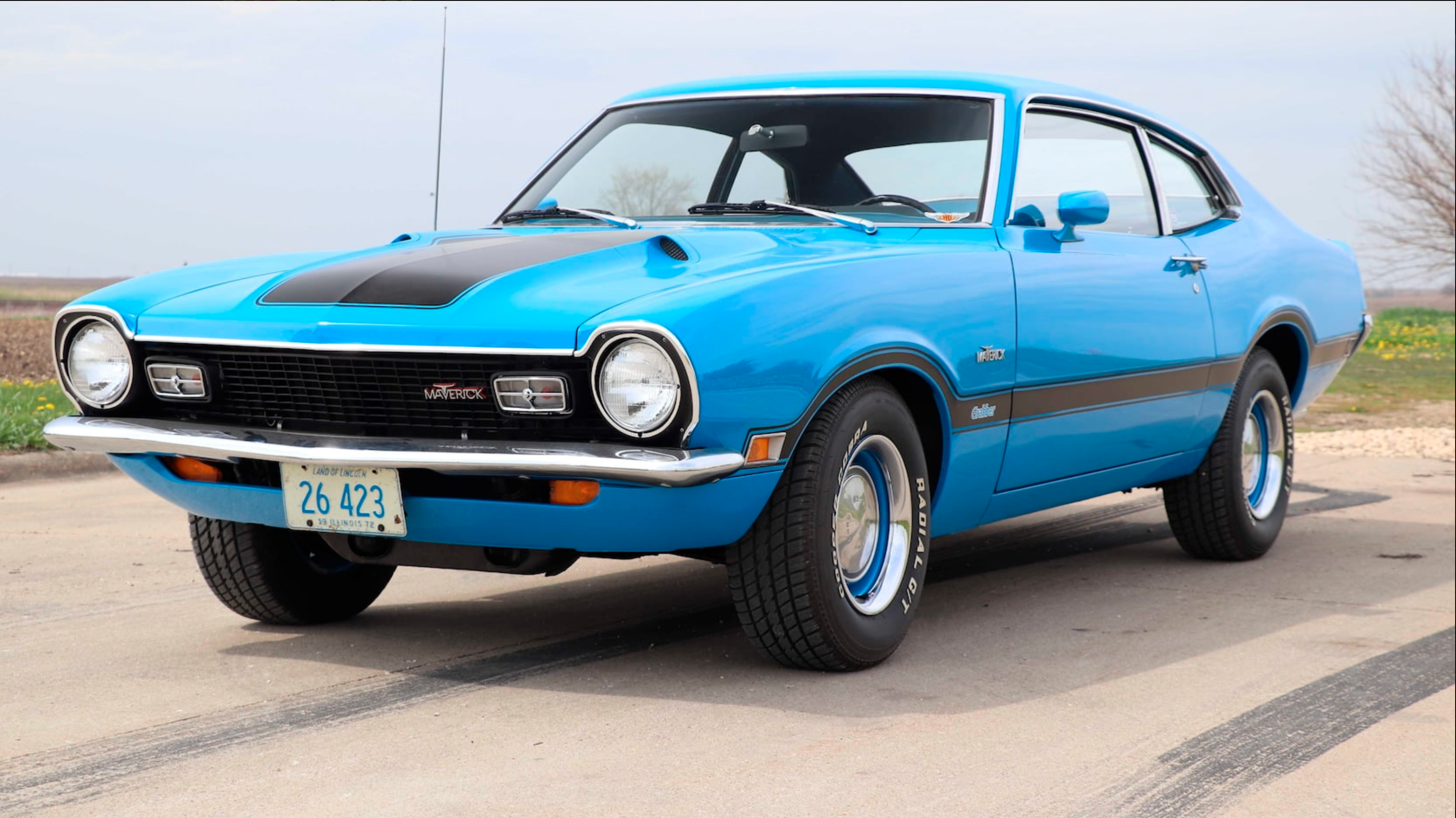 Top 10 Cheapest Muscle Cars
The game of collecting classics isn't for everyone, and it usually requires a lot of dedication and commitment on the owner's part, and taking on an old project car is an even bigger undertaking. Collector cars are more popular than ever now, thanks to their old-world charm and ability to retain or increase in value. But, this also means that some old muscle cars can cost well over six figures, which is why we have curated this list of 10 affordable muscle cars that can kick-start your classic car journey without breaking the bank.
Related: These Two Pristine Plymouth Cudas Could Be Worth More Than Some Classic Exotics
1990 Chevrolet Camaro IROC-Z
Front three-quarter view of the Chevrolet Camaro IROC-Z 
Muscle cars don't get much more American than a Camaro, but out of all the Camaros, some go unloved and underappreciated and that's exactly the case with the Camaro IROC-Z. Launched back in 1985 as part of the third-generation model, the IROC was named after the International Race of Champions and was offered as an option package to the Z28. This package was soon available as standard on the Z28 models in 1988, and in 1990, it was discontinued. The good-ol' fashioned 5.7-liter push-rod V-8 makes 245 horsepower and 345 pound-feet of torque which might not seem all that much by modern Camaro standards, but it was a performance bargain at the time. Luckily GM sold a ton of Camaros at the time and the IROC-Z was one of the most popular models, which is why if you go looking for one today, you can easily get your hands on one for under $10,000, but for that expect a high mileage car with some cuts and bruises. Well-maintained examples with less than 100K miles on the odometer are rare to come by, but if you do come across one, expect to pay at least $15,000 to $20,000.
| | |
| --- | --- |
| Engine: | 5.7-liter V-8 |
| Power: | 245 horsepower |
| Torque: | 345 pound-feet |
| 0-60 mph: | 6.1 seconds |
| Top speed: | 145 mph |
| Quarter mile: | 14.7 seconds |
1975 Dodge Dart Sport
Front three-quarters shot of a red 1975 Dodge Dart Sport 
The 70s was the era of excess and cars were at the forefront of this design revolution with cutting-edge shapes and massive engines defining the cars of the day. And amidst all the Impalas and Chargers of the day, there lived a humble and affordable family sedan called the Dodge Dart Sport. The Dart started life as a full-size automobile in 1960, but it was relegated to a compact in 1963 and remained small until it was discontinued in 1976. The fourth-generation model joined the muscle car wars with exciting engine options, but the Dart also fell victim to the 1973 oil crisis and subsequent models were all equipped with lackluster engines.
The Dart Sport 360 added a new lease of life to the lineup in 1974 and the most powerful version was powered by a 5.9-liter V-8 engine rated at 245 horsepower and was sold until the end of 1976 when Dodge decided to move it up a notch by turning it into an option for the Sport V8. Since the Sport 360 is among the rarest and most expensive Darts from the era, and as a result, they are somewhat sought after in the market with prices starting at around $20,000 in the used market. However, if you don't want the power and the exclusivity, and you just want to enjoy a good old-fashioned with the less powerful 5.2-liter V-8 and get away with spending around $6,000 to $9,000.
| | |
| --- | --- |
| Engine: | 5.2-liter V-8 |
| Power: | 145 horsepower |
| Torque: | 255 pound-feet |
| 0-60 mph: | 10.3 seconds |
| Top speed: | 112 mph |
| Quarter mile: | 19 seconds |
Related: The 12 Fastest Cars in the World Ranked
1993 Ford SVT Mustang Cobra
Front three-quarter shot of a 1993 Ford SVT Mustang Cobra
The Fox-body Mustang is a controversial thing and people across the world have polarizing opinions. That said the third-generation – commonly known as the fox-body – Ford Mustang, despite its looks, was a great car built on good fundamentals. The early 90s was the time when Ford formed a team of rag-tag engineers and with it, the Special Vehicles Team (SVT). So, in 1993, Ford introduced the world to the 1993 Mustang SVT Cobra which was the first model to flaunt the SVT badge. Introduced just as the third-generation Mustang was going out of production, the first SVT Cobra was sold for just a year. Although not as exclusive as the R model, the SVT Cobra is the sportiest and most powerful version of the Fox-body Mustang courtesy of its bespoke 230-horsepower V-8 engine which means it can hit 60 mph from a standing start in 5.9 seconds. With all that rich history associated with the SVT badge and some genuinely impressive performance, the Mustang SVT Cobra can cost significantly more than other used Mustangs with prices starting at around $20,000 while low-mileage, pristine examples can fetch well over $80,000.
| | |
| --- | --- |
| Engine: | 5.0-liter V-8 |
| Power: | 235 horsepower |
| Torque: | 280 pound-feet |
| 0-60 mph: | 5.9 seconds |
| Top speed: | 140 mph |
| Quarter mile: | 14.5 seconds |
1996 Chevrolet Camaro Z28 SS
Image of a Turquoise 1996 Chevrolet Camaro Z28 SS
Launched back in the 90s, the fourth-gen Chevrolet Camaro, fondly called the catfish Camaro, is yet another example of the punk era and bold designs making it to the mainstream. The Catfish Camaro was perhaps the largest departure at least from a design standpoint than all of its predecessors, and this was in a bid to tackle the low sales after the takeover of the declining sports car. Unfortunately for Chevy, modern America was more interested in fuel-efficient imports from Japanese automakers and that led to the demise of the Camaro in 2002.
The Catfish never managed to garner the same love and fan following as its predecessors, but that's good news for budget-conscious classic car shoppers. Nonetheless, the fourth-gen Camaro did get a few special editions that continue to be sought after in the used market and the 1996 Camaro Z28 SS is one of them. Essentially an upgrade over the Z28, it featured a V-8 engine rated at 305 horsepower, 30 horses more than the regular Z28. I know old muscle cars are cooler, but you can have a lot of fun with the Z28 SS too. You can buy one of these for as low as $8,000, although some versions will fetch close to $15,000.
| | |
| --- | --- |
| Engine: | 5.7-liter V-8 |
| Power: | 305 horsepower |
| Torque: | 335 pound-feet |
| 0-60 mph: | 5.5 seconds |
| Top speed: | 150 mph |
| Quarter mile: | 13.9 seconds |
Related: Top 10 Fastest Cars in GTA V
1975 Ford Maverick Grabber
Front and side profile of a blue 1972 Ford Maverick Grabber
The 70s witnessed some extremely capable and jaw-dropping muscle cars rolling off the assembly lines in Detroit, which included the likes of the Pontiac Firebird and Oldsmobile 442, among other greats. But, it was not all glorious cars for Detroit; they also had to make more work-a-day cars, and the Ford Maverick was intended to be one of them. The Maverick isn't a true-blue muscle car, but the Grabber package sure made it look like one. The stripes, the bulge on the hood, and the white wall tires all came together to transform the Maverick's silhouette into something more desirable. The six-cylinder engines that Ford was offering with this car were far from powerful, but the 5.0-liter V-8 that powered the 1975 Ford Maverick Grabber got 129 horsepower from the factory. Also, far from impressive, but you should keep in mind that the Maverick tipped the scales at less than 3,000 pounds. Prices for Maverick Grabbers usually start at around $9,000, but be prepared to pay up to $20,000 for a well-optioned and well-maintained example.
| | |
| --- | --- |
| Engine: | 5.0-liter V-8 |
| Power: | 129 horsepower |
| Torque: | 208 pound-feet |
| 0-60 mph: | 10.6 seconds |
| Top speed: | 106 mph |
| Quarter mile: | 18.2 seconds |
1971 Ford Torino GT
Front three-quarters shot of a blue 1971 Ford Torino GT 
The Ford Torino GT from 1971 which was also sold as a rebadged Mercury Cyclone GT was a stunning transformation story that took the regular Ford Torino which in itself is a cool classic, got a new lease of life. What started life as an upmarket Fairlane, was now dangerously close to threatening big-boy muscle cars, thanks to the bigger V-8 engines. The Torino is a stunning piece of design, especially the coupe which also happens to be the sought-after body style in the used market. Prices vary greatly depending on trim and engine, but you can find some for as low as $15,000. However, expect six-digit odometer readings and bad paint on such examples. If you are on the lookout for a pristine example with low miles then expect to shell out close to $75,000, but the Ford Torino GT is a surefire way to get started on the classic muscle car game.
| | |
| --- | --- |
| Engine: | 5.8-liter V-8 |
| Power: | 285 horsepower |
| Torque: | 370 pound-feet |
| 0-60 mph: | 7.4 seconds |
| Top speed: | 129 mph |
| Quarter mile: | 15.9 seconds |
Related: Top 10 Fastest Lamborghinis Of All Time
1970 Mercury Cyclone GT
Front and side profile shot of a Black 1970 Mercury Cyclone GT
Now after hearing all the good things we had to say about the Ford Torino GT, we have some more delightful news. If you want the Ford Torino GT in, dare I say, a classier flavor then the Mercury Cyclone GT from 1970 is the car for you. Underpinned by identical underpinnings, including the same range of V-8 engines. Since Mercury was the upmarket arm of the brand back in the day, which meant, it got more premium exterior and interior bits than its more affordable counterpart from Ford, and, of course, a beefier price tag. Consequently, Cyclone GTs from 1970 and 1971 are a bit harder to find than the Torino, so as a result, expect to pay around $18,000 for a running example. However, a pristine example will easily set you back upwards of $100,000. The highest sale price recorded for one of these was 115,500.
| | |
| --- | --- |
| Engine: | 5.8-liter V-8 |
| Power: | 300 horsepower |
| Torque: | 380 pound-feet |
| 0-60 mph: | 6.7 seconds |
| Top speed: | 130 mph |
| Quarter mile: | 15.5 seconds |
1968 Ford Mustang
Front three-quarters shot of a Black 1968 Ford Mustang
Call it a muscle car or a pony, the original Ford Mustang has a permanent seat in the muscle car hall of fame. It's a car best associated with Ford and Detroit's glory days alike. Let's talk about the 1968 Mustang, which brought along significant improvements over the original from 1964. 1967 saw the first revision to the Mustang lineup and the biggest upgrade was the introduction of the big-block V-8 engines which also included the 6.4-liter V-8 from the Ford Thunderbird and even the 7.0-liter V-8 called the Cobra Jet with 335 horsepower. The Mustang range is vast, and even the 1968 Mustang is available with a host of engines and body styles and some are, of course, more desirable than others. Prices for the more sought-after fastback models start at $12,500 to $17,000, while low-mileage examples especially manual-equipped low mileage examples can fetch upwards of $80,000.
| | |
| --- | --- |
| Engine: | 4.9-liter V-8 |
| Power: | 230 horsepower |
| Torque: | 310 pound-feet |
| 0-60 mph: | 6.9 seconds |
| Top speed: | 120 mph |
| Quarter mile: | 15.7 seconds |
Related: Top 10 Fastest Used Cars Under $20,000
1979 Pontiac Firebird / Trans Am
Shot of a blue 1979 Pontiac Firebird
The late 1970s saw the rise of hard rock music, and bell-bottom jeans, and on this list was the Pontiac Firebird, the poor man's supercar. The Firebird was a pop culture icon with appearances in commercials and films like 'Smokey and the Bandit'. Getting a specific Trans Am model is a bit tricky, but you can go with the standard Firebird or even one fitted with the Formula package. They should pop up on any list of old cars for sale in any state. Prices range from around $10,000 to $19,000 for a well-preserved model, including a few Trans Ams. And, yes, you have plenty of V-8 models to choose from, so don't worry about the lazy six-cylinders from the late 1970s. Just like Pontiac's hosto0ry, the Firebird's prices are all over the place, but most of the firebird isn't becoming a collector car anytime soon which is based on the near stagnant prices in the used car market. A decent running condition example of the Firebird or Trans Am with a V-8 can be had for around $10,000 while well-maintained examples can easily fetch double that, while the highest sale price recorded to date is a whopping $275,000.
| | |
| --- | --- |
| Engine: | 4.9-liter V-8 |
| Power: | 135 horsepower |
| Torque: | 240 pound-feet |
| 0-60 mph: | 13.1 seconds |
| Top speed: | 114 mph |
| Quarter mile: | 19.5 seconds |
1971 Ford Ranchero
Front three-quarters shot of a Blue 1971 Ford Ranchero
Back in the day, Chevy took the absurd idea of turning a muscle car into a pickup truck and to everyone's dismay, the concept was hot. Ford, of course, wanted a piece of the action, so they introduced the Ford Ranchero in 1959. Based on the Ford Torino/Fairlane, the Ranchero isn't as famous as the Chevrolet El Camino, but that comes as an advantage for those shopping for underrated muscle cars. The 1970 or 1971 models were available with both six and eight-cylinder engines and the V-8 versions can be had for less than $10,000, but expect well-used examples with obvious signs of aging. But, if you do seek the very best then you can find low-mileage examples in pristine condition for as high as $20,000. The record-holder was from 1971 that sold for $90,200.
| | |
| --- | --- |
| Engine: | 5.8-liter V-8 |
| Power: | 240 horsepower |
| Torque: | 350 pound-feet |
| 0-60 mph: | 9.0 seconds |
| Top speed: | 115 mph |
| Quarter mile: | 16.8 seconds |
FAQ
Q: Which muscle car is cheapest?
The lowest recorded sale price for a Ford Ranchero on Hagerty was $550, and that's as cheap as they come if they still have the wheels on.
Q: What's the best muscle car for the money?
The best new Muscle car for the money is the 2022 Ford Mustang Mach 1 which is offered with an optional 6-speed Tremec manual transmission and a starting price of $56,270.
Q: What is the #1 muscle car?
The #1 modern-day muscle car has to be the Dodge Challenger Hellcat thanks to its party piece which is its 6.2-liter supercharged V-8 with 707 horsepower.
Q: What is a good beginner muscle car?
A 2022 Camaro or the S650 2024 Ford Mustang are great beginner muscle cars that offer everything from frugal engine options to big V-8s and the option of choosing a manual transmission.