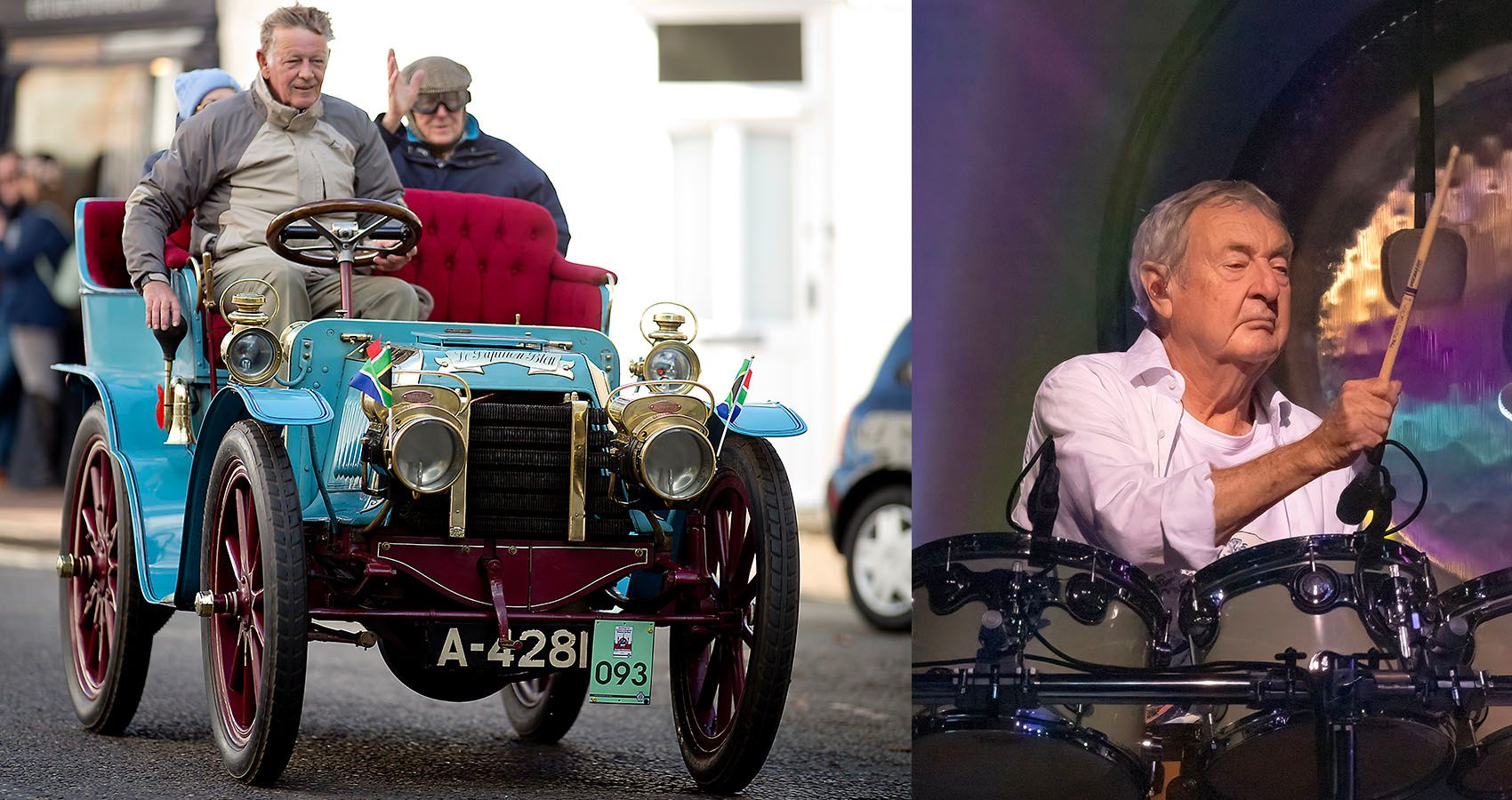 This Is The Oldest Car In Nick Mason's Amazing Car Collection
Pink Floyd's drummer, Nick Mason, 79, is one of the greatest drummers of all time. Although most know him as a drummer, he is also one of the most respected car and collectors, whose love for cars started before drumming. In fact, his crazy love for cars and speed has led him to legendary races like Villa d'Este, the Peninsula Best of the Best, Le Mans 24 Hours, and even occurrences like the Goodwood Revival and Le Mans Classic.
For a drummer in a band with over 250 million record copies sold along with thousands of live shows, Nick Mason earned a net worth of $180 million. And with this kind of money, he buys and keeps the most beautiful classic cars in the world. From owning a tatty Ford Model T to owning a Bugatti Type 35B and a McLaren F1 GTR, his massive classic car collection consists of more than 40 classic sports cars from the most legendary brands out there. So, which car is the oldest in the lot, and which is the most expensive? Here's your answer!
Related: Battle Of The Rock Gods: The Coolest Cars Owned By Brian Johnson And Nick Mason
The 1901 Panhard et Levassor Is The Oldest Car In Nick Mason's Garage
Despite having more than 40 beautiful cars in the garage, the one that still manages to entice our attention is the 1901 Panhard et Levassor. With a nameplate dating back more than 120 years, this French beauty is a history book itself, having witnessed two world wars, the cold war, and so on.
Although Panhards are quite a rare sight these days, the one that Nick Mason owns is unique. Nick bought this 1901 Panhard et Levassor after an American car enthusiast named Joel Finn advised him to get his hands on this rare beauty. Wonder what really makes this Panhard even rarer in its already rarified status? Nick's 1901 Panhard is equipped with a 5-liter straight-four mill mated to a 3-speed manual gearbox, producing 23.6 horsepower (24 bhp). Moreover, this beauty is combined with Roi-des-Belges coachwork and tan leather work. Both of these elements present a subtle vintage show, blending history to exhibit nothing but sheer classic luxury. Although the power doesn't seem like much, remember we are talking about a 120-year-old classic car, and back then it could easily haul four from London to Brighton.
The 1927 Bugatti Type 35B Is The Second-Oldest Car In Nick's Lot
If the 1901 Panhard et Levassor wasn't enough to give you a dose of history, this car surely will. Boasted as "the world's most successful racing car" by the marque itself, the Bugatti Type 35 is one legendary car that shaped Bugatti into what they are today. And when such a piece is owned by someone, it's easy to tell the person is more than just a car collector.
Nick Mason owns a 1927 Bugatti Type 35B, which was the faster sibling to the regular Type 35s. The Type 35B variant was launched in 1927, and it marked the final iteration of the Type 35 lineup. Unlike the regular Type 35, the 35B was equipped with a 2.5-liter water-cooled and supercharged straight-eight engine mounted longitudinally. It produced 138 hp (140 bhp) and made use of a 4-speed manual. Performance was impressive, with 0-60 mph in 7 seconds and a top speed of 125 mph.
While the exact price of Nick's 1927 Bugatti Type 35B remains unknown, Classic.com quotes an average price of $472,290. However, the one that Nick owns can cost more because of its pristine condition, and not to forget, this car is owned by the legend himself. What makes it more special is that Nick gifted this blue 1927 Bugatti Type 35B to his wife Annette as a birthday gift. This fact, however, doesn't stop him from hauling it at high speeds, as Nick claims, "This is a great little thing." "It's faster through the corners at Silverstone than a Porsche [911] GT3," he says, obsessing over its track prowess.
Related: EXCLUSIVE: How The Little Car Company Built A Junior-Sized Bugatti Type 35 In 22 Days
The 1962 Ferrari 250 GTO Is The Most Expensive Car In Nick Mason's Garage
Often regarded as one of the greatest Ferraris ever made, the Ferrari 250 GTO is simply not every millionaire's cup of tea. In fact, Ferrari only produced 36 examples of the 250 GTO between 1962 and 1964, and to own one, millionaires needed to be personally approved by Enzo Ferrari to get their hands on this Italian beauty.
Nick Mason is one such person and a Club GTO member. As a vivid car lover, the drummer treasures a 1962 Ferrari GTO, and there's an interesting story related to it. Nick bought his 1962 250 GTO in 1977 using the money he received after the release of Pink Floyd's legendary album "The Dark Side Of The Moon." While this car cost around $18,000 during its time of production, a 15-year period made this piece age finely like wine, and Nick had to invest a hefty $44,708 in 1977, soon to hear people whining about the car being a bad purchase.
Soon after, the rare 250 GTO's prices started appreciating swiftly because of its sophisticated status and rarity, which Nick took advantage of. He put his Ferrari up as collateral in exchange for money to fund Pink Floyd's "A Momentary Lapse Of Reason" tour, which consisted of a shocking 198 live appearances from September 1987 to June 1990. Of course, Pink Floyd made a lot of money out of the tour, and Nick finally kept this beauty. Classic.com quotes a hefty $48.4 million for a 1962 Ferrari 250 GTO, but it can cost as much as $70 million depending on the condition of the car and the owner.
Sources: British GQ, TCCT, Classic Grid, Rock Celebrities