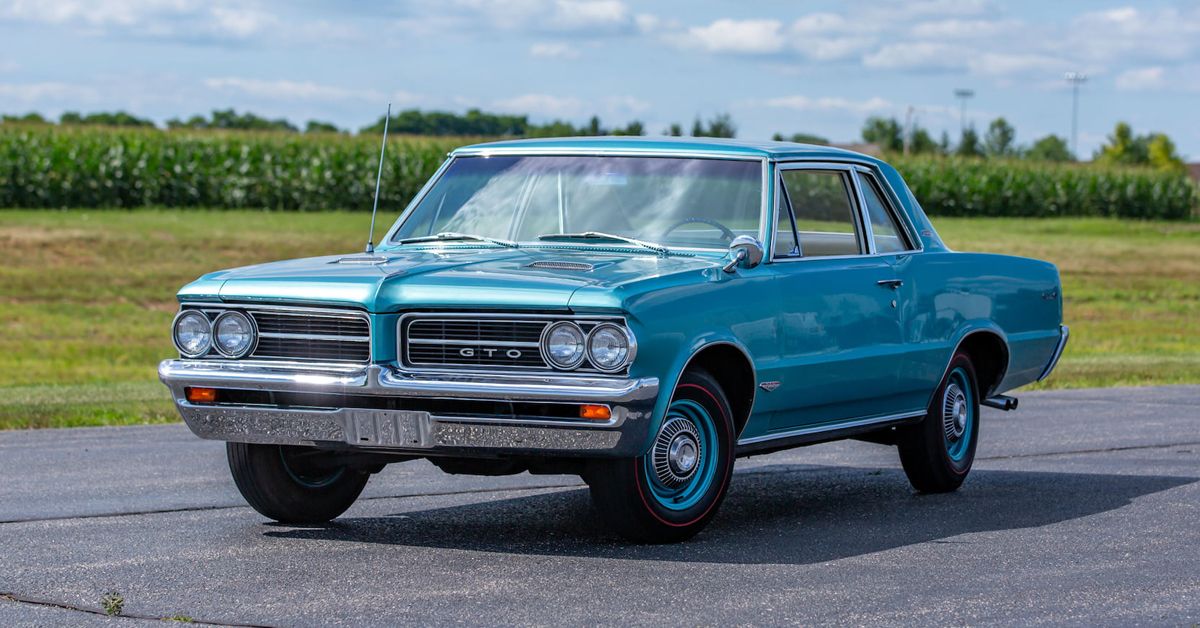 These Classic Muscle Cars Cost Under $40,000 And Will Make Your Neighbor Jealous
It is a normal thing to try to find out what the neighbor drive during weekdays and weekends. After all, Sunday barbecues with the people living on the same street is a great occasion to talk about a wide variety of topics, including the growling monster that comes out of someone's garage once a week. It is well-known that neighbors can develop a rivalry over time, whether it be friendly or outright nasty.
Related: 5 Classic Muscle Cars That Saw Their Prices Increase In 2021 (5 American Classics That Are Actually Cheaper)
With gas prices going through the roof and 401ks melting like snow under the sun, most people are settling for fuel-efficient and therefore boring cars. In this economy, most people have traded in their classic car for something far more quiet. However, some die hard muscle car fans would rather spend most of their time at the pump because of a gas-guzzling muscle car. Surprisingly enough, some of these awesome muscle cars can be bought for the price of a new Prius.
10

1963 Ford Falcon Sprint
While Ford is mostly known for its Thunderbird and Mustang, its Research & Development Department has worked tirelessly over the decades to come with the sexiest and most powerful cars possible. Some of Ford's more aggressive vehicles were surprisingly forgotten by the public. Though they have been forgotten, they remain great cars all around.
The 1963 Ford Falcon has to be one of the most underrated muscle cars of its decade. On top of being underrated, the Falcon was discontinued in North America at the apogee of the Golden Age of the American car. Despite not being extremely fast, the Falcon still comes with a 260 cu in V8 that makes 164 hp. It is possible to get a Falcon in great condition for less than $23,000.
9

1964 Pontiac GTO
Pontiac started truly going downhill when the 90s started. However, it would not be until the release of the Aztek that the Detroit carmaker lost all credibility. The Aztek is by definition the most hideous and poorly put together vehicles made by Pontiac. As the car was perceived as an epic failure, it is adopted in the TV show Breaking Bad to emphasize the fact that the protagonist was not succeeding in life.
RELATED: 10 American Muscle Cars Of The '60s Ranked Worst To Best
To most gearheads out there, it is impossible to find a GTO released before 1974 for less than $50,000. In fact, it is possible. For a little less than $30,000, you should be able to find a '64 GTO in good condition. The car will require some tender loving care, but anyone with the right skills should be able to turn a GTO in good condition into a piece of art.
8

1966 Dodge Coronet
It has been said that Dodge was great at building engines that would be great at NHRA events, but that the looks of its cars were simply atrocious compared to other brands under the Chrysler Group. While there is some truth in that statement, Dodge started reversing the trend in the mid-60s. A lot of its popular nameplates received a facelift.
The 1966 Dodge Coronet 440 may not be among the fastest Mopar cars ever produced, but it sure is a remarkable vehicle. The Coronet fitted with the 318 cu in TorqueFlite V8 pumps out a conservative 230 hp and 340 lb-ft of torque, a far cry from the Coronet fitted with the 383 or the 426 motors. With that being said, $29,000 at most for a Coronet 440 is a great deal.
7

1967 Buick Gran Sport 400
It is hard to believe that Buick is now the official car provider of retirement homes nationwide. Its lukewarm sedans, crossovers, and SUVs are as exciting as a potato rolling down a hill. It was not always that way. There used to be a time when Buick used to manufacture absolute beasts for drivers with a decent amount of money in their pockets.
The vast majority of muscle car enthusiasts would love to own a 1970 Buick GSX 455 Stage 1. Unless you are ready to fork out $124,000, it may be wiser to look at some of the other cars Buick sold around the same period. A great fall-back is the '67 Buick Gran Sport. The Gran Sport packs a solid 400 cu in V8 that makes 340 hp and 440 lb-ft of torque. In excellent condition, the Gran Sport goes for only $34,000.
6

1970 Chevrolet Monte Carlo SS
In 1970, Chevrolet's lineup was dominated by the Corvette, the Camaro, the Chevelle, and the Nova. Though those cars are legendary and are highly sought after today, they were not the only remarkable cars in Chevy's portfolio that year. In fact, several other wonderful vehicles ended up being overlooked and forgotten as time went on.
It is well-known that most cars released during the early 70s packs some serious power. The Monte Carlo SS comes with a mean 454 cu in LS5 V8 that makes 450 hp and 500 lb-ft of torque. The craziest thing about the 1970 Monte Carlo SS is that in pristine condition, it can be found for $35,000 or less. That is a bargain for such a majestic vehicle.
5

1970 Mercury Cyclone GT
The brands found under the Ford Motors umbrella are far from being unattractive. While the Ford and Lincoln are the oldest remaining brand, discontinued Mercury did not fail to please its buyers until the late 1970s. In fact, when comparing the 1970 and 2006 Mercury Cougar, it is fair to say that the car went from being a majestic and aggressive feline to becoming a feral cat with mange.
RELATED: This Stunning Mercury Cougar Eliminator Could Be Yours
The Mercury Cyclone GT is basically the type of muscle cars that needs nothing extra. There is not a need for a wing, a larger hood scoop, or anything else. The car is simply gorgeous as is. The trim version with the Boss 429 engine is rare and cost far too much. However, the regular 429 cu in V8 version with its 360 hp and 480 lb-ft of torque is estimated at less than $29,000 in excellent condition.
4

1970 Plymouth Roadrunner
Today's muscle car landscape can be summed up with three names: Ford, Chevrolet, and Dodge. Most other domestic automakers have stopped producing muscle cars, or have entirely disappeared. While this phenomenon can easily be explained, it is regrettable to not have the chance to have more variety in the muscle car scene.
The Roadrunner is among the five cars that made Plymouth great. The classic muscle car is gorgeous. It is elegant yet sporty. However, given how classic muscle cars are appreciating in value across the board, top-line Roadrunners cost an arm and a leg. Roadrunners with the 383 cu in V8 are more affordable, but they remain expensive. A Roadrunner in good condition will require some work and set you back $34,000.
3

1972 Oldsmobile Cutlass
Believe it or not, but Oldsmobile tried what Dodge did with the Charger. In the 90s, the Rocket 88 became a four-door 88. The car was such an epic failure that it ended being forgotten upon its release. During the same period of time, Oldsmobile released the Aurora. The Aurora was meant to be a performance sedan similar to the Chevrolet Impala SS of the same era. Needless to say, the Aurora was an abject failure.
Oldsmobile cars were not always bad. In fact, there was a time when they were actually great low-end cars. In 1972, the Cutlass looked like an actual muscle car. Powered by a 350 cu in V8 that made a meager 180 hp at the crankshaft, gearheads can see why Oldsmobile was always perceived as the low-end car manufacturer. In excellent condition, the '72 Cutlass is estimated to go on average for $29,600.
2

1984 Chevrolet Corvette
Some of the oldest nameplates in the world are from American car manufacturers. Since the recipe ended up being successful from their inception, these carmakers figured that half of the marketing had already been done when releasing subsequent editions. Though it is true that brand recognition plays a huge part, one must concede that those cars were great 90% of the time.
RELATED: 5 Greatest Muscle Cars Of The '80s (5 That Belong In A Junkyard)
For those who were in high school or college during the 80s, it was always a delight to watch the Corvette cruising down the street. For those who had rich friends, hopping into Chevy's crown jewel was always a pleasure. Though younger gearheads may not see the beauty in the 1984 Corvette, it is still a great vehicle that may one day increase in value. In concourse condition, the Corvette will cost you a solid $22,800.
1

1985 Chevrolet Camaro Z28 IROC-Z
Back in the 80s, several muscle cars became truly iconic. Despite being slower than their predecessors, they inherited what made their nameplates iconic. They are often times fitted with a huge engine, they look mean, and that have what it takes to become a beast that nobody would want to mess with. These cars are perfect for a restomod project, but they are also great when left in their original condition.
The Corvette was not accessible to the vast majority of young folks in the 80s. However, the Camaro Z28 IROC-Z was a different ballgame. Though it was quite pricey when it first came out, some of the luckiest kids in town had the chance to daily-drive the Z28. For only $14,600, it is possible to find a Z28 IROC-Z in mint condition.
10 Cheap Muscle Cars You'll Regret Buying
While cheap examples can be easily found, they weren't worth the money new, and they certainly aren't worth buying used.
Read Next
About The Author