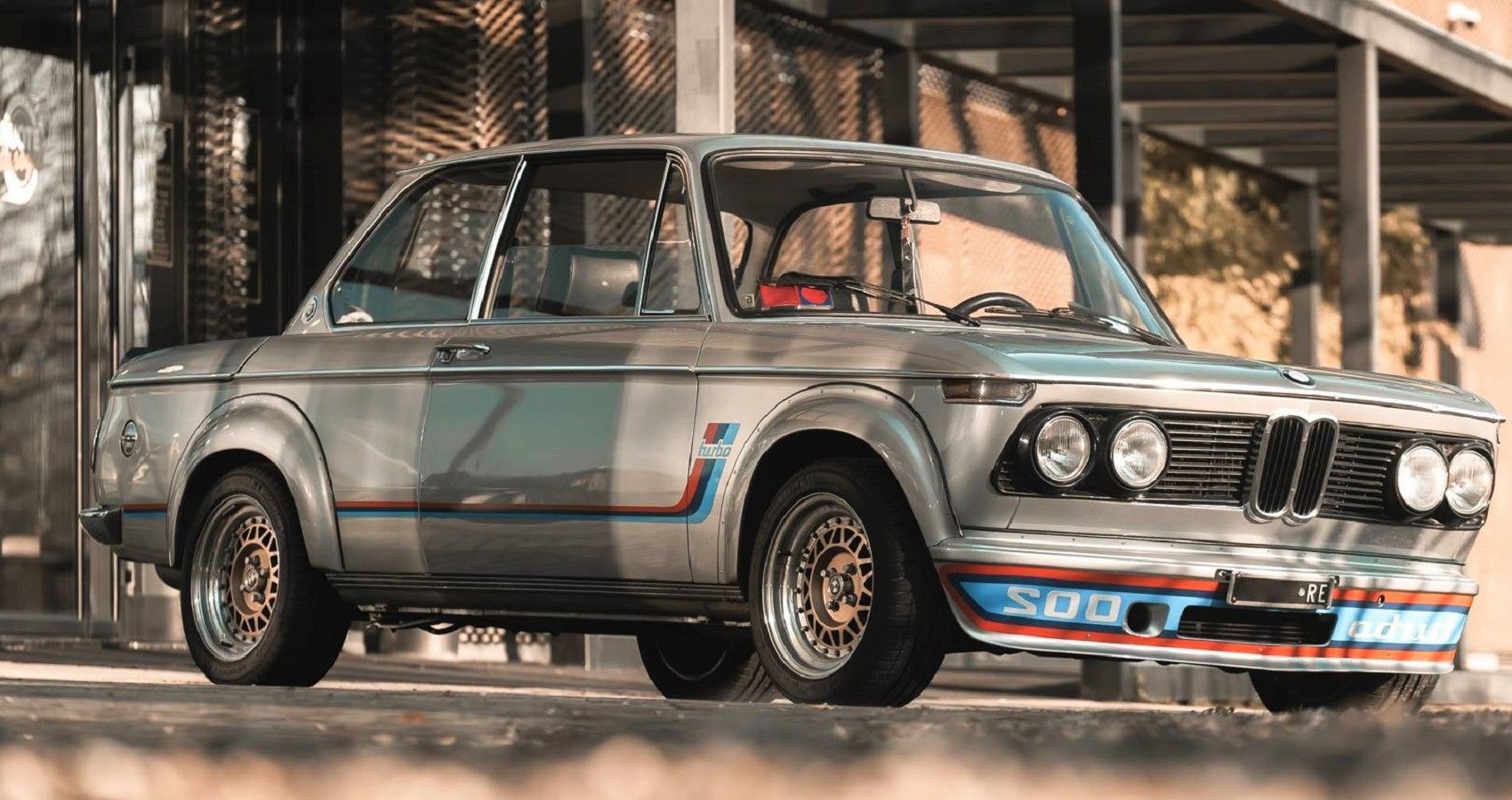 These Classic European Cars Have Skyrocketed In Value
The often misjudged geeky world of classic cars used to be a haven of desirable older cars on the cheap. Rich pickings for gearheads not afraid to get their hands dirty. Those days are long gone, classic cars of all kinds are now on the rise, European brands skyrocketing beyond the realms of affordability.
Over the past twenty years or so, we'd gotten used to stupidly high-price Ferraris, the record for a classic still belonging to the legendary 250 GTO. However, more recently, it's the turn of regular cars to ascend to dream car status. Cars of the people, Volkswagen's long-running association with air-cooled engines have elevated the early VW Bugs and buses to values on par with the modern sports car, quite an achievement considering the Beetle was envisaged by the Nazis to be a cheap runabout.
At the far end of automotive reality, supercars now deemed classics, expensive when new and produced in so few numbers that prices would only ever go one way, icons that nudged close to $1 million at launch have skyrocketed to twenty times their original purchase cost makes a safer investment than gold.
10

Mercedes 190SL/W121 ($115,500 – $228,000)
Perhaps it's by association that Mercedes 190SL is hot property right now, a visual connection with the much sought-after 300SL forcing values ever higher. Launched in 1955 this two-door roadster continued in production until 1963 and poses a conundrum for collectors, gamble on a cheaper auction car, or pay premium values at a dealer.
Crazy collector prices aside, the 190SL is a sold daily driver, however, performance expectations should be reined in a little, even when new the 1.9-liter engine was a little on the weak side with just 104 hp to play with.
9

Jaguar XK140 Roadster ($90,000 – $130,000)
Around the same time Mercedes rolled out the 190SL, Jaguar was busying itself with the gorgeous XK140, both more powerful and faster, and more importantly carrying a lower price tag.
Cheaper from new is also reflected in used prices, mint examples despite being hard to come by haven't reached the stratospheric levels of the Mercedes, but are on the rise. Under the hood, of this British classic, Jaguar's tried and race-proven 3.4-liter straight-six XK unit pushing out 190 hp.
Related: How The XK140 Brought Jaguar Forward
8

Porsche 911S Targa ($125,000)
Older is better here, Porsches 911 sports car began life in 1964 featuring a curiously rear-mounted non-turbocharged engine bucking the trend of a growing number of mid-engine rivals, and yet sixty years later Porsche is still going strong.
Not especially powerful or fast, a 1971 Porsche 911S Targa in its purest wingless form sporting a 2.2-liter flat-six out back, producing 180 hp, good for a top speed of 124 mph. Unlike other classics, auction versus dealer values are evenly matched, restored examples fetching upwards of $125,000.
7

Volkswagen Type 2 / Samba 21-Window Bus ($250,000+)
Bug-based people mover on the cheap, Volkswagen's Type 1 mechanical given a functional bus (and van) makeover, spawned one of the most desirable VW vehicles ever made. First appearing in 1950, going on to mobilize generations of travelers and free spirits alike, the Samba's visual appearance and low-maintenance engineering remain popular today.
Any gearhead in the market for a slice of air-cooled '50s nostalgia will be in for a shock, prices for early split-window or splitties can easily top $250,000 or more for restored examples. Beneath the retro-cool 21-window body, VW Beetle-sourced air-cooled engines up to 1.6 liters lazily deliver the kind of reliability you'd expect from the people's carmaker.
6

BMW 2002 Turbo ($175,000+)
Sneaking in under the radar in 1973, the BMW 2002 is one of the first production cars to undergo the turbo treatment, producing more power from smaller displacement engines. Ironically, the idea of smaller more efficient engines came at the wrong time, arriving just as the oil crisis kicked off, BMW dropping the turbo one year later.
BMW's first turbocharged production car, the 2002 Turbo packing a 2-liter KKK-boosted four-cylinder engine is highly sought after, with production cut short at 1672 cars, it's a hot commodity, values for concurs cars reaching $175,000+ to the right collector.
RELATED: 5 BMW Performance Cars Worth Every Penny (5 We Steer Clear Of)
5

De Tomaso Pantera GT5-S ($225,000)
A seventies wedge that refused to die, De Tomaso continued producing the Pantera in ever more powerful and rapid variants up until 1992, the last GT5-S spec cars capable of 174 mph. From the outset, Ford V8 engines powering this Italian supercar/muscle car, Cleveland motors replaced by 4.8-liter Windsors in 1988.
In all, over 7,000 Panteras were produced, with later cars attracting more interest, a well-sorted GT5-S fetching as much as $225,000 is not unheard of.
4

Renault Series 1 R5 Turbo ($125,000)
Just another '80s era hot-hatch? Take a closer look, those vents ahead of the rear arches aren't just for show but are air-intakes for Renault's mid-mounted 1.5-liter four-cylinder engine and transmission. Turning up the heat further with a Garret AiResearch T3 turbo for added oomph, the R5 boasting 158 hp.
Designed in tandem for both road and rally use, the R5 is all about maximum performance from a small car, swapping to a rear-drive design at the expense of civility, underestimating the sudden rush of lag-induced boost often resulting in a spin or two. In all Renault produced three generations of the R5s, series 1 cars the rarest and most sought after fetching well over $120,000.
3

Fiat Dino Spider ($180,000 – $240,000)
Powered and built by Ferrari adorned with Fiat branding, even sporting the Italian supercar makers "lesser" Dino name, makes this one classic worthy of gearheads attention. The entire project came about as a result of Ferrari's need to homologate its 2-liter V6 Dino engine for racing. A Ferrari, then, for Fiat money.
Unfortunately, Ferrari involvement is no big secret, combined with the Dino Spider's Pininfarina-styled body has inflated values in recent years, even the slower 2-liter engined Dino's are highly sought after with collectors willing to pay $180,000+ for original cars.
Related: A Detailed Look Back At The Fiat Dino
2

Aston Martin DB5 ($800,000+)
The Aston Martin DB5 has always been an appreciating classic, movie appearances keeping the classic British coupe firmly in the back of collectors' minds as the one they really should buy before values skyrocket. In 2006, average prices hovered around $200,000 a level that would have been a bargain compared to recent sales, $800,000 the kicking-off point for restored originals.
Produced from 1963-65 the DB5 despite its gorgeous Carrozzeira Touring fastback body wasn't especially fast, powered by a 288 hp 4-liter straight-six resulted in a dash to 60 mph in 8.5-seconds, weight being the enemy here. In all 1059 DB5s were produced, boosted by a small contingent of 25 continuation cars in 2020.
1

McLaren F1 ($20,000,000)
At its launch in 1992 people balked at the prospect of handing over $800,000+ for a car, however, the McLaren F1 wasn't just any car, but arguably the best supercar ever produced. In all, McLaren produced 106 F1s including a few specials and track versions, all featuring the same mid-mounted naturally aspirated 6.1-liter BMW V12.
Classic car or icon? The F1 nearing its 30th anniversary remains the fastest non-turbo car, and despite being succeeded by both the P1 and more recent Speedtail, it's the supercar serious collectors hanker for. In 2015, used prices reached the $5 million mark and have been rising rapidly since, last year smashing through the $20 million barrier.
10 Cheap 80s Sports Cars You'll Regret Buying
It might be tempting to buy one of these cheap sports cars from the 1980s, but those who do will soon regret it.
Read Next
About The Author