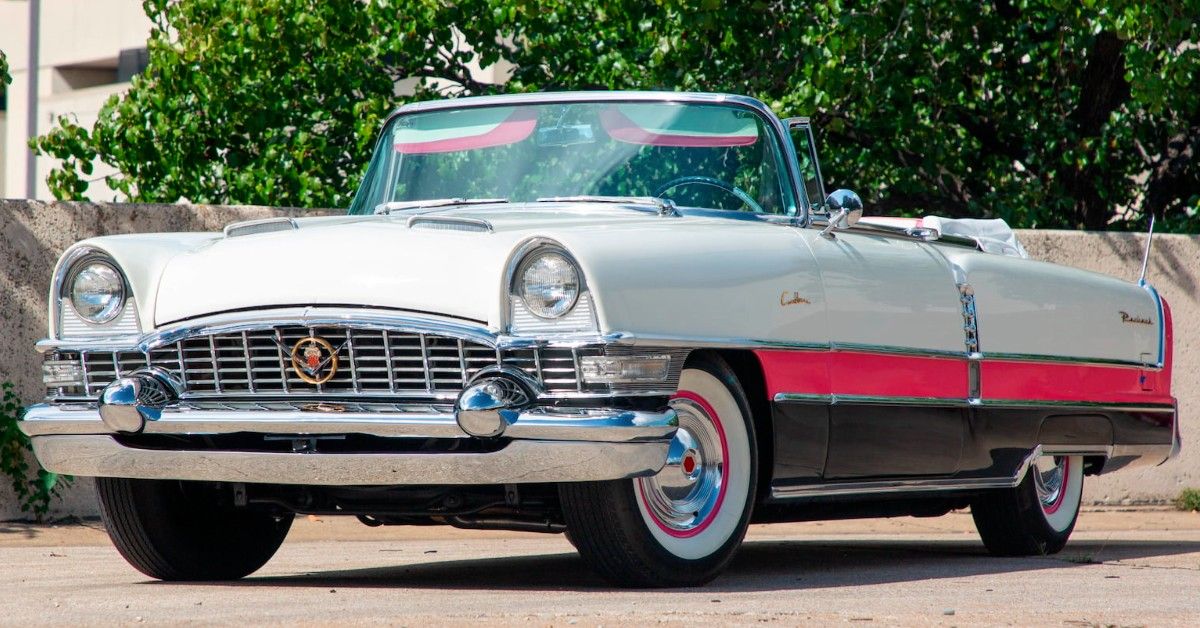 These Classic Cars From Defunct Brands Are Going To Be Worth A Fortune
Let's face it, a classic car is only a classic if it came out a while ago, was an absolute beast in performance and beauty, and yet, stood the test of time. In a world where everyone runs towards the flashier and more modern vehicles, classic cars have settled down as highly valuable collectibles that are respected, admired, and only driven occasionally to get some heads to turn on the street.
It can, however, be difficult to decide which cars to invest in and expect a great return on the investment in the future. To help gearheads with that, we have used Hagerty's valuation tools, to compile a list of 10 amazing classic cars from defunct brands that are expected to be worth a fortune in the future.
10
1957 Oldsmobile Starfire 98: 9.3% progression rate
Before the dawn of the muscle car era in the '60s, Oldsmobile gave this world a car much like its more muscular descendants, with a powerful V8 engine and a beautiful design. It could push the car up to 277 horsepower. The car was a mover of hearts, and the market accepted it with open arms. Despite Oldsmobile going out of business in '04, this car is still present in the market and sought after at auctions, with bidders willing to pay a fortune for the first generation untouched variants.
According to Hagerty, the car has been gradually gaining in popularity and is expected to climb further, with its most recent sale at $165,000. From January to April 2023, the car has shown a 9.3% increase in valuation, and could very well continue to rise and shine as a top-notch collectible.
RELATED: 10 Classic Oldsmobiles That Defined The Muscle Car Era
9
1967 Mercury Caliente: 12.2% progression rate
Mercury will be missed, but a good investor should not miss out on the Caliente from the nostalgic '60s. Specifically, the 1967 Mercury Caliente has been holding out really respectably in the car market for some time. It was pushed aside and only sold for a short while during its production years. Today, they command a significant premium.
The valuation is placing it higher every time, and the eyes of Mercury fans have begun to shine with pride. A two-door convertible, the Caliente is a beautiful car and the highest sale for it that we have seen so far is valued at around $53,000. The car is expected to continue to rise in terms of value at a 12.2% progression rate.
8
1971 AMC Javelin AMX: 27.9% progression rate
Despite going defunct, cars from the American Motors Corporation have been aging like a fine wine for some time now. The 1971 AMC Javelin AMX can attest to that. With its value steadily rising for the last few years at an impressive progression rate of 27.9%, this classic car is expected to be worth a fortune in the future. The most recent sale was valued at around $77,000. It'd be a good idea if one invests in these beautiful beasts.
RELATED: 10 Reasons Why We Love The 1971 AMC Javelin AMX
7
1970 AMC AMX: 6.2% progression rate
The 1970 AMC AMX can be found as a two-door fastback with an engine that can output 290 horsepower. This machine was built to compete and prove to the world that it could adapt to the marketplace, which it did. Unfortunately for AMC, it was built a little too late, as the road safety regulations and the market demand turning towards less powerful but more fuel-efficient vehicles eventually led to these vehicles retiring. Nevertheless, many of these remain on the market even today, as a powerful icon of the late '60s muscle era, with its beautiful design, respectable speed, and powerful engine.
Investments into this model have increased substantially in the last few years, with the progression rate of 6.2%. The most recent sale was prized at $84,000, so collectors may be looking forward to investing in these cars.
6
1953 Studebaker Commander Regal: 45.3% progression rate
Studebaker is one of the many defunct car brands that car enthusiasts wish was still around. Before they closed their doors, Studebaker made many great cars that roamed the streets of the United States of America with pride and in style. The glory days are gone now, but the cars are still valued for their nostalgic feeling and their old-school design.
The '50s were a time before the muscle car era, and yet the 1953 Studebaker Command Regal carried under its hood, a V8 with a roar along with the most advanced automatic transmission on the market at the time. Today, its progression rate of valuation is 45.3% and is expected to hike further, making it a classic car that is valued and loved by collectors.
5
1960 Plymouth Fury: 15.4% progression rate
With a powerful V8 engine that pushed out 305 horsepower and an ambitiously stylish but exaggerated design, the Plymouth Fury from 1960 was a car that entered the market with a bang. Early models of this classic are hard to find for sale on the market because cars in the '60s were known to have long-term rust issues. However, the stats have shown a steady rise in the demand for this beautiful vehicle. With a 15.4% progression rate and the most recent deal being priced at $128,000, this classic car is one that could very well be worth a fortune in the future.
4
1963 Studebaker Avanti: 14.1% progression rate
When the '60s came around, Studebaker rolled their dice for the final time. This resulted in the birth of the 1963 Studebaker Avanti, an excellent car with a clever and practical design. With a supercharger that could push the car beyond 300 horsepower, this car was great for the early muscle car era and made a great name for itself in the market. Today, the Avanti is an unforgotten classic, still being valued highly and slowly rising in the marketplace as a sought after collectible. With a respectable last sale price of around $32,000, the Avanti has been showing a promising progression rate of 14.1%, enough to make it investment worthy.
RELATED: This Studebaker Avanti Gets A New Life As A Cool Classic Muscle Car
3
1968 Pontiac GTO: 75% progression rate
Pontiac's demise in 2010 left many hearts broken, and the only thing that can heal a broken heart is time. That, or a 1968 Pontiac GTO that has been showing a stellar rise in the car market in terms of valuation. With a monstrous 75% progression rate in the last few months, the GTO has begun to raise many eyebrows in the car world. Back in its glory days, the Pontiac GTO was known as the muscle car for the masses, due to its relatively affordable prices and amazing performance.
Today, collectors are looking at this car with a twinkle in their eyes, as they should, for it is a formidable beast with a beautiful design. The most recent sale was $44,500, with future sales expected to be valued at around $57,000. Yep, the prices are rising. Any car enthusiast can tell that this beautiful classic car will be worth a pretty penny in the future.
2
1955 Packard Caribbean: 18% progression rate
The Packard Caribbean was a beautiful car with a long body and a powerful V8 powering it. It was initially only available as a convertible until 1956 when a hard top version was introduced. The most recent market statistics have shown the car to be doing really well in auctions, with the most recent sale being valued at around $74,800. With a progression rate of around 18%, the Packard Caribbean from 1955 has proven to be a valuable asset to own for collectors. Caribbeans are very fast for their size, and their low production numbers have helped in keeping their valuations high. Hagerty considers it to be the most collectible postwar Packard.
1
1983 DeLorean DMC-12: 8.3% progression rate
The 1983 DeLorean DMC-12 is a classic car that every Back to the Future fan knows only too well. It was the only model ever produced by the company and yet, it became an iconic car with a unique design and thus, a fan favorite. With gull-wing doors and stainless-steel body panels, these cars were pushed into the market as if they were the personification of innovation. Hagerty values the car's Gold Edition at $117,000 and the progression rate is 8.3%. Obviously, the numbers are tentative and subject to change with times, but the popularity of this vehicle may continue to rise solely because it is such an iconic car.