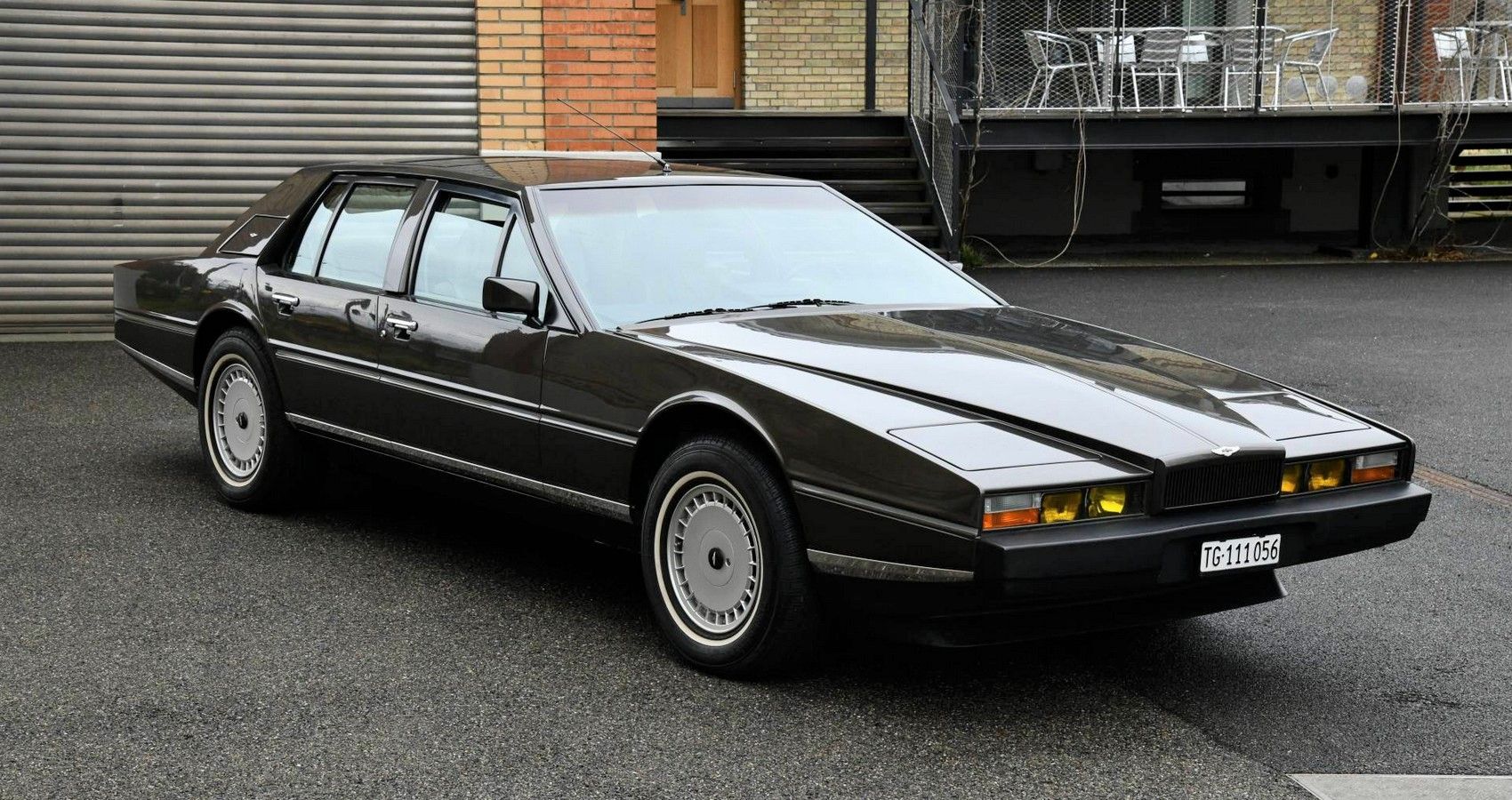 These Classic Car Flops Are Now Worth Serious Money
The pre-war and post-war periods gave rise to distinctive cars with insanely odd features and designs. While some of them were popular, many flopped so badly that they became synonymous with commercial failure.
In most cases, the reasons behind these cars' poor reception by the public weren't immediately apparent. And even though they were a historic failure in terms of sales, most of these classic cars are anything but forgettable. All of them mark an important era in automotive history, and as such, provide a dose of nostalgia for which some collectors are willing to pay hefty sums.
Just like fashion trends are recurrent and come back years later, many of the great classic cars from the past are making a comeback with inflated prices owing to their classic status and rarity. Let's take a look at some classic car flops that are now worth surprising amounts.
8
1959 Ford Edsel – $45,000
Now a byword for failure, the Ford Edsel was produced for only three years (1958-1960). Shifting market trends led Ford to create the Edsel as an upper-medium contender in the same way that Oldsmobile and Buick were. It aimed to offer a bit of glamour and luxury at a more affordable price.
Although the Edsel had a substantial public fanfare upon launch, it proved not to be special enough and failed to sell enough units throughout its lifespan to break even. As a result, Ford ceased production and sold only 116,000 Edsels. The remaining values were pretty bad that owners received $400 vouchers to assist them trade up to a better car. Nowadays, despite being considered a flop, the Edsel is pretty collectible owing to its scarcity and cultural significance.
Related: These Classic GM Flops Are Now Selling For Dirt Cheap
7
1958 Plymouth Fury – $60,000
The 1958 Plymouth Fury was a pure masterpiece, with dramatically intensifying wings, dual-tone paint jobs, and a V8 engine producing 305 hp.
The issue with the car was that it was put on sale before it was properly developed, leading to a model that was susceptible to mechanical failure. That, coupled with the American recession, ensured the demise of this limited marque. Despite not selling well, the Plymouth Fury is one of the most collectible cars of the muscle-car era.
6
1974 Bricklin SV-1 – $35,000
While a super-safe sports car may sound unusual, to the 1974 Government of the Canadian province of New Brunswick, it seemed like a good idea. At the time of launch, it had impact-absorbing bumpers, temperamental gull-wing doors, and a steel cage for safety. It was also covered in a fiberglass body to avoid rust.
However, the rot rolled into the Bricklin business and hurt production when quality control and workers stopped turning up. Bricklin also doubled the price of the car right from its launch in 1974 till it vanished in 1976 when the Canadian province of New Brunswick pulled out its investment strings. Decades down the line, however, the Bricklin SV-1's looks have kept it a regular on the classic car show scene, and it's now worth at least $35,000.
Related: Before The DeLorean, There Was The Bricklin SV-1
5
1981 DeLorean DMC-12 – $50,000
One of the great missed opportunities of the automotive world, the DeLorean DMC-12 was former General Motors' man John DeLorean's dream of a sports car entirely unlike anything on the market. With a brushed stainless steel shell and gullwing doors, the DMC-12 indeed resembles something from a distant future.
The grim reality, though, was that it all unraveled rapidly and with the company in debts and amid a drug scandal, the coupe was left with a tarnished reputation. Other problems with the DMC included poor handling caused by the rear-mounted engine, dowdy performance, and concerns over the gullwing doors' safety, leading to only 8,583 units being sold.
4
1982 Rolls-Royce Camargue – $120,000
With adequate amount of money as a market leader in the 1970s, Rolls-Royce developed a top-of-the-line coupe to fit in above the Corniche model. Utilizing exquisite styling, the company made the Camargue, with a launch price of $29,250 in 1982, or about $60,000 today. At a good auction today, the Camargue will easily fetch over $120,000.
It was a boldly styled car resembling a Ferrari GT4 2+2 coupe design. But despite being an impressive model, the Camargue had its fair share of attacks. The British press launched attacks on it, terming it clumsy and repulsive, resulting in poor sales. Despite all the negative talks, the car is very collectible nowadays.
Related: Here's What We've Learned About Rolls Royce And Their Cars
3
1978 Aston Martin Lagonda – $95,000
Aston Martin's finances were somewhat dreary in the '70s. On the verge of bankruptcy, the British manufacturer embarked on a radical plot to generate some fast cash with an ultra-expensive and ultra-exclusive luxury sedan. Thus, the Lagonda was born.
Apart from its controversial looks, the Lagonda had some alluring characteristics on paper. It featured a hand-built 5.4-liter V8 engine producing 280 hp, while a highly advanced electronic LED instrumentation gave it a proper dose of the '70s ambiance.
By 1989, A-M ended the production of the Lagonda. While quite a sublime model, only 645 units were sold in its lifetime. Most of them suffered from significant rust problems, extensive electrical issues, and heavily worn engines. Today, however, the Aston Martin Lagonda is highly sought-after due to its classic design and rarity.
2
1989 Vector W8 – $750,000
During the late 1980s, the American automobile manufacturer Vector Aeromotive Corporation created some wild supercars. The one that stood out was the Vector W8, which was a production version of the Vector W2 prototype.
It featured a 6.0-liter V8 with 635 hp and a quite futuristic chassis. However, the V8 received a bad reputation mainly because of a failed test. The formidable machine's transmission constantly failed; therefore, the testing crew couldn't propel the car to its supposed top speed. Today, however, it remains one of the most outrageous and highly sought-after collectibles. The value for one perfect condition exceeds $750,000 and up to $1.5 Million.
Related: This Is The Best Feature Of The Vector W8
1
1930 Duesenberg J- $1.5M
The elegant 1930 Duesenberg J was an exotic sports car and a fashion statement, shading the likes of Rolls Royce and Mercedes Maybach. It had a standard supercharged V8 engine that produced an astounding 320 hp. The car's bodywork also came from various custom coachbuilders around the globe, so no two looked alike.
NEXT: Here's How Much These Automotive Icons Of The '80s Cost Today
Unfortunately, the Great Depression was just around the corner when this car was being made. Initially, the affluent of the east coast bought the luxurious Duesenberg. But when the depression hit hard, moguls and stars didn't want to present themselves as wealthy when they experienced how the average American was in the midst of the depression. Sales dried up, and the company ultimately folded in 1937. Still, it left behind an expensive period piece that survives till this day, with an average selling price of $1.45 million.
Here's How Much These Automotive Icons Of The '80s Cost Today
Each one of these classics is unapologetically '80s and iconic in its own right, but not all of them are equally desirable today.
Read Next
About The Author