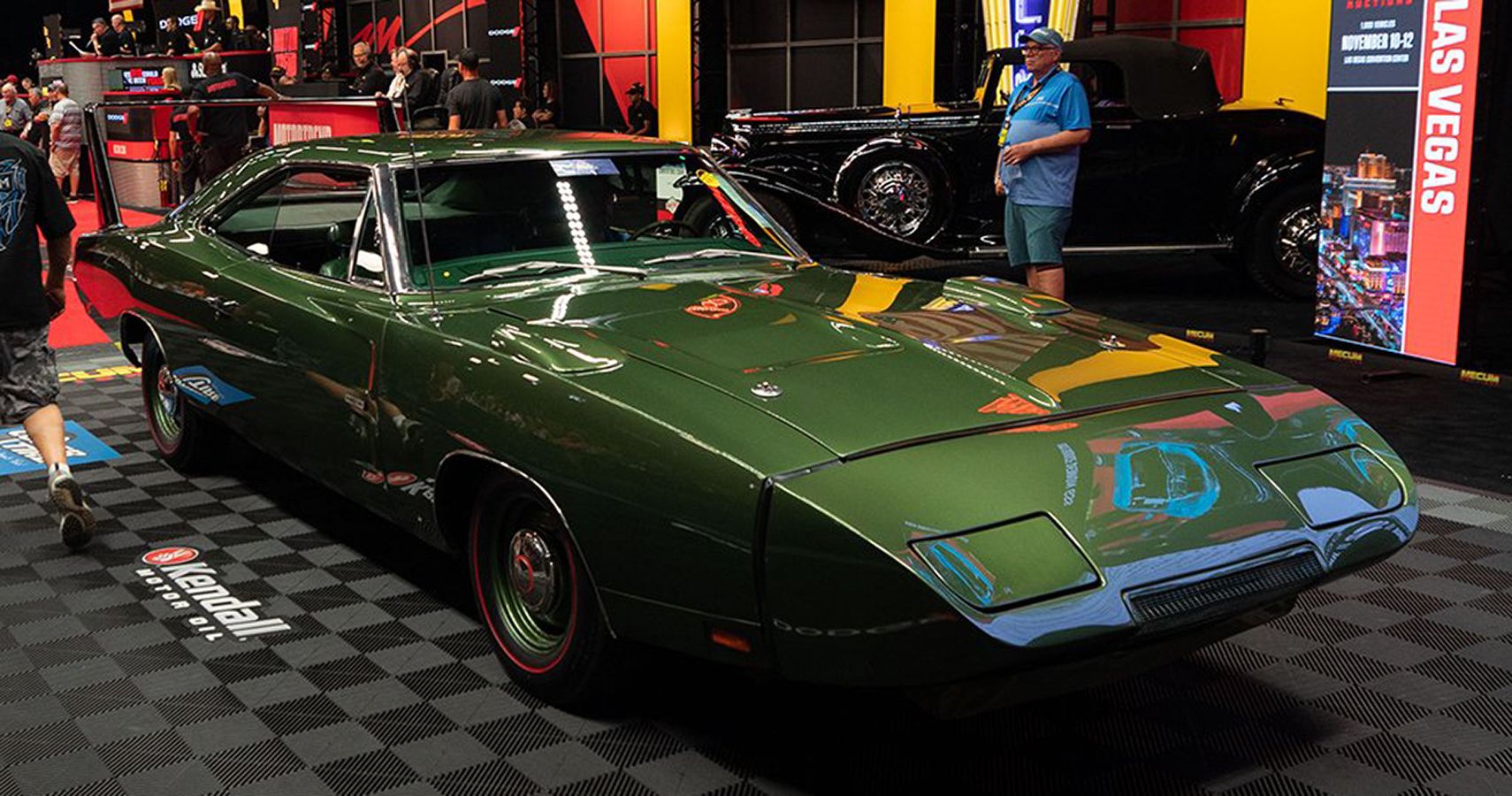 These Are The 10 Most Expensive Classic Muscle Cars Ever Sold At Auction
No gearhead can resist the growls and roars of a true classic muscle car. Even though it has been more than 40 years since the height of the muscle era, these beasts remain in high demand.
Fortunately, American muscle cars were generally affordable when they first rolled off the line, and even decades later, you can still find a good deal on a used muscle car (though you'll probably have to pay a pretty penny for parts). Occasionally, a rare specimen comes around that fetches a few more bucks than the average muscle. Check out these 10 classic cars that pulled the highest price tags at auction.
10/10

1967 Ford Mustang Shelby GT500 "Eleanor" – $1 Million
When it comes to iconic movie cars, Eleanor, from the film "Gone in 60 Seconds," is usually high on the top of many enthusiast's favorites list. Designed by Steve Stanford, the eleven Eleanors built for the film were modified '67 Shelby GT500s, with special body panels and centrally mounted driving lights. With a 351 V8 and 400 horses, she's a powerful beauty.
Eleanor has sold a few times at auction, and her highest price was an impressive $1 million. This 'Stang is truly one of a kind, as out of the 11 vehicles created, only three were actually drivable, and two of those were destroyed during filming. That makes Nic Cage's close-up car quite the prize.
RELATED: 10 Movie Muscle Cars We'd Rather Have Than The Ford Mustang Shelby GT500 'Eleanor'
9/10

1969 Chevrolet Camaro ZL1 – $1.1 Million
This 1969 Chevy, decked out in Hugger Orange, set a record for priciest Camaro sold at auction in 2020. What made this particular Camaro ZL1 so special? The owner had tracked down the car's original engine block, and reinstalled it; a reunification that made this vehicle part of an elite, number-matched group.
Number 59 out of 69 features an aluminum, big block, 427 V8, as well as 4-speed manual transmission. The body style was only produced that year, and includes a special ducted hood. It's easy to see why this gem garnered such a price tag.
8/10

1971 Plymouth 'Cuda Convertible – $1.1 Million
1971 was the last year the Plymouth 'Cuda was produced with the convertible option — just one of the reasons why it sold at auction for a whopping $1.1 million. Of course, it didn't hurt that this particular 'Cuda still had all of its original sheet metal, as well as its original drivetrain.
Originally part of Steven Juliano's incredible collection, the restoration of this convertible is incredibly accurate. From the red and black convertible top, to the Holley 2-barrel carb, down to the high-performance V-Code 440 6-BBL engine, $1.1 million seems reasonable.
7/10

1970 Chevrolet Chevelle SS 454 LS6 – $1.2 million
In 1970, GM once again allowed engines larger than 400 ci to be produced, and the 454 LS6 was born. Drop that into a Chevelle Super Stock, and you get a drag racer with 450 hp, 500 ft-lbs of torque, and an 11.33-second quarter mile. This one, driven by Ray Allen, was undefeated in its first year in the NHRA.
After changing hands a few times, it was purchased by Ray Allen, himself, who then went on to sell it at auction for an incredible $1.2 million. Unfortunately, a few years later, it didn't fetch nearly that much when it went back on the block.
6/10

1969 Dodge Hemi Daytona – $1.3 Million
The classic Dodge Daytona is a pretty wild looking vehicle, with its enormous stabilizer wing and pointy nose cone. Daytonas were built to compete on the NASCAR circuit, and this '69 Hemi was a rare one; one of just 22 featuring the 426 engine and a 4-speed manual transmission.
The green bucket seats are one of a kind, and the rest of the interior was quite luxurious for the time, with power seats and windows. It's no wonder this green machine banged out the highest price ever for a Daytona.
5/10

1970 Dodge Hemi Challenger R/T Convertible – $1.4 Million
One of only five 4-speed Challengers produced in 1970, this "Plum Crazy Purple" convertible is a sight to behold. It boasts a 426 Hemi V8, dual 4-barrel carbs, and 15-inch Rallye wheels. Plus, this muscle has had quite a history.
First exported to the UK in 1976, then migrated to Sweden, and finally, back to the US in the 90s. Upon inspection, Mopar specialist, David Wise, said "This is one of the nicest convertible bodies that I have seen with original sheet metal." And that, friends, is how you sell a Challenger for $1.4 million.
4/10

1970 Plymouth Hemi 'Cuda Convertible – $2.7 Million
It almost seems a shame that in more than five decades, this 'Cuda only racked up around 27,500 miles. A classic this cool begs to be driven. Since it is only one of 17 produced, this convertible isn't just cool, but rare.
Equipped with a 426 Hemi V8 and dual 4-barrel carbs, it was one of three built for Canadian export — and it is believed to be the only surviving of the three. To top it all off, it is also the only 1970 'Cuda with the combination Lemon Twist exterior and tan interior. Sounds like $2.7 million was a steal.
3/10

1971 Plymouth Hemi 'Cuda Convertible – $3.5 Million
Believed to be the only matching-numbers 4-speed 'Cuda convertible on Earth, it sold for the staggering price of $3.5 million when it went up for auction in Seattle. This Hemi is quite the stunner, with matching Bright Blue interior and exterior, dual chrome exhaust and a Shaker hood.
It's a classic under that rare hood, complete with 426/425 hp Hemi engine, and 4-speed manual transmission. With a tach that reaches 8000 rpm, and a speedometer that tops out at 150, this beauty is surely a beast on the road.
RELATED: What Makes The Plymouth Hemi Cuda A Truly Iconic American Muscle Car
2/10

1968 Ford Mustang GT "Bullitt" – $3.74 Million
Steve McQueen could make any car look cool, but buckle him into a classic like the 1968 Mustang Fastback, and legends are made. This GT was used in the movie "Bullitt," driven by McQueen through the streets of San Francisco. To call it iconic would be an understatement.
This important piece of Hollywood history has an almost mundane history of its own, changing hands numerous times and used as a daily driver. Bullitt finally came out of hiding, and went up for auction in 2020.
1/10

1965 Mustang Shelby GT350R – $4 Million
Call it "The World's Most Expensive Mustang." This '65 Shelby GT350R was the prototype for a competition model. Although 34 more were made based on it, this Mustang is one of a kind.
With a modified 289 V8 installed under the hood, Ken Miles drove this first GT350R to victory at Green Valley. The car earned the nickname "Flying Mustang," as it was photographed during that race with all four wheels off the ground. $4 million for a muscle car that flies? Sounds about right.