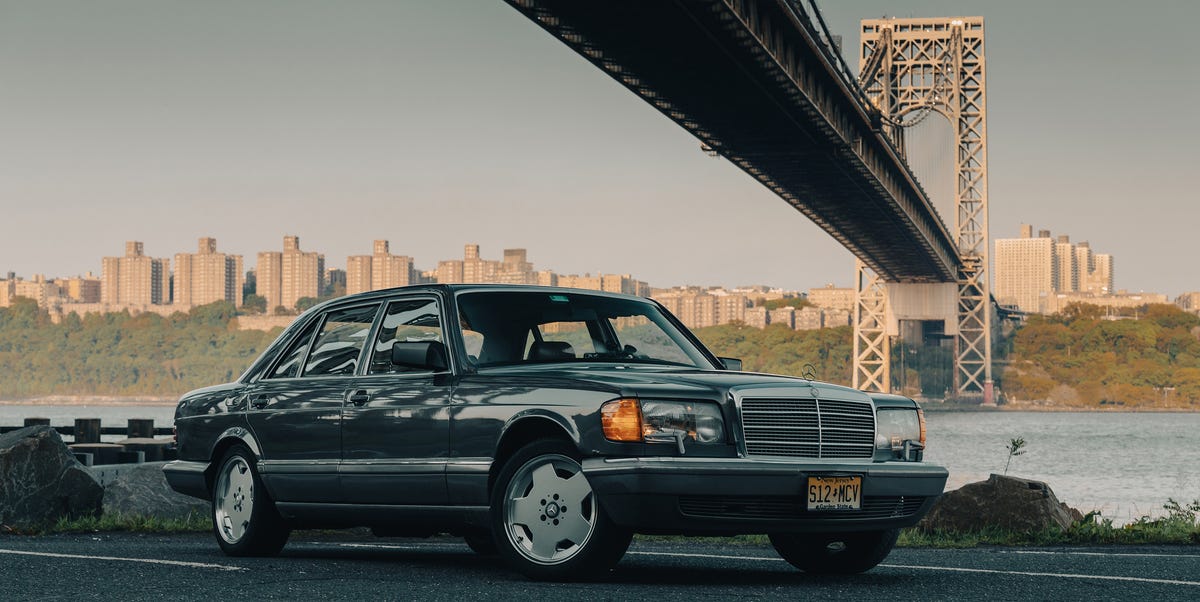 The Mercedes-Benz W126 S-Class Is a Classic Car to Drive Every Day
For as long as I can remember, I've always had an affinity for old Mercedes-Benz S-Classes. Whether it was seeing my fellow grade school students being dropped off in one curbside or watching them on the big screen — specifically, Chinese Triads chasing down Mel Gibson and Danny Glover in a late-1980s 420SEL in Lethal Weapon 4) — I have always known I wanted a Mercedes-Benz W126. I recall my 15-year-old self, circa 2005, sifting through the bountiful selection of second-hand examples on AutoTrader for one as my first car.
But after expressing my desire to own any old Mercedes-Benz — let alone a W126 — I was met with a lot of criticism.
"You'll go broke," they said. "It's a money pit," they said. "They're complicated and not worth fixing," they said. But nothing they said could stop me from wanting to live my late-1980s yuppie fantasies — especially since nowadays, I could live them at a fraction of their cost when new. I mean, how hard and expensive could it be?
I didn't find my dream Mercedes-Benz W126 right away
High gas prices at the time forced me to settle for an extraordinarily clean, one-owner late-model W124 coupe for my first car — which to this day, I swear to be the best car I've ever owned. It taught me that keeping a pre-Daimler Chrysler-era Mercedes on the road did not need to be hard or wallet-destroying — even for a cash-strapped high-school student flipping burgers overtime every summer.
My love for vintage Three-Pointed Stars eventually led me to a '75 W116 280S — which I kept going on a poor college budget — and later to another '74 W116 in 450SEL guise, with its V8 engine. (I still own it today.)
In February 2020, however — just before the world ended — I finally found myself towing home a well-kept one-owner 143,000-mile 1987 560SEL that I'd managed to score for only $1,500.
Rumor has it old Benzes are expensive to fix. Not always
"There's nothing more expensive than a cheap Mercedes," they say. There is some truth to that saying, but as we see in the rest of life, not everything regurgitated into an echo chamber is always true about old Benzes. I have yet to spend as much maintaining my 560SEL as I have on my 2011 Honda Accord V6 Coupe in total, which I got brand-new in college after totaling my W124.
Some things on an old Mercedes can get expensive when the time comes to repair them, but the situation isn't that different or more costly than any other car of similar vintage. And it's nowhere near as expensive as trying to fix a newer car. Rebuilding the fuel pump assembly costs about $400 in Mercedes-Benz Genuine Parts ' and is a procedure that could be done at home on a Sunday afternoon with basic tools. The cost is about the same for the pump alone with my Honda. The situation is similar when servicing a late V8 W126's dreaded timing chain — a known 100,000-mile wear item. My Honda's water pump and timing belt service cost me twice as much to fix.
Catching up with all the other wear and age-related items — rebuilding nearly the entire front end, replacing rear springs, spark plugs, ignition wires and coil, the idle vacuum system, the air conditioning, the fuel injectors and related system items, and even servicing the "loathed" hydropneumatic self-leveling suspension, were all similar affairs and expenses.
I've only had to call a tow truck once, after the 560 stranded me at my father's house from a failed transmission pump seal. That bill was a hefty but not unreasonable $2,600 — my biggest old Mercedes tax thus far. But I'd already budgeted a similar amount for my mechanic to replace all the rubber gaskets on my transmission — something I'm not prepared to tackle at home — so it didn't catch me completely off-guard.
My Mercedes S-Class has been cheaper than leasing something less rewarding
Altogether, I'm likely into my car for about $14,000 in total, tires, registration, and sales tax included. That's a figure that most would consider a "money pit" for a car, but it's all relative. I bought it outright, running and driving, for $1,500 of that total. Because I acquired it for so cheap, I had no objection to spending the money I did sorting it into its turnkey condition today. Divided by the fact that I've put nearly 42,000 miles since purchase, the math breaks down to about 33 cents per mile, not including the gas bill.
These numbers aren't far off from leasing a new and reasonably equipped Toyota Camry for 36 months at 15,000 miles per year—especially with today's rates. I know which one I'd rather have, and I own my car outright at the end of the day. And remember. The W126 is a car that stickered for about $72,000 in 1987, which converts to $183,238 in today's money factoring in inflation.
Knowing how to wrench saves you a ton of money with an old Mercedes
Working on my cars at home contributed significantly to keeping my ownership costs down. When it comes to ownership of any vehicle, it's typically the labor that drives up invoices, not the parts. I'm no experienced Mercedes-Benz technician or professional mechanic by trade. But I was able to teach myself all about these cars from the wealth of information available through online communities, YouTube, and the factory manual I found on the Internet.
If you know your way around a toolbox and can follow instruction manuals, read torque specs and work torque wrenches, you can work on an old Mercedes-Benz. And keeping one running reliably can be livable and affordable. Cars like the W126 were designed and engineered not just for mechanical excellence, but also for ease of servicing. And parts are still very plentiful, what with these being globally mass-produced vehicles, many of which are still on the road today.
Once repaired properly, an old Mercedes like the W126 should last just as long as it's already been around. (Of course, if you buy that old Mercedes and immediately hand the keys to a mechanic, specialist or dealer when something goes awry, the car will live up to its reputation for being costly.)
Do the research before buying an older Mercedes
As with any older vehicle, research is key to making sure you get the best example. There are rare occasions like mine where you score a diamond in the rough for very cheap. But unless you know what you're getting into, the wisest approach is to buy the best example you can find within your budget.
It also depends on which model you're after. Mercedes diesels, which have a reputation for longevity, durability, and low running costs, are some of the easiest cars to own. But the gasoline-powered versions aren't any less reliable when kept up to specification.
But even then, if you purchase an old Mercedes-Benz and expect it to be as dependable and trouble-free as a new one under warranty, you'll be setting yourself up for a bad time. These cars are 30–40 years old, and even though they're known to withstand the test of time, age and wear are still inevitable.
But despite that extra hassle, the W126 remains incredibly rewarding to drive and keep on the road. There's not a day that goes by that makes me wish that I was behind the wheel of anything else. With a recent trip from Northern New Jersey to Virginia Beach — a nearly 400-mile one-way dash —I arrived at my destinations feeling like I only did 40 miles. And it's still an absolute joy to drive on long, swoopy country roads as much as they are on the highway, where they were benchmarked according to the standards of the autobahn.
1980s-era Mercedes-Benzes have been praised for their over-engineered build quality, durability and exquisite driving dynamics — a testament to the brand's quest to make the best cars in the world. And it's the reason why, despite the advancements made in subsequent decades, cars like my W126 still have dedicated owners like me around the globe racking up odometer counts well into the six figures.