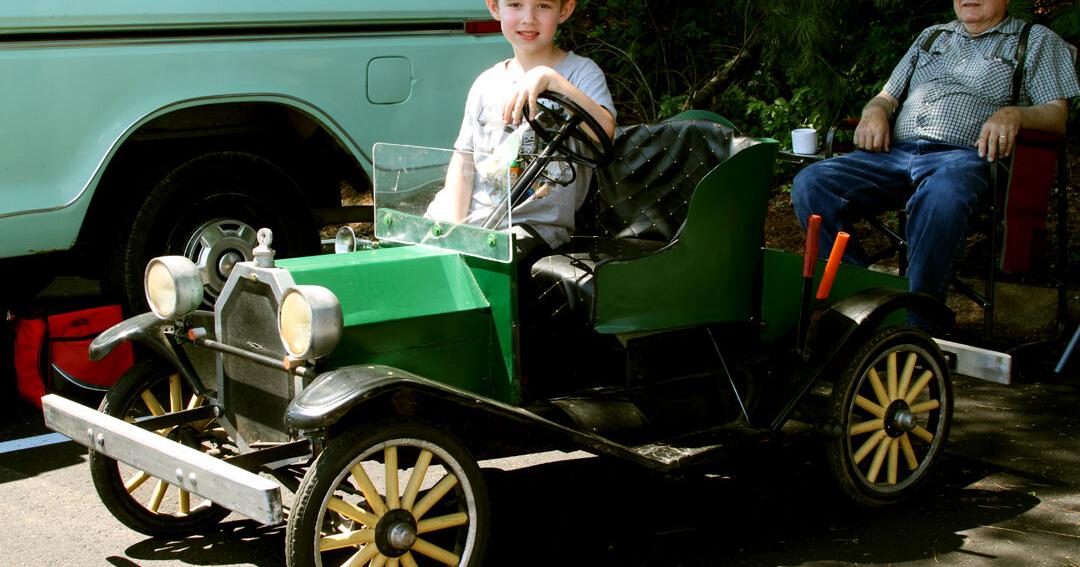 Record number of antique and classic cars on hand at Kars4Kids event | WLife
Sunshine and warmer temperatures brought out a record-breaking 198 antique and classic cars, trucks and motorcycles and their owners for the annual Kars4Kids car show benefiting the Tennessee Baptist Children's Home in Brentwood. 
The show was presented by the Music City Antique Automobile Club of America, whose members volunteer their time each year to organize this event and several other car show events. It was hosted by the Elks Lodge 72 in Franklin, which provided the location due to construction at the TBCH campus. Members also donated funds raised from their food sales during the show.
The Tennessee Baptist Children's Home serves 250 children and youth across the state through foster care and three residential locations. Kars4Kids raises funds to benefit summer activities and programs for youth residents at the Brentwood home. This year the event raised more than $11,000.
"This will help specifically youth in our Brentwood location," said Darren Andrus, vice president of residential care at the Brentwood campus. "It helps summer recreation programs and provides fun things to do."
The top trophy, Best of Show, went to Matt Weaver's 1962 Chevrolet Bel Air Bubbletop 409. 
Specialty awards include the Big Machine Music City Grand Prix award, presented to Richie Rudd's 972 Chevrolet Corvette; the Streetside Classics Award, presented to David Chontofalsky's 1964 Mercury Park Lane; the Williamson Herald Award went to Chris Bender's 1964 Chevrolet Corvette.
Chief Brian Goss of the Brentwood Fire Department presented its trophy to Dave Lamping's 1971 (re) GMC pickup truck; the Brentwood Mayor's Choice, presented by Brentwood Mayor Rhea Little went to Ronnie Crabtree's 1969 Camaro. 
The Brentwood Police Award, in Memory of Officer Destin Legeiza, was presented by Officers Colin Lane and Brian Kirkpatrick and Mayor Rhea Little to Mark Buford and his 1955 Chevrolet Bel Air.
The Music City ACCA award went to the Music City Mustang Club and the Kids Choice trophy went to young Matias Salgado and his 2019 Ford Mustang RC car — he has a few years before he will be driving the car.
For more than 30 years Carol and Jerry Dyer helped raise more than 200 children at the Tennessee Baptist Children's Home. Carol died in 2013. In her honor, Jerry presented the Carol Dyer award to Big Rock Baptist Church in Big Rock, Tennessee, which is near Dover, for their more than 20 years of support for the annual car show.
"They made the two0hour drive in a van to be here," Jerry said as he presented the trophy to Pastor Darrin Elliott. 
Most vehicles in car shows have a story owners are happy to share. Tim and Pat Babcock's 1940 Ford convertible joined the family in 1972 when Pat's uncle, Tom Robertson, who lived in New Mexico, bought it and became the fourth owner. He restored the car and showed all over the country. When he died in 2009, his son put the car in storage for eight years. In 2017 Tim and Pat purchased it.
"I'm restoring it – what little that needs to be done," Tim said. "Mostly it's mechanical. It's been in a whole bunch of weddings."
Retired Metro-Nashville Police Officer Danny Driskell and his wife, Sharon, brought  their 1935 Ford 4-door sedan, one of several 1935s they own, to the car show. This car's story began when Danny was looking for a 1935 Ford sedan to restore after he retired when their son found the 1935 sedan at an auction.
"He won it and gave it to me for my retirement present," Danny said. "It was definitely worth not having to restore."
Young Hunter McClean was at the show with his grandfather, Lee Phillip, and the 1927 Model T replica Phillip restored for him. The vehicle was built in "the 1960s primarily for Shriners, who bought it for parades," said Phillip. "I restored it and painted it green like the factory 1927 Ford Model T pickup." 
He also converted the engine to electric for his young grandson. Phillip owns a 1927 "rusty yellow" Ford Model T Roadster, which was originally green, and often drives in the annual Franklin Rodeo parade.
Tom Collins' 1924 Model T Ford Boyer Obenchain tanker fire truck caught the eye of three Franklin firefighters on duty at the show. There are only three known to be in existence. Collins regularly brings the truck to car shows and often takes people for rides in it.
It'll be a while before 2½-year-old Parker Moore will be driving the 1931 Ford Model A Roadster that he owns, but he loves sitting next to it with his matchbox cars.
"He lets me take care of the car for him," said his father, Rusty Moore.
Model A Roadsters appear to be a favorite in the Moore family — parked behind Parker's is a 1930 Model A Roadster, owned by Andy Moore and a Model A Roadster owned by Kenneth Moore.