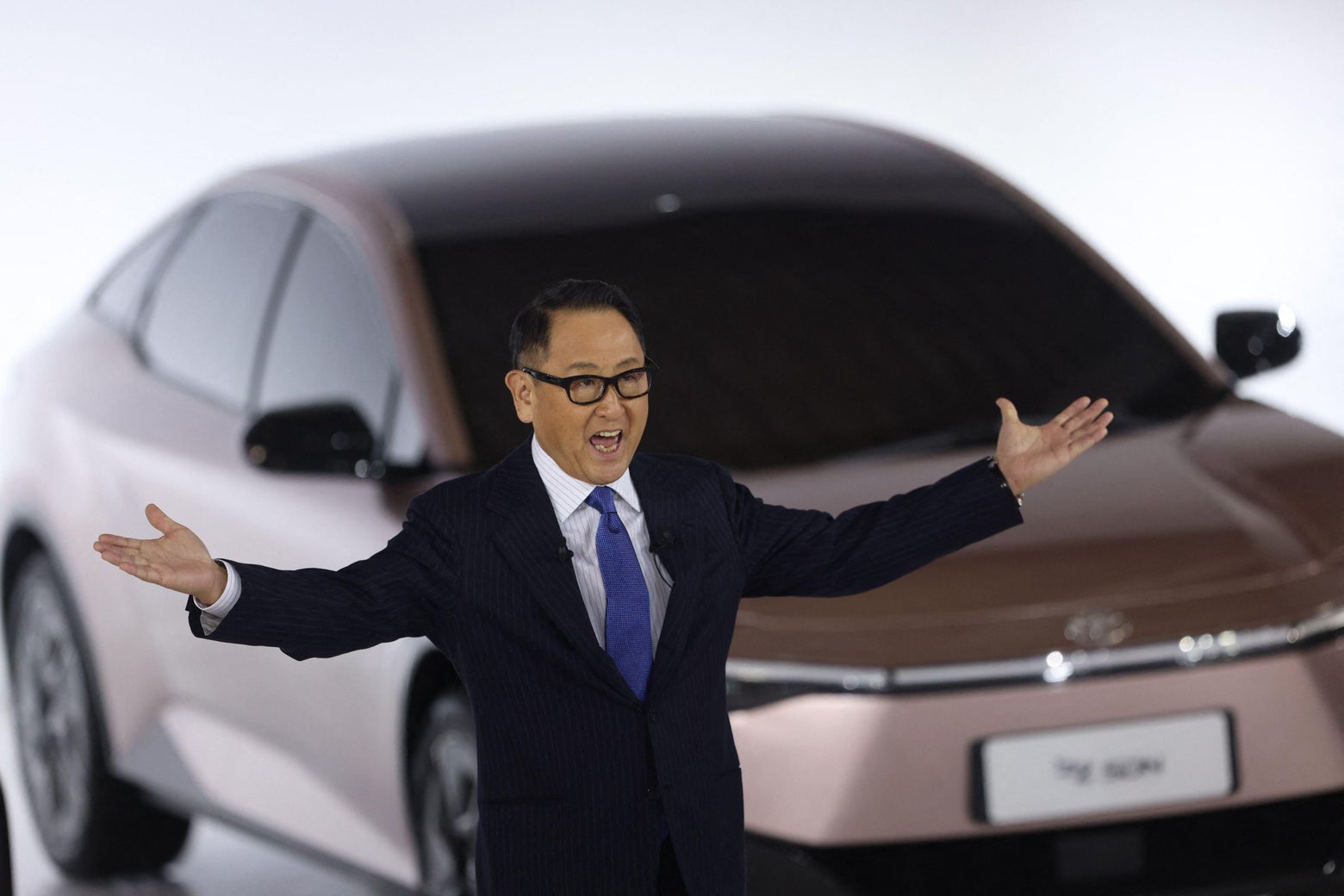 How Toyota fell so behind on electric vehicles.
If there's one thing Toyota and its executives have made clear over the past 20 or so years, it's that they aren't too keen on electric vehicles.
This may seem at odds with the perception of the automaker as a green-car pioneer. As Toyota likes to point out, its 1997 introduction of the Prius was a watershed moment, the first mass-produced hybrid battery-and-gas vehicle option for environmentally conscious drivers, which spurred competitors like General Motors and Honda to get their own electrified motors to market.
Yet more than 25 years later, Toyota has largely remained stuck in gear. The automotive giant had invested in Tesla back in 2010 to spur EV development, only to begin selling off its Tesla shares a few years later. It also sold 100 models of a battery-powered microcar in 2012 before "discontinu[ing] it due to concerns over the limits of EVs," as Reuters reported. Only recently has Toyota appeared to take EVs seriously. In December, the company announced a plan to launch five new zero-emissions models in the European market by 2026; earlier this month, the company introduced a fully battery-powered retro concept car alongside a new hybrid model at the Tokyo Auto Salon. But if you want to buy an EV from Toyota right now, the company only offers one of them, and sales are miniscule. Competitors like Hyundai are seizing on Toyota's slowness on EVs to play up their own clean-car successes, cutting into the Japanese juggernaut's domination of the global automotive market.
How did Toyota end up gagging on the electric-car revolution's dust? Not by making a careless business oversight, but through methodical decisions that came from the top. And worse: The company has paired this lack of innovation with aggressive attempts to protect its position as the world's most valuable car company by stopping electric vehicles from taking hold more broadly.
Here are some fun numbers. Toyota did not mass-market a single all-electric product until 2020, flagging far behind rivals like Mitsubishi, Nissan, and BMW, all of which were selling EV models years before Toyota even established an electric car office. And that electrified product (a version of its C-HR SUV) was initially exclusive to Chinese consumers. The company's first globally available zero-emissions vehicle, the bZ4x, had a limited production run, went on sale in the U.S. only last year, faced an alarming safety recall, and ultimately sold just a couple hundred models here, a paltry portion of the 800,000 total EVs sold stateside throughout 2022. (Reviews of the bZ4x were mixed.)
In spite of those timeline delays, Toyota doesn't plan on ramping up bZ4x production until 2025. Perhaps counterintuitively, the auto manufacturer now plans to halt its current EV projects and reboot its overall strategy in the sector, looking to cut production costs and seek inspiration from Tesla's approach to manufacturing. Still, that may be welcome news to those who hope that Toyota will pursue more aggressive EV-manufacturing targets than it had planned previously—even though the corporation still hasn't committed to phasing out its gas fleet before midcentury, as other major carmakers have. One of those manufacturers is Japanese rival Honda, although other auto companies from the country (like Subaru, Mazda, and Yamaha) continue to drag their feet when it comes to fully electric vehicles.
A generation ago, Toyota was ahead of most automakers in researching and deploying clean-energy tech, and it gradually electrified some of its biggest models while expanding its fleet of hybrids, both plug-in and not. Yet, as the ever-warming atmosphere and the ever-boiling chargers-versus-gas-pumps battles demonstrate, there's a key difference between electrifying and going fully electric. Toyota's focus on the former at the expense of the latter may have made sense previously thanks to its domination of the hybrid market, but as those sales plummet, it increasingly looks like a mistake.
Toyota head Akio Toyoda, heir to the family dynasty that launched his company nearly 100 years ago and current chair of the powerful Japan Automobile Manufacturers Association, has consistently pooh-poohed EVs while doubling down on his beloved hybrids. That's not to say he dismisses all energy innovations—his company loves it some hydrogen, though its fuel-cell fleets haven't quite taken off. But to hear it from him, an all-EV transition would be as apocalyptic as a future in which we don't attempt to clear up transportation emissions. When the Japanese government considered a California-style future ban on gas cars in late 2020, Toyoda went off at a JAMA press conference, denouncing EVs as a bunch of hype while warning that expanded use would lead to lost jobs and reduced power capacity. Toyoda's successful pushback was in step with EV-related remarks he's made over the years as the voice of both JAMA and Toyota. In 2021: "Carbon is our enemy, not the internal combustion engine." In 2022: "Playing to win also means doing things differently. Doing things that others may question, but that we believe will put us in the winner's circle the longest," referring to his company's bearishness on EVs. Last month: "People involved in the auto industry are largely a silent majority. That silent majority is wondering whether EVs are really OK to have as a single option. But they think it's the trend so they can't speak out loudly."
Toyoda is not just talk—he's been more than willing to make it so clean vehicles become bad business. Back in 2019, Toyota sided with the Trump administration in its lawsuit against California for its tough vehicle-emissions standards, though it withdrew from that lawsuit once the loudly pro-EV Joe Biden became president. Still, in the early days of the new administration, Toyota Motor North America's energy and environmental research director testified to the Senate about the dangers of an electric transition and dismissed rival companies' EV production goals as a bunch of fluff. In mid-2022, during the fraught negotiations over his party's climate legislation, Democratic Sen. Joe Manchin slashed the bill's proposed EV tax credits by one-third, excising a premium offered to consumers who purchased EVs manufactured with domestic, unionized labor. As the New York Times noted, Toyota operates a nonunionized facility in Manchin's home state of West Virginia, and had publicly opposed that specific financial measure.
The pro-gas actions aren't exclusive to the U.S. In late 2021, an upset anonymous Japanese parent wrote for Electrek that Toyota had distributed pamphlets to all the country's schools about Toyota's product lines and eco-friendly vehicles—with zero-emission EVs earning no mention whatsoever. The following year, Toyoda lobbied the Japanese government on behalf of JAMA, successfully pressuring lawmakers to put hybrids on equal footing with all-electric cars when it comes to government incentives and support, despite hybrids' reliance on gasoline. It attempted to achieve the same goal in Australia, whose government is looking into banning new gas-car sales nationwide by 2030. In the United Kingdom, which did pass such a law (and also required that hybrids be phased out by 2035), Toyota threatened to halt all British manufacturing operations, though it eventually backed down.
Whenever Toyoda or his executives bring up the point that their consumer base's demand for fully electrified vehicles is low, it never seems to strike them that their own speechifying and lobbying are partly responsible. They're also surely aware that the heat is ramping up on Toyota's EV position. In a 2021 report, the think tank InfluenceMap deemed Toyota one of the five most influential corporations in obstructing global climate action, on par with more commonly named villains like ExxonMobil and Chevron. That same year, a coalition of prominent environmental groups wrote a letter to Toyota Motor North America in opposition to its anti-EV lobbying; one of the signees, Plug In America, even called for a boycott. In 2022, protesters called out Toyota at a NASCAR race in Arizona; the Extinction Rebellion activist group staged a "die-in" at a company showroom in North London last June. By that fall, the East Asia branch of Greenpeace had consigned Toyota to the bottom in its ranking of major auto brands' decarbonization efforts.
While the company has expressed a willingness to engage with its critics, it hasn't taken much action to shift its course—probably why climate activists in Belgium, France, Germany, and the U.K. defaced hundreds of Toyota billboards this month in time for the Brussels Motor Show. If Toyota's brain trust would rather not listen to the rabble, they could instead listen to the shareholders and investment funds that are questioning its lobbying practices and insisting on the need to speed up EV production. Or even to its international rivals, who aren't afraid to call it out.
Maybe Toyota is finally changing its tack, though. Even as the company has firmed up its all-of-the-above stance on manufacturing, it's taken various measures to help boost the tech needed for clean cars: buying old hybrid/EV batteries for recycling, installing battery-powered electrical generators for Japanese businesses, partnering with other companies for EV construction, investing billions in battery-manufacturing plants, hiring for EV-specific engineering positions, offering charging-related services to customers, and converting older gas vehicles to electrified transport by replacing specific parts. Granted, all this could be cover for Toyota's continued EV reluctance—just another form of greenwashing.
In 2007, Harvard Business Review dubbed Toyota "the best carmaker on the planet" and "the world's greatest manufacturer," thanks in no small part to its successful innovations in hybrid cars and purported environmental consciousness. About 15 years later, Toyota's business is less flush than it used to be, even as it continues to hold the No. 2 spot among automaker sales. But the expectations for clean vehicles have shifted, and overall auto trends point to a future of battery primacy. Toyota's lateness to the EV game may end up being a speed bump for the company. But if the company doesn't get more excited about electric vehicles, there's little reason to think its customers ever will, either.
The piece has been updated to clarify that Toyota's first mass-marketed all-electric vehicle wasn't sold until 2020.