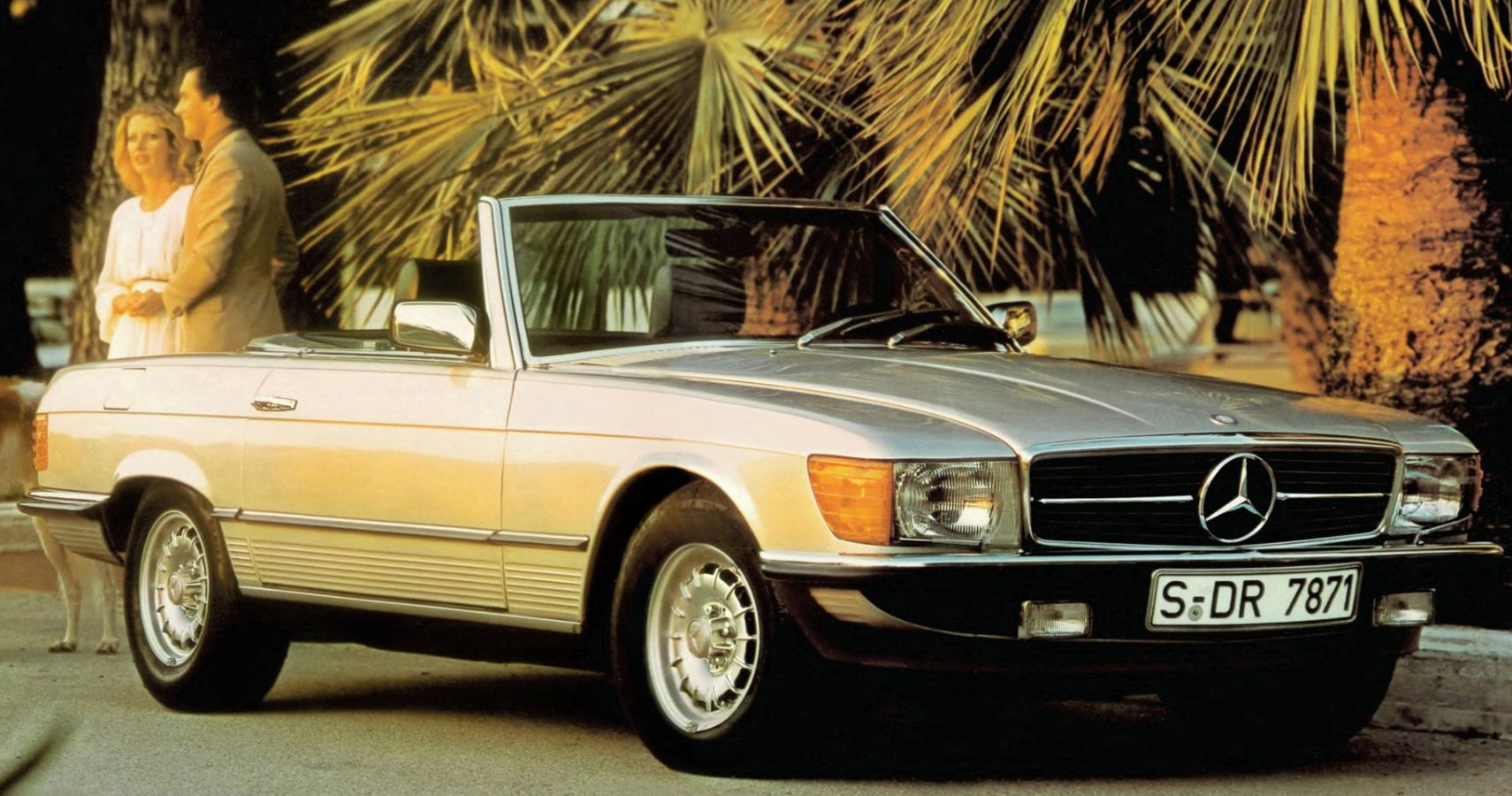 Here's Why Classic Car Enthusiasts Should Consider Buying The R107 Mercedes-Benz SL
The Mercedes-Benz SL has been around since 1954 and is the dictionary definition of grand touring sports car. Mercedes-Benz really found their groove in 1971, with the release of the third-generation to bear the SL name, the R107. Marking a shift towards modernity in the automotive world, its design is absolutely timeless, and it perfectly toes the line between sports car and grand tourer.
Now, 50 years on from its initial release, there are plenty of examples of R107 SLs on the second-hand market. They are much more affordable than previous models (particularly the 300SL Gullwing), and they offer a slice of classic car ownership but without the headaches, due to their bulletproof reliability. In fact, many owners still choose to daily drive their R107s, which is testament to their quality.
Related: Everything You Need To Know About The 2022 Mercedes-AMG SL 63 Roadster
Mercedes-Benz Produced The R107 SL For 18 Years, And For Good Reason
The outgoing W113 'Pagoda' SL was very successful in North America and, therefore, Mercedes-Benz built the R107 SL with North American customers in mind. More specifically, they targeted the growing 'personal luxury car' market. Launched in 1971, the R107 SL held its own for (an almost unheard of) 18 years. How many models today last that long? That's not to say that it remained identical for the entire duration of its production. In fact, Mercedes-Benz refined and improved the R107 SL throughout its lifecycle.
Rumor had it that Mercedes–Benz chose the V8 engine layout to appeal directly to the U.S. market. The real reason was actually one of safety. In the pursuit of passenger protection, they introduced a front impact crumple zone which was more easily accommodated with the V8 layout than a beefed up V6 motor. Throughout the 80s, the R107 received update after update, including anti-lock brakes with larger rotors, a driver's airbag and the previously optional hard top then came as standard. The R107 SL maintained its appeal throughout its 18-year span, meaning that Mercedes-Benz sold nearly a quarter of a million units.
Mercedes-Benz Built The R107 SL To Last
Mercedes-Benz went through a fiercely unreliable streak in the early 2000s but the R107 SL is from a time when they were top of the tree. The three-pointed star meant something. It let you know that the car behind the logo had the highest standards of build quality, better than almost anything on the road. Due to how well-received the W113 was, Mercedes-Benz knew that the R107 had to be better in every possible way.
It's not just under the hood where the R107 SL is impressive. The SL isn't a true sports car. Its focus is on providing a relatively sporty driving experience while maintaining utmost comfort. With this in mind, Mercedes-Benz designed the rear suspension to prevent the back end squatting under heavy acceleration, and they set up the front suspension that limited diving upon braking. The front suspension also consisted of an advanced double wishbone setup. All of this ensured that the driver could drive spiritedly while everything in the cockpit remained nice and calm.
The R107 SL really is a joy to drive. It wafts along roads in a gentle manner. The V8 engines weren't overly loud so as not to distract from your serene journey. R107s aren't so quick as to pin you to the back of your seat, but that was never the aim. They build momentum and are more than happy to cruise at high speed. That's exactly what you would want from an SL. They aren't supposed to be the fastest track weapon, or to carve up twisty roads. When driving an SL, you should do so in a relaxed manner, while enjoying how stable, smooth and well-built a machine you're in. They're a luxurious automotive masterpiece that are so profoundly well-made, you can't help but respect them.
The R107 Mercedes–Benz SL Is More Affordable Than You Might Think
When purchasing an R107 SL, a wide range of engines are available. In the North American market, 1972 brought the 350 SL (shortly after correctly named the 450 SL) with its 4.5-liter V8 that produced 190 hp and 240 lb-ft of torque. Around halfway through R107 production, North America got the 380 SL with its 3.8-liter V8 putting out 155 hp and 196 lb-ft of torque. The top of the line 560 SL, released in 1986, had a 5.5-liter V8 and made 227 hp and 287 lb-ft of torque. All three models used an automatic transmission and were rear-wheel drive. Mercedes-Benz released multiple other variants for the European market, including the 280 SL, 420 SL, 450 SL and 500 SL.
As with most things, you get what you pay for and the R107 SL is no different. Lower spec models in less than pristine condition can fetch between $15,000 to $20,000. For those in better condition, you'll be looking at around the $30,000 mark. If you want a spotless, low mileage 560 SL complete with hard top, you'll need over $50,000. Considering that they're an appreciating asset, and that they cost $64,000 in 1989 (over $150,000 in today's money), that's not bad!
Related: Here's How The Mercedes-Benz SL Has Evolved Over The Years
The R107 Mercedes-Benz SL Is The Perfect All-Round Classic Car
If you're in the market for a classic car, the R107 SL is an outstanding choice. It's a joy to behold, provides effortless long-distance cruises and is very dependable. You could easily take one on a roof-down road trip with a passenger, rolling down boulevards and chewing up highway miles alike. Influencers weren't really a thing back in the '70s and '80s, but it might help to know that Bruce Lee and Madonna both drove an R107 SL. If it was good enough for them, perhaps it's good enough for you!
Sources: Mercedes-Benz, The SL Shop, Classics World, Hagerty