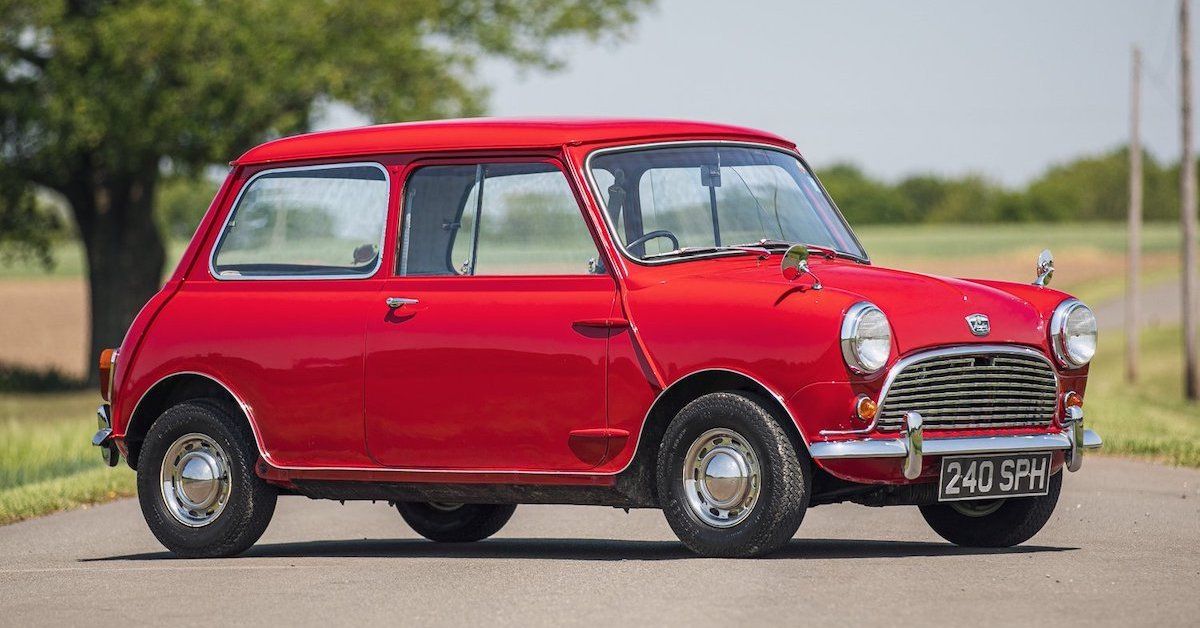 Here's What A 1960 Austin Mini Costs Today
Occasionally, a basic economy car comes along that utterly changes the game and leaves a cultural impact much longer than its production run. The Ford Model T and the Volkswagen Beetle are great examples of this, but another legendary car for the masses is the original Austin Mini.
The Austin Mini was such a hit that the Mini name eventually became a badge of its own, and it has outlived that of Austin. Not only was the Mini a huge hit, but it had a long-lasting effect on car design that continues to this day.
Few cars are as iconic as the original Austin Mini, therefore, for the teaming classic car enthusiasts who are looking to acquire one, here is what a 1960 model costs today.
Related: Classic Mini Owners Can Officially Swap Out Their Engine For 120-HP Electric Powertrain
The Austin Mini's Revolutionary Design
The Mini was designed in the late 1950s by British Motor Corporation, which later became British Leyland, and even later the Rover Group. It was created as a British competitor against the Fiat 500 and German bubble cars, after those became popular in the United Kingdom for their fuel efficiency during an oil shortage caused by the 1956 Suez crisis. It first went on sale in late 1959, and was initially marketed as both an Austin and a Morris. But by 1969 the Mini had become such a hit that British Leyland made it a badge name in its own right.
The Mini made a number of revolutionary breakthroughs in economy car design. The transversely mounted engine saved length, and was a front-wheel drive car with a front-mounted engine in an era when rear-wheel drive was the norm whether the engine was mounted in the front or the rear. Front-wheel drive may be maligned by performance enthusiasts, but it is perfect for a tiny economy car. Compared to rear-wheel drive, it reduces complexity, saves weight, and frees up more space in the cabin. Another space-saving innovation was the wheels, which only had a ten-inch diameter. As a result of all of those space-saving measures, the Mini had a surprising amount of space available inside the cabin despite the car only being 120.25 inches long.
Related: Watch The Mini Cooper EV Put A Toyota GR86 And Mazda MX-5 RC F In Their Place On The Dragstrip
The body was constructed as a monocoque design, which used the car's body itself for structural support. This greatly simplified production and allowed the Mini to be easily assembled in kit form. Other innovations included the suspension system that used rubber cones in place of springs. This gave the Mini a rougher ride than it otherwise would have had, but saved space and was simpler to manufacture, which in turn made it cheaper. Another perk is that it allowed the suspension to cope with the massive variance in weight between an empty Mini and one that was fully-loaded, which could be as much as a 70% increase.
Since the Mini was designed to be as simple as possible, its features are incredibly straightforward. The 848 cc I4 engine produces just 34 horsepower at 5500 revolutions per minute and 44 lb-ft of torque at 2900 revolutions per minute. This gives it a top speed of 74 miles per hour and a zero to sixty acceleration time of 21.6 seconds. Despite being so slow, however, the Mini is still great fun to drive, as its curb weight of just 1290 lbs and wheels mounted at each corner make it nimble and easy to throw around corners. This was true even of the basic model, but performance versions like the Mini Cooper were even more fun to drive.
The first generation Mini continued in production until 1967, and was followed by six more successive generations until the original car was finally discontinued in 2000, at which point it was replaced by the modern BMW-produced Mini. Over its long life, more than 5.3 million Minis were sold. Not only was it a massive sales success, it became a huge pop culture icon. Many high profile British celebrities, including Princess Margaret and the Beetles, owned Minis. This, coupled with high profile appearances in films such as The Italian Job, helped promote the Mini to the public, resulting in the car becoming an icon of the 1960s and a British national symbol.
Related: New For 2024: Mini Shares A Glimpse Of Its All-New Electric Cooper
The Costs Of The 1960 Austin Mini Today
Back when it was new, the original Mini cost just $1,340. In today's money that translates to $13,015, so as an economy car the Mini was incredibly affordable. You would be hard-pressed to find a new car for that low a price today, no matter how basic it is. According to Conceptcarz, the average cost of a 1960 Mini today is $20,802. The price scale ranges from $13,767 at the lowest to $37,617 at the highest. The Mini's desirability as a classic car drives up the price, so restored examples in mint condition are very desirable.
Watch The Mini Cooper EV Put A Toyota GR86 And Mazda MX-5 RC F In Their Place On The Dragstrip
Read Next
About The Author