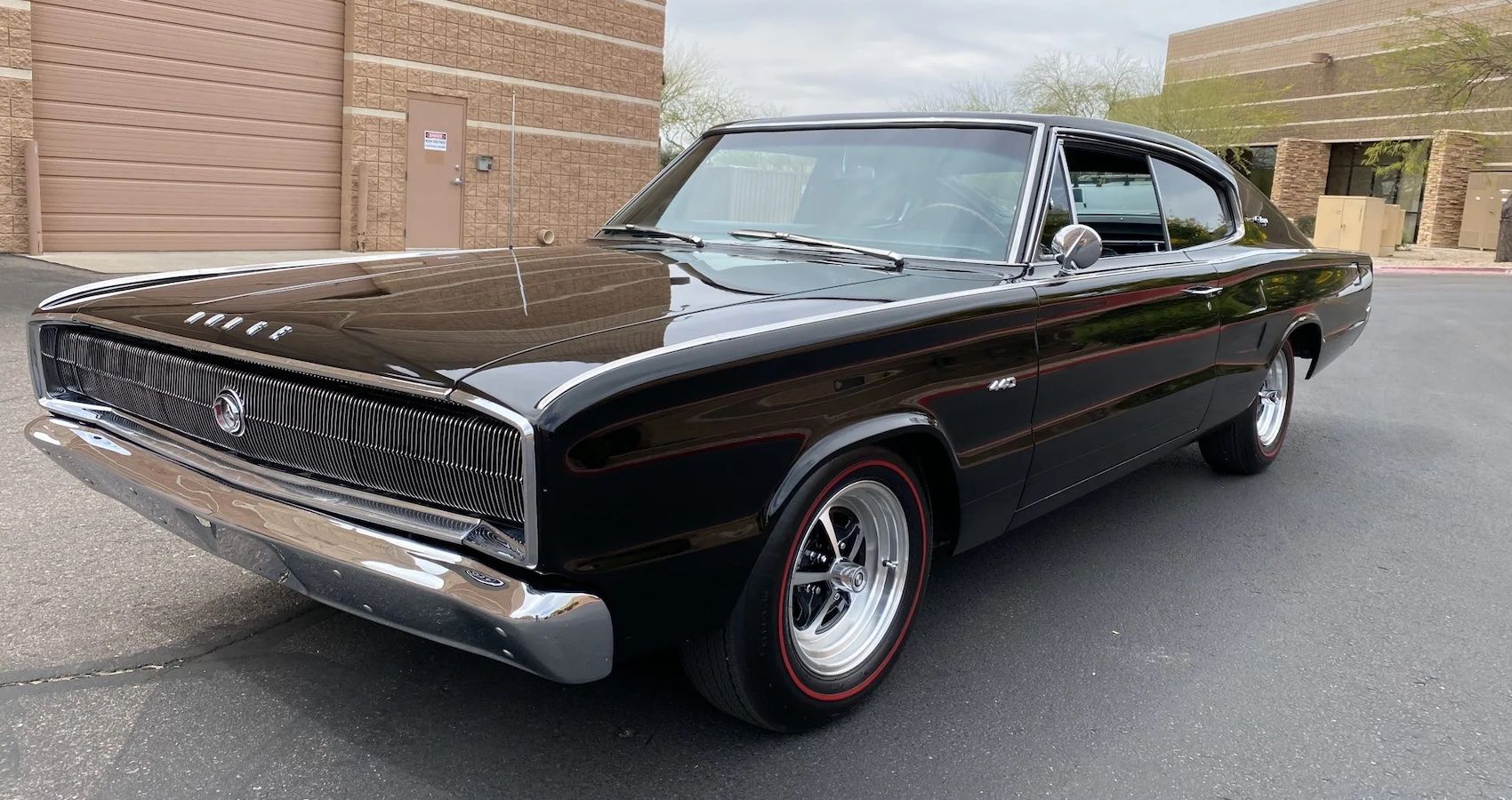 Here's How Hagerty Determines The Worth Of This 1966 Dodge Charger Accurately
The 1966 Dodge Charger is an American muscle car icon. Since it first hit the roads of America in 1966, it's become the stuff of legend. Part of that's due to the fact there are relatively few of them still around, being nearly six decades older than the 2023 Dodge Charger.
In this episode of 'The Appraiser' from Hagerty, host and expert car appraiser Colin Comer conducts a thorough inspection of a Mopar enthusiast's 1966 Dodge Charger.
Comer misses nothing as he submits this car to a rigorous visual rundown and uses his extensive knowledge of the classic car industry to hone in on a price that he thinks this Dodge could sell for. At the end of the episode, he breaks the news to the owner, who's been waiting in the wings to see what his car is actually worth.
RELATED: Discover How Dodge's First Fastback, The 1966 Charger, Saved Chrysler
The 1966 Dodge Charger Is A Classic American Muscle Car
The video begins with a seemingly mint-condition 1966 Charger rumbling into the garage. Backing in through the door, it's greeted by a seeming pantheon of classic American muscle cars arranged around the garage – mostly Shelby Cobras. The owner steps out and gets introduced to Comer.
To start things off, they chat about the basic specs of this factory-black 1966 Dodge Charger and why Daniel, the owner, decided to buy one. He's been a passionate Mopar enthusiast for a long time. Having grown up in the automotive industry, he jumped at the opportunity to purchase a first-year Dodge Charger when he found one for sale on eBay.
The original owner purchased this "big block 383" in Arizona before it eventually made its way to California. That, paired with its four-speed transmission and origin-year status, automatically makes this Dodge Charger an iconic representative of the American muscle car tradition.
RELATED: The Abandoned Car Dealership With Classic Cars Still Inside Is The Internet's Biggest Mystery
Colin Comer Appraises A 1966 Dodge Charger Inside Out
As soon as the owner is no longer within earshot, Comer begins a thorough inspection of the Dodge Charger. After completing his inspection, he describes his findings and what they tell him about the market value of this car based on his previous experience with classic cars.
First off, this is a factory-black, four-speed, air-conditioned Charger. Comer says this is a pretty rare combination – especially when you take into account this car has spent all of its five-plus decades in Arizona and California. It's becoming rarer and rarer to find 1966 edition cars of any spec in this condition, let alone a "four-speed air car" in coveted factory black.
Only 37,344 chargers got produced in 1966, and even fewer the following year. So it's pretty special to have one in this pristine condition. Something that Comer also points out is that while black is the most popular color for a modern-day collector's garage, in its day, few of them made it to the American Southwest simply because that color would heat up in the sun.
It quickly becomes apparent that's one of the biggest selling points of this particular car. There's no rust or corrosion, only flawless sheet metal still in pristine condition. To have a factory black 1966 Charger that's lived its whole life in the gentler climes of the Southwest is a unique find.
RELATED: This 1970 Dodge Challenger Rebuild Is Muscle Car Restoration At Its Finest
Is The 1966 Dodge Charger Worth Buying Today?
Despite this flying start, some setbacks to this car's value surface when it becomes apparent that it's repainted. Originally it was factory black, but at some point, it got repainted with a new layer of black paint. Couple this with a few non-original parts such as front disc brakes, a new master cylinder, a replaced intake manifold, and a new alternator, and this is no longer the mint collector's car that it first appeared.
Another knock against this car's value is the removal of its air conditioning system. Comer immediately notices that under the hood, there's a radiator and AC condenser, but the compressor and other components of the air conditioning system are missing. It's later revealed that the owner has these components in his possession, but if they aren't installed and working on the car, that reduces the market price of this particular specimen.
At the end of the video, the owner comes back out for a chat with Comer to hear his verdict on the market value of this car. In the end, Comer comes out with a market value price tag of $35,000 to $40,000 for this 1966 Dodge Charger. The owner seems happy with this verdict. It's never disclosed what he paid for the car, but since this number was higher than his initial estimate of $30,000, it's safe to say it's in the ballpark for what he hoped it would be worth.