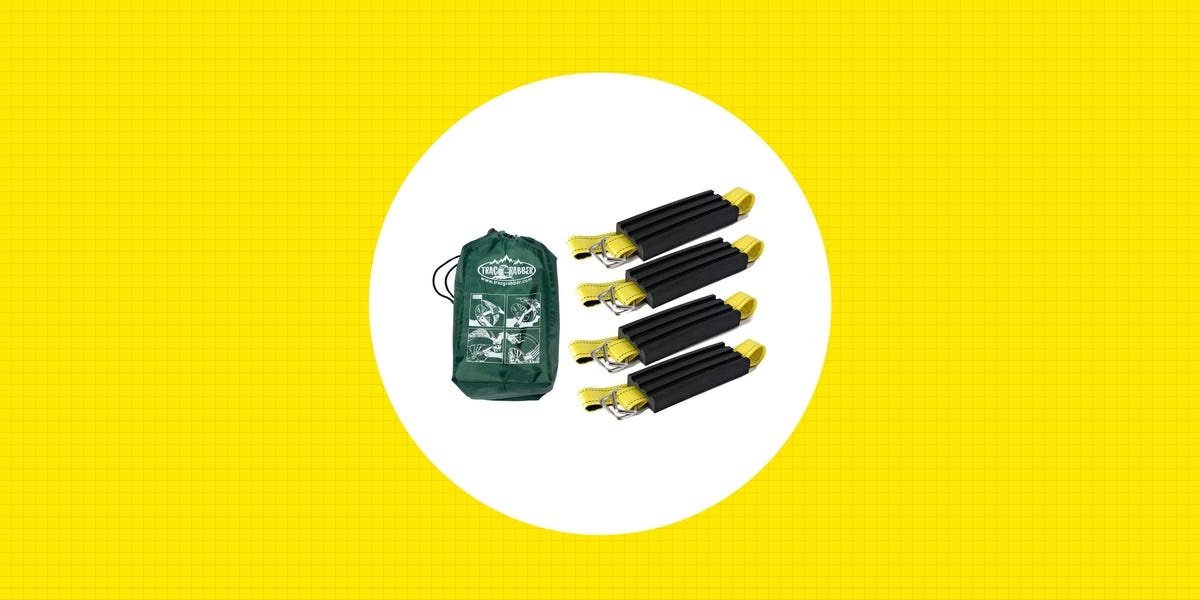 Here Are the Tools You Need to Get Your Car Unstuck from the Snow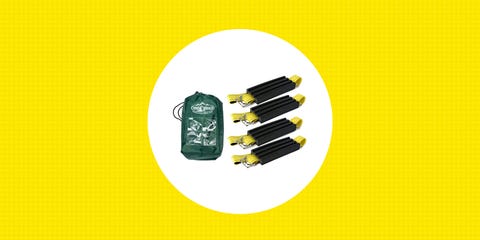 TracGrabber
When it's time to dig out your car, SUV, or truck after a snowstorm, do you have the right tools for the job? Or when you find yourself deep in a hole and can't rock or power your way out, how do you escape? If you're out there chipping away with a garden shovel or trying in vain to enlist strangers to push, get with the times and use one of these snow-clearing tools instead.
Whether it's traction aids, digging tools, or just devices made to make clearing away snow and ice less strenuous, you can't go wrong with any of the following tools. Any or all could make the difference between showing up fine and on time—or soaked with sweat and late to work.
Essential Items for Your Car's Winter Survival Kit
---
Advertisement – Continue Reading Below
1
Snow Brush and Ice Scraper
Start here. Every car, truck, or SUV needs to have one stashed in its trunk, bed, or boot. To be honest, we've found that no matter the brand, the durability of these ice scraper/snow brush units depends on how often and how hard you use them. Our advice remains the same: You'll get what you pay for. We bought this one from AstroAI a couple of winters ago, and it's still going strong.
Stays in the vehicle
Anyone can use it
Won't reach the rooftops of some SUVs and trucks
2
Telescoping Snow Broom
This 18-inch-wide broom has a telescoping handle that extends from 33 to 52 inches long, making it ideal for owners of trucks and large SUVs. The nonabrasive foam is claimed to be safe for/not scratch your paint—but we'd exercise a light touch just the same. Requires two AAA batteries (not included) for the LEDs.
LED headlights for nighttime use
Lights can flash for roadside applications
Might be too large to keep in some vehicles
3
Portable Tire Traction Mats
Dual-sided cleats bite both the snow and your tires, providing traction where there is none. Now, whether these work for you will depend on the amount and type of snow you're stuck in and the kind of tires you have—the weight of your vehicle might be a factor, as well. That said, we've seen them work great for sedans that are having trouble getting traction on slippery and icy surfaces. We've seen them work great in sand. If you drive a car with low-pro tires, we recommend carrying a set in your trunk—it's certainly easier than shoveling.
Stack and lie flat for easy trunk storage
2.6 pounds and 36 inches long
Effectiveness will depend on many factors
4
Collapsible Shovel
The above tools are great for when you're stuck in snow—but a foldable, collapsible shovel can dig you out of almost anything, year-round. The ergonomic T-handle and curved scoop make it great for tossing snow, sand, and gravel, and the shaft extends from 22.4 to 33.5 inches. It's available in black, red, or gold.
Unfolded size: 33.5″x8.3″; folded size: 9″x14″; weight: 1.24 pounds
Disassembles into four parts
Probably not sturdy enough to handle mud or rocks
5
Tire Traction Straps
These mighty straps are like instant tire chains. Strap one around each tire for extra grip in slush and snow—no digging required and no more spinning tires to dig an even deeper hole to climb out of. Keep the tires straight and the throttle slow and even, and TracGrabbers should bite and pull you out easily. 
Available in five sizes, from cars to oversize vehicles
One for each tire is all you need
Some complaints that they only work once
6
Tow Strap
If all else fails, you can always ask for a tow. But if you're going to ask, you'd better have the means. This handy tow strap stashes easily and discreetly in a trunk or toolbox, and is ready when you need it.
Comes in multiple sizes, and a two-pack
U.S.-owned company
Product is manufactured in China
This content is created and maintained by a third party, and imported onto this page to help users provide their email addresses. You may be able to find more information about this and similar content at piano.io
Advertisement – Continue Reading Below