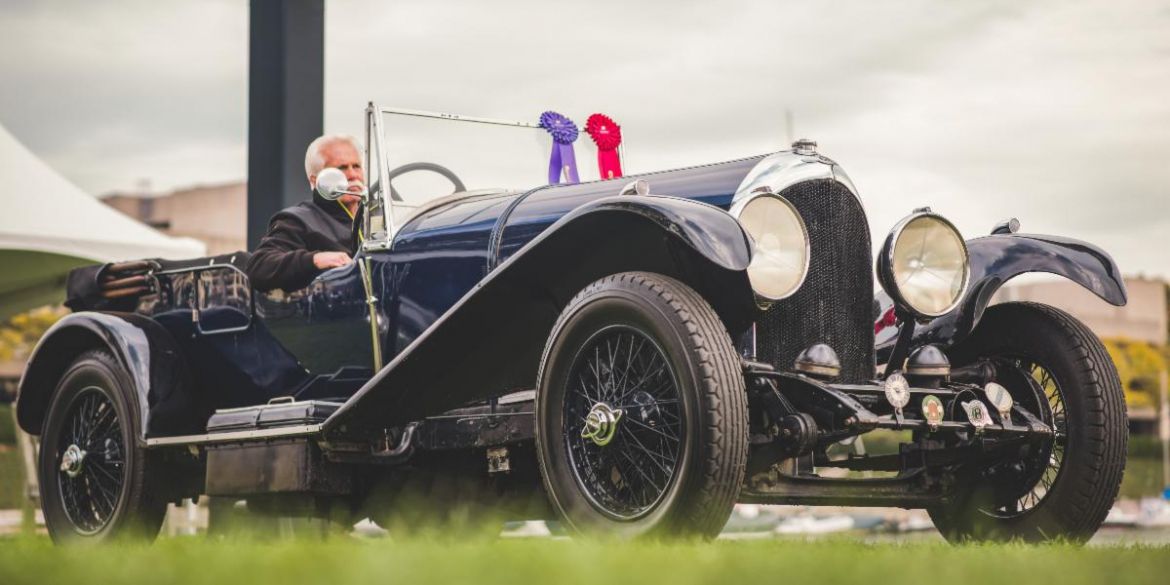 Here Are The Coolest Classics Hiding In The Garage Of Wayne Carini
Wayne Carini is a renowned personality among auto aficionados, having spent his whole life restoring automobiles. He has become the face of the classic car world thanks to his reality TV show Chasing Classic Cars. It all started with his father's car restoration business, which helped him become the renowned auto restorer he is today. Even the elite owners of classic car collectors have opened their garages to him and enabled him to work on their prized possessions because of his flawless reputation in the classic car restoration industry.
Related: These Are The 10 Coolest Vehicles We've Seen On Chasing Classic Cars
The American expert restorer has a profound affection for vintage cars and is an ardent car collector. However, on a personal level, Wayne doesn't talk much about his personal car collection. He owns an impeccable collection of antique classic cars, including a few dozen museum-quality cars that are concealed in his barn. Let's have a look at the coolest classics hiding in Wayne Carini's garage.
8

1963½ Ford Falcon Sprint
There's no denying Wayne has a terrific eye for cars; his selections are remarkable, so think how good his pick would be. One such treasured possession stashed in Wayne's barn is a 1963½ Ford Falcon Sprint, which features a Ford V8 engine, sports steering wheel, gorgeous green interior, and bucket seats.
This nascent Falcon was a sprint package that offered more muscle, a dashboard-mounted tachometer, chrome side trim, a horizontal grid pattern, and redesigned taillight lenses. Plus, it was the first time a 164-hp V8 option was available in a first-generation Falcon, and this model was built in limited numbers. It also served as the foundation for Ford's 1964½ Mustangs, which debuted a year later.
7

1948 Davis Divan
Some things in life become obsessions, and classic cars are one of them for Wayne Carini. His three-wheeled convertible, a 1948 Davis Divan, is a real treasure, which has been on display at several automobile shows. Only 13 cars were ever made, and his is one of them.
Related: 10 Things We Just Learned About Chasing Classic Cars And Wayne Carini
Wayne was contacted about this one-of-a-kind, futuristic-styled car and instantly accepted it. He changed the color of the paint from a vivid purple to a more modest, natural green. This 63-hp two-door classic roadster has a three-speed Borg-Warner manual transmission, aircraft-inspired aesthetics, hidden headlights, disc brakes, and built-in jacks, among other features.
6

1954 Arnolt-Bristol Coupe
Wayne has taken us on a lot of excursions in Chasing Classic Cars to find the rarest cars in the oddest of spots, but he himself is also the proud owner of an ultra-rare and exquisite 1954 Arnolt-Bristol Coupe. In fact, he also owns its sibling, a 1955 Arnolt-Bristol Roadster. Only 142 Arnolt-Bristol cars were built for the American market, and all of them were roadsters, except for four coupes. One of those coupes belongs to Wayne Carini.
The Bristol featured one of the best chassis of its day and one of the most efficient 2.0-liter six-cylinder engines available, producing 132 horsepower while being derived from a pre-war BMW design. These exceedingly rare coupes are worth anything between $236,000 and $474,000.Wayne has a fondness for classic Bentleys, as anyone who knows him knows. One such beauty that resides in his garage is a 1926 Bentley Touring in a blue hue. This pre-war British sports car boasts a 3.0-liter, four-cylinder engine designed by Clive Gallop, an ex-Royal Flying Corps engineer, and was technically advanced for its era.
5

1926 Bentley Touring
Wayne has a fondness for classic Bentleys, as anyone who knows him knows. One such beauty that resides in his garage is a 1926 Bentley Touring in a blue hue. This pre-war British sports car boasts a 3.0-liter, four-cylinder engine designed by Clive Gallop, an ex-Royal Flying Corps engineer, and was technically advanced for its era.
Related: Wayne Carini Shares Stunning Car Collection In Behind-The-Scenes Tour
When Wayne's not chasing cars around the world, he enjoys taking this cool classic on summer afternoon outings. He also drove it to the California Mille vintage rally twice, as well as the Greenwich Concours d'Elegance in 2021.
4

1960 MGA 1600 Coupe
The 1960 MGA 1600 Coupe is an extremely rare model as they were produced in even fewer quantities than roadsters, and Wayne Carini is the proud owner of one of these. The MGA was born in 1951 when MG designer Syd Enever was tasked with designing a streamlined body for the MG TD Le Mans car. The race car was gently tweaked by MG designers into what we now know as the MGA road car, based on that initial design.
This two-door coupe was a major styling break from MG's previous sports cars, which included white parking lamps, front disc brakes, and distinct tail and turn lamps in the rear. Under the hood is a 1.6-liter B-series engine that produces roughly 80 horsepower. Plus, it could go from 0 to 60 mph in 13.3 seconds and had a peak speed of 96 mph.
3

1986 Mercedes-Benz 560SL Roadster
The next masterpiece treasured by Wayne Carin is a 1986 Mercedes-Benz 560SL Roadster. The 560SL Roadster was the penultimate model in the Mercedes SL series, and many consider it to be the best. The reason for this is its performance and elegance. All of the previous SL cars from this period, the 350, 450, and 380SL, were well-built but not super speedy. It boasted a 272-hp 5.6-liter V8 engine, making it the most powerful SL-Class at the time.
Related: 10 Coolest Cars Discovered By American Pickers (And 5 By Wayne Carini)
For folks all across the globe, the Mercedes 560SL Roadster was a sign of success, and it is still considered a timeless icon among car aficionados today. This also pinpoints why it is in Wayne Carini's barn. Power steering, full leather upholstery, ABS brakes, cruise control, power windows, and a factory alarm are also included in the two-door roadster.
2

1961 Porsche 356B Cabriolet
One of Wayne's favorite belongings is a low-riding, stunning 1961 Porsche 356B Cabriolet. It is without a doubt one of the most artistically pleasing cars ever made, and Wayne's barn houses one of the 1,616 built. In 1959, Porsche had their work cut out for them: building a machine that could outperform their legendary 356A was a massive undertaking. The Porsche 356B was born in early 1960 after years of refinement and aesthetic revisions.
This appealing and exquisite Porsche is driven by a 1.6-liter B4 engine and was marketed as a high-end touring car with a thickly cushioned convertible top, a single-engine grille, and high-end accessories like leather seats and a Blaupunkt AM/FM radio.
1

1967 Jaguar XKE Convertible (Jaguar E-Type)
Wayne's exquisite collection of restored antique cars in his garage has been a part of his investments, and one of his most coveted possessions concealed in his garage is a 1967 Jaguar XKE convertible. Wayne has evolved along with the Jaguar E-Type. He was amused by William Diefenderfer's car since he first saw it in 1961. The sleek exterior of Diefenderfer's bronze Jaguar E-Type intrigued him. Wayne fell in love with this eternal beauty at that point.
Waynes adores driving the Jaguar XKE and compares it to the Ferrari Daytona in terms of performance. This 4.2-liter Jaguar is often considered the most desirable and pleasant of all E-Types. The two-door sports car also features a stunning glass-covered headlamp, long hood, rack-and-pinion steering, a padded center console, leather upholstery, and a short rear deck.
These Celebrities Drive The Coolest Classics
While some celebrities love flaunting their expensive supercars, these 10 know that nothing beats a spotless classic.
Read Next
About The Author