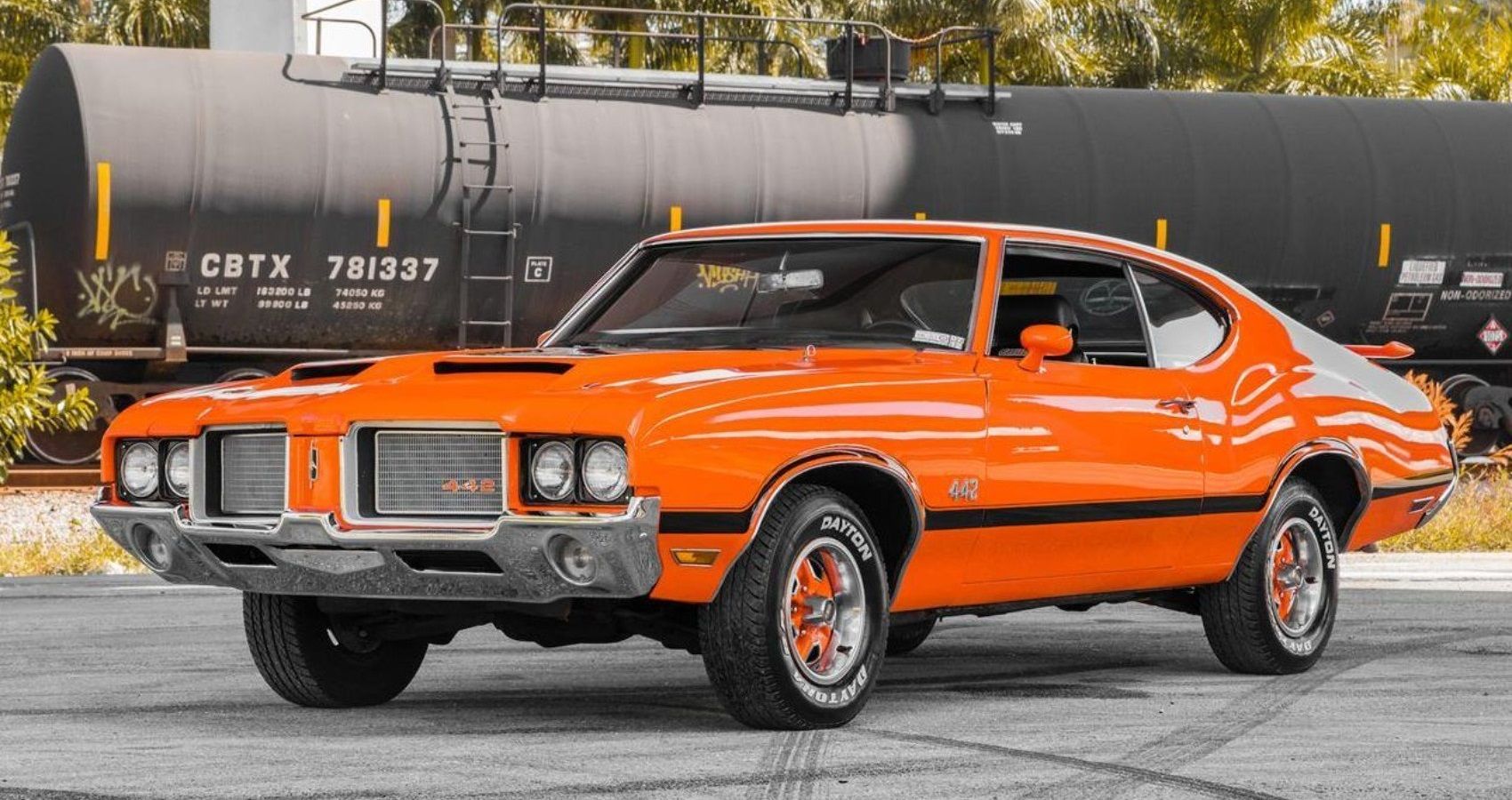 Here Are 10 Classic Muscle Cars You Can Use As Daily Drivers
The allure of a classic muscle car is one that many find hard to resist. Just the idea of one gracing your driveway, as a prized possession, is something every gearhead wants. Furthermore, one also dreams of driving a classic American beauty everywhere, every day, turning heads wherever they go. The feeling of driving in a piece of automobile history is thrilling and using a classic muscle car as a daily driver is sure to raise your street cred by ounces. After all, it isn't just boring sedans and hatchbacks that should be daily beaters.
However, there are plenty of classics that look good parked but tend to break down when the time comes to get going. Old parts usually overheat or fall apart owing to age or lack of dependability. Of course, there's no denying that some American classic cars from half a century ago are still capable of going the distance, built as they were like tanks with longevity in mind. Thus, it's best to go with these 10 classic muscle cars that have proven themselves as capable of daily driving.
10/10

1969-1972 Chevrolet Chevelle
Chevy really had a great thing going with the Chevelle between 1969 and 1972, considering how they did sell a million of these. Sure, the SS models which carried the 7.0-liter V8 are a little too expensive, but even the regular Chevelle is a pretty great classic car to buy.
Even today, spare parts for the Chevelle are easily available, be it stock or aftermarket. Phenomenal to look at, the Chevelle is sure to turn heads while you're on your way to your commute.
9/10

1970-1974 Plymouth Barracuda
The Plymouth Barracuda is one of the best E-body cars from GM, armed with either a V8 or the inline-6. The Barracuda was stylish, comfortable, and extremely fast, which makes it a phenomenal car even today.
Plymouth being defunct today, spare parts might be a little hard to come by, but the Barracuda is a historic car that has cemented its name in automobile history. Enthusiasts and gearheads alike are sure to give you a thumbs up seeing you in a Barracuda, and even with the V8, it returns around 14 MPG.
RELATED: Here Are 10 Things You Probably Didn't Know About The Iconic Plymouth Barracuda
8/10

1968-1972 Oldsmobile Cutlass
The Cutlass is the car that made Oldsmobile the marque it became. Extremely villainous to look at, the Oldsmobile Cutlass commands a massive road presence, and you'd still feel the luxury inside the cabin in 2022. Customers flocked to the Cutlass, and it managed to set itself apart from the regular muscle cars with its big, beefy look.
Despite its size, the Cutlass offers a zippy drive, and even with a 7.4-liter V8, it's still pretty affordable. In fact, it is probably one of the easiest classic cars to avail today and even its suspension lifts and aftermarket parts are pretty easy to come by.
7/10

1970-1974 Ford Torino
The Ford Torino managed to prove a great choice for those who didn't want a Mustang or a Camaro back in the '70s. The ones that Ford fitted with their legendary V8 are some of the most iconic cars ever. The Torino came cheap, too, and oozes ounces of swagger, too, which is just what you need from a daily driver.
The Ford Torino, in its second and third generation, is the most iconic when it comes to looks too. After 1974, however, the Torino had some rather bad years, but Mopar has plenty of spare parts for the Torino. The car rides like a dream, too, which is again, a great factor for a daily beater.
RELATED: Here's What Makes The Ford Torino GT An Underrated American Car
6/10

1965-1973 Ford Mustang
Could you ever possibly go wrong with a Mustang? Well, if it's from the Malaise era, you could, but let's pretend that never happened. There are plenty of classic Mustangs to go around today, considering the crazy amount of units Ford sold.
One of the most important cars in the history of Ford, the Mustang has a whole market segment of parts to itself, be it aftermarket or stock. Replacements are simply not an issue when it comes to a classic stang, and honestly, there's a lot more respect for driving a classic 'Stang on the daily rather than an EcoBoost-powered modern version.
5/10

1967-1969 Chevrolet Camaro
The Camaro is for the ones who prefer the bowtie over the Blue Oval. The first generation of the Camaro came off the assembly line just to fight the Mustang, and it managed to cement itself as an icon of the American industry.
The first-gen Camaro is capable of housing any small-block V8 from Chevrolet, and it still manages to stand apart in both looks and power. Cheaper than a Mustang, the Camaro is still every bit of fun to drive, even if you might have to lose a little comfort.
RELATED: 10 Obscure Facts Only Real Gearheads Know About The First-Generation Chevrolet Camaro
4/10

1967-1970 Mercury Cougar
The cousin to Mustang from Mercury, the Cougar was smaller and held a more aggressive visual appeal. Even though Mercury never did advertise the car properly, they never skimped out on this car's power. Armed with a 6.4-liter V8, the Cougar could make a whopping 320 horsepower.
Plus, the Cougar came cheaper than the Mustang, as it still does, which means that you could still ride around in a classic car on the daily without blowing a hole in your wallet. Ride quality, of course, is one thing the Mercury Cougar got absolutely right, making it a great contender on this list.
3/10

1966-1970 Dodge Charger
Every gearhead's heart lies with the second-generation Dodge Charger. An absolute icon and pillar of the American muscle car industry, the Charger turns heads down every single street, and you will be spoilt for choice considering just how popular the car has always remained.
From barn finds without engines to fully-restored models, you could find any type of classic Charger you want. Plus, the large engine bay is hospitable for many modern V8 engines as well. So if you're looking for a great, efficient engine inside the striking shell of a classic Charger, you simply couldn't go wrong with this one.
RELATED: Here's How A 2006 Dodge Charger Ownership Could Bankrupt You
2/10

1964-1970 Pontiac GTO
There are many reasons why the Pontiac GTO is truly considered the 'Goat'. A play on its initials, Pontiac advertised this legendary car as the Goat. While they don't come cheap and fuel economy is, quite simply, bad, the Pontiac GTO could outlast you if the right work is done on it.
One of the best Pontiac cars ever made, the Pontiac GTO also has a huge amount of parts available in the market even today, and driving one is as fun and luxurious as a classic car gets. Thanks to an independent rear suspension, the Pontiac GTO eats bumps on the road while you can glide on without the slightest of discomfort.​​​​​​​
1/10

1968-1974 Chevrolet Nova
For those who want a classic Chevrolet but not a Camaro or a Chevelle, there's always the Nova. The Nova was the most pony-esque car from the house of Chevy, and the ones equipped with the 6.4-liter V8 truly went like hell.
Some of the most iconic classic cars are the Novas worked on by Yenko, and if you manage to somehow secure a Yenko Nova, chances are you're never stepping out of the car. The classic Nova combined great looks with pure power, and driving it on the daily won't be a choice, but a necessity after you sit behind the wheel just once.