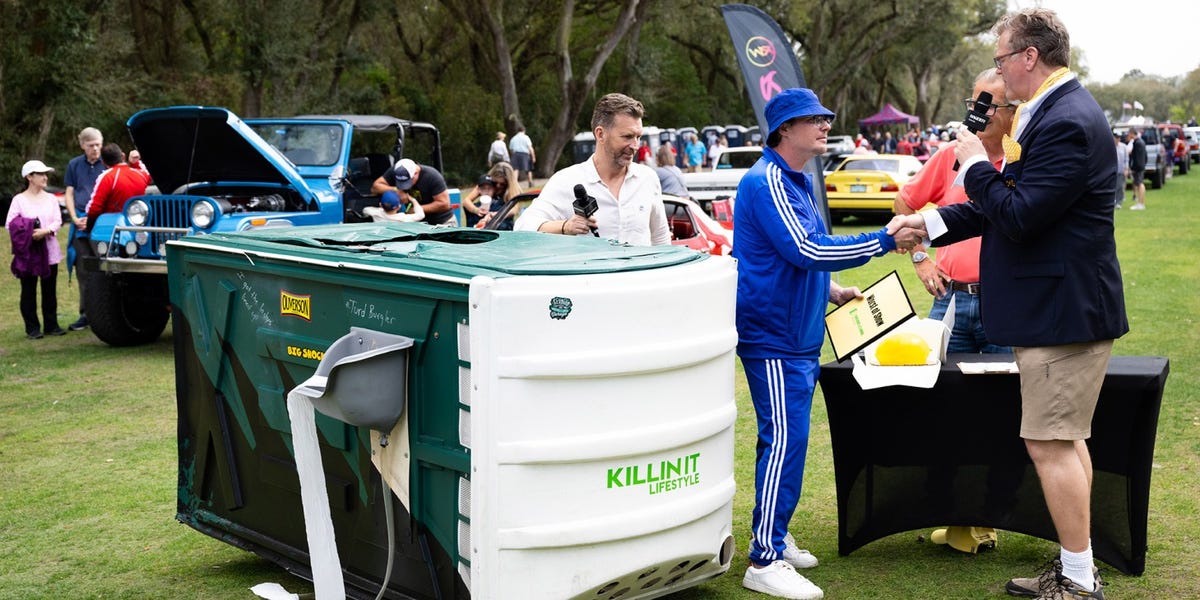 Concours d'Lemons a Parasitic Pimple on an Otherwise Amicable Amelia
On one side of the road were the fastest and most beautiful cars in the world, the race cars and road cars of The Amelia, surely one of the leading concours on the planet. On the other side of the road, closer to the swamp, was the Concours d'Lemons.
Since Amelia founder Bill Warner has a sense of humor—and maybe since he wants to make sure the event he founded (and turned over to the benevolent ownership of Hagerty last year) keeps going strong—Warner was an early and enthusiastic supporter of the Concours d'Lemons. Lemons is best described as a sort of anti -Concours that celebrates "good examples of bad cars and bad examples of good cars, the oddball and the mundane," Detroit's mistakes and Europe's and Japan's embarrassments, corporate boardrooms where no one had the guts to say no to the Nissan Murano CrossCabriolet or the Suzuki SX90, wheeled weirdness, motorized mulch.
"The key to the Concours d'Lemons is that it is all about fun," said perpetually chipper founder and "Head Gasket" Alan Galbraith. "The car owners don't take themselves, or their cars, too seriously. You have to be a pretty big grouch to not get a giggle out of the Concours d'Lemons."
Galbraith makes a living on the periphery of automotive greatness, co-founding with two friends 26 years ago a series of hot rod events called Billetproof, for hot rod projects in progress and not finished that nonetheless their owners wanted to show somewhere. He started Concours d'Lemons in 2009 to celebrate truly awful cars in locations adjacent to great cars at real Concours like Pebble Beach and, a few years ago, Amelia.
"Spectators can relate to a rusty VW Bug, or Krappy K Kar," Galbraith said. "They probably went on a family road trip in one, or they drove one in high school. The same thing can't be said for the fancy cars at the major concours. They are stunningly beautiful, but there is no personal connection there."
It's an appeal that eludes further explanation, as does the fact that there were seven Concours d'Lemons last year all over the country. Everybody seems to be in on the joke. Hagerty started sponsoring Lemons several years ago—Hagerty, a real insurance company that should know better.
"I'm constantly getting invitations from events that you'd think would know better. But concours officials come to the Concours d'Lemons, have a good time, and want to bring some of the fun to their events as well."
This year, across the swamp from The Amelia, the coveted Concours d'Lemons Worst in Show award, along with a shopping bag full of useless gag gifts, went to an outhouse, yes, an outhouse. The owner had tipped it on its side, mounted it on some sort of mutant riding lawn mower thing, cut a hole in one of its plastic sides from which to poke his head out, and proudly drove into the winner's circle, having beaten out 54 other entries for the glory.
Yes, there were 55 "cars" on the field this year. Grab a bucket—or a barf bag—and click on through the gallery. See if there's something there you like, something that might inspire you. Maybe the car you drove to the prom in 1976 made this year's cut, or the car you were driving the first time you got arrested. And start scanning the classifieds—and junkyards—for your own entry. We'll see you at Pebble.