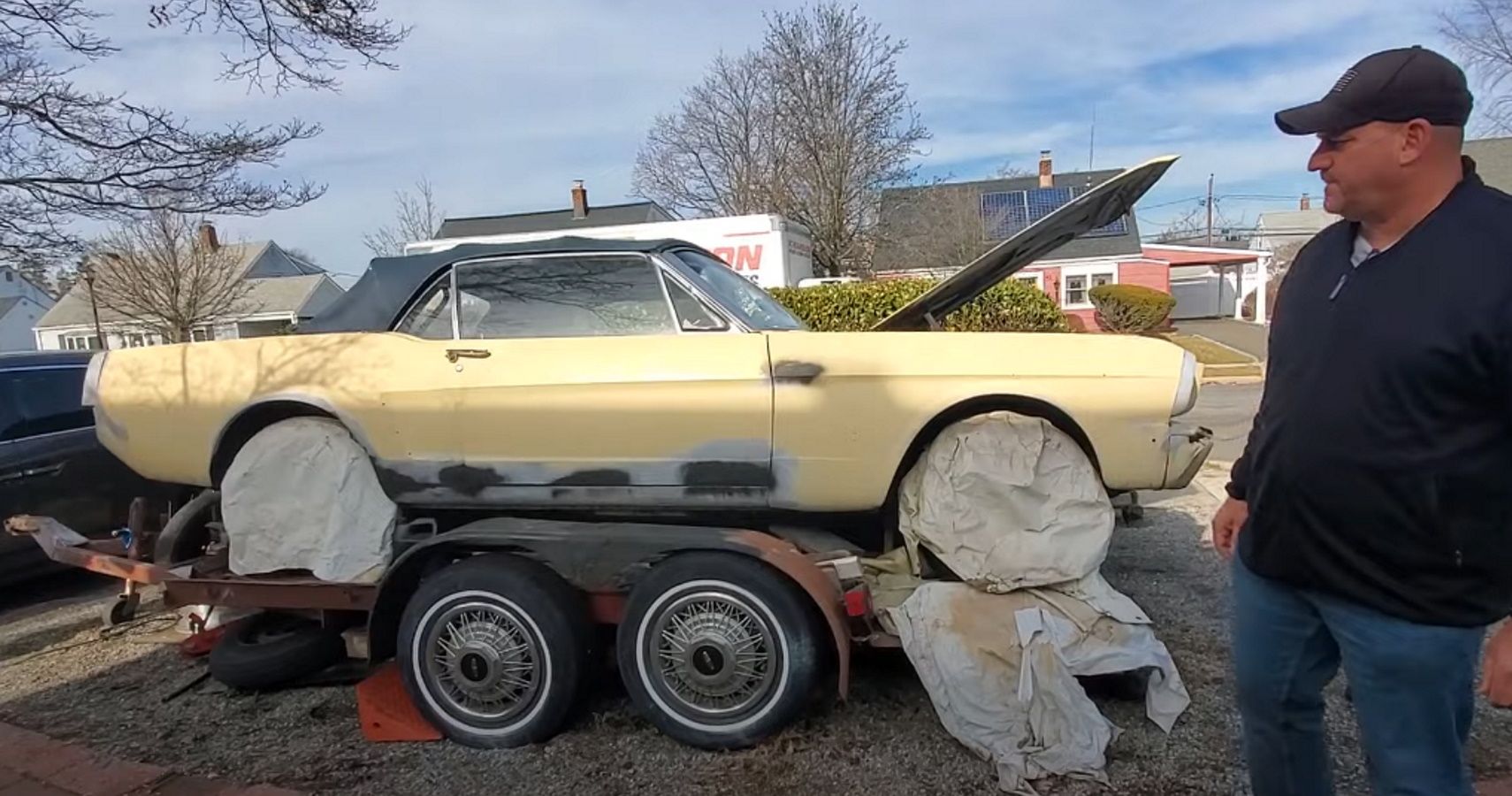 Collector Selling His Beloved Classic Cars After 70 Years
Boasting several classic Ford Mustangs, Lincolns, and several others, Jerry "Metal Man" Battaglia gets a tour of this impressive collection.
YouTube gets littered with videos of once-great classic cars left to rot, the result of collectors unable or unwilling to part with their automotive treasures. But, one enthusiast from Long Island, New York, is taking a more proactive approach. The channel Jerry "Metal Man" Battaglia highlights the many vehicles offered for sale by Emilio, a car aficionado who's been acquiring vehicles since 1954.
While his cars, like a 1983 Ford Thunderbird and a 1985 Lincoln Continental, may generate little excitement, other examples, such as a 1965 Ford Mustang convertible and a 1948 Nash Ambassador, are sure to attract attention.
The biggest disappointment comes from vehicles we can't see, thanks to those being offsite or covered.
RELATED: Here's Where The Lincoln Continental Convertible From Entourage Is Today
Something For Every Blue Oval Fan
Emilio's Ford-heavy collection includes a 1941 Lincoln Continental convertible partially obscured by a protective tarp. He readily admits the car needs a full restoration and adds he has numerous spare parts that will make the job easier. Regardless, Emilio would happily accept $12,000 to take this once-mighty luxury cruiser off his hands.
Fast-forward by four decades, and a pair of Fox Body Ford Mustangs are ready for the taking. These include a 1985 Ford Mustang SVO that's seen better days. But despite its run-down condition, the car's 40,000 original miles and rebuilt engine offer an intriguing opportunity.
RELATED: Here's Where The 1941 Lincoln Continental From The Godfather Is Today
And Unusual Daily Driver
The terms "Nash Ambassador" and "daily driver" likely haven't gotten used together in decades, but Emilio proudly points to his 1948 Ambassador as a case in point. Its overhead-valve six-cylinder engine has served as trusty power for almost 75 years. "It runs absolutely beautiful," promises Emilio.
The shiny paint has given way to a dull patina. But otherwise, this Nash appears in good shape, with only the headliner needing replacement. Emilio is hoping to pocket $12,000 for this throwback to post-war America.
More Fords And Dodges For Sale
Viewers get left wanting more when the video shows a tarped 1970 Dodge Challenger convertible and a hidden 1966 Lincoln Continental convertible. But these thoughts are overcome by a 1965 Ford Mustang convertible. It's an option-heavy V6 example waiting to get towed away on the included trailer.
Emilio wraps things up by pointing to another of his daily drivers, a 1954 Dodge sedan; it could be either the top-tier Royal trim or the mid-grade Coronet. While the body needs finishing work, the engine bay has a ready-to-roll Hemi V8 attached to a TorqueFlite automatic transmission. Updates include conversion to a 12-volt electrical system and new brakes.
Source: YouTube/Jerry "Metal Man" Battaglia