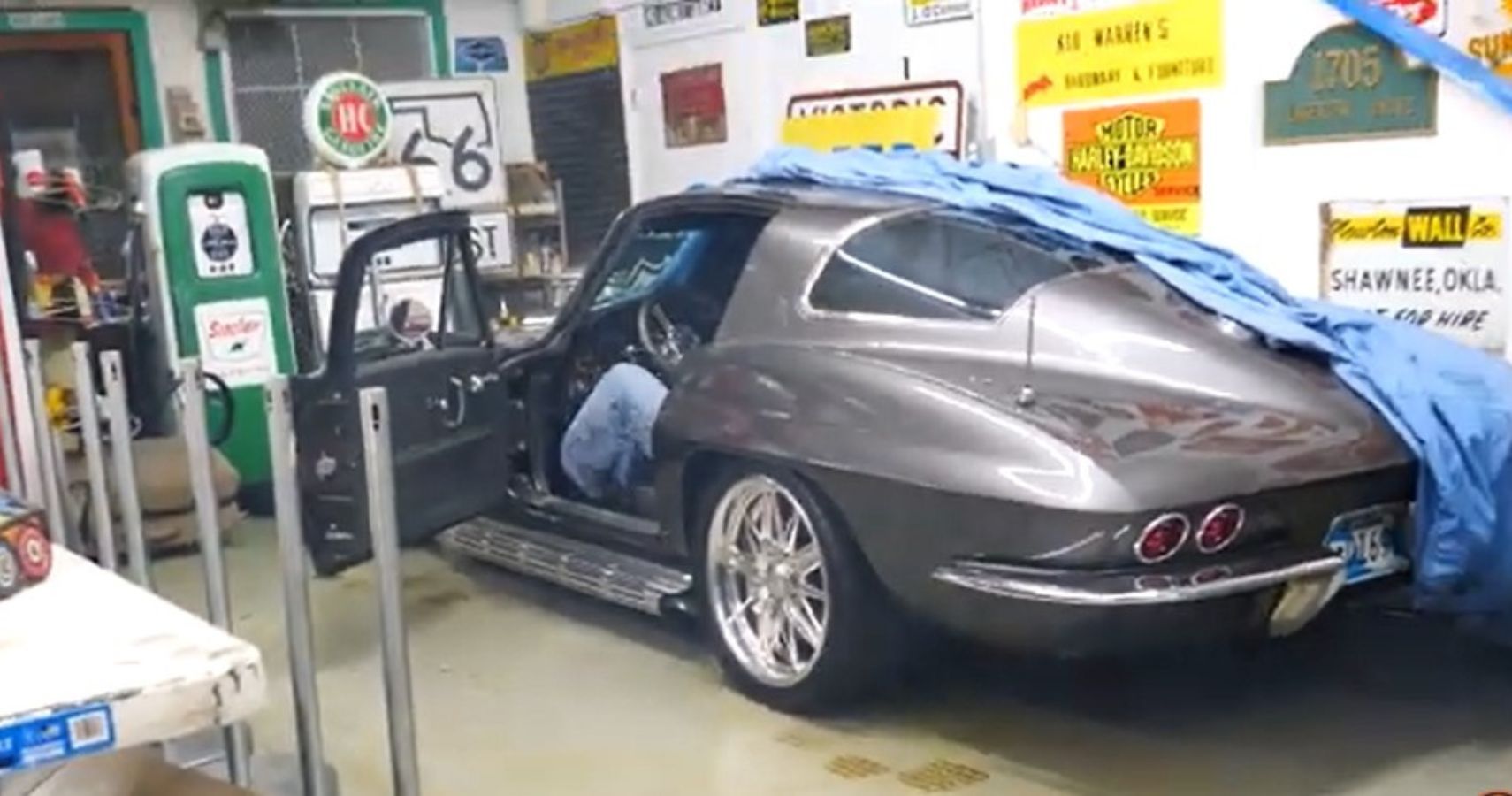 Check Out This Barrett-Jackson Bound Collection Of Classic Cars
The collection is worth millions in total and includes an incredible $250,000 1963 Chevrolet Corvette Stingray.
The YouTube channel The Daily Dad explores a warehouse full of classic cars including some of the most iconic nameplates from the Detroit three. Most of the cars are in excellent condition and a few are even Barrett-Jackson-ready.
Among the highlights is a 1963 Chevrolet Corvette Stingray valued at around $250,000. Check out the video to see these well-preserved classics, hear some of them start up, and get an up-close view of some of the most celebrated nameplates among classic car enthusiasts.
Checking Out A Classic Car Collection
The first car in the video is a 1973 Pontiac Grand Prix in a distinct gold exterior paint color with an interior that nearly matches it. The very clean classic Pontiac starts right up when Chris gets in and turns the key, a testament to the care these cars receive. It's also noted later that many of them have not gotten started in a while and temperatures have been low. The Grand Prix is one of the longest-running Pontiac nameplates, with iterations of the car lasting until shortly before the Pontiac brand's discontinuation.
RELATED: Check Out This Pristine And Mostly Original 1931 Ford Model A Barn Find
The next car they encounter is a bright red 1958 Chevrolet Bel Air coupe with a 327 V8 engine. While not as widely cherished as the 1955 or 1957 model years, the Bel Air remains one of Chevrolet's most recognized and collected classic car models and this one is a great example of a very clean one. The Bel Air has a brand-new white interior and will be heading to the Barrett-Jackson auction in a few weeks. The warehouse is a treasure trove of classic Chevrolet vehicles with an exceptionally clean 1950s-era Chevrolet pickup truck being the next vehicle they check out.
Well-Preserved Classic Cars
Parked on a lift is something that looks straight out of a Beach Boys album, a 1957 Dodge Sierra station wagon, complete with whitewall tires and a surfboard on the roof. Also heading to Barrett-Jackson is a yellow Ford Mustang that has an exceptionally clean engine bay which they check out after lifting the hood. This Mustang has a value of around $17,000 which is about what they expect the classic Ford sports car to fetch at the upcoming auction. They also check out an early 1980's Mercedes-Benz sedan that Chris commented is a family-friendly classic.
RELATED: See The Classic Car Dealership In Florida That Has An Excellent Selection Of Survivors
The real highlight of the video is a 1963 Chevrolet Corvette Stingray with a value in the neighborhood of $250,000. The Corvette has a number of modifications including custom chrome wheels. The car then gets started up and sounds great. Like some of the others in the warehouse. it is also headed to Barrett-Jackson.
There is another 1963 Corvette that gets lowered from a lift and started in addition to two more Chevrolet Bel Airs, this time from the 1955 model year. The first one is a red and white '55 as well as the owner's car, a silver '55 with a red interior. The owner had this car built and it sounds great while running. With how great of condition these cars are in, they should no problem fetching top dollar when they go to auction.