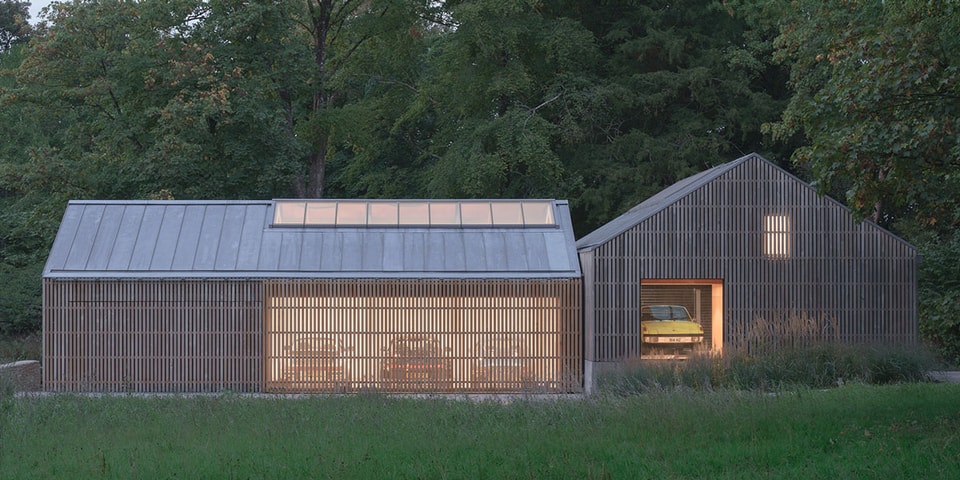 Bindloss Dawes Creates Garage for Classic Cars
Somerset-based architecture practice Bindloss Dawes has created a garage and workshop for a classic car collector, which features a design inspired by the agricultural barns on the surrounding 18th-century estate.
Aptly named "Autobarn", the space is organized around an L-shaped plan, with one long section housing five parking bays, and the other home to a workshop in order to allow the collector a space to work on the cars he has collected over the years. "It's been my long-term dream to bring my car collection together under one roof, and to start all the restoration projects I've been planning," says the owner Tim Swift. He describes the design process for the space as being a "close collaboration" between himself and the architects, who are based close by to the site. "I had some strong ideas about how I wanted the project to look and feel," he adds.
In response to his vision, the team developed a scheme that took cues from surrounding agricultural architecture, in particular the ways in which the buildings make use of low-cost materials, and feature a "natural" palette. A combination of timber, steel, concrete, and recycled wood strand board was used in order to allow the building to appear quiet, with focus instead being placed on what is within it, and the landscape surrounding it.
Oliver Bindloss, the director at Bindloss Dawes added:
"Our aim was to create a building that appeared elegant and familiar at first glance, but then opened up to reveal something surprising and unexpected. Using the barn typology helped us to achieve this, creating simple timber forms that you might expect to find throughout the countryside, but then introducing some theatre with the big sliding doors, opening up the building to reveal the car collection inside."
The impressive entrance to the garage measures seven meters tall, with a floor-to-ceiling timber screen which slides across to provide access. A steel security door is tucked behind, and an additional sliding glass door installed behind that – providing three layers of not only safety but also better climate control.
Take a look around the Autobarn project above, and for more design news – check out Filipa K's new Amsterdam store, which has been bathed in icy blue.