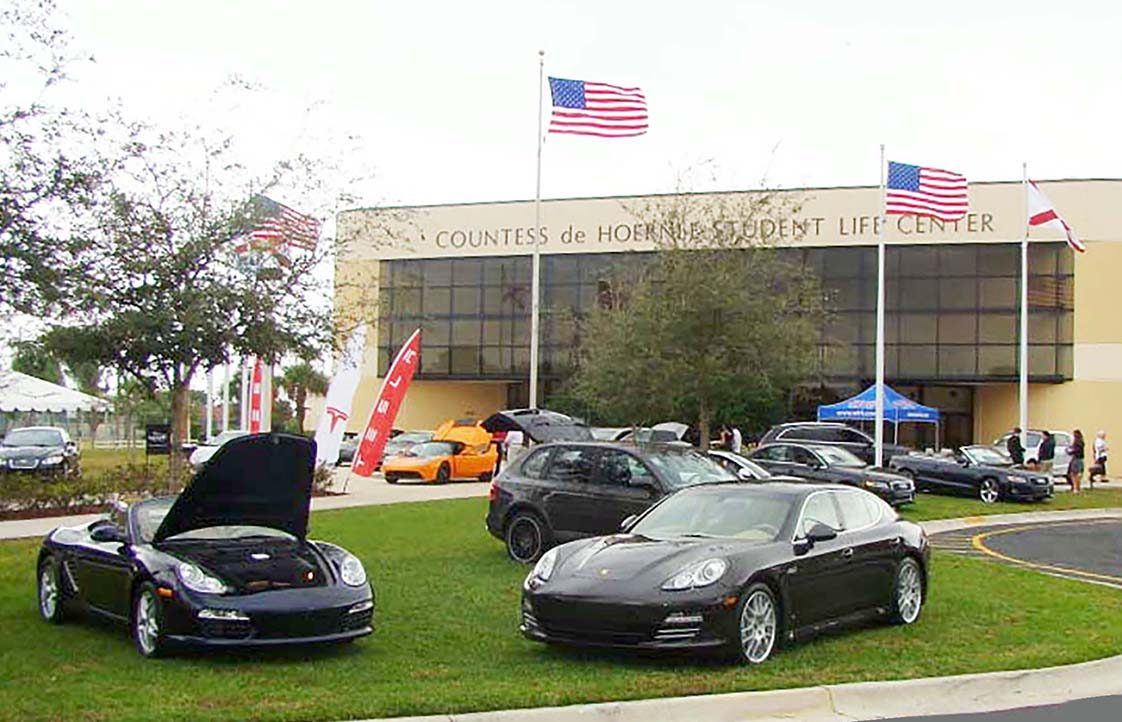 As Keiser University's Auto Show and Chili Cook-Off Approach, Professor Offers Hot Tips for the Ultimate Car-Buying Experience
As Keiser University's outdoor Auto Show of the Palm Beaches and Chili Cook-Off approach, Professor Brian Bastin offers his top tips for the ultimate car buying experience. The Auto Show and Chili Cook-Off will feature the latest makes and models along with mouth-watering chili recipes. The event will be held Saturday, March 25th, 2023 at Keiser University's Flagship Campus at 2600 N. Military Trail, West Palm Beach, Florida 33409.
Bastin's SMARTTOOLS for purchasing an automobile include:  
S – Specify your needs, wants, and constraints.  Just like any good athletic team puts a game plan into place before the game, you need a game plan before you start shopping for your dream car. 
M – Make a budget and stick to it. It starts with an overall budget – know your current and potential future income, as well as your non-discretionary expenses.  
A – Appraise your trade-in online or through an independent buyer. Determining the actual value of your vehicle prior to visiting a dealership will save time and ensure you're prepared.
R – Research your choices online.  Find out which vehicles work for you.  Develop a shortlist of a couple of cars you want to test further keeping in mind your budget and that a low mileage vehicle may be best. 
T – Talk to your own bank or other banks before going to the dealership.  Many times, dealers will have the lowest rates, or they may be the only source to lease a vehicle.  You still need to have your options ready. 
T – Test drive the vehicle, the dealership, and the people.  While vehicles can be purchased sight unseen, it's important to test drive the vehicle first.  Your online dream car may not suit your needs or be as comfortable as you'd hoped.
O – Orchestrate your game plan.  You've selected the car, now it's time to put your game plan into action by negotiating the price of the car first and then the payment.  Remember, you have done your research and obtained your bank quote.  Now it's time to get your best deal on the overall price and progress to the number and price of payments.  Keep in mind that automotive leases have their benefits as well.  
O – Only buy the vehicle and products that add value and fit into your budget.  Once the negotiations are over you will see a menu with all kinds of products.  Extended warranties, key replacement, and environmental products are just a few of the items available.  Only buy products that add value, fit into your budget, and are easy to administer.
L – Leave unless you get what you want.  Remember, there will always be another car available to you, so take the time to shop wisely.  
S – Savor in the victory.  At the end of the day, the transaction must work for both parties.  The dealer provides many services and needs to be compensated for those services, and buyers need to be treated fairly and respectfully.  The SMART TOOLS plan provides both the buyer and the dealer a win-win experience.  Enjoy your new ride!
With Auto Show and Chili Cook-Off proceeds benefiting the construction of Keiser University's Aquatics Center, community friends, and neighbors are invited to view the latest automotive makes and models while sampling some of the south's finest chili. To learn additional details including registration and sponsorship opportunities, please visit here.
Auto Show: 10 AM – 4:00 PM  Free
Presented by Keiser University Automotive Dealership Management program students, auto enthusiasts will enjoy vendor fare while viewing and learning more about the latest luxury, exotic, economy, and electric models while browsing in a no-pressure sales environment.
For questions and additional information about the Auto Show of the Palm Beaches, please contact Brian Bastin at [email protected].
Chili Cook-Off: 12 Noon – 3:00 PM  $10 Wrist Band
With the purchase of a $10 wristband, guests will enjoy viewing the auto show while also sampling spoonfuls of the flavorful stew before voting for their top recipes. Tastings begin at Noon and the winner will be announced at 2:45 PM.
Those who would like to enter their best chili recipes to compete for the $300 cash prize can register their team and review the complete Chili Cook-Off Contest Rules and Regulations here. Chili booth set-up begins at 7:00 AM and registration will remain open until all booths are full.
For questions and additional information about the Chili Cook-Off, please contact Natalie Clark at [email protected] or call 561-386-2704.
Keiser University's Bachelor of Arts in Business Administration Automotive Dealership Management program prepares students with the skills needed to become future industry leaders. The curriculum examines various environmental factors influencing the automotive industry such as technological progress, consumer expectations, government regulation, and personal mobility. Students will be exposed to the unique challenges facing today's automotive and vehicle retail distribution systems and graduates will be equipped with the knowledge, skills, and techniques to thrive in this new environment.
Designed to serve as home to its winning Keiser University NAIA Seahawk Swim Teams, Keiser University's future Olympic-sized aquatics facility will be located at Keiser University's West Palm Beach Flagship campus and also serve as a community resource supporting swimmer safety. The announcement of the facility came on the heels of the Water Safety and Swimming Certification for K-12 Students bill which was passed with bipartisan support.
Keiser University is a private, independent, non-profit university serving nearly 20,000 students at 21 Florida campuses, online, and two international sites. Co-founded in 1977 by Chancellor Arthur Keiser, Ph.D., and Evelyn Keiser, Keiser University currently offers more than 100 degrees from associate to the doctoral level. Keiser University is a designated Hispanic-Serving Institution, a member of the Hispanic Association of Colleges and Universities, and was ranked No. 1 in the U.S. in providing Social Mobility by U.S. News and World Report in 2023.