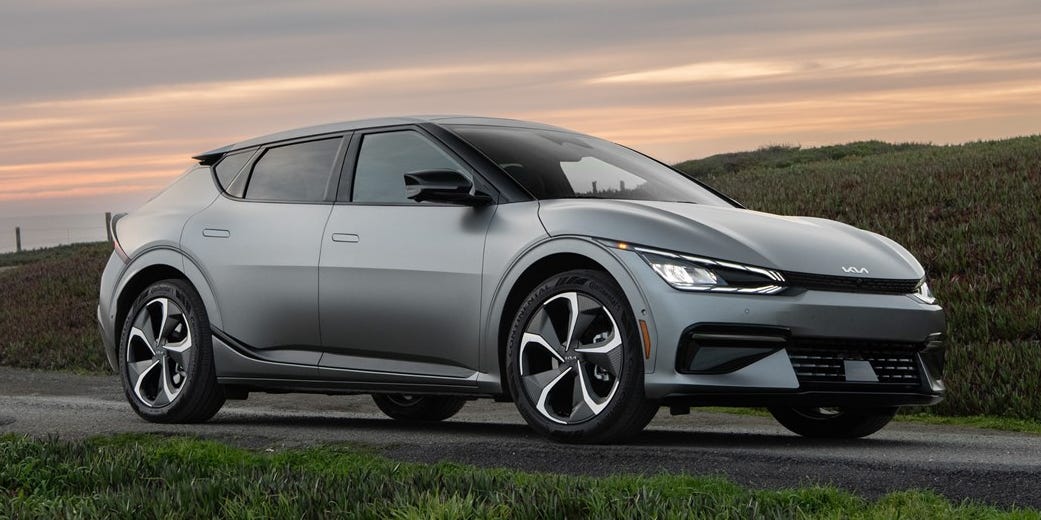 An Electric Car You'll Want to Drive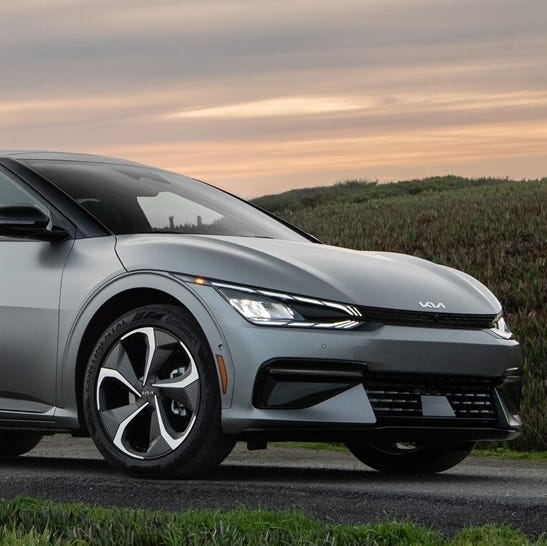 Kia
Friends and family often consult me for car recommendations. One of the first brands I recommend — unless the case requires a particular Hyundai or Genesis — is Kia. The Telluride was an outrageous success. Subsequent releases like the Seltos, Carnival and K5 have been bangers (or at least near-bangers) since. Kia is no longer just a value brand; it's building some of the best cars out there. And Kia thinks their new electric car, the EV6, will be their next breakthrough.
Kia could have played it safe with its first clean-sheet, dedicated platform EV. Rivals like Toyota, Subaru and Volkswagen led the way with strikingly conventional crossovers. But Kia chose a bolder path with the EV6. It's aggressive and sporty-looking. And as I discovered over a day driving it through curvy, Northern California mountain roads, it has the impressive and fun driving dynamics to match that appearance.
Kia says the EV6 embodies where the brand has come and where it's heading in the future. And the overarching impression is confidence. Kia is confident it can provide a superior product, confident their new reputation holds water at a $50,000-plus price point and confident mainstream buyers are going to want EVs.
Trotting out the EV6 at events like the Emmy's, Dick Clark's New Year's Eve and some big football game happening in a couple of weeks suggests Kia thinks the EV6 will be far more than a niche product. And after finally getting to drive one, I agree.
Advertisement – Continue Reading Below
What is the Kia EV6?
That's an excellent question. Broadly, the answer is straightforward. Kia uses "EV" branding for its new line of electric cars, and the number six represents the EV6's positioning in a 1-9 lineup (so, for example, the EV9 will be a big, boxy electric Telluride.)
Beyond that, the EV6 can be a hard vehicle to pin down. Kia played it coy with what segment the EV6 belongs to. They delivered an entire presentation on the vehicle without mentioning what type of vehicle it was. When pushed, Kia describes the EV6 as a "sports crossover."
The EV6 does have elements of a crossover, like a little bit of ground clearance. But it also has an aerodynamic front end like a sedan, a hatchback at the rear and the aggressive styling cues of a sports car. The EPA classifies the EV6 as something you'll probably never hear Kia refer to it as for marketing reasons — a station wagon.
If you can resolve the segment, there's also the small matter of size. The EV6 is larger than it seems in pictures. Plus, one might classify it as a compact based on interior volume, but it also has the same wheelbase as a Telluride, weighs a couple of hundred pounds more — and is large enough that Kia's PR head referred to it as "a big boy."
Is the Kia EV6 new?
As new as it gets. The EV6 is an all-new model for 2022. It's Kia's first offering on Hyundai Group's new E-GMP platform for electric cars. Kia's American staffers got a hold of them just days before media members did, and the very first production EV6s are arriving at Kia dealers in all 50 states as you read this.
Wait, the Kia EV6 really does look cool?
Yes, the EV6 just looks like a high-end, sporty, cool car — the sort that will have younger dudes flag you down to ask about it in a random mountain road turn-off as they head off to use nature's facilities.
The EV6 avoided a bunch of EV pitfalls. No one overthought the grille, which could almost pass for a combustion vehicle's. There's no flagrant blue lighting or overt EV branding. In some ways, it's a truly futuristic vision of what EVs will look like in a decade or so when electric cars are just cars — and some of those cars are spectacular.
How does the Kia EV6 drive?
The Kia EV6 is surprisingly engaging and competent. I spent hours hurling it into corners on California mountain roads, searching for the threshold — which you can reach easily on many Kia combustion cars — where the car would put a foot wrong, get uncomfortable or start to squirm a bit. It never happened. I found myself having a lot of fun. There's no fake engine noise…and, truth be told, I didn't miss it.
Every electric car grapples with the same physical conundrum. The battery packs make them much heavier than a typical combustion car. That's true in the EV6, which weighs about as much as a full-size truck, but you don't notice it on the road. The car is remarkably stable and composed on a wide track with very little weight getting thrown around into corners.
The EV6 also shows noteworthy attention to detail from Kia. The steering is precise with a lot of feedback. Acceleration feels natural. Even the regenerative braking, which has a wide range of settings, is the most intuitive and unobtrusive system of any EV I've driven. About the only thing I was left wanting for was some slightly grippier tires.
I drove both RWD and e-AWD versions of the top-level GT-line trim. The RWD offers 228 hp and 258 lb-ft of torque and was adequate. The e-AWD system, which works 100% of the time in sport mode, delivers 320 hp and 446 lb-ft of torque. That's worth the extra premium to make the car come alive — and offer a bit more all-weather capability and a heat pump to reduce range degradation in the cold.
The EV6 e-AWD has just the right amount of power. It's quick — 0-60 mph in 4.6 seconds — but not blisteringly quick, which means you can still have fun with it on real roads. With some of the 1,000-horsepower super-powered EVs coming, that may not be the case.
What does the Kia EV6 look like inside?
The Kia EV6 cabin offers a surprising amount of space. When I stopped mid-ride and sat behind myself, I was shocked about how much leg room there still was behind me. Given the large hatch, you'd expect to find more space in the trunk. But with a high-load floor, it would be hard to find much utility back there, unless you fold down the seats.
The design feels clean, pleasant and futuristic, but not obtrusively so. The controls take getting used to. Kia cleaned up the climate control and stereo buttons by locating them all on a touch-sensitive bar. The tricky part is, they're on the same touch-sensitive bar, and you cycle between them. So you do get a physical volume knob….but it can also be the temperature knob. I had a couple of instances where I reached down to change the volume and turned the temperature up five degrees instead.
How much range does the Kia EV6 have?
Yes, the Kia EV6 is an electric car, so we should talk about range. Per the EPA, the EV6 gets up to 310 miles in RWD spec and 274 miles in AWD spec. The range isn't groundbreaking. But, the EV6 does pack advanced 800-volt charging infrastructure. I didn't charge the EV6 during my drive, but Kia claims it can charge at up to 350 kW on a fast charger, allowing you to add 180 miles of range in just 15 minutes (in optimal, warmer weather). The EV6 also has V2L (vehicle-to-load) capability, which means it can send beefy power back out.
What does that mean in real life? Our drive consisted of four legs over about five hours. My second tester (the AWD one) still had around 120 miles of range — which ran the whole trip in one person's hands or another — when I handed it back. And that was with me driving hard and making zero effort to conserve energy. Regenerative braking did help quite a bit, and I did come down a couple of descents with more range than when I started.
How much does the Kia EV6 cost?
The 167-hp Light RWD trim starts at $40,900. Most buyers will end up paying a bit more for that. The next trim up, Wind RWD, starts at $47,000. We only drive the top-spec GT-Line trims, which start at $51,200 for RWD and $55,900 for e-AWD.
Kia doesn't tack on many options beyond that. My test vehicles came out to $53,405 and $57,410 with the $1,215 destination charge factored in. The EV6 is eligible for the potential $7,500 tax credit.
Who's going to buy the Kia EV6?
Kia believes the EV6 buyer will be younger Gen X and Gen Y buyers — affluent enough to afford one, and probably buying their first EV.
I think it would be quite handy for families in a two-car scenario. It can hold five people and kids in car seats comfortably with all of the cabin room. But you'd need a Telluride or the equivalent for carrying luggage, sports equipment and large, miscellaneous and for some reason, necessary toddler gear.
What are some Kia EV6 alternatives?
2022 Kia EV6 e-AWD GT-Line
Base Price /Price As Tested: $40,900 / $57,410
Horsepower: 320
Torque: 446 lb-ft
EPA Range: 274 miles
0-60 mph time: 4.6 seconds
Seats: Five, if they pack light
The 2023 Toyota 4Runner: What You Need to Know
Much-needed upgrades are coming soon. Here's what you can expect.
LEARN MORE
This content is created and maintained by a third party, and imported onto this page to help users provide their email addresses. You may be able to find more information about this and similar content at piano.io
Advertisement – Continue Reading Below