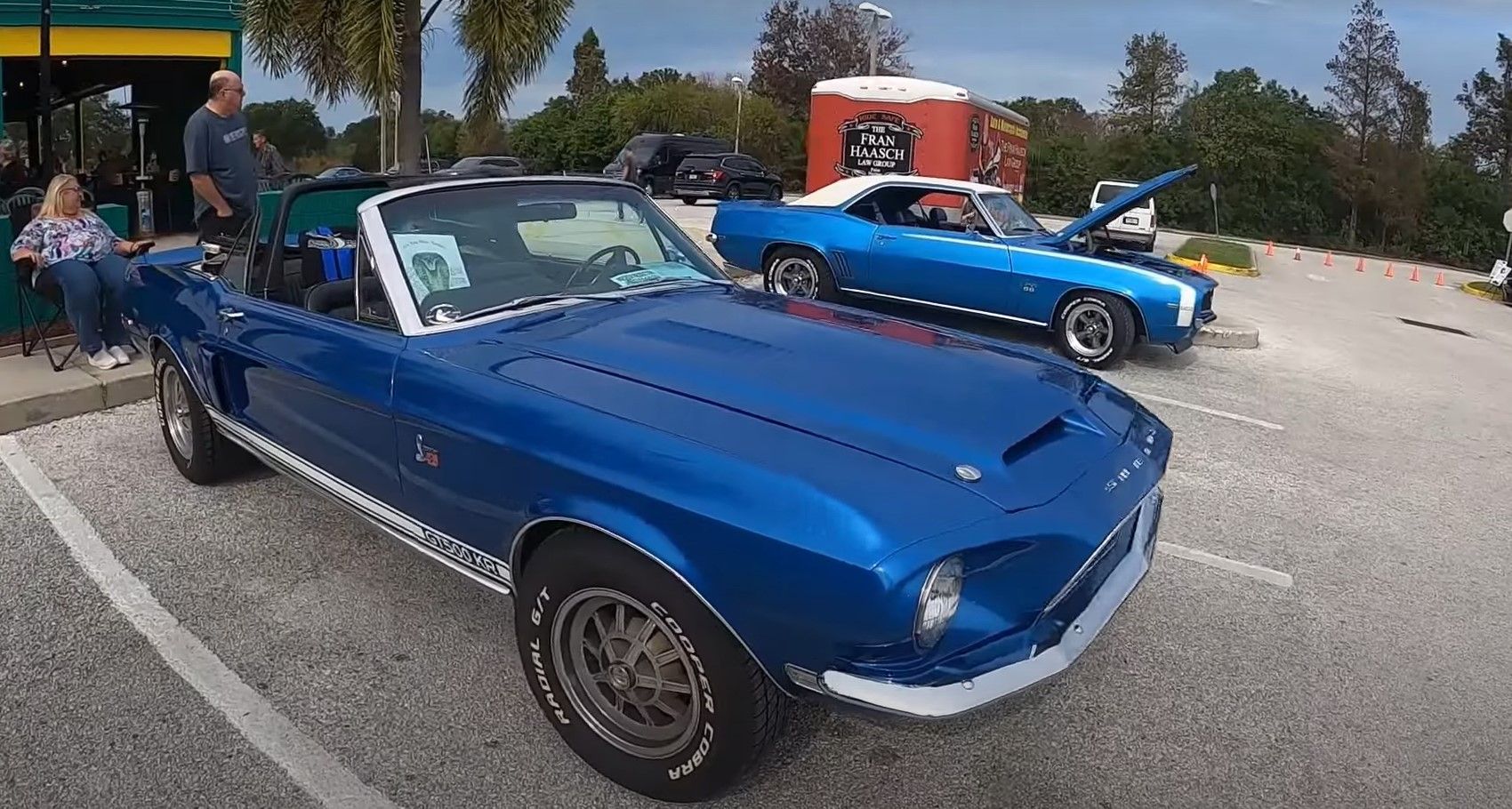 A Rare Shelby Ford Mustang GT500 KR Is A True Stunner At This Florida Classic Car Show
The "King of the Road" reigns over the muscle cars, vans, and other classics at a car show in the Sunshine State.
Sean Dever of YouTube channel Junkyards and Barn Finds with Sean has roamed the Southeast United States in search of the most interesting barn finds or the hardest-to-find classic cars. In this episode, Sean goes to the Quaker Steak & Lube Christmas Car Show in Clearwater, Florida. Here he finds some fantastic classics, but the one you'll fall for is a very special Shelby Mustang.
Check out the video to see the Shelby plus many other excellent rides.
Cool Vans, Hot Rods, And Smoking Muscle Cars
Florida car shows seem to pull in some of the best classic cars, and Sean has hit the jackpot with this one. He starts off with classic vans, one of which is a funky 1970 Ford Econoline painted in high impact yellow and displaying a bright tropical theme. Another cool entry is an apple-green 1930s Model A Ford hot rod sporting a completely wooden body behind the A-pillar.
RELATED:Bring A Trailer Find: Modified 1968 Plymouth Satellite Is Bright And Bold
Sean also shares a slew of great muscle cars. For example, there's a bold white and orange late-60s Chevy Camaro SS with a big-block 427 V8 engine. Then, a very clean 1968 Plymouth Satellite packing a 318 V8 engine is for sale. Still another must-see is a 1978 Smokey and the Bandit Pontiac Firebird Trans Am, complete with T-top and eight-track stereo.
Long Live The King Of The Road
The 1968 Shelby Mustang GT500 KR that rules the show is a convertible showing off its original blue paint. Ford produced just 318 of the GT500 convertibles for this model year. The car manufacturer designed two body styles for the 1967-1968 Shelbys: a convertible and a fastback.
RELATED:Ford Vs Chevy: Who Made The Best Big Block Engine?
This pony's heart is a 428 cu. in. V8 that originally rated 335 hp, Its actual output, though, is closer to 400 hp. This Cobra Jet engine has a 735 CFM Holley carburetor plus the Low-Riser heads with larger valves typical of Ford's big-block engines back in the day. On the track, it was certainly a rocket. According to Car And Driver, it clocked 13.9 seconds at the 1/4 mile drag strip and an impressive 0-60 mph run of 5.4 seconds.
The "Cobra Le Mans"-embossed cast-aluminum valve cover on this car was also unique, honoring the hard-won victory of Ford over Ferrari at LeMans in 1966. What's more, this particular Shelby is a numbers-matching car, which confirms its authenticity, as does Carroll Shelby's signature on the dashboard. Once again, Sean's instinct for finding the best car in the show was on-point, because this Shelby stands far above all the others.
Source: Car and Driver, YouTube @ Junkyards and Barn Finds with Sean