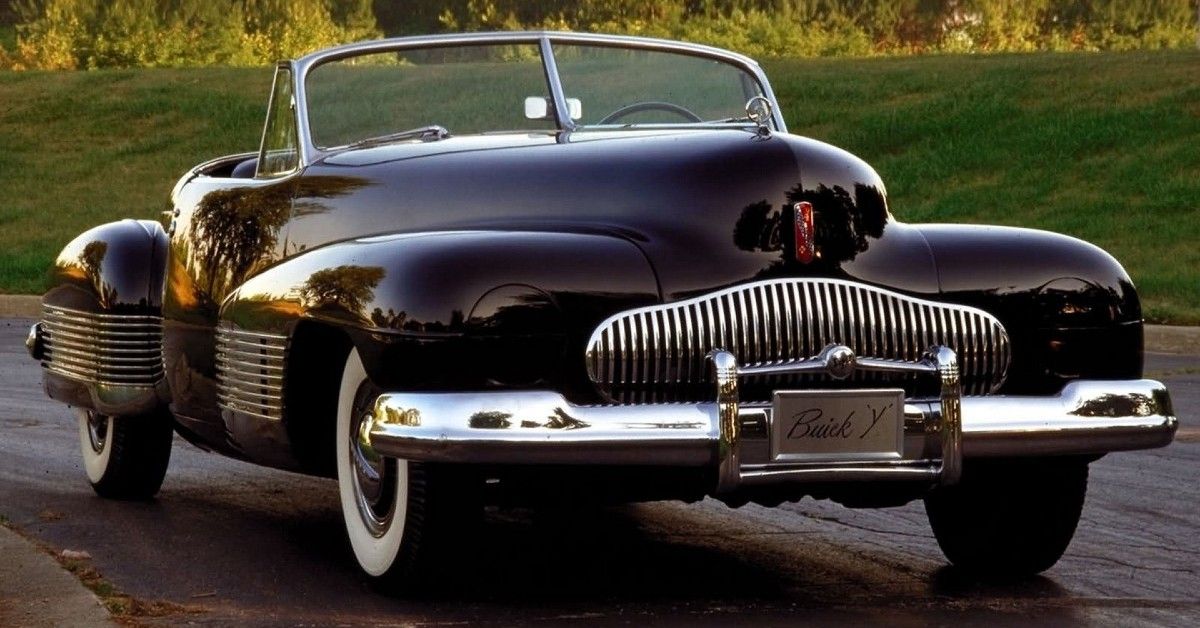 9 Classic Concept Cars We'd Love To Own
When an automaker takes the leash off its designers, the results are usually fantastic and beautiful works of rolling art. Concept cars not only bear the heart and soul of an automaker's design department, but they also allow manufacturers a way to hint at certain styling cues that may weave their way into the future. And if they look good, well, that's an added advantage.
Related: 10 Most Breathtaking Concept Cars Of The Last Decade
While some of these concept cars are the forefathers of some of the most market dominants today, others are simply landmarks in the evolution of the automobile. That said, here are some great classic cars that never made it past the concept stage, but we'd love to own.
9

1938 Buick Y-Job
The 1938 Buick Y-Job was created by the legendary designer Harley Earl to gauge the public's reactions to various styling elements, and it mainly was considered the first concept car. The Y-Job came when cars had giant spoke wheels, running boards, and headlights strapped to stand-up radiators. Long story short, it provided a glimpse of how cars would look in the 1940s and 1950s.
The Y-Job was built on a Buick chassis as an experimental car. Had it been produced, the Y-Job would have been among the cars that arrived way ahead of their time – it featured cutting-edge technology such as concealed headlights built into the fenders and power windows. It also had a set of 13-inch wheels with white wall tires. Harley Earl used it as his ride, and it was a head-turner.
8

1953-1955 Alfa Romeo Alfa BAT Cars
In 1953, Alfa Romeo reached out to Bertone designer Giuseppe "Nuccio" Bertone and commissioned three concept vehicles to research the effects of drag on automobiles. The idea was to build cars with the lowest possible drag coefficient. The cars were named BAT – Berlinetta Aerodynamics Tecnica, and they featured large rear bumpers and curved fins.
The gray BAT 5 was presented at the Turin Auto Show in 1953, the blue BAT 7 showcased in 1954, and the silver BAT 9 in 1955. The BAT cars came with a five-speed gearbox and a powerful four-cylinder engine that produced more than 90 horsepower. Last year, these car peacocks sold at an auction for $15 million, placing them in the topmost expensive cars sold at auction in 2020.
7

1956 General Motors Firebird II
In the 1950s, car designers were obsessed with aviation cues, and the Firebird II – the second of the four Firebird concepts, showed how far they could push this trend. This time as a four-seat family sedan, the Firebird not only looked like a jet but was also powered by a jet engine – a powerful GT-304 gas turbine that put out 200 horsepower at 35,000 rpm.
Related: 10 Of The Coolest Concept Cars To Ever Emerge From The US
Some of its futuristic features included a rearview camera, four-zone climate control, and a four-wheel independent suspension with disc brakes all around. In addition, there was also a two-way communication system that passengers could use to get directions, a feature that would come in handy forty years later.
6

1965 Corvette Mako Shark II
It is not common to see GM give an early sneak peek of a future product, but this happened when the manufacturer revealed the 1965 Mako Shark II – one of the two Corvette concept cars to own the Mako Shark name. The second Shark gave the public a nearly undisguised view of the new 1968 Corvette before it went on sale.
All that aside, the Corvette Mako Shark II was a gorgeous idea car that featured tall fenders and a bulging hood – similar to the styling cues of the third-generation Corvette.
5

1986 Chevrolet Corvette Indy
Over the years, Corvette concepts came with mid-mounted engines, but the most stunning of these has to be the 1986 Chevrolet Corvette Indy. This idea car came out when most vehicles were still upright and boxy. Its body was mode carbon-fiber and was powered by a 2.6-liter V8 engine that cranked out more than 600 horsepower.
In addition, it featured a four-wheel drive, a rearview camera with an in-dash view screen, anti-lock brakes, and drive by wire system. In all, the Indy influenced today's mid-engines C8 Corvette, and in an era of bland automobiles, the Corvette Indy showcased stylish exterior cues.
4

1995 Chrysler Atlantic
The Chrysler Atlantic was a concept car produced by Chrysler in 1995. It was designed by Bob Hubbach and sketched on a napkin by Chrysler's president Bob Lutz in 1993. Inspired by the Bugatti Atlantique, it featured several retro styling cues with modern engineering. Under its hood lays a 4.0-liter straight-eight engine constructed from two four-cylinder Dodge Neon engines that delivered 360 horsepower.
Related: 10 Coolest Jeep Concepts That Never Made It To Production
To sum up the retro grand tourer look, the Atlantic came with giant wheels, though commonplace today, were a novelty in 1995. Unfortunately, the Atlantic never made it to production.
3

1995 Lamborghini Cala
The Lamborghini Cala was an experimental vehicle designed by Italdesign Giugiaro for Lamborghini and was first shown to the public at the 1995 Geneva Motor Show. It was almost the first "small" and "cheap" Lambo to hit the market, though it never saw the light because the company lacked funds. Its name means "look, over here" in Northern Italian dialect.
Powering this Lamborghini project sports car was a 3.9-liter V10 engine that produced 395 horsepower. Its body presented stylish cues like those from the Miura and the Countach but in a distinctive manner. However, when Megatech sold Lamborghini to the Volkswagen Group in 1998, the concept was shelved.
2

2003 Cadillac Sixteen
During the 1930s, Cadillac's reputation as a manufacturer of fine luxury automobiles grew exponentially due to the development of the industry's first V-16. In 2003, the marque rolled out a modern-day version of that powertrain. The 19-foot-long monster came powered by a 13.6-liter V16 engine that delivered a whopping 1000 horsepower.
When it was unveiled at the New York Auto Show, it seemed absurd that such a vehicle would be considered for production. But in late 2007, there were speculations Cadillac would launch a flagship that resembled the Sixteen, though the 2008 financial crisis wiped out those plans.
1

2010 Jaguar C-X75
Many may recognize the C-X75 from its appearance in the Bond film Spectre. The C-X75 was a hybrid-electric supercar made to celebrate Jaguar's 75th anniversary. Jaguar had intended to produce a limited number of 250 cars from 2013-2015, though it shelved the project in 2012 due to its economic crisis.
Powering the C-X75 was a vision powertrain made of two electric YASA turbines – turbocharged and supercharged, and a 1.6-liter four-cylinder gasoline engine that produced an impressive 900 horsepower, with the added benefit of low emission figures. Jaguar claims the C-X75 could sprint from 0-60 in under 3 seconds. However, the project was canceled once the brand realized it'd cost too much to make.
These Incredible Concept Cars Didn't Deserve To Be Forgotten
Whether they were revolutionary ideas that pushed the boundaries of car design or just looked plain cool, these concept cars deserve to be remembered.
Read Next
About The Author