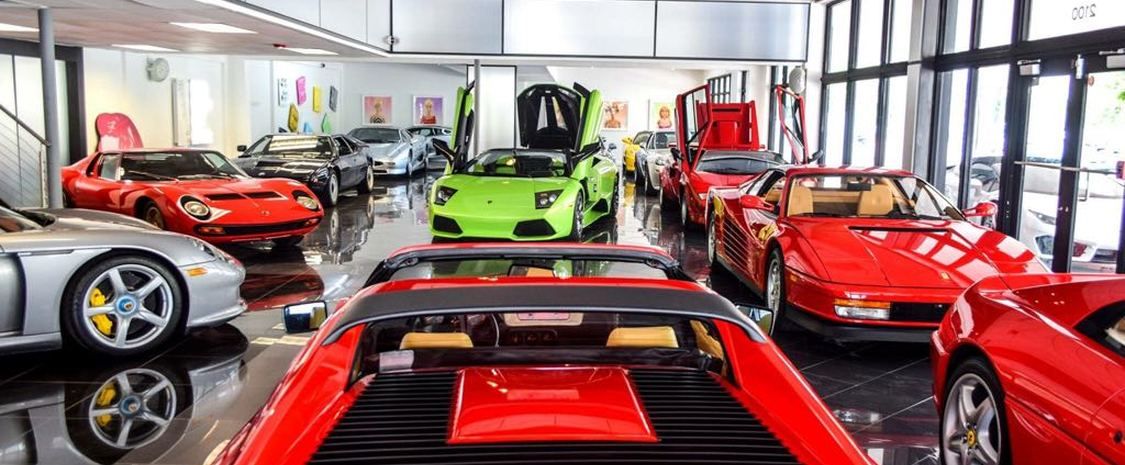 8 Of The Most Exclusive Car Clubs In The World
Car clubs are great places for like-minded people to group up and celebrate the automotive world. It is a place to show off one's ride and any customization which may have been done to it. Clubs have get-togethers and community road trips on weekends and holidays which the members can enjoy.
While most car clubs operate out of a coffee shop on Sunday mornings, others are well-organized and have a list of prerequisites before any potential member can even order a drink from the club bar. Many clubs have special days when all members are welcome to join in on a track day for some racing fun and friendly rivalry or drive around some brilliant public roads – such as canyon or mountain passes. Some car clubs are so exclusive that they have their own racetrack, and one would need a specific car make or model to join.
Some clubs only offer membership to owners of exclusive supercars, expensive classics, or legendary race cars – making the entry criteria quite specific. Here are 8 of the most exclusive car clubs in the world.
8
Classic Car Club Manhattan
The Classic Car Club Manhattan is one of the most prestigious car clubs in the world. With multiple members around the city of New York, the club offers parking spaces for all the members' cars. A perk of being part of the club is that any member can drive any of the cars in the 8,000 sq-ft gallery.
The club features a members-only restaurant and a state-of-the-art racing simulator so that members can improve their racing skills without causing damage or wearing out their cars. All-in-all, the Classic Car Club Manhattan is an amazing place for any motoring enthusiast to visit.
Related: 10 Underrated Classics We'd Invest Into Right Now
7
Supercar Club Arabia
Arabian countries have some of the largest collections of exotic cars and as such, there are many car clubs to choose from. One such club is the Supercar Club Arabia, located in the United Arab Emirates. The club opened its doors in 2014 and provides a platform for supercar owners to drive their cars on excursions with like-minded people.
The club is not just bound to the UAE though, as there are road trips across Europe and North America, from Scandinavia, through the French Alps, and even down to the Gulf of Oman. They even had a road trip that started in Italy, took them along the French Riviera, and ended in Spain. Quite the journey.
6
Club Sportiva
Club Sportiva was established in 2003 and explored the idea of 'timeshare', but instead of buying property, the club would buy cars for the members to use. By 2008, Club Sportiva had expanded its fleet to sports, luxury, and exotic cars. When the fleet was large enough, the club expanded the timeshare program to include non-members.
VIP members and corporate clients receive extra benefits such as clubhouse venue rentals and private parties. They also offer special car road trips and yacht excursions. Club Sportiva offers its services in higher-end cities such as Los Angeles, San Diego, and Las Vegas.
Related: Best Ever Man Cave Is Home To A Unique Collection Of Supercars
5
P1 Supercar Club
As most motoring enthusiasts know, P1 stands for first position in Formula One. As such, the P1 International Supercar Club claims that it is the world's leading supercar club. The club was established in 2000 and operates out of two branches in the United Kingdom, and one in Switzerland.
European members are allowed to tour the club's elite vehicles at various locations. Interestingly, one would think that a club such as this would have a high membership fee, but it only starts from $1,000 per year. For anyone who owns a supercar, this is easily achievable, and the club helps members save money on purchasing supercars.
4
Lou La Vie Members Club
Lou La Vie is a private corporation established to satisfy the needs of those who want to drive exotic and luxury cars. The club owns high-end cars from Lamborghini, Ferrari, Bentley, Rolls-Royce, and many more.
A membership perk includes not only access to any of the cars but also vehicle delivery and pickup at any location at any time. The club uses a point-based system that members can buy throughout the year and redeem when using the cars, services and when organizing events.
Related: 10 Forgotten Supercars We'd Love To Drive
3
McLaren F1 Owners Club
The McLaren F1 Owners Club is – as probably guessed – quite a prestigious club with limited membership opportunities. While it is primarily open to owners of McLaren F1s, the club accepts owners of any McLaren products but insists on the Ultimate Series cars – the P1, Senna, and Speedtail.
Interestingly, while the McLaren F1 is a hardcore hypercar with racing pedigree, the club does not promote aggressive racing at all. In fact, with the McLaren F1's value has soared in recent years, many owners don't drive their cars, but rather keep them parked in their collections.
Related: The 10 Features That Made The McLaren F1 Stand Out From Every Other Supercar
2
California Four-Wheel Drive Association
Car clubs are not only limited to exotic and luxury cars, but any car segment ever made – from classic cars to hot hatchbacks to off-roaders and everything in between. One of the most famous off-roading clubs in the US is the California Four Wheel Drive Association.
The club focuses on taking its members and their specialized off-roaders to the best trails within the Golden State and surrounding area. The organization has more than 8,000 members and over 160 member clubs, making it the largest club in California.
1
The Thermal Club
The Thermal Club is not your average country club. The owners, Tim and Twanna Rogers wanted a place similar to all the other country clubs in the Coachella Valley, but with a slight difference. Instead of having a golf course running between the villas of the club, they built a racetrack. Thermal Raceway is a collection of three tracks open at any time, but once a month, all three join together to make a 5-mile circuit.
Luckily, one does not have to be a member to utilize the track – as this requires the purchase of a plot or villa, starting from around $600,000 and $2.3 million respectively. BMW and Mini have permanent residence at the club and offer driving courses to anyone interested. The Thermal Club then sounds like a motoring enthusiast's playground where anyone could be out of bed and driving on track in as little as 15 minutes. How amazing is that?
Here's How The Mid Night Club Became The Most Infamous Street Racing Gang
Read Next