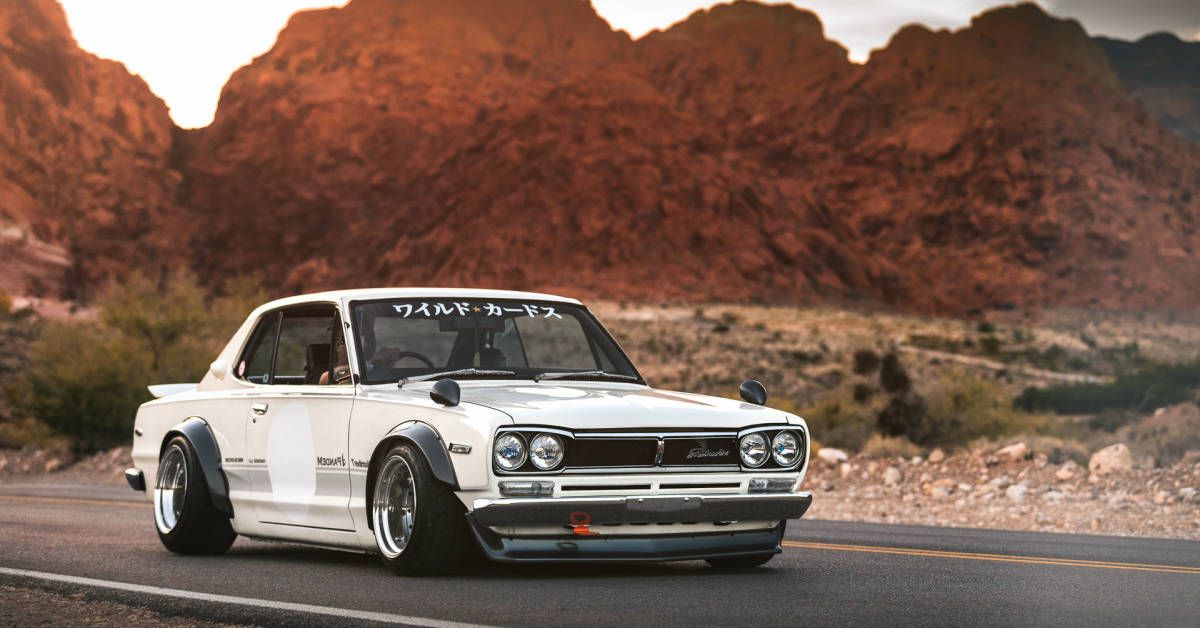 5 Japanese Classic Cars We'd Remortgage The House For (5 American Classics We Wouldn't Spend A Dime On)
European manufacturers may have the rest of the world beat in the luxury and performance car market, but when it comes to volume and affordability, Japanese and American brands are just better. Both countries have many awesome vehicles to be proud of, but who does it better between them? Well, most patriots will argue that American manufacturers are better, having given us icons like the Ford Mustang and Chevy Corvette. However, realists know that the engineering and overall build quality of Japanese cars are unmatched, which is why their cars are safer, more reliable, and longer-lasting than American cars.
RELATED: 15 JDM Cars Everyone Should Drive At Least Once
This article explores ten classic cars that show why we think Japanese automakers have an edge over American automakers. Five of them are Japanese cars we're willing to pay a fortune for, while the other five are American cars every gearhead should avoid at all costs.
10

Japanese Classic Car We'd Remortgage The House For: Toyota 2000GT
The '60s will be remembered by many as the decade that gave us the most beautiful cars of all time, including icons like the Ferrari 250 GTO, Jaguar E-Type, Chevy Corvette Sting Ray, and Alfa Romeo Tipo 33 Stradale, to name a few. Another gorgeous '60s car that many gearheads don't remember is the Toyota 2000GT.
Considered to be the first-ever Japanese supercar, the 2000GT was an awe-inspiring fastback coupe that looked like the Japanese version of the venerable Ferrari 250 GTO. Powered by a 2.3-liter inline-six producing 148 hp, the 2000GT wasn't particularly fast. However, that hasn't stopped people from paying over $1 million for one of the 351 examples.
9

American Classic We Wouldn't Spend A Dime On: 1982 Chevrolet Camaro With The Iron Duke Engine
When Chevy unveiled the third-generation Camaro in the early '80s, every gearhead was impressed with the design. Unfortunately, when people finally got a chance to drive one in 1982, they realized its main problem – a terrible engine. ​​​​​​​
The base 1982 Camaro was powered by a 2.5-liter Iron Duke four-cylinder engine, producing an embarrassing 90 hp. A 0-60 of around 20 seconds makes the 1982 Camaro one of the worst muscle cars ever. ​​​​​​​
8

Japanese Classic Car We'd Remortgage The House For: Nismo 400R
Nissan's tuning division Nismo has worked on multiple vehicles over the years, and the 1997 400R is among the best. The 400R was based on the R33 Skyline GT-R and is super rare, with only 44 examples built. ​​​​​​​
RELATED: These Are The Coolest vehicles ever built by NISMO
The 400R had multiple upgrades over the base R33. For one, it was powered by a 2.8-liter twin-turbocharged inline-six engine cranking out 400 horses and 346 lb-ft of torque. It also had a twin-plate clutch, an intercooler system, a carbon-fiber rear wing, an upgraded exhaust, and Nismo brake pads. ​​​​​​​
7

American Classic We Wouldn't Spend A Dime On: Chrysler TC By Maserati
In the '80s, Maserati head Alejandro de Tomaso and Chrysler boss Lee Iacocca were the best of friends. To honor their friendship, the two bosses developed a new sports car that would combine Italian design and American performance, resulting in the Chrysler TC. ​​​​​​​
The TC was awesome from a design perspective. Sadly, it had Chrysler's awful K-car platform underneath the beautiful body, which means it was slow, poorly built, and unreliable. ​​​​​​​
6

Japanese Classic Car We'd Remortgage The House For: Nissan Fairlady Z432R
The Nissan Z-car lineup has been popular since the 240Z debuted in the '60s. Everyone loved the 240Z's s beauty, reliability, and affordable price compared to European and American sports cars of the day. However, some gearheads complained that the 240Z was slow, so Nissan built a high-performance version – the Z432R. ​​​​​​​
The Z432R had the performance of a proper sports car and could be distinguished from the base 240Z with its orange paint job, matte black hood, and aluminum wheels. One Z432R sold for a crazy $800,000 at an auction, which is a testament to its greatness. ​​​​​​​
5

American Classic We Wouldn't Spend A Dime On: Chevrolet Vega
The Vega is simply one of the worst GM cars ever built. Introduced in 1970, the Vega was a subcompact automobile sold in hatchback, notchback, wagon, and panel delivery body styles. ​​​​​​​
RELATED: This is Why The Chevrolet Vega Is One of GM's Worst Cars of All Time
The Vega was quite a hit at its introduction, winning Motor Trend's Car of the Year award in 1971. Subsequently, the Vega became widely known for a range of issues related to its engineering, safety, reliability, engine durability, and propensity to rust. ​​​​​​​
4

Japanese Classic Car We'd Remortgage The House For: Nissan Skyline 2000 GT-R
The Skyline 2000 GT-R wowed gearheads when it debuted in the early '70s. This two-door masterpiece had a gorgeous design that we still love to date. It also had enough power to match, thanks to a 2.0-liter six-cylinder engine with 158 hp on tap. ​​​​​​​
Sadly, the Skyline 2000 GT-R was introduced when the oil crisis was starting. As such, its demand fell sharply, forcing Nissan to discontinue it after a short production run. As a result, these cars are extremely rare and typically cost over $100,000 today. ​​​​​​​
3

American Classic We Wouldn't Spend A Dime On: 1980 Dodge Aspen R/T
The Aspen was almost a winner for Chrysler. It had a proper muscle car design and was quite powerful in R/T guise. However, Chrysler rushed its development process, leading to various reliability and build quality issues. ​​​​​​​
The worst problem with the Aspen R/T was rust. Early models were terribly rust-prone, leading to one of the biggest recalls in the history of the American auto industry. ​​​​​​​
2

Japanese Classic Car We'd Remortgage The House For: 1991 Honda NSX
The early '90s were great for the Japanese auto industry. Almost every Japanese manufacturer built a sports car that could take on European rivals – Toyota built the fourth-generation Supra, Nissan built the Skyline GT-R, Mazda introduced the Miata MX-5, and Honda built the amazing NSX. ​​​​​​​
The NSX is easily the best of the bunch. This car had a sleek Ferrariesque design and was powered by a 3.0-liter V6 generating 250 hp. The NSX was tuned by the legendary Ayrton Senna during its development process, making it a joy to drive. ​​​​​​​
1

American Classic We Wouldn't Spend A Dime On: Pontiac Fiero
The Fiero had a lot of positives when it debuted in the early '80s. For one, it had a fantastic wedge-shaped design that most gearheads loved. It was also the first mid-engined Pontiac in decades, which means it handled better than most American cars of the day. ​​​​​​​
However, a few problems made the Fiero a failure. To cut production costs, GM used leftover parts from other vehicles to build the Fiero, making it unreliable and susceptible to engine fires.
The 5 Worst American Sports Cars Of The 2000s (And The 10 Most Reliable)
The 2000s brought us quite a few cool sports cars. But not all of them were good, in fact, some are definitely best avoided.
Read Next
About The Author