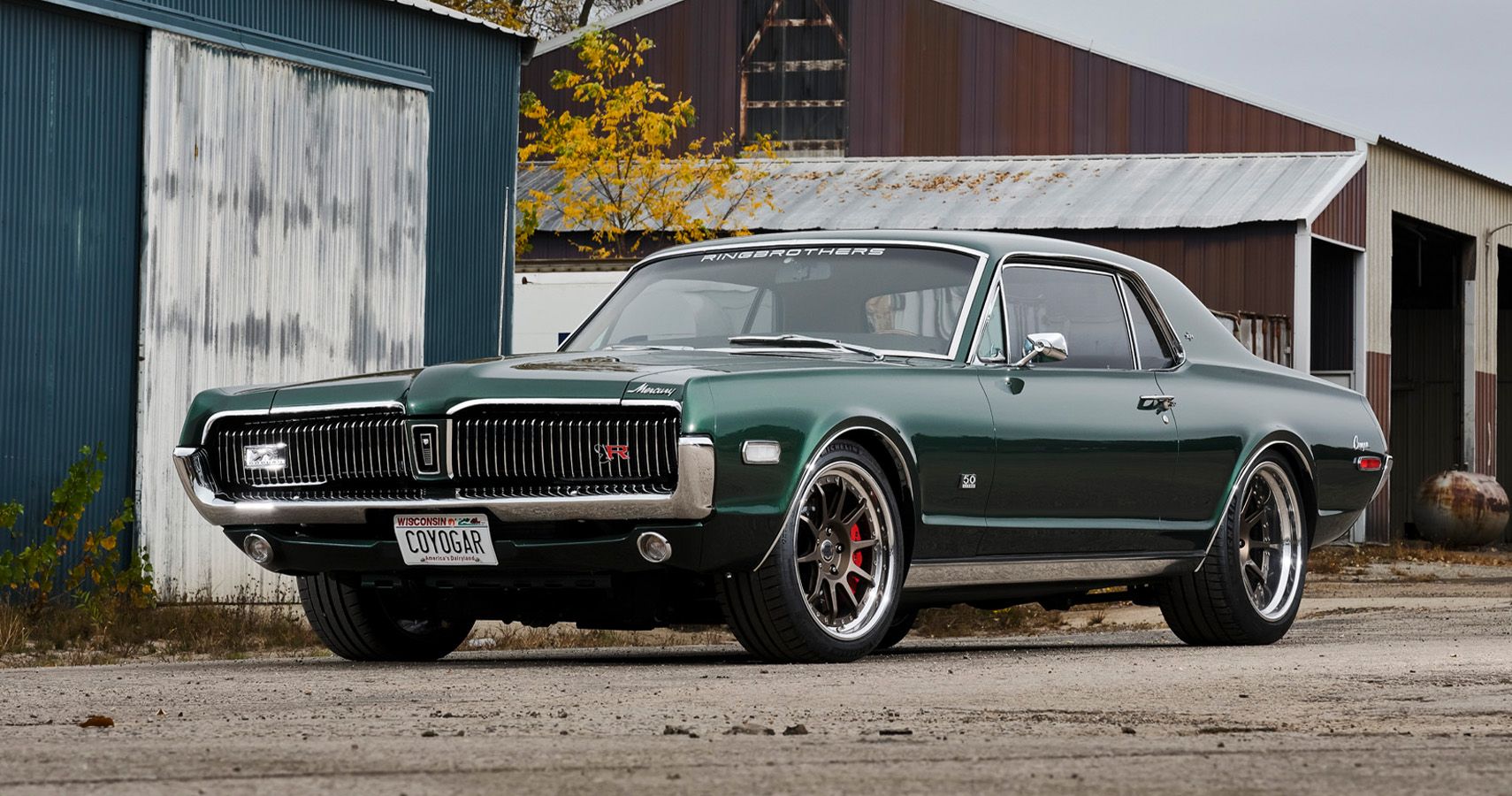 5 Cheap Classic American Cars That'll Give You Endless Joy (5 You'll Regret Buying)
Muscle cars are the perfect combination of fast, and usable for everyday life. In the past few decades, we've seen countless classic cars leave the factory, with many becoming huge hits with cult followings that have lasted to this day. Others have become nothing more than forgotten pieces of muscle car history, serving as a reminder of what not to do.
The cars in this list all fall below the $25,000 mark, with some providing some great value for money as investments or as potential project cars. Here are 5 cheap American classic cars that'll give you endless joy and 5 you'll regret buying.
10

Chevrolet Camaro IROC-Z ($15,000) – Will Give Endless Joy
The Camaro IROC-Z is one for those who love classic mid 80s to early 90s muscle styling. The IROC-Z is as much a great drag car as it is a worthwhile investment.
Powering this Camaro is a 5.7-liter V8, an engine that was often modified heavily for use on the strip. Its great engine is also matched by some excellent styling, a clear sign of the time it comes from, and it's these two reasons in combination as to why the value of the IROC-Z is rising. For lovers of new classic muscle cars, the IROC-Z is a great option.
9

Ford Mustang II King Cobra ($20,500) – You'll Regret Buying
The Ford Mustang II is notorious for being one of the worst cars ever to be put into production. This model isn't just a Mustang II, however, it's a Mustang II King Cobra. Unfortunately for Ford, however, this means very little in the grand scheme of things, as the King Cobra didn't fix the problems the base Mustang II created.
There's nothing King-like about it's 106 mph top speed, and it's 0-60 mph time of around 9.3 seconds is far from dizzying. The styling is somewhat acceptable, given that it does kind of resemble a Mustang, however, it's possible to get an actual genuine Mustang for around this price, making it redundant at the very least.
8

1968 Ford Mustang ($23,000) – Will Give Endless Joy
This is one car that needs no introduction, the Ford Mustang is perhaps still the best choice for a well priced classic muscle car. It should be noted that the 1968 Mustang is the most expensive car in this list at $23,000, but for the same price as a new Nissan Sentra, the Mustang looks like incredible value.
With a perfect combination of speed, styling, and usability, the Mustang is still the ideal choice for classic muscle car daily driving. Mustang fans will be keen to mention that the 1968 model was also the one used famously as the star car in Bullitt, however, Steve McQueen's is a little more expensive than this one.
Related: The Best American Muscle Cars Of 1968
7

Chevrolet Camaro Iron Duke ($6,000) – You'll Regret Buying
Not long before we got the much loved Camaro IROC-Z, we were perhaps unfairly treated to the Iron Duke. It's possibly a little harsh to judge every car by how fast it goes, but in this case, calling the Iron Duke slow would be an understatement.
Pathetic is perhaps a more apt description of the Camaro's power output of 84 hp. Having a two digit hp rating may have been acceptable in the 1930s, but for a car from the 80s, this is beyond unacceptable. For reference, the Alfa Romeo 6C 1500 Super Sport Testa Fissa also had 84 hp, but this was back in 1928.
6

Pontiac Firebird/Trans AM ($18,700) – Will Give Endless Joy
One car that is a staple of the American muscle car market is the Pontiac Firebird. Picking up an icon of the 70s is so inexpensive that you can even get the higher performance Firebird Trans AM model for below $20,000.
This model came with a 220 hp V8, making it pretty fast in its day but still powerful enough to perform even now. But the main reason you'd want a Firebird Trans AM is for that iconic styling. No other car, past or present, has had such an instantly recognizable design, with it's "Screaming Chicken" decal and black and gold paint scheme, the 1979 Trans AM is without a doubt a true American legend.
5

Plymouth Volare Road Runner ($14,500) – You'll Regret Buying
The Plymouth Road Runner name is one of the most famous nameplates in muscle car history, but the Volare model from 1980 tells a sad tale.
The Volare Road Runner is unfortunately a very poor representation of Plymouth, and their owner's Chrysler, at the time of the cars' creation. In the 80s, Chrysler were under significant financial strain and this meant that when they were creating the Volare Road Runner, a lot of corners were cut. Recalls and reliability problems plagued what could have been a decent car by all accounts, as the styling, especially on higher end models, was actually quite good.
Related:​​​​​​​ These Are The 5 Fastest Modern Chevy Camaros (5 Ford Mustangs We'd Rather Buy)
4

Dodge Dart Sport ($7,000) – Will Give Endless Joy
If you're after cheap and cheerful, you'll struggle to do better than with the Dodge Dart Sport. As a great all-rounder, the Dart Sport is fun to drive, if a little heavy feeling, and provides excellent functionality with comfortable seating and plenty of storage space.
It's quite hard to understand why at $7,000, this is actually one of the cheapest cars overall in this list. Because this car has a good reputation and following, people often buy the Dart Sport as a project car, restoring them to their former glory.
3

Chevrolet Monza Mirage ($7,500) – You'll Regret Buying
Despite its sporty looks, the Monza Mirage is for sure a car that should be avoided, even at its low price. It should come as no surprise that the Monza Mirage is a direct competitor to the Mustang II, and quite possibly one of the most disappointing matchups in muscle car history, where no one is a winner.
The Monza Mirage is slow, average to drive, and not particularly practical. It doesn't have glaring problems like the Volare Road Runner, but it lacks in almost every area, and was unfortunately born in a time of restriction and declining muscle car engine power.
2

Ford Torino GT ($15,000) – Will Give Endless Joy
The Torino GT may be the best version of the famous Ford Torino. The Torino GT arrived at the perfect time and was seen as a breath of fresh air by customers, with its midsize shape, it was perfect for families and had plenty of room for passengers.
Upfront, there were a number of engine options, including a 210 hp V8. The contemporary styling made it incredibly desirable in its day and a perfectly capable sports car and family car combo.
Related:​​​​​​​ 5 Most Reliable Muscle Car Engines (5 We Don't Trust)
1

Mercury Capri RS ($7,000) – You'll Regret Buying
The Mercury Capri RS is a car that is guilty of having its own full-blown identity crisis. At a time of restrictions, the Ford team behind the development of the Capri RS needed to build something which was both exciting and fuel efficient.
The Capri RS was a combination of American and European design, with its turbocharged engine options and weird mix and match US and European styling. Unsurprisingly, the Capri RS never really took off, and as a result, we're left with a fairly uninteresting muscle car hatchback with a fake shaker hood scoop.
Sources: Bloomberg, Automobile Catalog, Sportscar Digest, Newatlas, Honest John, Hagerty, My Star Collector Car, Car Gurus, The Driving Line, Hoovies Garage
10 Cheap Muscle Cars That'll Make You Feel Like a Million Bucks
While the cost of a new car can often leave us considering a pricey loan, classic American muscle cars are a stylish, cost-effective alternative.
Read Next
About The Author