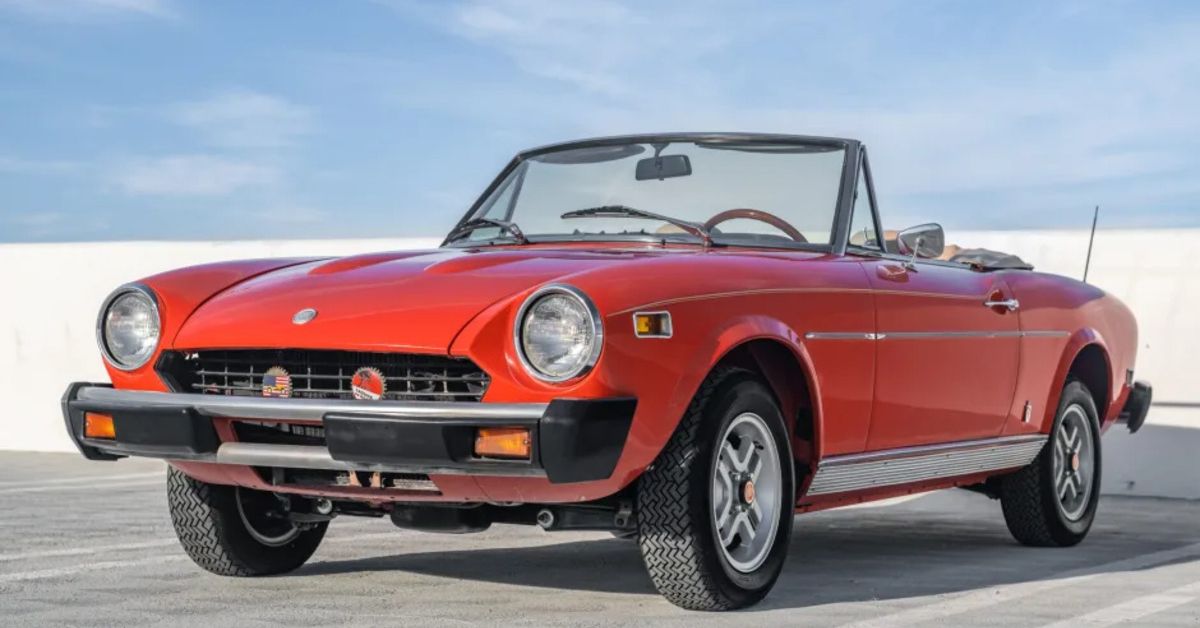 10 Vintage Cars That Are Still Affordable Today
Vintage and classic cars offer a nostalgic charm that newer, more powerful used cars just cannot match – whether it's down to the simplistic lines, analog driving experiences, or the gracefully designed interiors, there's just something about a vintage car that brings a smile to your face.
Gearheads the world over have been clocking on to this now for some time, and as such, the prices of desirable models have been soaring past even what market experts could have predicted, but is it still possible to find yourself behind the wheel of a vintage car for sensible money, in 2023 and beyond?
The answer, cheerfully, is yes, and if you're smart about it, you may even be able to snag yourself a drop-top sports car from a bygone era for less than a simple modern hatchback. So buckle up and get ready to reach into your wallet, as below you'll find out our top 10 picks for bargain vintage cars in 2023!
10
Triumph's Spitfire Is Back To Basics Brilliance – $8,000
The diminutive Spitfire was a roaring success for British car manufacturers Triumph, with a production run that spanned over two decades. It was by far the most popular little roadster they produced, with almost 315,000 examples hitting the roads across the globe.
Thanks to the huge success of this model, Triumph Spitfires are still plentiful, and finding a good one isn't that difficult either – this is largely down to their simplistic separate chassis design, which makes them easy to work on and restore, plus parts are plentiful and cheap too!
Earlier models such as the MK1 and MK2 have a more vintage look, with rounded front and rear-ends, so do command a premium – although Hagerty suggests a figure of $8,000 for an MK2 example in good condition, so still well within the reach for most classic car enthusiasts.
Related: 10 Best European Sports Cars For Under $10,000
9
The MGB Roadster Is A British Icon – $10,900
While the Spitfire was a hugely successful little sports car, the popularity of the MGB was so much more, leading to over half a million being sold the world over. Little wonder then, that the humble MGB roadster is often seen as the definitive British sports car.
A V8 variant was introduced mid-production run, and a 6-cylinder MGC too, however, most examples came with a reliable little 1.8-liter 4-cylinder, which produced just under 100 hp and 115 Ib-ft of torque, so by no means was this cheerful little sports car a record breaker.
No, the MGB was much more important than that, as it offered affordable top-down motoring to the masses. Not to mention, when you're but a few inches off of the ground surrounded by wooden trim and leather seats, there's enough charm in there to keep you happy for hours, with no need for masses of power.
8
Porsche 924 – Bargain German Coupe – $7,500
Perhaps drop-top British sports cars aren't your thing, and you'd prefer an uber-cool slice of German engineering, in the shape of a classic Porsche. You're not alone here, as classic Porsche prices have been booming in the last decade, with some examples setting extraordinary seven-figure record prices at recent auctions.
So, why has the 924 been left behind? Often overlooked and dubbed 'not a proper Porsche' by some brand enthusiasts, the 924 has struggled to move into collector circles. Although prices are starting to move now, mainly thanks to the inaccessible price point of classic 911s.
Hagerty suggests $7,500 is ample to find a classic Porsche 924 in good condition, and we don't think there's a cooler car to find yourself in for the money – especially one with such a heritage-rich badge adorning the front end.
7
Step Back In Time With A Ford Anglia – $5,000
If it's back-to-basics vintage car motoring that you're after, then look no further than the humble Ford Anglia – a super simplistic commuter car that was born during wartime struggle, but succeeded in becoming a truly popular little family car, with fans across the world.
The original Anglia (codenamed the E04A) was introduced in 1939, with the first cars being delivered to customers in early 1940. Back then, it was the cheapest new car available in Britain, and some principles of affordability still apply today.
Whether it's the original E04A you desire, or the better-known 105E (as made famous in the Harry Potter films), the Ford Anglia is a great choice for a cheap and cheerful vintage car, with excellent-condition Anglias costing less than $10,000, and useable examples kicking off from around $5,000.
6
A Volkswagen Beetle Is The Car For The People – $16,000
Here's a vintage car that needs no introduction, as everybody instantly knows a Volkswagen Beetle when they see one, regardless of whether they're a gearhead or not.
Hugely popular over many decades (the most manufactured car in history actually, with over 21 million examples being made!), the Beetle is incredibly accessible still with thousands of good examples surviving across the nation – perfect for a cost-conscious classic car purchase.
Performance-wise, the Beetle has always been lacking, the first models could only reach 62 mph flat out – and even though VW increased the engine size from 1100cc to 1600cc, the rear-engined Beetle was never to be a performer, until people started modifying them, of course!
5
Buy A Slice Of American History With The Ford Model T – $9,300
The Ford Model-T is without a doubt one of the most influential cars of all time, as Henry Ford decided to make automobile ownership accessible for the masses, rather than the elite majority.
Before the introduction of the Model T, the average car cost was $1,500 (which is closer to $30,000 in today's money, when adjusted for inflation). This meant only the rich could afford the luxury of personal travel in an automobile. When Ford introduced the Model T then in 1908 at just $850, it was a real game changer. No wonder then, that the Model-T sold over 15 million units in 14 different countries, an unthinkable number for back then!
How much does a Model-T cost today, then? According to classic.com, the average price achieved over the last 5 years for a 'Tin Lizzie' is $17,330, proving that this iconic vintage car is still incredibly accessible and important, affordable too.
Related: 10 Best Classic American Classic Cars For Your Next Restoration Project
4
AMC Pacer – The Ugly Duckling Is Becoming A Beautiful Swan – $11,000
You may be surprised at just how affordable some cars featured on this list are, although, we doubt you'll be that surprised to see that the unloved and overlooked AMC Pacer is still easily afforded.
The aesthetically challenged Pacer was developed and offered for sale in 1975, and production continued until 1979 when the two-door compact car was phased out, and despite AMC's best efforts, the Pacer wasn't ever really that successful, becoming somewhat of a joke car (as well as cult classic) after the famously funny appearance in Wayne's World.
Fashion always comes back around, though, and these quirky little classics are now becoming fun additions to collections up and down the country. This 1976 AMC Pacer recently sold for $25,000 shows that they are now becoming appreciated by those in the know. Modest examples, though, are still easily affordable for around the $10-12,000 price point.
3
Buy A Military Hero With The Willys Jeep – $15,000
The iconic Willys Jeep – who'd have thought that military royalty and vintage car excellence could be so affordable? To keep things as simple as possible, for the war effort, the Jeep was produced without doors to save metal, and even without keys for quick and easy access!
Perfect then, for the vintage car enthusiast who wants a true back-to-basics 4×4 and even better for the casual garage-tinkerer, as a Willys Jeep is the perfect candidate for getting at with the spanners; super-simplistic mechanicals make working on one an absolute joy, even in a modest home garage.
Get-in-and-go examples like this are always accessible in the $10,000-15,000 price bracket, so there's little excuse as to why you aren't delving into your pockets and living out your vintage military driving dreams in 2023.
2
Drop-Top Italian Cruising With The Fiat 124 Spider – $12,100
For most though, it's a stylish Italian sports car that really gets the heart racing – although it's such models that normally command the highest prices, naturally.
The Fiat 124 spider though is one such car, a genuinely affordable vintage European sports car, with a rev-happy naturally aspirated 4-cylinder engine, producing a punchy 118 hp – more than enough to keep this little sports car lively, with a top speed of 115 mph, thanks to the lightweight 2116Ibs body.
The average price of a 124 Spider in good condition is just over $12,000, so owning and running a classic Italian sports car may cost a lot less than you'd initially imagined.
Related: 2019 Fiat 124 Spider Abarth Sounds Like A Beast
1
Austin Mini – A Global Icon That's Always Affordable – $15,000
Few vintage cars have so much universal appeal as the classic Mini does; from race-winning rally cars to charming simplistic commuters, the humble Austin does it all.
Thanks to historic motorsport eligibility, Cooper S models command a serious premium and will fetch some relatively huge figures when they do come up for sale, so it's the humble standard models we are focussing on here, which Hagerty proposes a budget of just under $15,000 for a good condition MK1 example (MK2 and MK3 examples will be significantly cheaper still).
Initially powered by an 848cc inline-4, the Mini is ideal for local trips and slow weekend cruises – perfect then for stepping back in time and enjoying life at a slower pace. After all is said and done, isn't that the true appeal to owning, maintaining, and driving an affordable vintage car?