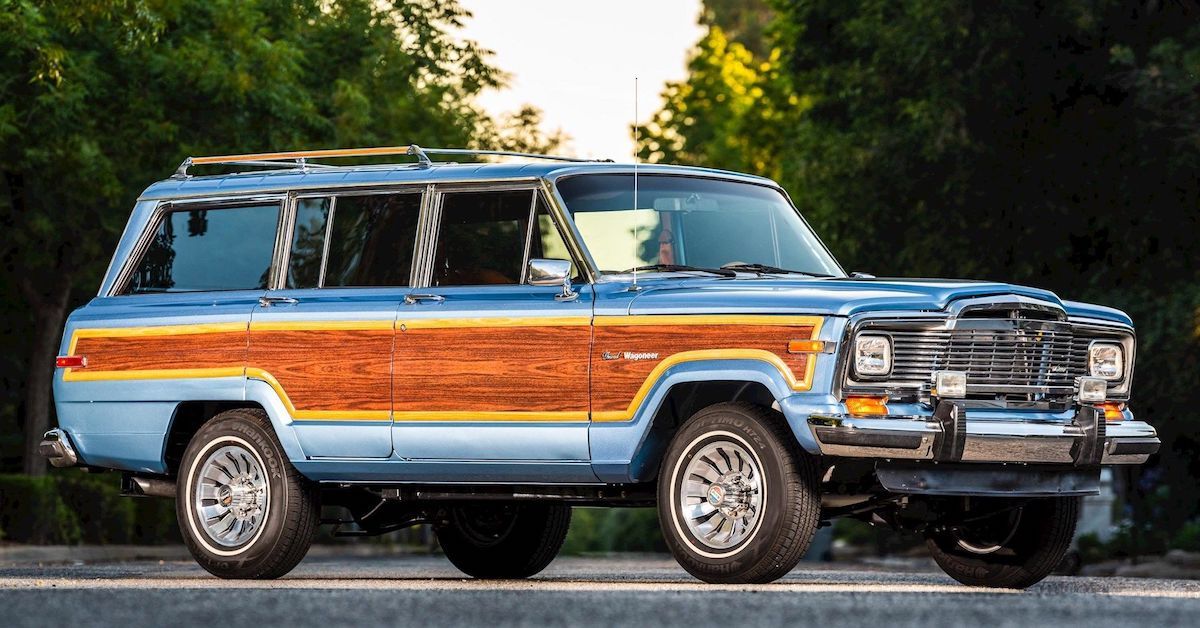 10 Reliable American Classic Cars That Are Easy To Own And Maintain
There was a time when classic cars were the pastime of older folk with a knack for mechanics. Guys who had the luck to have driven, as a teen, a golden era car, new with handpicked options. Now classic car collecting is a high-stakes investment game, driving values higher, in astronomical fashion. In just 10 years, the value of collectible cars has been known to shoot up 200 to 500 percent. Buying an American classic might turn out to be a great investment, depending on the market. New cars only drop in value, depreciating each year. But it's not like it used to be. Early on, finding an old favorite and sprucing it up as a cheap daily was a fun hobby, but those dreams are very much a part of the last century unless a cheap old classic car pops up by chance.
If an old classic American car must be had, then do your research and choose well. Here we have a collection of classic dream cars, classic favorites that are found to be the least burdensome to own. As with any car, and with older vintage vehicles in particular, you should have a certified mechanic do a pre-inspection before buying. It might also be advisable to know your way around an old engine bay before jumping into the classic car investment adventure.
10
1966 Plymouth Valiant
The Plymouth Valiant was a valiant yet underappreciated model. It is a true classic muscle car. The Valiant can boast it was around for five years before the Ford Mustang ever hit showrooms. The Valiant was economical and remarkably reliable, if somewhat forgotten. But its accolades are not.
The 1960-66 Valiant is a modestly priced classic with few of the hassles of owning classic cars, in the estimation of Hemmings. Its parts are easy to find and inexpensive to buy. In the '60s, the Valiant came in a Slant Six or a V8 option. The Slant Six in this car is known to be durable, partly because of an enhanced crankshaft, and a Plymouth Valiant can put on over 400,000 miles, without even trying. By 1965, a four-barrel carburetor was available. But the 1966 Plymouth Valiant model year offered the most options.
9
1984 Jeep Grand Wagoneer
The Jeep Grand Wagoneer came out in 1984. It was a relic of AMC, as the company had developed it based on the successful, '60s upscale Super Wagoneer. This early Wagoneer was a high-end outdoor utility vehicle, leading Wagoneer branding to hold its value.
Chrysler snatched up the financially strapped AMC in 1987, so this is why the 1984 Jeep Grand Wagoneer model has the AMC 5.9-liter V8. The then-loved model was a precursor to the SUV and was liked so much that it came back to us in 2022 as a new Jeep Grand Wagoneer. To be honest, a 1984 Grand Wagoneer first-year model is hard to find, but any of the original Jeep Grand Wagoneer generation are solid vehicles to own and maintain. Hagerty says mechanics are simple and that few potential problems exist. Repair of the rear main seal and the ignition system are mentioned. The carburetor is a concern with frequent elevation changes. Swapping in a fuel injection system fixes the problem.
8
1975 Ford F-150
The 1973 to 1979 Ford F-150 hit the market just before the F-150 became the best-selling American truck in 1977. These early-gen sleepers were affordable, easy to work on, and had good drivability. Engineering was old school, but the design looked forward, anticipating the greatness of the F-150 line.
The 1975 Ford F-150 is exceptional because it was Ford's first F-150, taking over from the then-named F-100, and becoming a heavier-duty pickup that would prove to be popular. The upgraded interior helped lead it to its No. 1 standing which would be two years down the line.
Related: Here Are the Most Reliable Ford F-150s On The Used Car Market
7
1967 Chevrolet Corvair
Last century, everyone believed the Corvair was unsafe at any speed because a book was written about it and the NHTSA was involved. Nowadays, those problems are only in the past. The NHTSA even rebuked accusations GM made unsafe cars that would burst into flames.
Today, the Chevrolet Corvair has regained its reputation and is recognized once again for its innovative engineering. The Corvair was a rear-mounted, air-cooled flat-six engine. It introduced turbocharging in 1962, an early innovation for its class. Late models, such as the 1967 Chevrolet Corvair, have remedied the safety issue that brutally plagued GM in the '70s. The second-generation Corvair is built with an independent rear suspension with fully articulated half-axles. It's more than safe. And with a 10-year production run, there are plenty of models and parts. All this is bringing the eyes of investors, making it a classic pick, despite its troubled past.
6
1969 Mercury Cyclone
The Mercury Cyclone nameplate was a muscle car sleeper that many missed out on, distracted by the Ford Mustang and the Pontiac GTO. Not to mention, Dodge Charger. Meanwhile, the midsize Mercury Cyclone was making the muscle car grade with ever-increasing engine sizes and marked stylistic aggression.
Most don't know one 1969 Cyclone trim came packed with a 428 cu. in. Cobra Jet V8. Called the Mercury Cyclone CJ, it could boldly step up to the plate against GM and Chrysler. Or rather, the drag strip starting line. It brought 355 horsepower and a zero to 60 time that rivaled the Plymouth Road Runner. The Mercury Cyclone is still a good value. One can be found in good condition for around $12,600. And it is painless to maintain. YourMechanic estimates yearly maintenance to cost $224.
Related: Here's How Much A Classic Mercury Cyclone Is Worth Today
5
1964 Pontiac GTO
The Pontiac GTO is not an underrated classic by any means. It's the most popular muscle car ever made, many enthusiasts will argue. The rockstar car is a great classic to own, and it is not only for its celebrity. Maintaining a Pontiac GTO is no more a burden than most early muscle cars. On average, it ranges from $95 to $1,903, as calculated by YourMechanic.
The beefy V8 in the GTO – a 6.4-liter 389 cu. in – allowed a 6.9-second zero to 60 dash. And, even better, it is considered a reliable engine. Hemmings, an expert on these older cars, said the engine came standard and was built well. It was made with a cast-iron intake manifold, enhanced cylinder heads, and larger intake and exhaust valves, as well as cast-aluminum pistons.
4
1954 Jeep CJ-5
The Jeep was made for the demands of war but wasn't called a Jeep until later. The popularity of its wartime uses was highlighted when President Dwight Eisenhower proclaimed it was one of the "three tools that won the war." Later, it would serve the homeland as a Willys CJ-2A farm vehicle, stationed in the fields from 1945 to 1949.
The 1954 CJ-5 Jeep retained its durable clout of war use and stayed in production from 1954 to 1983. That's quite a run, the fourth-generation Jeep CJ-5 was manufactured for 29 years. Stylistically, it was based on the 1952 Korean War M-38A1, which was also popularized on M*A*S*H (1972). Any vehicle with that long of a run is not problematic. The CJ-5 is not only reliable but it can be found at a good price, yielding a reliable, vintage 4×4 vehicle to the patient buyer.
3
1962 Chevrolet Corvette
The first generation Chevy Corvette is constructed with the revered solid-rear axle. How great is it? GM Authority declared, "Driving a Solid Axle Corvette may come close to automotive nirvana, at least for some." This is indeed a sweet opportunity for some lucky drivers. Especially as the Chevrolet Corvette is the longest-running sports car in America.
Here's what the hype is about. The Chevrolet Corvette, as a late-gen C1, is the last of that line to be built with the single-rear axle. Looking to own one of these highly valued cars is not for the average classic car shopper looking for an old car for sale, it's for those properly endowed. But it is an exclusive sports car worth possessing. A C1 engine is unique and unlike any other Chevy ever made. It is a new adventure owning and servicing one. Check out Hemmings's invaluable advice for prospective buyers.
2
1966 Ford Mustang
The first generation Ford Mustang made its mark in 1965 manufacturing 559,451 brand-new Mustang models. By 1966, over a million ponies pranced out of the factory. This car of legends, introducing the epic fastback style and the five-cluster instrument panel, is a forever nameplate, an eternal in the pantheon of automotive mythology. And it is surprisingly easy to work on because of its older-style simplicity found under the hood.
Even though the 1966 Ford Mustang is relatively easy to maintain and fun to own, it is not considered to be a great daily driver. As an older car, it is slow. And it might be unsafe on the road because it lacks modern safety equipment. On the upside, it is one of the easiest classic cars for sale to restore.
1
1968 Plymouth Barracuda
Finding a classic car for sale in great condition is a challenge. Keeping a classic car in great condition requires stringent attention to maintenance. Doing this, as Hemmings said, can make your 1968 Plymouth Barracuda "ultra-reliable."
The second-generation Plymouth Barracuda is considered to be the best. Options included a powerful 383 cu. in. V8. The 1968 example upped horsepower to 300 – noteworthy, but the competition was tough during those magical muscle car days and the top guys on the block beat out the Barracuda. Chevy Camaro, for one, offered 375. Yet, this is why the Barracuda is valuable and accessible today. It was right up there in the big leagues. It arrived in showrooms just over two weeks before the Ford Mustang.