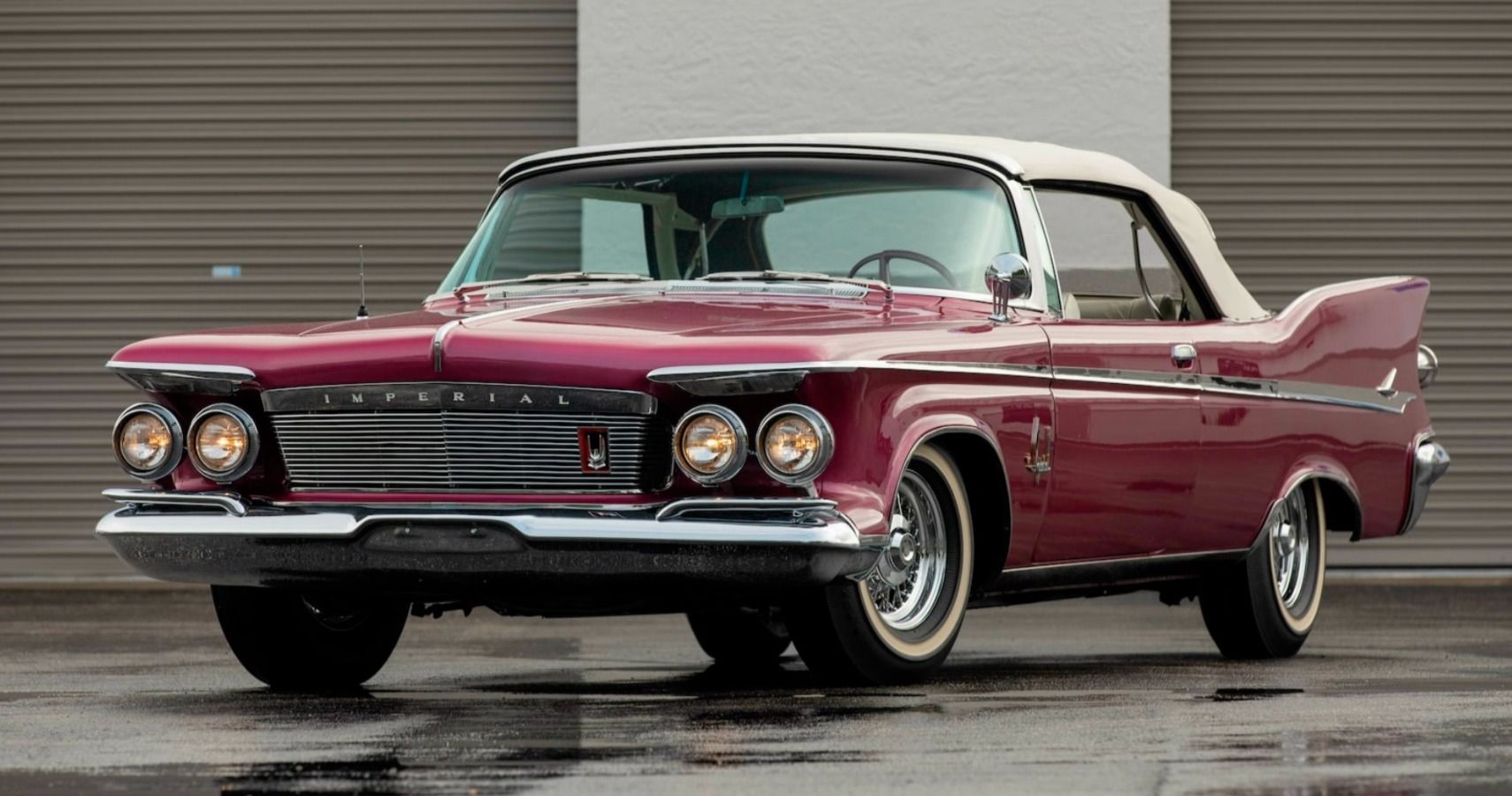 10 Iconic Classic American Luxury Cars
If there's any country that's great at doing unashamed luxurious opulence, it's America. American car companies have produced some of the world's greatest luxury cars. These range from the coach-built specials of the inter-war years all the way up to the GM C body and Panther body cars of the '70s, '80s, and '90s. These cars have since all become classics, desired by enthusiasts and collectors worldwide for their unique charm and comfort.
While there are plenty of big luxury barges that have come from America over the years, there aren't that many that have become truly iconic. To become icons, these cars have had to have been incredibly impressive for their day. Some of those cars impressed through having huge, powerful engines. Others impressed by their style, which became era-defining in later years. Other American icons gained their status through being associated with the wealth and celebrity of their era.
10
Duesenberg Model J
Whenever anyone thinks about inter-war American luxury cars, the first car they'll likely think of is this one. The Duesenberg Model J is an icon of the late 1920s and early 1930s, and it's really not difficult to see why. These coach-built cars usually had beautiful, sweeping bodies, and their 7.0-liter straight 8 engines could take them up to a top speed of 91 mph. That might seem incredibly pedestrian by today's standards, but back then that easily made it one of the fastest production cars in the world!
The Dusenberg company as a whole has become iconic within American culture, not just in anything to do with cars. As a result, the Model J (and its supercharged Model SJ sibling) have passed into automotive folklore as the best and most opulent luxury cars of their day.
RELATED: Here's Why The Duesenberg Model SJ Convertible Coupe Is Worth A Fortune
9
Cadillac V-16
Dusenberg was definitely at the top of the tree when it came to American opulence in the inter-war years. But, that didn't mean Cadillac couldn't try to match it! Its big luxury offering at the time was the V-16, called so because of its enormous V16 engine. This crazy engine configuration was picked in an attempt to make the car feel as smooth as possible. The V-16 was incredibly expensive, and like other big luxury cars of the day, every model was coach-built to each customer's requirements. These coach-built bodies were often made by the best design houses of the day such as Pininfarina, and they turned out to be nothing less than stunning!
While it may be overshadowed by the Dusenberg models of the same era, you still had to be really something to own one of these cars in the 1920s and 1930s. Add that to how gorgeous the individual V-16s often were, and the result is a truly iconic American luxury car.
8
Packard Twelve
One of the other big luxury manufacturers in America during the inter-war years was Packard. They produced several models, with the Packard Twelve being the biggest and most expensive. The Twelve was named the way it was because of its V12 engine. This started off as a 6.9-liter unit in 1916, but by the time production ended in 1939, it had grown up to 7.3 liters in size.
Like the Duesenberg and Cadillac mentioned earlier, all these cars were coach-built to exactly how each customer wanted them. One of the most interesting of the Packard Twelve's owners was the infamous Russian dictator Joseph Stalin, who had one gifted to him by President Franklin D. Roosevelt.
Like the Cadillac V-16, the Packard Twelve does get overlooked due to how iconic the Duesenberg Model J it was a rival to is. It probably doesn't help that one of the world's cruelest dictators had one, either. But, it's managed to become and remain an icon of American luxury all these years later.
7
Cadillac Fleetwood
When you think of Cadillac, one of the main things you'll likely be thinking of is a bright pink Fleetwood from the 1950s. This has become the enduring image of classic Cadillacs, and there's a reason for it. This car was synonymous with American luxury and celebrity. One of its biggest exponents was Elvis Presley, who always seemed to have one around in his collection after a certain point.
The Fleetwood is one of those Cadillac models that endured through multiple decades, and the '60s and '70s models are desirable too. But, when it comes to that classic Cadillac image, it's those '50s ones that absolutely nail it.
6
Cadillac Eldorado
The Cadillac Eldorado is another icon that rose to prominence during the golden age of American luxury cars. While the 1970s models of the Eldorado are iconic in their own right, it's the '50s and '60s models that a lot of people will imagine when they think of this car. These land yachts were opulent symbols of the atomic age, with their big V8s, vibrant colors, and huge fins. Like other Cadillac models of the day, it also wasn't unusual to see celebrities riding around in them.
Like the Fleetwood, the Eldorado model lasted through multiple decades and the '70s models have their own kind of iconic status. But, it's those earlier ones that are the most associated with that classic era of Cadillac.
RELATED: 8 Things We Love About The Cadillac Eldorado (2 Reasons Why We'd Never Buy One)
5
Chrysler Imperial
The Chrysler Imperial often doesn't get as much recognition as its rivals from Ford, Lincoln, and Cadillac. But, that doesn't mean that it isn't an iconic slice of classic American luxury! The Imperial first showed up during the 1920s, but the Imperials people remember the most are from the period when it became its own brand separate from the rest of Chrysler. These Imperials had all the styling cues you'd expect from American luxury cars from the '50s, '60s, and '70s. This included gratuitously huge fins on 1960s models!
The classic Imperial models really have stood the test of time in the decades since they were released. The '50s and '60s models are especially valued by collectors, due to them having all those iconic features that American luxury cars from that period are supposed to have.
4
Buick Electra
Much like the Chrysler Imperial, the Buick Electra does get overlooked in the world of classic American luxury cars. That doesn't mean it isn't an American luxury icon, though! GM introduced the Electra as the replacement for the classic Roadmaster model, and it was based on the C platform that was used by many of the famous Cadillac, Pontiac, and Oldsmobile models of the day. That means it shares the brilliant land yacht characteristics of those Cadillacs, and that can only be a good thing! The Electra is also due to get a revival in the future, as (perhaps somewhat fittingly!) the name is due to be put on a brand new fully-electric model.
Unlike some other big American luxury barges, it's the 1970s models of the Electra that are the most iconic. Buick really seemed to nail the more slab-sided look the big American car companies were going for as the '70s rolled around. That makes it a great choice for anyone who loves a big '70s American barge!
3
Lincoln Continental
The Lincoln Continental of the 1960s may be best known as the car that President John F. Kennedy sat in when he was assassinated. But, even without it being involved in such a major and tragic historical moment, it would have become an American icon anyway. The styling has become timeless as the decades have gone by. Quite a few celebrities were attracted to them too, no doubt boosting the car's iconic status.
While the Lincoln Continental became a tad more forgettable in later years, these '60s models have endured the test of time. They're true icons of American luxury, and collectors positively lust after them.
2
Lincoln Town Car
The Lincoln Town Car is what many of us will think of when we think of a classic, American luxury car from the 80s or 90s. This panther-bodied land yacht was transport for company executives all over America during that time, as well as being a plush sedan for taking on all sorts of cross-country road trips. It's also somewhat of a bargain for many people who want a great luxury sedan on a budget. Even these days, they seem to be cheap and plentiful on the used market.
Other big luxury cars on this list might be more valuable and desirable than the Lincoln Town Car. But, the Town Car is still very much an American icon. It's a luxury car in the traditional sense that prioritizes comfort over everything else. That's a type of luxury car that you just can't get anymore, in an age where all luxury cars have to be full of the latest tech and be at least somewhat 'sporty'.
RELATED: The 2nd-Gen Lincoln Town Car Is One Of The Greatest American Luxury Cars Ever
1
Ford Thunderbird
The Ford Thunderbird is easily one of the most iconic luxury cars America has ever produced. It was such a success that it spawned its own niche, the personal luxury car! This changed the American luxury car market for decades to come, with other companies producing their own luxurious coupes to compete with the Thunderbird. Some second-generation models have even found a second lease in life in some forms of historic racing, which truly is a sight to see!
The Thunderbird is a model that's long gone now. The attempt to revive it in the '00s didn't turn out exactly as Ford had hoped, and it's now regarded as a massive flop. But, the classic Thunderbird models have maintained their iconic status.