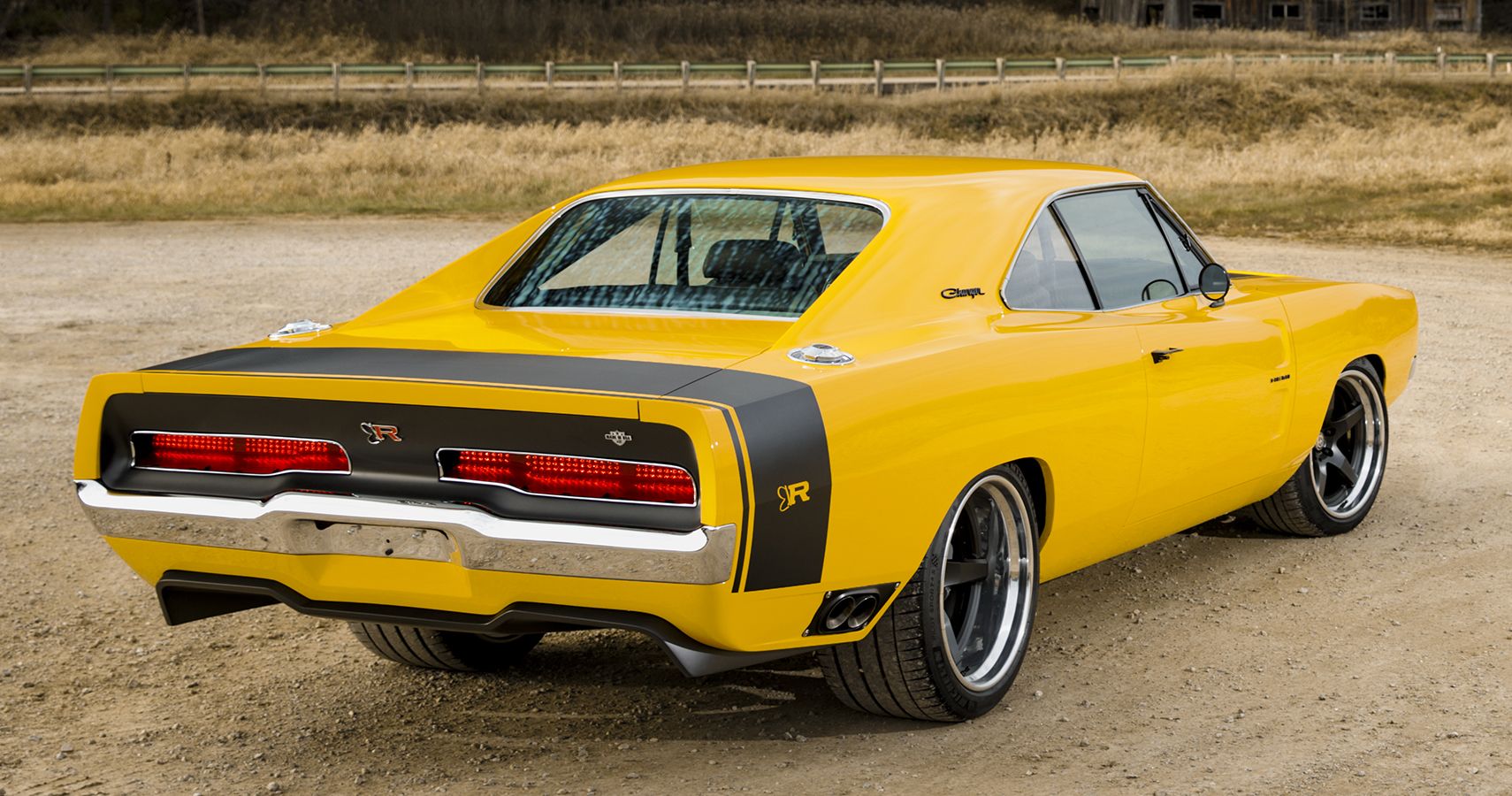 10 Iconic American Classic Cars That Are Easy To Find
Many of us want to own one of the classic, iconic American cars at some point in our lives. The allure of a muscle car, a classic American sports car, or an old-school American luxury car can be really tempting. But, a lot of these cars can be very expensive to buy and very hard to find. The latter of the two is especially a problem. Some pieces of iconic Americana are so rare that examples only go up for sale once in a blue moon! But, there are a lot of iconic American cars that are still really easy to pick up on the used market.Some of the iconic American classic cars on this list are ones you might expect to see there. That's usually because they sold in big numbers. Even if there were rare variants of these cars that you'll rarely ever see for sale, the regular models are very easy to find. But, there are a couple that could surprise you!
10
1965-1973 Ford Mustang
When it comes to classic American muscle cars, there aren't many that are more iconic than the first generation of the Ford Mustang. This was one of the big cars of the muscle car heyday, and it brought big power in a package a lot of Americans could afford. They were also very easy to tune, something that made them incredibly appealing to people who liked to do less than legal activities with their cars. As a result, they sold like hotcakes! Even to this day, it's one of Ford's most iconic and successful models.Because the Mustang was such a sales hit, even these first-generation examples are still relatively plentiful on the used market. While you might find it difficult to get hold of one of the coveted boss models (they were only produced in limited numbers), there are plenty of regular V8 ones knocking around. Whatever variant of the Mustang you choose, you're guaranteed to get loads of enjoyment from driving and tinkering with it.RELATED: The Forgotten BOSS: The 1971 BOSS 351 Mustang
9
1970-1981 Chevrolet Camaro
Another mainstay of the golden age of muscle cars was the 2nd generation Chevrolet Camaro. The Camaro was more of a handling-focused sports car than an all-out drag-racing machine. But, it still had that all-important V8 option! Some of the V8-engined variants of the Camaro, such as the Z28, have since passed into legend. Combine this with its styling being generally well-liked, and this generation of the Camaro has ended up becoming a proper American icon!Chevrolet sold a lot of these cars during this early-'70s to early-'80s time period. As a result, there are still loads of Camaros around on the used market. Some models were only made in limited numbers, so those will be very difficult to get hold of if you really want them. Otherwise, regular variants of this generation of Camaro are always around!
8
1962-1964 & 1965-1968 Ford Galaxie
There are plenty of big 1960s American land yachts out there. Not many of them are as iconic, though, as the Ford Galaxie. These cars have always been appreciated by enthusiasts, and the top-of-the-line 500 model has great performance even by today's standards. Some Galaxies from this era have even found recent success in historic racing!The Galaxie is an iconic American classic you can find very easily. Plenty of them is always around on the used market. That even extends to the most desirable 500 models! A huge amount of Galaxies were produced, so lots of them have managed to survive the decades since.
7
1965-1970 Dodge Coronet
The Dodge Coronet is an American classic that sometimes gets overlooked. But, that doesn't mean that it isn't iconic! The Coronet was available with quite a few different engine options. This included some big block units, such as the legendary 440 "Magnum" engine. Putting these big block units into a relatively small car like the Coronet turned it into an absolute beast, with performance that's impressive even by today's standards!The Coronet was a decently big seller for Dodge. As a result, plenty of them are still around, and they can be found easily on the used market. Those super desirable big block variants won't exactly be cheap, though.
6
1968-1970 Dodge Charger
The Dodge Charger of the late 1960s is arguably one of the most famous muscle cars of all time. It's been immortalized in pop culture, thanks to its appearances on the big screen in Bullitt and The Fast & The Furious. Quite a few different variants of the Charger were made during this period. The most desirable version of the Charger is the R/T, with its big-block V8 powerplant. This is the variant that appeared in Bullitt, and the one everyone thinks of when it comes to this generation of the car.The Dodge Charger of this era isn't exactly the cheapest muscle car to get hold of. But, it is still relatively easy to find them! Even the super desirable big block Chargers are relatively easy to get hold of, although you might have to wait around for one that's in concours or near-concours condition.RELATED: This 1970 Dodge Charger R/T Muscle Car Barn Find Is A Heartbreaking Gold Mine
5
1970-1974 Plymouth Barracuda
When it comes to cars built during the heyday of the muscle car era, the Plymouth Barracuda does sometimes go forgotten. But, it's still one of the most iconic American cars ever made! There were a huge number of Barracuda variants, including a few that had proper big block V8s! Perhaps the most famous variant is the Hemi 'Cuda, which became a part of pop culture thanks to a 1971 model's appearance in the classic movie Vanishing Point.As it was a model that sold fairly well, the Plymouth Barracuda of the early to mid-1970s is a car you can find on the used market quite easily. Of course, the most desirable models are a bit more difficult to get hold of due to them being rare. But, if you're willing to settle for a more regular model, you really can pick one up without too much searching around!
4
1983-1996 Chevrolet Corvette
The Chevrolet Corvette is easily America's most iconic sports car. It's one of the longest-running car models in the entire world, and it's been renowned for generations for being able to provide a great sports car experience. It's also known for having some brilliant performance variants over the years. This includes the turbocharged Callaway models, which have since passed into legend as some of the best factory-endorsed tuned cars ever.While pretty much any generation of the Corvette has iconic status, the C4 generation that was made between 1983 and 1996 is one of the easiest to get hold of. You might be hard-pressed to find a Callaway model, but you'll see any of the regular variants of the C4-generation Corvette on the used market all the time.
3
1970-1981 Pontiac Firebird
The Pontiac Firebird of this generation was a sibling to the Chevrolet Camaro, built on the same General Motors platform. Because of this, it shares a lot of the great qualities of the Camaro from the same era. This includes having some great V8-engined variants. The most desirable version was definitely the Trans Am, a car that's become ingrained in pop culture thanks to its starring role in the movie Smokey & The Bandit.Like its Chevrolet Camaro sibling, the Pontiac Firebird sold very well. That means there are loads of them still around, making it a very easy car to find on the used market. If you want an immaculate Trans Am like the one in Smokey & The Bandit, though, you'll likely need to wait around for a little while.RELATED: 10 Reasons Why The Pontiac Firebird Trans Am Is An Iconic American Muscle Car
2
1970-1979 Lincoln Continental
The Lincoln Continental is one of the most iconic American luxury cars of all time. It was loved by businesspeople, heads of state, and celebrities alike, thanks to how plush and cossetting it is. While most people would think of the Continentals from the '60s as being the ultimate expression of that car, the Mark IV generation from the '70s is a great luxury car as well. Its appearance on the Lochdown episode of The Grand Tour has probably only helped to give it a place in pop culture, too!For such a luxurious and expensive car in its day, it's surprisingly easy to get hold of one! There are always Mark IV Continentals for sale on the used market. You might have to search for a little bit to find one that's in really great condition, but even one that's slightly rough will be worth it for that feeling of classic American luxury.
1
1971-1978 Cadillac Eldorado
There's nothing that screams American luxury more than a big Cadillac. The Eldorado is the biggest, most opulent, and most iconic of those big Cadillacs from the brand's heyday. The 1970s models were the zenith of that American-style opulence. This was especially the case in the early '70s before the oil crisis hit. After that point, the Eldorado became a smaller car and its big V8s were neutered in the name of efficiency.The Eldorado was one of the most expensive American cars of its day. But, surprisingly, it's quite easy to find them on the used market! Much like the Lincoln Continental it was a rival to, you might have to do a little bit of searching to find one that's in excellent condition. Even one that's rough around the edges, though, will give you that great American luxury car feel.