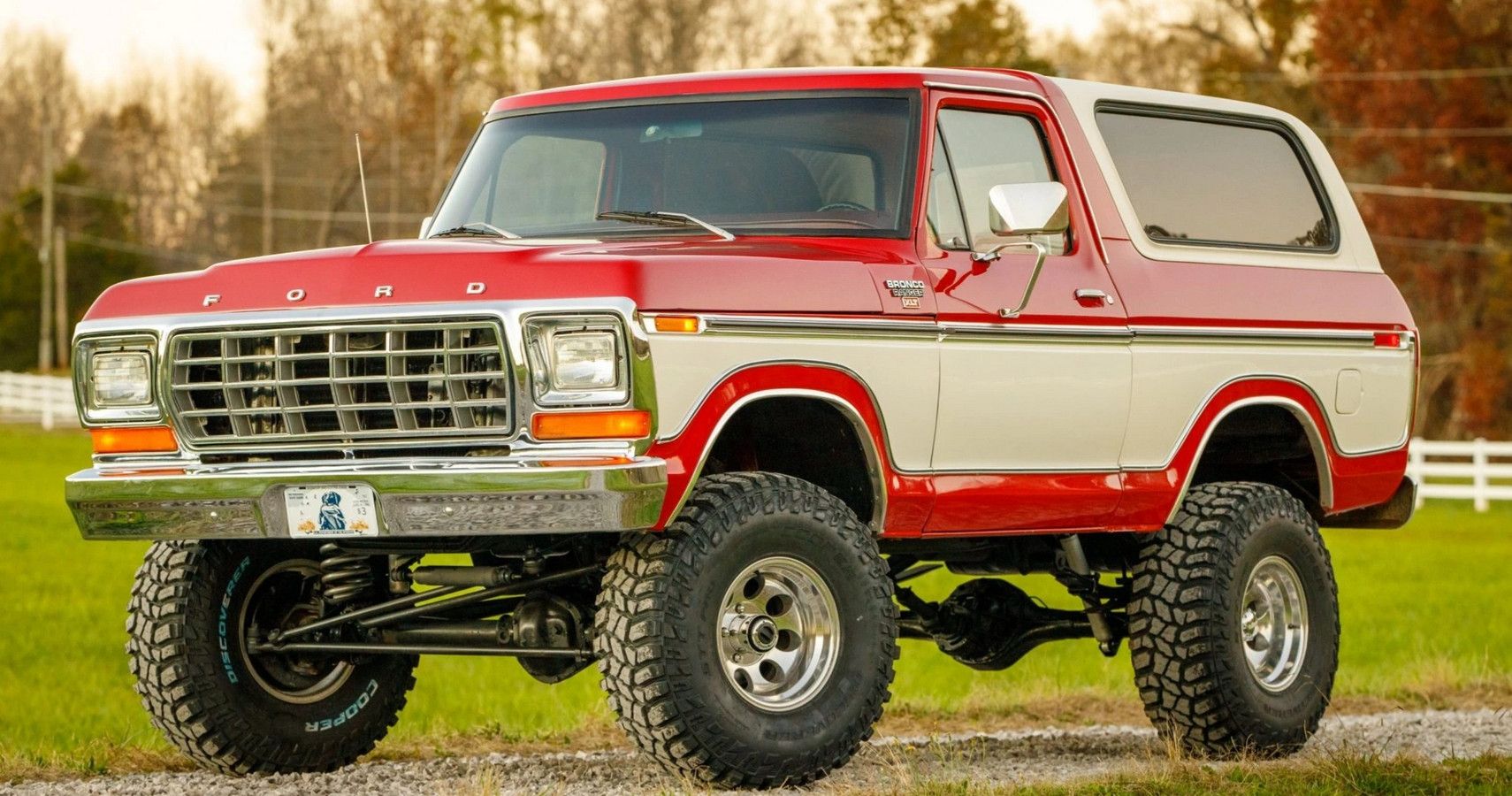 10 Everyday Classic Cars That Have Seen Their Prices Skyrocket In 2022
Older everyday used cars might not be the glamorous dream ride. But in the past 12 months, these classic cars have seen their values skyrocket.
Everyone knows a classic E-Type Jaguar is worth big bucks. As are countless Ferraris stretching to tens of millions of dollars. Both are great investment opportunities. But, lower-down regular cars are where the biggest action is. Any number of classic 4×4 trucks is ripe for huge returns in 2022. As are the growing number of affordable sports cars. BMW, Pontiac, and Toyota are all on the up, enriching gearheads everywhere.
At the end of the day, classic cars are only worth what buyers are willing to pay. In 2022, that includes some surprising classic everyday cars that are sure-fire winners come resale time. Pick wisely, and you'll reap the benefits of a cool ride that's sure to net you a decent profit.
10/10

Pontiac Fiero GT
Your eyes aren't deceiving you; the Fiero once famed for its poor build is on the up. In January 2022, a tidy Fiero would have set you back $10,000 underling its lack of popularity. But, as recently last month a similar spec Fiero fetched £24k on Bring A Trailer.
Here's the thing, in later years Pontiac managed to tie down most of the car's flaws. Towards the end, Fiero GTs with 2.8-liter V6 engines were affordable, usable everyday cars. Still, bad reputation has prevented these classics from exploding in value until now.
RELATED: Here's Why The 1988 Pontiac Fiero Was Actually Better Than Its Reputation
9/10

Land Rover Defender 110
The Land Rover Defender has always been popular thanks to its mud-plowing ability. When Land Rover announced the old design was being axed in 2016, gearheads were less than happy. Despite that, the new car has met with considerable success and can be had for $50,000.
Yet the old dog refuses to die. In 2022, old versus new poses a problem for Land Rover. As good as the new car is, older Defenders are highly sought after with prices exceeding the cost of a new one. In the last three months, auction listings topped $55,000 and are still climbing.
8/10

International Harvester Scout 800B
Another lofty climber in 2022 has seen Harvester prices climb ever higher. At auction, 6 months ago, you'd be looking at $40,000 for a restored Scout 800B. Today, you can easily double that figure with interest in the 4×4 growing. Gearheads' love of trucks and SUVs is one of the fastest-growing classic niches.
We suspect a short 8-month production run plays a part in the rising values. Under the hood, tried and tested V8s are at the top of buyers' wishlists, paired with either a manual or auto box. Other engines were available, with in-line fours and sixes filling out the lower tiers.
7/10

Volkswagen Super Beetle Cabriolet
Two bugs separated by 12 years in production, both Super Beetle Cabriolets. Aesthetically near-perfect restorations. But, come sale time in 2022 with a mere few weeks between them comes a $50k price disparity. At the top, in October the Gray example sold for 21 grand. Underneath, one month later the black 1979 model made $71k.
Both share the same chassis and engine, VWs 1.6-liter flat-four cranking out 48 hp. Sure the model year does count for some of the differences in value. But browsing BaT and similar aged cars earlier in 2022 went for under $20,000.
6/10

Peugeot 205 GTi
Peugeot's and indeed the world's finest hot hatch ever, the 205 GTi has long been a collector's favorite. Launched in a heyday of hot hatch mayhem the 205 GTI remains unsurpassed. In 2016 the pocket rocket attracted gearheads' attention with a record $41,000 sale.
Whichever way you look at it, that's a lot of cash for a small hatchback boasting a 115-hp 1.9-liter engine. That is until 2022 when the little 205GTi again stole the headlines with a 1987 car selling for 82,960 Eur or roughly $83,000.
RELATED: Here's What Made The Peugeot 205 GTI Special
5/10

BMW M3 E30
Back in 1986, BMW created the niche sports sedan. Since then, the M3 has been a popular choice among speed addicts. Naturally, this slice of '80s-era affordable performance is highly sought after. In 2021, you could with a little self-restraint pick one up for around $50,000.
By mind 2022 those "bargain" M3s are but a distant memory. The cheapest cars you'll come across kick off at $80k with prices going higher for an original well-cared-for car. Skipping over modified cars and going for a mint example pushes prices to six figures. Not bad for BMW's original everyday performance coupe.
4/10

Ford Sierra RS500 Cosworth
Fast Fords came of age in the late 1980s. Ford turned to Cosworth to transform its everyday family cars into fire-breathing monsters. Gearheads at the time loved the Cossie for its power, speed, and outrageous styling. Even today these winged motors are fondly remembered as an anti-social adrenalin rush.
Any notion of cheap performance ends here. In 2021 on a good day, you could bag an RS500 Cosworth with low miles at auction for around $52k. A mere 12 months later, a 1988 RS500 Cosworth sold at Silverstone Auctions for over $100k.
3/10

Toyota Supra MK.IV Turbo
Every day sportscar performance for the masses, Toyota's Supra was a bargain. However, times have changed. Thirty years after its debut the Supra MK.IV isn't the cheap performance ride it once was. Back in 1993 bagging, yourself a Supra twin-turbo coupe would have set you back $34,000. Craving one today you can comfortably add about $100k to that figure.
Despite the long overdue successor, it's the A80 that every gearhead craves. In the last year values rarely dropped below $70k taking into account modified cars. But, this is a tuner's dream packing a 2JZ turbocharged engine begging for some attention.
2/10

Ford Bronco Ranger
Buy a classic Ford truck, and you'll be laughing all the way to the bank. Twelve months ago Ford Broncos could be had for $30,000 without needing to get your hands dirty. Today, with a few thousand extra miles under its wheels will have bidders happy to hand over $61,000.
Nowhere else in the world do truck sales continually outperform other car segments. Ford for decades has enjoyed the best-selling vehicle in the US with its F-150. The Bronco however is a little more old-school and better for it. From the high driving position to a lazy V8 under the hood, Bronco's will likely be around forever.
RELATED: 9 Reasons Why Off-Road Enthusiasts Should buy A Vintage Ford Bronco
1/10

Toyota FJ40 Land Cruiser
Finishing off with another iconic truck. Toyota's FJ series Land Cruiser in recent years has attracted a large following among restorers. While both tend to stick with the original shape, how they end up being different beasts entirely.
Another 12-month investment putting banks to shame. Values since 2021 have doubled for the right car and condition. Regardless of which FJ takes your fancy, it's a sound and durable purchase. Who'd have thought retro 4x4s would be where the sensible money is at for 2022?
Sources: Hagerty, Classic Cars, Bring A Trailer, Collecting Cars