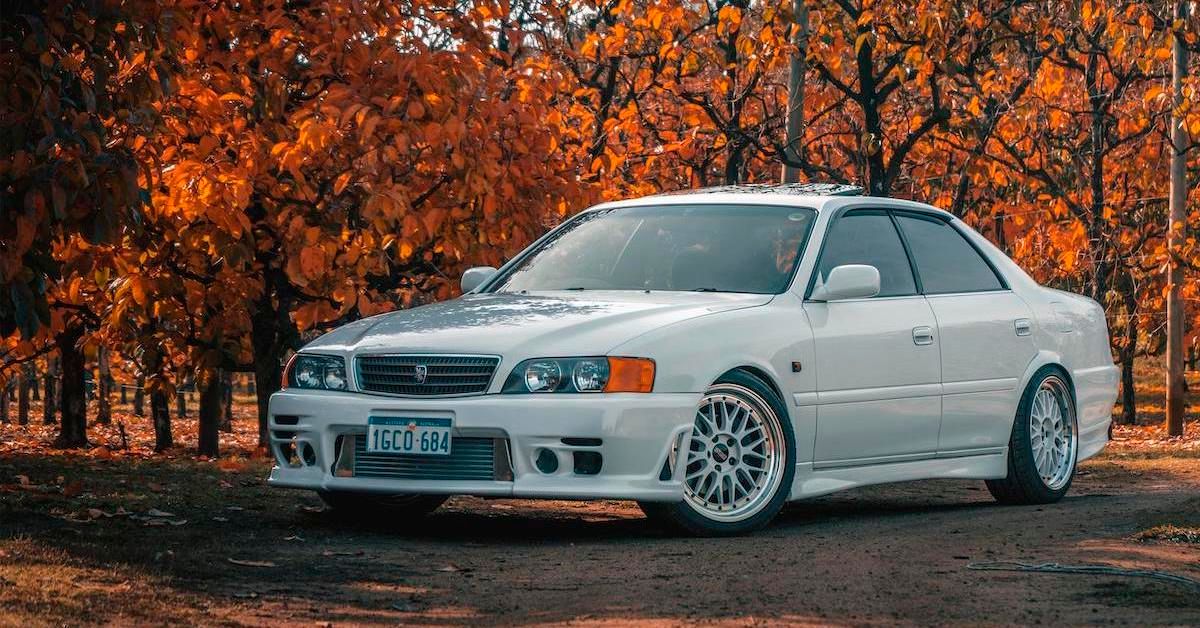 10 Classic Sleeper Cars That Are Surprisingly Cheap To Own And Maintain
Sleeper cars are the automotive world's best case of "don't judge a book by its cover," seeing they feature great performance hidden under unassuming looks. These cars are hidden gems, and real gearheads appreciate their value as supercar-slaying capabilities. In the age of exotic, uber-expensive sports cars, they act as pocket-friendly gifts that look boring at the stoplight until you invite them to a race and get annihilated.There are plenty of new modern sleeper cars on the market you can buy today and embarrass your mates. But this is far from a new tradition, with many incredible classic sleepers spread out through the rich history of the automobile. If you are into classic cars, these classic sleeper cars are surprisingly cheap to own and maintain and worth considering.
10/10

Pontiac Grand Prix
General Motors built the Pontiac Grand Prix from 1962 to 2008, so there are plenty of classic and modern model years to pick from. The car enjoyed its best years in the 60s, although it remained under the shadow of the revered Pontiac GTO muscle car. Most don't know that the Grand Prix was a serious performer beneath the unassuming five-passenger sedan body, thanks to a 6.4-liter V8 engine under the hood.
While the first-gen cars can fetch a fortune, later generations of the Grand Prix examples are some of the cheapest buys in the classic car market. And, they've proven very solid and extremely reliable cars.RELATED: A Pontiac Grand Prix GXP Turns Into The Ultimate Performance Grocery Getter
9/10

Chevrolet Monte Carlo SS 454
Chevy introduced the Monte Carlo in 1970, and while it didn't fit the muscle car bill, it did have the muscle under the hood. They first marketed the two-door coupe as the brand's first personal luxury car and envisioned it as the Chevy version of the Pontiac Grand Prix. But it took different forms across its history, with the Monte Carlo SS 454 posing as the ultimate sleeper with a potent 7.4-liter Turbo-Jet 454-engine.
Examples on sale fetch as low as $33k, which might sound like a lot but is affordable for a classic car of its standing.
8/10

Buick Roadmaster
Classic Buick Roadmaster Wagons are some of the most coveted classic cars, especially the 1994 to 1996 generation that packed the same iconic 5.7-liter LT1 V8 engine used in the Corvette. With this, you could destroy anyone on the road while hauling the entire family, pets included.
Examples from the 40s and 50s fetch serious coins, but the 90s classics go for as little as $15k. Also, you get excellent build quality, durability, and reliability for easy maintenance.
7/10

Pontiac Parisienne
Classic Buick Roadmaster Wagons are some of the most coveted classic cars, especially the 1994 to 1996 generation that packed the same iconic 5.7-liter LT1 V8 engine used in the Corvette. With this, you could destroy anyone on the road while hauling the entire family, pets included.
According to Classic.com, the Pontiac Parisienne has an average price of $18,735. If you are lucky, you can come across a restored model that shouldn't be expensive to maintain.RELATED: Swapped Sleeper: Coyote-Powered Ford Fairmont Is A Wolf In Sheep's Clothing
6/10

Ford Fairmont
Before the fox body platform could find its way into the Mustang cars, Ford deployed it in the Ford Fairmount. It came as a sedan, station wagon, and sporty two-door coupe format built between 1978 and 1983. It came standard with a 2.3-liter inline four making a humble 85hp, but one could opt for the pre-electronic fuel injection 5-liter Windsor V8. It provided adequate performance to form a foundation for Ford to rebuild its brand after the difficult 70s.
It is a reliable, cheap, and simple classic to work on, and its lightweight construction forms a platform for some of the sickest sleeper projects.
5/10

Mercedes-Benz 500E
Even by modern standards, the W124 Mercedes-Benz 500E is a fast ride, which further cements its 90s supercar-slaying sleeper status. Many consider the 500e the perfect sedan of its day, and if well maintained, it can run for years without problems.
It was a high-performance version of the venerable Mercedes-Benz W124 and a corroboration effort with Porsche to make it the ultimate wolf in sheep's clothing.
4/10

AMC Hornet SC/360
The American Motors Corporation unleashed the Hornet SC/360 in 1971, and it turned out to be a sleeper in many ways. It took a different direction from the muscle cars of the 60s in a reflection of the changing times. AMC shoehorned a monstrous engine into the lightweight Hornet's platform, thus birthing a sleeper version, the SC.360.
The compact car provided a substantial insurance edge compared to the money-squeezing muscle cars while combining decent quickness with a formidable suspension, enough to take down more powerful pony cars. You can snap up a low-maintenance copy for about $30k. RELATED: Find Out Why The AMC Hornet SC/360 Is An Underrated American Car
3/10

Ford Taurus SHO
Introduced in 1989 as the higher-performance version of the Ford Taurus, the Super High Output soon turned into one of the most iconic American sleeper cars. Ford outsourced the engine to Yamaha, who delivered a compact 60o DOHC V6 motor pushing 220hp and 200lb-ft of torque.
It delivered incredible driving pleasure in an unassuming luxury sedan body. Also, it is an affordable option with reliability to back the performance.
2/10

Shelby GLHS
The Shelby GLHS was an incredible sleeper car that was economical to buy and cheap to run. Beneath the boxy and ugly looks was a powerful and grippy ride making for a very quick and easy-handling car.
It is one of the best classic cars for the buck and makes for a great daily driver that is also cheap to keep.RELATED: 8 Cars You Didn't Know Were Built By Carroll Shelby
1/10

Toyota Chaser JZX100
The 2.5-liter 1JZ is one of the greatest engines ever by Toyota and is mostly associated with the beloved MK3 Supra. Toyota planted this high-performance engine into the sixth-generation Chaser JZX100, turning it into the ultimate sleeper. If that wasn't enough, buyers could also opt for the highly tunable twin-turbo-charged 2JZ engine.
The engine has an endless tuning potential while remaining bulletproof. It is the sleeper of many gearheads' dreams and one of the few classics that remain cheap to own and maintain.