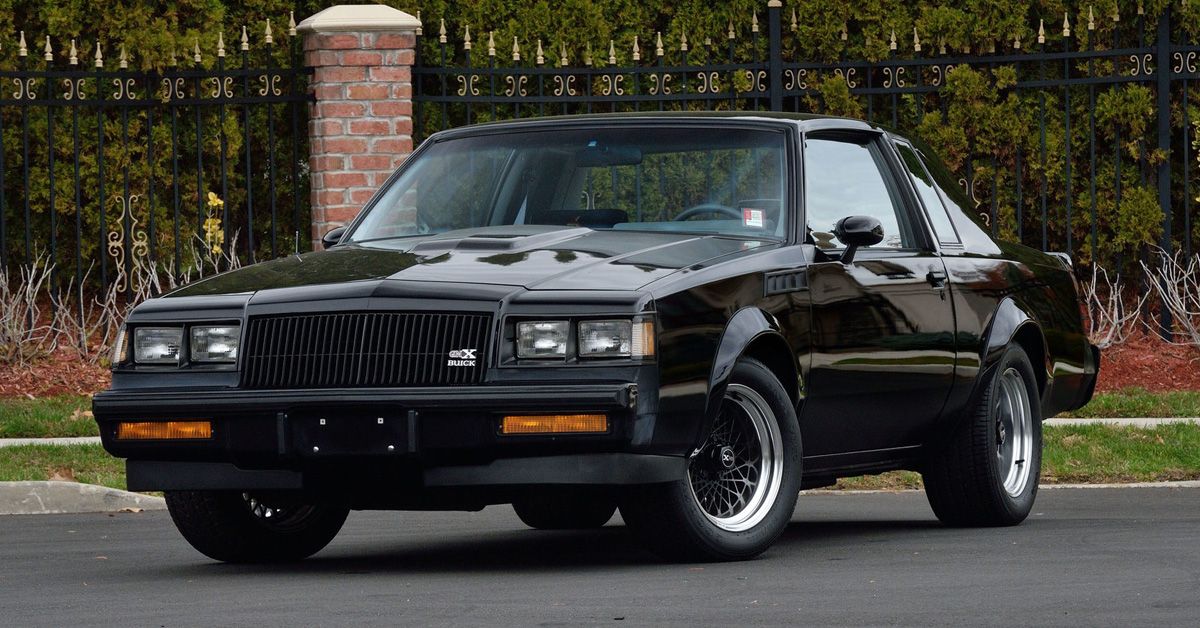 10 Classic Sleeper Cars Only Gearheads Will Recognize
When buying classic performance cars, most gearheads look for something with an eye-catching design that turns heads everywhere they go. They look for classic cars with low-slung sporty bodies, hood scoops, large wheels, flared arches, overzealous rear wings, and other features that let everyone know that it's fast even if it's parked.
RELATED: 10 Perfect Sleepers You Can Buy New Today
However, not everyone wants to draw attention to themselves like that. Some gearheads prefer classic cars that have plain and unassuming designs, but still pack enough punch to compete with some of the fastest sports cars. Sleeper cars — as they're commonly referred to as — have become so popular over the years that they're now a separate segment within the auto industry. Let's explore some of the best classic sleepers ever made.
10

Audi RS2 Avant
The Audi RS2 Avant is an absolute legend in the auto industry. Introduced in the early '90s, the RS2 Avant was the result of a collaboration between Audi and Porsche — though it was a boxy station wagon that didn't look anything like a Porsche.
While the RS2 Avant looked like a boring family wagon from the outside, it was a whole different car under the hood. Powered by a 2.2-liter turbocharged five-cylinder engine sending 311 hp to all four wheels, the RS2 Avant had a 0-60 of under 5 seconds and a top speed of 160 mph, enough to destroy some of the fastest '90s sports cars.
9

Buick GNX
Buick is not the first automaker that comes to mind when any gearhead is asked to name a performance car, as the company usually makes slow, boring, everyday cars. However, in 1987, Buick showed everyone that it could also make a fast car when it launched the GNX. ​​​​​​​
The GNX had the Grand National's body but was powered by a 3.8-liter turbocharged V6 tuned by McLaren. With around 300 hp on tap, the GNX could go from 0 to 60 in a sports-car-rivaling 4.6 seconds. Only 547 were ever built, making the GNX one of the rarest American cars ever. ​​​​​​​
8

1989 Ford Taurus SHO
The malaise era was terrible for all American automakers but more so for Ford. The Blue Oval brand almost went bankrupt at the time but was saved by one little-known car – the Taurus. There was nothing special about the Taurus, but it sold more than 2 million examples in less than five years. ​​​​​​​
While the Taurus was popular, some gearheads complained that it was slow, prompting Ford to produce the Super High Output (SHO) version in 1989. It was powered by a Yamaha-built 3.0-liter V6 pumping out 220 hp, giving it a 0-60 of just over 6 seconds and a top speed of 143 mph. ​​​​​​​
7

Shelby GLHS
The Shelby GLHS is a Dodge-Omni-based hot hatch produced from 1986 to 1987 in limited numbers. The acronym GLHS stands for "Goes Like Hell S'more," which should already tell you how quick it was. ​​​​​​​
RELATED: These Are The Best Hot Hatchbacks Ever Made For Spirited Driving
At the heart of the GLHS was a 2.2-liter turbocharged four-cylinder engine pumping out 175 hp and 275 lb-ft of torque. This doesn't sound like much, but it was more than enough for a small 2,200-lb hatchback in the '80s. ​​​​​​​
6

1989 Vauxhall-Lotus Carlton
In the late '80s, GM wanted to build a mental sedan that could beat anything from Mercedes-Benz and BMW. The American marque owned Vauxhall and Lotus at the time, so it asked Lotus to inject some power into the Vauxhall Carlton GSi 3000, resulting in the fantastic Lotus Carlton. ​​​​​​​
The design remained largely the same, but Lotus worked its magic on the engine. They increased the displacement and added two turbochargers, increasing the output from 204 hp to 377 hp. ​​​​​​​
5

Volvo V70 R
The Volvo V70 R left everyone with a puzzled face when it debuted in 1997. On one hand, it was a large, boxy station wagon with one of the ugliest designs ever created at the time. ​​​​​​​
On the other hand, it had a 2.5-liter turbocharged five-cylinder engine generating 300 hp – enough to give it a 0-60 of 5.6 seconds and a top speed of 155 mph. The V70 R also had other cool features like a six-speed manual transmission, Brembo brakes with ventilated discs, Monroe shocks, semi-active suspension, and Öhlins-developed adjustable dampers. ​​​​​​​
4

1993 GMC Typhoon
Back in the early '90s, GM was obsessed with building a car that could outrun European sports cars. However, instead of building a proper sports car, they decided to drop a powerful V8 into an SUV, resulting in the world's first' super SUV' – the Typhoon. ​​​​​​​
RELATED: Ranking The Fastest SUVs Ever Produced
The Typhoon had a 0-60 time of 5.3 seconds, which was just as quick as the Ferrari 348ts, Chevy Corvette, and Nissan 300ZX Turbo. This was all thanks to a 4.3-liter GM LB4 V6 aided by a Mitsubishi turbocharger and a Garrett intercooler. ​​​​​​​
3

1996 Chevrolet Impala SS
Whenever you see the 'SS' badge on a Chevy, that's a good indication that it's going to be a special car. That's exactly what the 1994-1996 Impala SS was, even though it looked like a boring four-door sedan. ​​​​​​​
The Impala SS was essentially a high-performance version of the Caprice and was powered by a returned 5.7-liter LT1 small-block V8 — the same engine as found in the Corvette — producing 260 hp and 330 lb-ft of torque. It also had a sport-tuned suspension with reinforced springs and shocks, a high output electrical system, four-wheel disc brakes, and a dual exhaust. ​​​​​​​
2

Mercedes-Benz 500 E
In the late '80s, Mercedes-Benz wanted to build a high-performance version of the W124. However, with its engineering department too busy developing the new S-Class, Mercedes-Benz asked Porsche to redesign the W124's chassis to fit the 5.0-liter V8 from the SL. The result was the 500E. ​​​​​​​
With an output of 322 horses and 354 lb-ft of torque, the 500E could go from 0 to 60 mph in under 6 seconds and had a top speed of 162 mph. It's no surprise that the press labeled it "Wolf in Sheep's Clothing." ​​​​​​​
1

2000 Ford SVT Contour
Ford's tuning division SVT has produced several awesome cars, most notably the Mustang SVT Cobra in the early '90s. After the success of the Mustang SVT Cobra, the SVT division to work on a different car in 1997, but instead of choosing a performance car, they went with a tame-looking sedan — the Ford Contour. ​​​​​​​
​​​​​​​
The result was the SVT Contour, which looked a lot like the normal Contour but had an upgraded 2.5-liter V6 producing 200 hp paired solely with a five-speed manual. The SVT Contour also had a retuned suspension, larger wheels with high-performance tires, and upgraded brakes.
Here Are The 10 Fastest American Cars Ever Made
There have been some really fast American cars over the years, and most of them are far more affordable than foreign exotic cars.
Read Next
About The Author