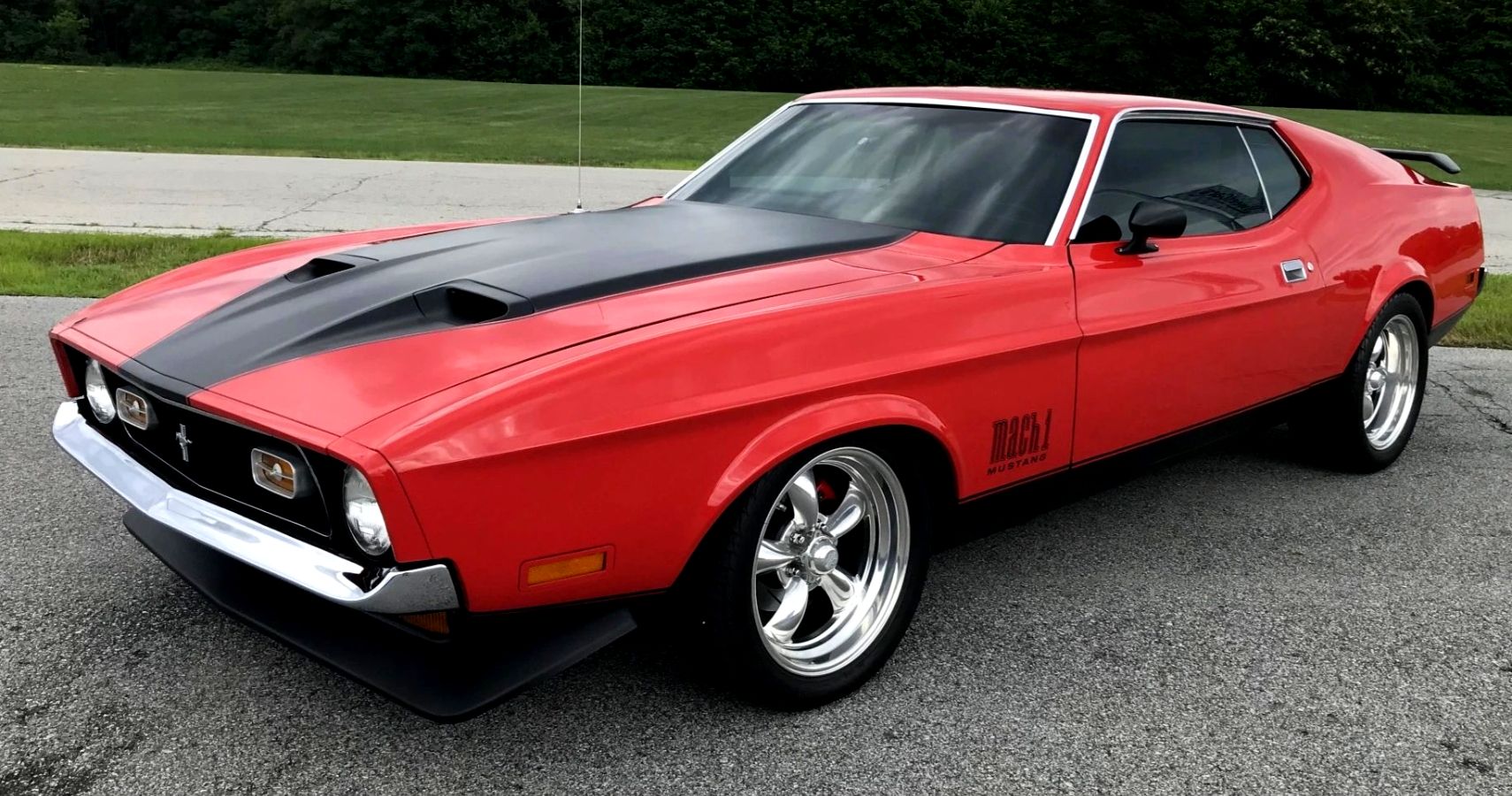 10 Classic Muscle Cars With The Most Reliable Engines
The muscle car era was a truly special moment for performance cars, as it brought big power to the masses. It opened the door to a world of high-power vehicles, at affordable prices, and let countless gearheads achieve their dreams. Whether they got behind the wheel of one of the coolest American muscle cars ever, the 1965 Plymouth Barracuda or opted for the coke bottle styling of a 1967 Chevy Impala, they were guaranteed a good time.
The 1960s is rammed full of iconic muscle cars, and most of these laid down the foundations for more evolved models in the early 1970s. Considered to be the glory days of muscle car creation, vehicles from this period usually sit high on any gearheads list when considering a classic car purchase. As the prices of classic muscle cars have jumped in recent years, getting a decent car that won't be a financial maintenance burden is a must, so here are 10 classic muscle cars with the most reliable engines.
10
The 1967 Dodge Dart GTS Has A Reliable Engine
With a burly 6.2-liter engine crammed under its hood, the Dodge Dart GTS came blessed from the factory with 280 hp and an enormous 400 lb/ft of torque. All that power ensured a gearhead would never feel short-changed, as the GTS could hit 60 mph in just 6.4 seconds.
Coming with a lack of creature comforts, such as power steering or air-con, meant that little could go wrong with a 1967 Dodge Dart GTS. Keeping one in tip-top condition was relatively simple, and could be done at home by involved owners with a basic tools setup.
9
The 1970 Plymouth Roadrunner 383 Has A Reliable Engine
While many gearheads yearn after a Hemi-powered muscle car, it is more than likely that they will settle for a lower-powered, more affordable alternative. The 6.3-liter engine fitted to the 383 Roadrunner is a prime example and makes for a robust classic choice.
Despite being the base specification engine, the Roadrunner 383 still had 335 hp with 425 lb/ft of torque and could hit 60 mph in 5.8 seconds. The engine proved a hit with street racers, as it was a solid and reliable unit that required very little ongoing maintenance.
Related: Plymouth Roadrunner And 9 More Muscle Cars That Need To Make A Modern Comeback
8
The 1972 Ford Mustang Mach 1 Has A Reliable Engine
The face-lifted Ford Mustang Mach 1 could be optioned with several engines, with a popular option being one of three Cleveland V8 units. A respected power plant, this 5.8-liter engine was tuned to deliver from 140 hp to 275 hp, depending on individual car specifications.
The Cleveland V8 is renowned for its flexibility and numerous tuning options, while also highly regarded for having plenty of longevity. Performance was decent, with the higher-rated engines getting powering the 1972 Mustang Mach 1 to 60 mph in around 6 seconds.
7
The 1968 Chevrolet Camaro Z/28 Has A Reliable Engine
Considered by Camaro lovers as being a factory-built road racer, the 1968 Z/28 demanded gearheads take a closer look. As its highly respected 5.0-liter V8 engine was officially rated by Chevrolet at a modest 290 hp but, in fact, regularly spat out figures closer to 350 hp.
The main selling point for Camaro owners though was the Z/28's ability to upstage the Ford Mustang 302 Boss, both off the line and in the quarter-mile drag. Smooth revving and providing plenty of power, the Camaro Z/28 was a trusted companion with plenty of performance.
Related: Tim Allen's 1968 COPO Camaro 427 Is A Burnout Monster
6
The 1970 Pontiac Firebird Has A Reliable Engine
Sporting an aggressively styled body shell, the Pontiac Firebird shouted about its sporting credentials. Equipped with a ram-air hood and swollen arches, it was one of the meanest-looking muscle cars out on the street. The Pontiac Firebird was also a popular muscle car.
A tempting array of engine options and power outputs made the 1970s Pontiac Firebird a must-have vehicle, for both gearheads and performance car enthusiasts. Whether they chose a peppy 155 hp in-line six, or a muscular 370 hp V8, owners were not disappointed.
5
The 1972 AMC Javelin Has A Reliable Engine
The second-generation AMC Javelin may have been a far more subtle-looking machine, but it still oozed muscle car appeal. AMC also offered a comprehensive warranty for its buyers, which covered the impressive Javelin for any repairs excluding tires for a full year.
This faith in their own build quality was well-founded, as the 1972 AMC Javelin proved true to be one of the most reliable muscle cars on the road. Even the higher-powered 6.6-liter V8s which delivered over 300 hp were renowned for racking up big mileage with little issue.
Related: Why A 1980s AMC Eagle Is The Most Underrated American Project Car
4
The 1966 Pontiac GTO Has A Reliable Engine
One of the most iconic muscle cars of all time, the 1966 Pontiac GTO was a car with huge curb appeal and plenty of raw power. Under its hood sat a 6.4-liter V8 that pumped out 335 horsepower, whisking the muscular Pontiac GTO to 60 mph in a very impressive 6.3 seconds.
An all-American hero, the Pontiac GTO provides a unique driving experience for any muscle car fan, it is also considered to be the most reliable old muscle car on the used market. This makes the Pontiac GTO a classic car with a stellar reputation for being a car that lasts.
3
The 1965 Ford Mustang Has A Reliable Engine
The original Pony car is often described by car fans as being the most desirable, with a classic 1965 Mustang appearing on many a gearhead's wanted list. Whatever body style is chosen, it's a muscle car that has a huge following and continues to pull in new buyers.
Which classic muscle car is the most reliable? Well, Those looking to get behind the wheel of a classic Mustang can rest assured that the engines on offer are rated by those in the know as almost bomb-proof. They're engines that love to clock up plenty of fuss-free, fun miles.
Related: Here's How Much A Classic 1965 Ford Mustang Is Worth Today
2
The 1969 Dodge Charger 440 R/T Has A Reliable Engine
Made famous for a generation of gearheads through the exploits of the Dukes of Hazzard's 1969 Dodge Charger R/T, the enigmatic model is a legend. The TV show also depicted the vehicle as being nigh-on indestructible, as it leaped through the air at every opportunity.
In reality, a 1969 Dodge Charger R/T may not survive a 20ft jump, but the engines are excellent, sturdy units. In stock form, the 7.2-liter V8 under the hood of the Charger 440 R/T churns out a massive 375 hp. Good enough to launch the car to 60 mph in around 6 seconds.
1
The 1970 Buick Skylark GSX S2 Has A Reliable Engine
What was the best engine of the muscle car era? Thanks to housing a huge 455 big-block engine, the 1970 Buick Skylark GSX Stage 2 could out-muscle many of its period competitors. That meant the 7.5-liter V8 in the Skylark GSX S2 was blessed with an incredible 540 hp.
Despite kicking out so much power, the Skylark GSX Stage 2 engine was generally considered to be a hardy lump thanks to its many upgrades. All chosen for their performance prowess and longevity, the additions not only made a street racing legend but a reliable car.