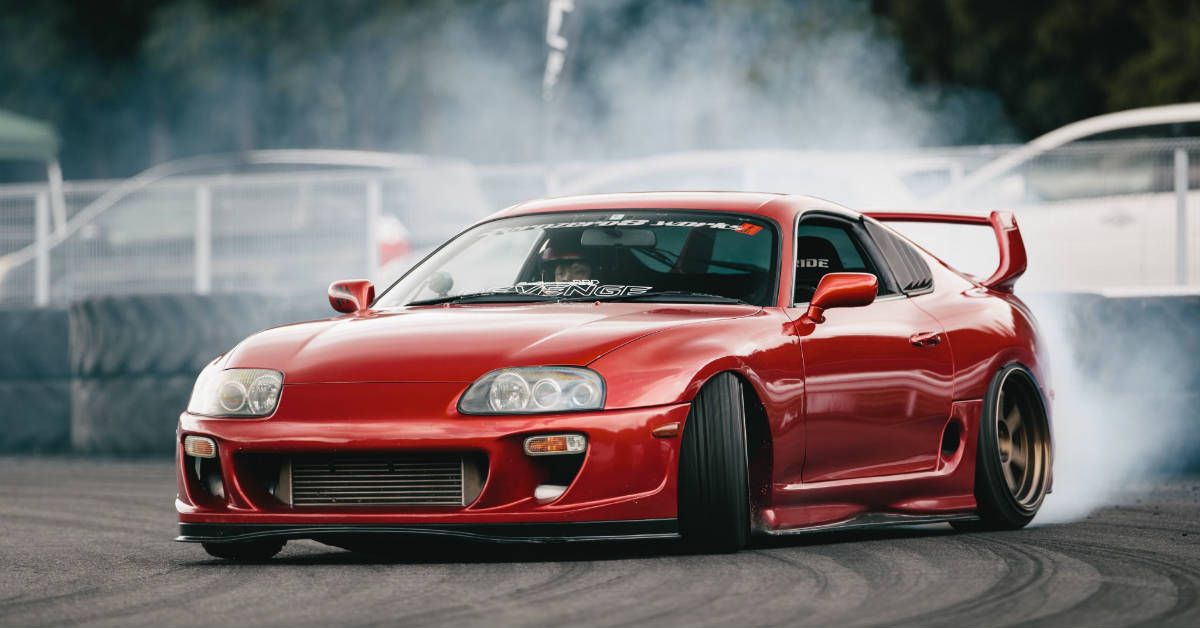 10 Classic Japanese Cars That Now Cost Way More Than They're Worth
Over the last century, Japan has established itself as one of the greatest automaking nations in the world. Japanese cars are loved all over the world for their simplicity, reliability, and, most of all, affordability compared to other countries. For this reason, Japanese cars usually lag behind when it comes to pulling high prices at auctions. Well, not anymore.
RELATED: 10 Coolest New Japanese Cars Coming Out In 2022
Over the past few years, some Japanese classic cars have been fetching prices similar to those demanded for Ferraris, Lamborghinis, Porsches, and other top-rated European supercars. While a small fraction of these Japanese classic cars deserve their insane price tags, most of them are way more expensive than any sensible gearhead would expect. Let's explore ten of the most overpriced Japanese classics on the market today.
10

Toyota Supra Mk4 – $100,000
The fourth-generation Supra impressed everyone when it launched in the '90s. It had a great design, a 3.0-liter twin-turbo V6 making 321 hp, and was fairly affordable, with prices starting from around $30,000.
Fast forward to today, and it's almost impossible to find a fourth-generation Supra for less than $100,000. Granted, a lot of the Supra's value is tied to its role in the Fast and The Furious franchise, but we still think it's too expensive.
9

Toyota 2000GT – $1.2 Million
The '60s will always be remembered for giving us some of the most beautiful sports cars ever built. Cars like the Jaguar E-Type, Corvette Sting Ray, Ferrari 250 GTO, and the Lamborghini Miura, to name a few. Toyota didn't want to be left out in the beauty wars, so it introduced the gorgeous 2000GT in 1967. ​​​​​​​
The 2000GT received a lot of praise for its design, but it had nothing else going for it. Powered by a small inline-six engine generating a measly 138 hp, the 2000GT was too slow to compete with European sports cars. Still, some people will pay upwards of $1 million for it. ​​​​​​​
8

Mazda RX-7 FD – $50,000
The RX-7 is a rotary-powered sports car that has gained a significant cult following around the world. There are three RX-7 generations, but the third-generation model is the best-looking and most expensive by far.​​​​​​​
The RX-7 has a lot going for it — an attractive design featuring pop-up headlights, a twin-turbocharged rotary engine with 252 hp on tap, and excellent driving dynamics. However, it costs around $50,000 these days, which is a lot more than we're willing to pay for a three-decade-old Japanese sports car. ​​​​​​​
7

Subaru Impreza 22B STI – $300,000
The Impreza 22B STI is a legendary car introduced in the '90s to celebrate Subaru's 40th anniversary and third WRC victory. Subaru made just over 400 examples, making the 22B one of the rarest Japanese cars ever. ​​​​​​​
RELATED: 10 Best Subaru Models Of The Decade
As anyone would expect, the 22B is not your average Impreza. It has an upgraded 2.2-liter four-cylinder sending 280 horses to all four wheels and several other upgrades. Unfortunately, it costs upwards of $300,000, which is enough to buy the Toyota GR Yaris for the rally car feel while leaving you with enough for the latest Porsche 911 Turbo S. ​​​​​​​
6

Mazda Cosmo Series I – $90,000
The Cosmo is widely considered to be one of the most important cars in Mazda's history. This is because it was the first-ever car powered by a rotary engine. The Cosmo also had an eye-catching design and was rare, with just over 1,000 examples built. ​​​​​​​
Powered by a 982cc two-rotor engine producing an embarrassing 110 hp, the Series 1 Cosmo was extremely slow. This is why we don't think it's worth the $90,000 it costs today. ​​​​​​​
5

Nissan Fairlady Z432R – $800,000
Nissan's Z-car range has been popular since its debut in the '60s. The first Z-car – the 240Z – was an instant hit, largely thanks to its beautiful design. However, it was not as powerful as many gearheads wanted, so Nissan built a lighter and more powerful race-oriented version – the Z432R. ​​​​​​​
The Z432R was produced in limited numbers for the Japanese domestic market only, which is why it's so highly sought after today. However, despite its status, we don't think it's worth the $800,000 a collector paid for it, especially considering that the 240Z is worth a tiny fraction of that. ​​​​​​​
4

Mazda RX3 – $30,000
Everyone knows and loves the Mazda RX-7. However, not many have heard of the RX-7's predecessor – the RX-3. The RX-3 may not be famous, but it was just as racy and modular as its successor. ​​​​​​​
The best thing about the RX-3 is arguably its design – it has a coke bottle shape that rivals some of the best-looking American classic muscle cars. The RX-3 is also an amazing car to customize. While all these features are great, we don't understand why the RX-3 costs $30,000 on average and even twice that for good-condition models. ​​​​​​​
3

Nissan Skyline 2000 GT-R – $120,000
Produced in the early '70s, the Skyline 2000 GT-R is a two-door masterpiece that gave gearheads a taste of what a proper Japanese performance car could deliver. Powered by a 2.0-liter six-cylinder with 158 hp on tap, this car was quite fast and was looking like Nissan's next cash cow. ​​​​​​​
RELATED: Here's Everything You Forgot About The Nissan Skyline GT-R R34
Unfortunately, the oil crisis kicked off, and the demand for the Skyline 2000 GT-R fell drastically, forcing Nissan to discontinue it after just a few months of production. Due to its rarity, the Skyline 2000 GT-R costs over $100,000 today, which is too much in our opinion. ​​​​​​​
2

Toyota Corolla AE86 GTS – $40,000
The AE86 is an absolute icon amongst gearheads. It's a rally favorite, European Touring Car champion, a star of its own Manga comic, and a drifting legend. ​​​​​​​
The AE86 was powered by an all-aluminum 4A-GE twin-cam engine, producing 112 hp and 97 lb-ft of torque. This doesn't sound like much, but for a lightweight hatchback, it's more than enough to make it extremely fun to drive. However, we wouldn't recommend paying $40,000 for such an old and plain-looking hot hatch. ​​​​​​​
1

Mitsubishi Lancer Evolution VI Tommi Mäkinen Edition – $80,000
Mitsubishi has produced many fantastic models over the years, but none of them are as revered as the Lancer. The Lancer is Mitsubishi's pride and joy, which is why it has been produced in multiple generations and variants. ​​​​​​​
Of all the Lancers you can buy, the Evo VI Tommi Mäkinen Edition is arguably the most desirable. Developed in 1999, the Lancer Evo VI TME is a special car built to honor legendary Finnish rally driver Tommi Mäkinen, who won four WRC championships for the Japanese marque. This car costs a whopping $80,000, which is crazy considering it's just a Lancer Evo with a few upgrades.
What Makes A JDM Car? 10 Things You Didn't Know
JDM (or Japanese Domestic Market) can mean many things when it comes to cars, from models to parts. Here's what you might not know!
Read Next
About The Author