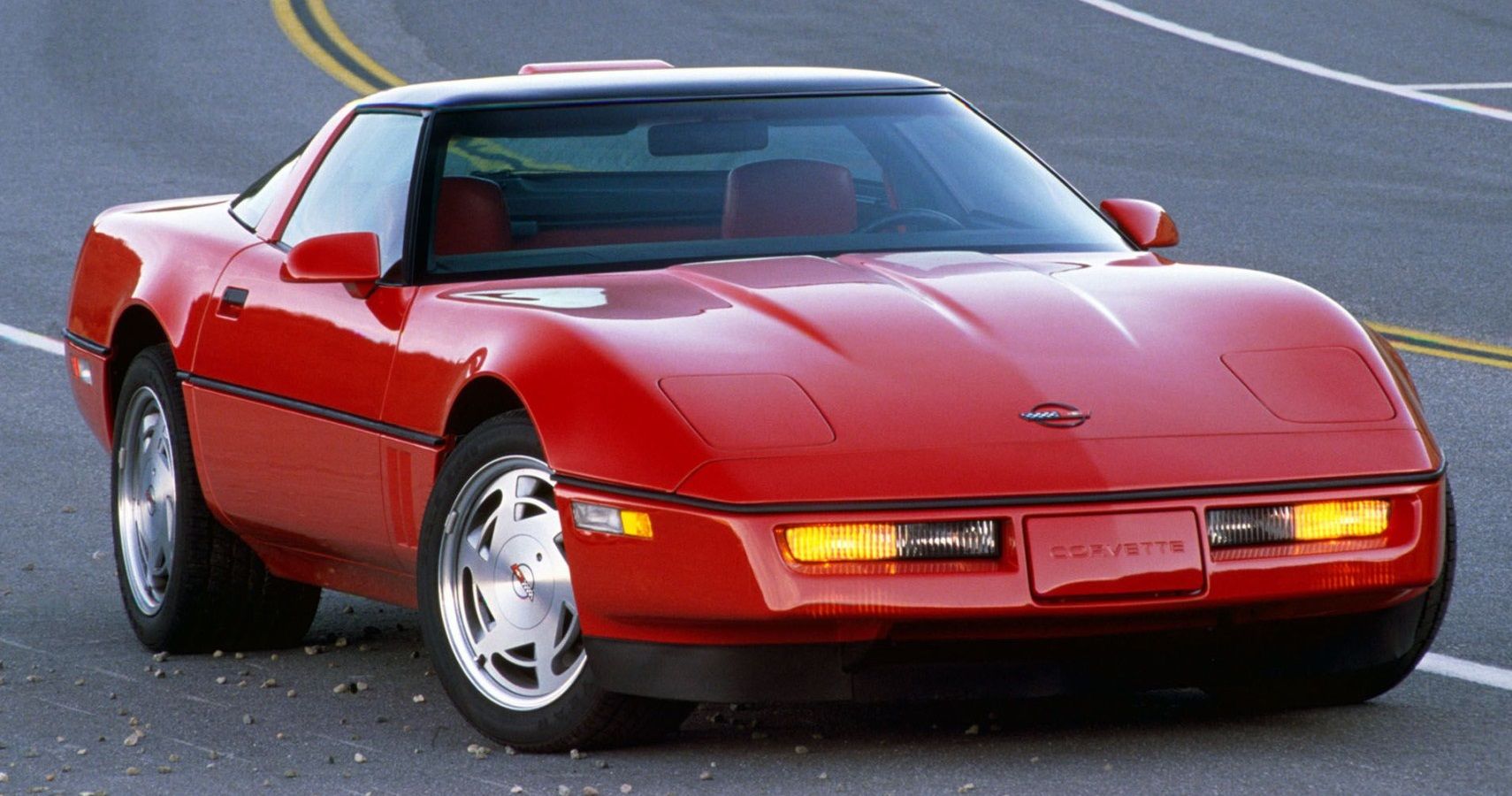 10 Classic American Sports Cars Everyone Regrets Buying
Every gearhead in the world has, at one point in their life, wanted to own a sports car. After all, sports cars are extremely alluring, with their promise of a thrilling drive, zesty engine, and head-turning looks. In fact, if the sports car is also a classic car, the deal becomes even sweeter. There are plenty of great sports classics that one can buy today, which have become a lot more accessible to gearheads today than they were in their own time. Sports cars have always been a symbol of speed, power, and style.
However, not all sports cars live up to their reputation. In fact, some American sports cars have become infamous for their poor reliability, high maintenance costs, and disappointing performance. Gearheads might love the idea of bringing home some of these classic American sports cars, but they would be in for some disappointing truths. Here are 10 classic American sports cars everyone regrets buying.
10
1980 Chevrolet Corvette 305 California
The Corvette has had a great run as one of the coolest American sports cars, but there are a few models that Chevy would rather sweep under the rug. Take the 305, for example. In 1980, thanks to some crazy strict emission laws in California, they had to shrink the V8 engine so much that it could only muster a measly 180 hp.
If that wasn't bad enough, the 1980 305 California also came with a lame 3-speed auto transmission that made it drive like a regular old family car. If you're thinking about buying one of these bad boys, trust us, you're going to regret it once you hit the gas and feel how weak it is.
9
1974 Ford Mustang
When the oil crisis hit back in '74, Ford thought they had the answer with the 2nd generation of their Mustang. They made it more compact, but that also meant it was less powerful than what the pony car fans were hoping for. Even worse, the Mustang II actually used the same brakes and suspension components as the economy Pinto.
To be fair, the Mustang II was a necessary compromise in the face of soaring fuel prices, but it's tough for folks looking for a classic ride to get too amped about these Mustangs. Furthermore, the Mustangs from the early to mid-70s are known for rusting like crazy, so you might want to think twice before investing in one.
RELATED: 5 Awesome Cars That Were Ruined By The Oil Crisis (5 Cool Ones That Emerged)
8
DeLorean DMC-12
One of the most iconic pop culture cars, the DeLorean DMC-12 surprises those who don't know better by its sheer mediocrity. Sure, it gets the looks right, and if you have the money, you'd be considering bringing home this classic sports car as the new crown jewel for your driveway.
Sadly, the car was a letdown when it came out, and it would be the same today. Despite a long development period, the DeLorean DMC-12 was underpowered and disappointing. The car's 2.7-liter engine made a meager 130 horsepower, and it took a lifetime to cross the 60mph mark. If you think you have a classic sports car on your hands with the DMC-12, you'd be in for a rude awakening.
7
Vector W8
American manufacturer Vector only ever made 22 units of the W8, which was the homegrown supercar touted to be faster than even the Ferrari F40. 625 horsepower is a lot even today, and the Vector W8 was capable of crossing the 200 mph mark with ease, running on a three-speed automatic transmission borrowed from GM.
Sadly, even in its own time, the Vector W8 was extremely pricey, with the price tag close to half-a-million dollar, and it also brought with it a slew of mechanical problems. In fact, even Car And Driver, with three different test models, ran into mechanical troubles with the Vector W8 on each unit. If somehow you have an eye-watering amount of money lying around, and you think the Vector W8 might be a great American classic to buy, rethink. To say parts for the W8 are scarce today would be an understatement, and there are plenty of classics that are a lot more deserving of your time and money.
RELATED: Here's Why The Vector W8 Flopped Spectacularly
6
Pontiac Fiero
In the 1980s, Pontiac tried their hand at making their own sports car with the Fiero. A mid-mounted engine, retracting headlights, and a sleek design promised a great sports car experience. Sadly, drivers were left disappointed rather than thrilled.
For starters, the Fiero turned out to be quite an unreliable car. Plus, the small engine bay could never house a V8. Pontiac then decided to focus on efficiency, which sure worked, but in the end, the Fiero ended up a confused car that could never prove to be a thrilling sports car with a preppy engine. In fact, it couldn't even remain a credible highway cruiser, seeing how the engine was limited. If a Pontiac Fiero is on your shortlist for a classic American sports car, scratch it off.
5
Chevrolet C4 Corvette
American automakers had a lot of new-and-improved technology at their disposal in the 1980s, but sadly, gas prices began to rise exponentially. This unfortunately led the industry down a path of mediocrity through much of the '80s. The Chevrolet Corvette, in its fourth generation, suffered the same fate.
It looked the part, with a sleek and angular exterior, but under the hood is where it all went wrong. The C4 Corvette's V8 engines came mated to some really terrible transmissions, automatic or manuals with electronic overdrive. This ended up throttling the power of the car that was supposed to be an American supercar-equivalent.
RELATED: The Real Reason Why The C4 Corvette ZR-1 Is A Terrible Investment In 2022
4
1994 Ford Mustang
Having a classic Mustang sounds good, but only if it isn't from the nineties. After Ford seemed to get design language right with the Fox Body Mustangs, they made the '94 Mustang a lot smoother, with little to no lines or distinctive features.
Moreover, the entry-level V6 under the hood of the '94 Mustang made just 145 horsepower, which, by today's standards, is downright terrible for a sporty coupe. If you buy yourself a '94 Mustang, you'd also end up regretting it within a week or two because of the shabby interiors.
3
1997 Plymouth Prowler
A Plymouth Prowler might look like a fancy purchase to make, since you'd think you're adding a classic sports car into your collection. However, think again. First off, Plymouth never sold too many of these, meaning you'd be hard-pressed to find parts for this car, and the maintenance and servicing would be pretty darn costly.
Then, the fuel economy from the Prowler's V6 engine would also become a headache, since the car is not efficient. Moreover, the Plymouth Prowler might be eye-catching, but it's far from the most comfortable car in the world. The low-slung profile, along with the stiff suspension, would make a car you couldn't wait to get out of.
RELATED: Real Story How The Plymouth Prowler Made Chip Foose Famous
2
1975 Chevrolet Camaro
The Chevy Camaro and Ford Mustang have always been rivals, but you'd think the Camaro would've stepped up its game in its second generation. Unfortunately, that wasn't the case. In 1975, GM added catalytic converters to all their US cars, including the Camaro, which made it even less powerful than before.
The 5.7-liter V8 under the hood only pumped out 145 horsepower, and the Z28 package, which offered performance upgrades, was dropped. In fact, even if you find an upgraded version of the car which jetted out 155 horsepower, it wouldn't make much of a difference.
1
1980 Pontiac Trans Am Turbo
The 1980 Pontiac Trans Am Turbo has a lot of classic muscle car charm to it, which makes it such an alluring car to bring home. Sadly, the car is known to have a lot of reliability issues, especially with its turbocharger and the engine itself.
This results in a two-fold problem. First, the car would have you at the service center a lot of the time, as it would require frequent repairs and maintenance. Furthermore, owing to the car's rarity, you'd also find it troublesome to find replacement parts, or even qualified mechanics that would be willing to work on it.
Sources: Car And Driver, FuelEconomy.gov