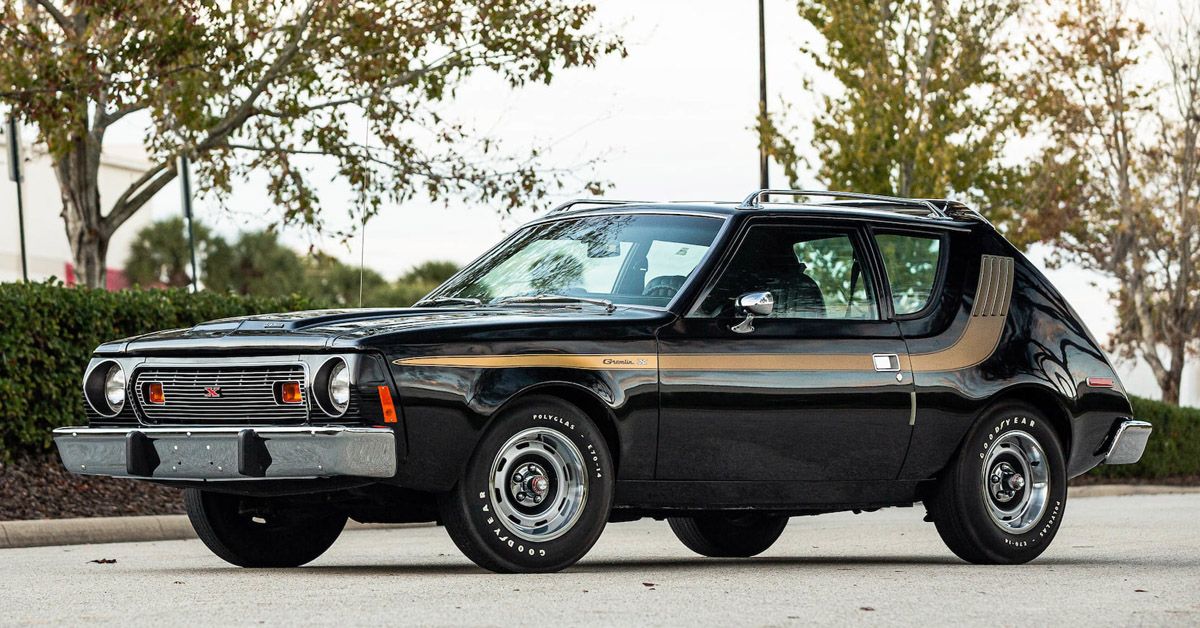 10 Cheap Classics We Don't Want Anything To Do With
When it comes to buying vehicles, classic cars included, everyone is always on the lookout for the "better deal". Since the average classic car tends to be quite pricey, getting one at a cheap price would seem like a great deal. Unfortunately, it doesn't work out that way all of the time. Cheaper could land you with an underdeveloped car with a long list of serious safety issues. Some of them could be hiding sloppily-assembled parts that will fall off easily.
In addition, most mid to late '70s muscle cars were victims of the oil crisis of 1973. To comply with stricter government emission standards, manufacturers were forced to build muscle cars that lacked muscle. Although they look cool on the outside, where it matters most, under the hood, they came with disappointingly low horsepower. So, before signing that check, it is important to ensure that you're getting your money's worth. To help with that, we look at 10 cheap classics we don't want anything to do with.
10

Pontiac Fiero
Built between 1984 and 1988, the all-new Pontiac Fiero was technologically advanced for the era and boasted aggressive styling. With its mid-engine layout and the initial decent reviews it got, the public, expecting great things from the Fiero, flocked to the dealerships.
However, performance was poor, and compromises made during development soon caught up with the Fiero. At one point, early Fieros were catching fire at the rate of 20 per month due to defective connecting rods. From that point, sales fell steadily until the Fiero was discontinued after 5 years on the market.
9

1974 AMC Gremlin
The AMC Gremlin is a 2-door subcompact car that was created from a shortened AMC Hornet platform introduced in 1970 as an economy car. It competed in the same market with the likes of the infamous Ford Pinto, Toyota Corolla, and the Volkswagen Beetle.
Although it was marketed as "cute and different", there was nothing cute about the Gremlin's ugly design. For a company that had some quality cars to its name, the Gremlin's weird design language was scandalous. To add insult to injury, it wasn't much fun to drive either, thanks to the poor steering.
RELATED: 5 Reasons Why The AMC Gremlin Doesn't Deserve All The Hate (5 Reasons Why It Does)
8

1978 Triumph TR7
Arriving in the US in January 1975, the Triumph TR7 impressed enthusiasts with exceptional styling, and was marketed as "the shape of things to come". Sadly, the TR7 came with little more than a retro look.
Rated at 92 hp, the 2-liter 4-cylinder engine under the hood was not the most exciting power source. It also suffered from poor build quality which resulted in serious safety hazards. Some of the quality woes included a leaky sunroof, faulty oil pumps, faulty carburetors, and serious overheating issues.
7

Triumph Spitfire 1500
Available from 1974 to 1980, the Spitfire 1500 was the fifth and final iteration of the Triumph Spitfire. Apart from the Spitfire Mark I with a 0-60 mph time of 16.4 seconds, the American-bound Spitfire 1500 was the slowest.
Fitted with a catalytic converter and exhaust gas recirculation system, the 1.5-liter I-4 under the hood was tuned to belch out 54 hp. As would be expected, it waltzed to 60 mph in 16.3 seconds. Furthermore, unlike the earlier engines used, the 1500 engine was a rough unit that was more liable to failure.
RELATED: These Are The Most Beautiful American Classic Cars You Can Buy
6

Ford Pinto
Introduced in September 1970, the Pinto was developed to compete with imported models like the Mazda 1200. Arguably one of the worst cars ever, it was recalled over a faulty accelerator less than 2 months from its introduction. In March 1971 all the Pintos manufactured till then were recalled to address fire risks from igniting fuel vapors.
The worst of its issues was from the unprotected rear-mounted gas tank that exploded during collisions. After 27 deaths and more than 100 lawsuits, Ford finally embarked on the largest automotive recall at that time.
5

1987 Cadillac Allante
The Allante is a 2-seater FWD luxury roadster that was marketed from 1987 until 1993. Despite boasting high-tech features and a Pininfarina-designed and built body, it sold poorly throughout the 7-year production run.
Unfortunately, though, the 4.1-liter under the hood was only good for 170 hp in a car that weighed up to 3,720 pounds. Performance was simply horrible as zero to 60 mph happened in a lethargic 10 seconds. In addition, the Bosch ABS 4-wheel disc brakes were flawed and the removable aluminum roof leaked.
RELATED: 10 American Muscle Cars Worth Every Penny
4

1982 Mazda RX-7
The first RX-7 arrived in March 1978 as a replacement for the Mazda RX-3. It was a day one hit, thanks to its small size, low weight, and most of all, the rotary engine under the hood. Placed behind the front axle, it contributed to the perfect 50:50 front/rear weight distribution that enhanced handling.
However, despite its good features, the smooth high-revving engine is quite unreliable and prone to failures. More so, owing to the scarcity of parts, maintenance and servicing can be a real headache. Although the Mazda RX-7 is a sharp performer that is available for cheap, we would avoid it.
3

Ford Mustang II
Riding on the subcompact Pinto platform, the Ford Mustang II arrived one month before the October 1973 oil embargo and the ensuing fuel shortages. Boasting excellent fuel economy, it was just what the public needed, and Ford moved more than 1.1 million units.
Throughout the production run, the highest motivation it got from its base engine was 92 hp while the optional V6 at its best churned out 105 hp. Not only was it a poor performer when compared with the legendary first generation, but there was also nothing exceptional about its design.
RELATED: 5 Reasons Why New Cars Are Better Than Old Ones (5 Reasons Why We'd Rather Buy A Classic)
2

1962 Dodge Dart
The Dodge Dart started life in 1960 as an entry-level full-size Dodge offered in several body styles. Redesigned and downsized for the second generation in 1962, the Dart was now based on a new lightweight unibody "B" platform.
In addition to sound handling and strong brakes, it also had a lineup of powerful engines that provided excellent acceleration. However, it also boasted one of the most ridiculous external designs ever found on a car. It was so bad that it was sent back to the drawing board for a complete redesign for the 1963 model year.
1

1979 Chevrolet Chevette
The Chevette is a subcompact hatchback that Chevrolet built on the T-body platform and introduced in 1975. It was affordable, and Chevrolet sold 2.8 million cars in the 12 model years it lasted. Being a victim of the energy crisis, it was plagued by low-powered engines that took it to 60 mph in almost 20 seconds.
The build quality was as disastrous as its performance – sometimes the interior fell apart before it even left the production line. Although it had stable and competent handling, there is no denying that the Chevrolet Chevette was an awful car.