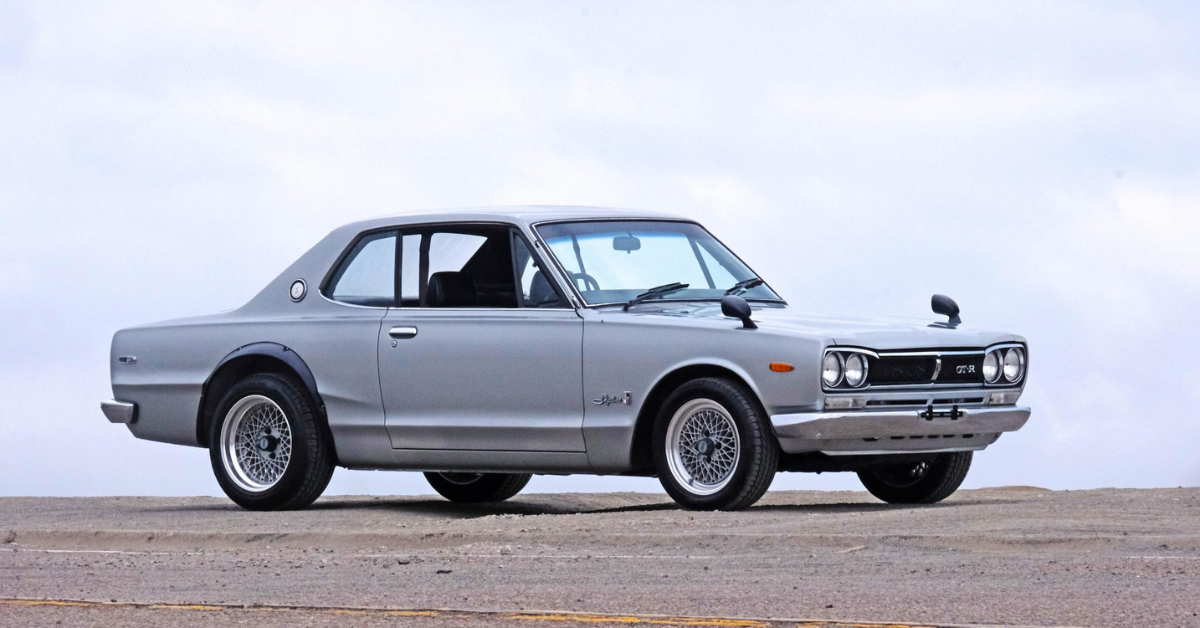 10 Best JDM Cars For Classic Style
The most iconic JDM (Japanese Domestic Market) car is the Nissan GT-R R32, which debuted in 1989. Nissan's third-gen Skyline GT-R dominated the Japanese touring car championships for four seasons straight and inspired a world of tuners to keep pushing for those gains with its unstoppable RB26DETT 2.6-liter inline-six twin-turbocharged engine. The R32, or "Godzilla," captured the imagination of the wandering gearhead with its iconic rear lights and boxy frame and continues to this day in the form of the 2022 Nissan GT-R R35.
However, there's more than just Nissan, which crafts automotive perfection in the east, legendary nameplates such as "Type-R" or "2000GT" scatter the Japanese car landscape and have been producing some of the world's most stylish rides in the decades that have gone by. Here are ten classic Japanese cars that have captured our imaginations worldwide.
10
1983 Honda Civic Si
1984 Saw the introduction of the Honda Civic Si trim of the third generation Civic, commonly known as the Civic E-AT. Honda equipped the hot Civic with a European style similar to a Renault 5 and crammed a 1.5-liter DOHC engine under the hood producing 118 hp with a top speed of 118 mph… in a shoebox! The Civic held its own against European rivals such as the 80s most incredible hot hatch, the Golf GTI MK2.
The little 80s Civic inspired Tatsuru Ichishima to establish one of Japan's most legendary tuning shops, Spoon. Ichishima's 1985 Civic E-AT produced 230 hp from its 1.6-liter Honda ZC engine!
9
1992 Mazda RX7
Designed by Yochi Sato in collaboration with Wu-Huang Chin, Mazda's ultimate Wankel Rotary coupe arrived as the RX7-FD debuting in 1992. Design elements from the Miata can be seen in this stunning JDM legend as Wu-Hang Chin used his efforts on the Miata as inspiration for the 276-hp JDM icon.
Mazda produced 68,589 RX7 (FD) models over a nine-year production cycle ending in 2002. Today, potential owners face an average of $39,799 for an RX7. However, it is important to note how tunable this vehicle was back in the day, and clean examples will cost far beyond that average… Thanks, Dom Toretto.
RELATED: Drag Strip Ready: This Widebody AWD Four-Rotor Mazda RX7 Has 1,200-HP
8
1967 Toyota 2000GT
Japan's first supercar arrived in 1967, named the Toyota 2000GT, a stunning example of a classic Japanese car designed by Satoru Nozaki, who drew much inspiration from the swooping lines of the Jaguar E-Type, but is it better? Toyota's 2000GT came armed with a 2.0-liter straight-six forcing 148 hp and 129 lb-ft of torque to the rear wheels.
Toyota sought to take on their European rivals and crafted a limited production-run sports car in collaboration with Yamaha between 1967-1970; the 2000GT saw 351 units produced, with only 150 leaving the Japanese mainland. Today prices average $1 million, with a record sale coming from Gooding & Company Amelia Island Auction, which sold a Toyota-Shelby 2000GT for a whopping $2,535,000 on the 4th of March 2022!
7
1990 Nissan Pulsar GTI-R
Nissan, known for creating the most iconic JDM vehicle in the world, went on to produce 14,613 Nissan Pulsar GTI-Rs between 1990 and 1994 but largely left WRC prowess to their fellow countrymen, Subaru and Mitsubishi.
However, Built for Group A WRC homologation, Nissan equipped the boxy pulsar with the legendary SR20DET 2.0-liter four-cylinder engine capable of pumping 227 hp and 207 lb-ft of torque across all four wheels thanks to the fabled ATTESA all-wheel drive system. Baby 'Godzilla' gained its name from the drag strip, as the Pulsar GTI-R runs the quarter mile in 13.5 seconds! Which is identical to the R32 Nissan GTR of the same generation.
Today, the GTI-R costs anywhere between $12,000 – $20,000—a relative steal for a classic Japanese WRC car capable of 0-60 in 5 seconds!
6
1967 Mazda Cosmo
Mazda's first Wankel-Rotary powered car that inspired a generation! Mazda named the vehicle after the world-consuming space race ongoing during the late sixties to signify the future-thinking nature of the rotary-powered sports coupe.
The Cosmo is a gorgeous Japanese classic car with 128 hp and 103 lb-ft of torque emanating from its 2-rotor Wankel engine. Mazda produced 833 Cosmo Series II L10B coupes, with only six making it to the United States between 1967 and 1972.
The debutant Wankel-powered Mazda Cosmo costs around $88,970 today.
5
1990 Honda NSX
The Honda NSX was an early 90s monster powered by a 3.0-liter V6 helped along with the budding V-TEC technologies. Rumors of the NSX arrived when Honda released the HP-X experimental concept in 1984, designed by Pininfarina, and the following NSX would follow suit.
Designer Masahito Nakano took inspiration from an F-16 fighter jet for the aero looks of the NSX. Many consider the NSX the father of all supercars, with automotive designers such as Gordon Murray drawing inspiration from Hondas's efforts.
The NSX saw 18,685 units produced across a 15-year production run. Up to 8,997 NSX models arrived in the USA under the 'Accura brand and today cost potential owners $67,760 for Honda's V-TEC pioneering supercar producing 269 hp and 209 lb-ft of torque.
4
1983 Toyota Corolla AE86
A rear-wheel-drive hot hatch with near-perfect 50/50 weight distribution, Toyota crafted over 360,000 Corolla AE86 models, largely considered the best budget JDM hot hatch. US production numbers are around 18,000.
Powered by a 1.6-liter inline-four, the AE86 Corolla makes 128 hp and 110 lb-ft of torque at 5,200 rpm. The little JDM icon is a drifting legend among enthusiasts, with its popularity skyrocketing thanks to the Initial D anime series. Today, a Toyota AE86 costs $21,053 for one of Japan's more outlandish classic cars.
RELATED: These AE86 Hydrogen And EV Concepts Are Toyota's Drift To Near Future
3
1970 Datsun 240Z (Fairlady Z)
Nissans first 'Z' car and Japan's first muscle car, inspired by the Jaguar E-Type, the 240Z or "Fairlady Z" is a fantastic JDM classic costing an average of $32,940.
Arriving with a 2.4-liter straight-six, the debutant Z sent 148 hp to the rear wheels and sold a staggering 520,000 across a nine-year production run! More popular models sported the smaller 2.0-liter engine due to the ongoing fuel crisis, but that still didn't stop the Z from inspiring generations of enthusiasts and tuners who have recently seen the release of the seventh iteration, the 2022 Nissan Z.
2
1969 Nissan Skyline GT-R 'Hakosuka'
The R35 GT-R's great-great-grandfather came in the form of the 1969 Nissan Skyline GT-R, known more commonly as "Hako-suka," meaning "box-skyline" in Japanese. Possibly Japan's most legendary classic car.
The Hakosuka GT-R houses an S20 2.0-liter DOHC six-cylinder engine producing 158 hp and 131 lb-ft of torque at 5,600 rpm. The Nissan badged shoebox has a top speed of roughly 125 mph and today sells for $130,000. The record sale for a Hakosuka GT-R was $430,483 in Tokyo circa 2019.
Nissan only created 1,945 series one GT-R skylines, and only 800 were four-door variants, hence the vastly inflated price of the world's most iconic JDM nameplate.
RELATED: 5 Reasons Why We Love The Hakosuka Skyline (5 Reasons Why We'd Rather Have The AE86 Corolla)
1
1987 – Mitsubishi Galant VR-4
Standing for "Viscous Realtime 4WD," the Mitsubishi Galant was the predecessor to the legendary Lancer Evo. However, a classic JDM WRC car that achieved a respectable six victories between 1987 and 1992 remains largely unknown.
Being a homologated car, Mitsubishi had to produce 5,000 Galant VR4 models and saw roughly 3,000 VR4s cross stateside between 1991-1992. The 2.0-liter turbocharged four-cylinder produced around 195 hp as the Galants trick (at the time) Viscouse Coupling unit acted as a central differential. Indeed, a JDM classic that sparks conversation amongst enthusiasts.
Sources: Classic.com