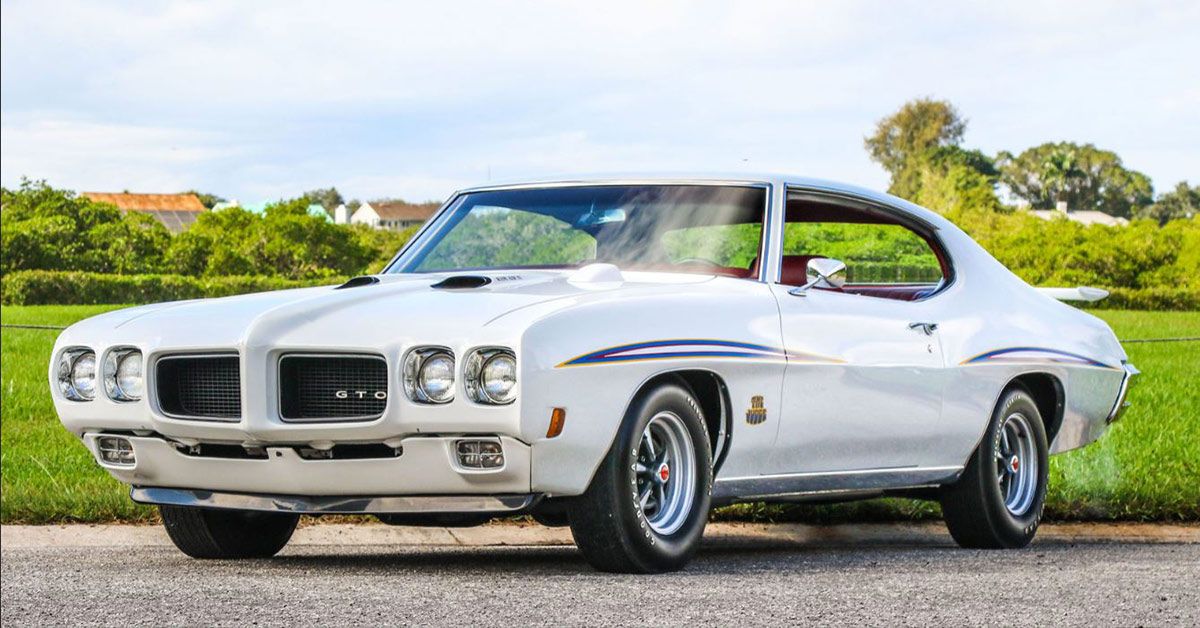 10 Awesome Classic American Cars That Were Built To Last
Some of the greatest classic cars for sale are rarely the most dependable buys. However, American classics don't have to be Ford GT40s or one-off Carroll Shelby prototypes; some of the best American cars offering a few extra smiles per mile have seen mass production crossing hundreds of thousands of units, resulting in a reliable classic to pick up today.
A classic American car will always feature a V8 option alongside a bold design resembling a stingray fish or boxy fastback – or a truck. Here are 10 of America's most excellent classic cars built to stand the test of time.
10
2008 Ford Crown Victoria
Ford released the Crown Victoria way back in 1991. The Crown 'Vic' takes its name from the legendary 1955 Ford Fairlane 'Crown Victoria' made famous by its public service use, namely, the police, a service the Crown Vic continued up until 2011. In fact, 2008 Crown Victoria models were exclusively police/taxi fleet vehicles, all arriving with a sturdy 4.6-liter V8 producing 224 hp and 265 lb-ft of torque. Ford built over 1.5 million Crown Victoria sedans within its 20-year lifespan before replacing it with the equally no-nonsense Ford Taurus.
The jewel in the Crown Victoria's crown was an under-powered V8, simple suspension, and lack of electronic reliance, a group of variables that made it one of the most reliable American cars in the world, even topping the J.D. Power 'large car' of 2008 dependability awards.
A 2008 Ford Crown Victoria costs around $9,350, according to classic.com
9
1999 Ford F-150
Ford released the tenth-generation of America's most iconic classic car, the Ford F-150, in 1997. The tenth-gen had undergone a complete overhaul, sharing only its gearbox with its predecessor. Ford's F-150 is forever a classic American car that continues to be the nation's best-selling truck to this day.
Consumer Reports for the 1997 Ford F-150 indicate a reliability rating of 4.6/5. Ford sold 746,111 Ford F-150 trucks in 1997 as it celebrated another year at the top of the pile!
RELATED: A Look Back At The Ford F-150 Harley-Davidson
8
1969 Ford Mustang Mach 1
The Ford Mustang is America's most classic car, capturing the hearts of gearheads on a global scale. However, back In the early days of the Ford Mustang, when quarter-mile times were all that mattered, North American markets received the legendary Mach 1 trim package for the 1969 model year, a performance package that saw 72,458 Ford Mustang Mach 1 models leave the dealership in 1969 alone. The Mach 1 was so effective, it took the GT trim out of the Ford Mustang lineup.
Ford equipped the 1969 Mach 1 with a trim-topping 7.0-liter V8, producing 335 hp and 440 lb-ft of torque from its Cobra Jet power plant.
More importantly for today's potential customers, the much loved Mach 1 remains a sturdy beast, as the '60s Mustang had to withstand heavy highway miles on a mass scale. A testament to this is the sheer amount found for sale to this day; the original Mach 1 averages $37,441 today.
7
1970 Pontiac GTO
The 1970 Pontiac GTO was a part of the second generation of the company's legendary muscle car icon. Arriving with a body-colored 'Endura' front bumper, structural integrity was a key marketing ploy for the second-gen Pontiac GTO, as the judge trim level could scream its way from 0-60 mph in 6 seconds.
Customer reviews rate the 1970 Pontiac GTO 5/5 for reliability, likely due to General Motors' famed A-platform, which means components were abundant for those who love the classic American 'Judge.'
This highly reliable American classic Pontiac costs an average of $81,261 today. However, of the 40,149 GTOs sold in 1970, only 168 convertibles arrived with the 'Judge' trim package, making them the rarest of the lot.
6
1963 Chevrolet Corvette
Chevrolet's 1963 Corvette was the first member of the C2 generation of America's most pivotal sports car. The C2 arrived after years of racing experience with the 1953 Chevrolet Corvette, and expectations were high. Luckily for Chevrolet, they had legendary General Motors engineer Zora-Arkus Duntov who successfully crafted the C2 'Vette with a blend of the original model components alongside a combination of new technologies, such as an independent front suspension setup, resulting in a perfect all-American sports car.
Duntov's 1963 C2 is one of the most reliable and durable Chevrolet Corvettes ever, setting the standard for future models, albeit without the incredibly unsafe split rear window. This stone-cold American classic costs around $149,708, according to classic.com.
RELATED: Here's What Makes Chevy Corvette C2 Iconic
5
1994 Jeep Grand Cherokee ZJ
The original Jeep Grand Cherokee was launched in 1994, known as the ZJ. Chrysler had inherited plans for the luxury SUV after their 1987 purchase of AMC, and set about taking the wily old barge to market. AMC's efforts and Chrysler's coin purse resulted in an ever-lasting American icon, with an overall 4.5/5-star review with Edmunds. Further customer reviews note multiple models exceeding 230-300k miles!
Much of the Grand Cherokee dependability is due to its revolutionary unibody construction and dependable under-powered V6 engine options.
4
1973 Plymouth Valiant
Another example of Chrysler's unibody construction was the Plymouth Valiant, which set the benchmark for compact reliability from an American manufacturer thanks to its rigid construction and advanced suspension setup. Furthermore, the Plymouth Valiant hit the market with a simple slant-six capable of 105 mph. An important note was the forged-steel crankshaft applied to the block, clearly showing Chrysler's intentions for a durable American classic to compete in the growing compact market.
Developed on Chrysler's famed A-body, the Plymouth Valiant made-up 40% of the company's sales for the 1970s and is widely regarded as one of Chrysler's many financial saviors.
3
1957 Buick Roadmaster
Buick prides itself on dependable luxury, which is why some are worth a fortune today. The seventh-gen Buick Roadmaster arrived in 1957 as the epitome of the brand's efforts. Furthermore, the 1957 Buick Roadmaster featured the notorious 6.0-liter Nailhead V8, capable of 300 hp.
The final Roadmaster until the ill-fated eighth-gen of the '90s arrived in the era of full-size, luxurious land yachts. While the Dynaflow transmission was a polarizing component of the Roadmaster, it provided a dependable, smooth experience for '50s consumers looking for a lifelong, reliable machine.
RELATED: Check Out This Weird 1957 Buick Roadmaster Motorhome Found In A Barn
2
1966 Ford Bronco
Ford released the first-generation Bronco with a 2.8-liter six-cylinder capable of a staggering 102 hp! The main goal of the Bronco was to take on the Jeep CJ-5 within the world of rugged dependability. Ford achieved this by featuring a forward-thinking 'Mono Beam' front suspension with coil springs alongside a shorter wheelbase than its competitors – the original Bronco is a smooth-riding American classic.
The original Ford Bronco sold 224,585 units between 1966-1978 as a simplistic, rugged SUV capable of withstanding the test of time. Today, a 1966 Ford Bronco costs around $68,912.
1
1975 Chevrolet El Camino
Chevrolet's sold 37,141 units of the 1975 El Camino, with 3,521 armed with the legendary SS package. Chevrolet's little truck was one of America's most iconic classic cars, built en-mass between 1959-1977.
One of America's most iconic classic cars has a vast parts bin scattered around the USA thanks to its record-breaking sales in the rather unique, 'coupe-utility' sector. The El Camino was a simple vehicle with a rugged frame built for the working class.
Sources: J.D. Power, Cars.com, Classic