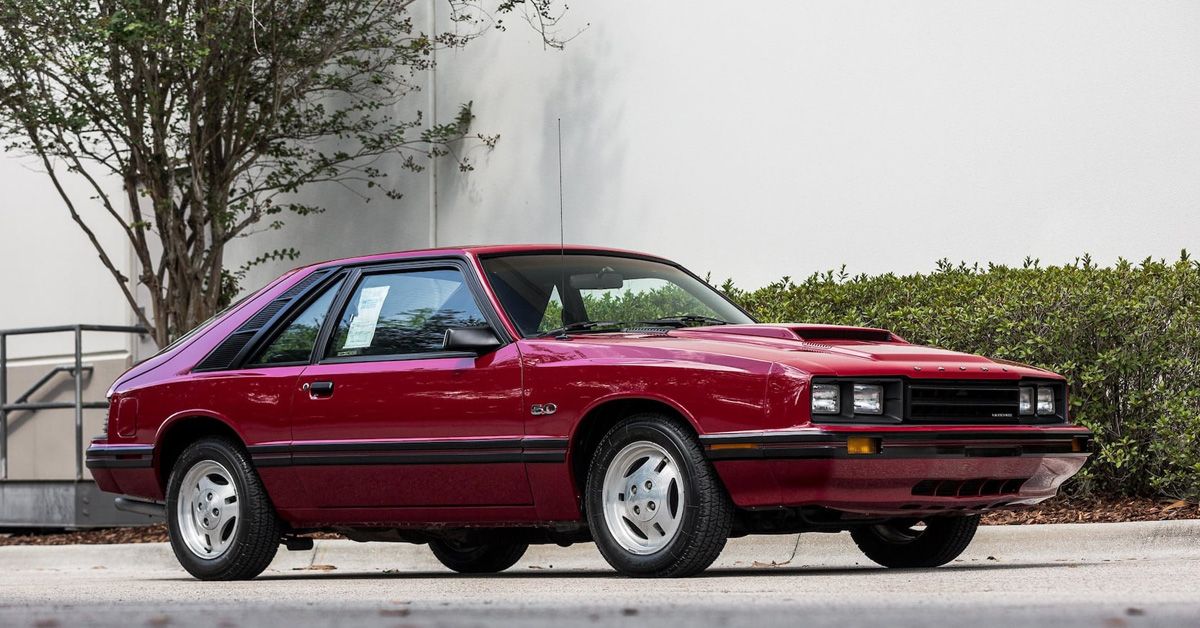 10 American Classic Cars Collectors Steer Clear Of
The 60s and early 70s gave us some of the most desirable classic muscle cars – these were the golden years. With RWD setups, miles of styling, and monstrous V8s with loads of power, most of the first-generation muscle cars are big hits. While these dream machines didn't require serious coin then, nostalgic collectors will pay big bucks for them today.
But there are some American classic cars that are considered bad investments; collectors won't touch them with a ten-foot pole. Most are from the mid-70s when the malaise firmly took hold. Automakers were coming out with vastly underpowered muscle cars because of the Clean Air Act of 1970 and the 1975 Corporate Average Fuel (CAFE) regulations.
RELATED: Check Out These Hilarious Muscle Car Concepts
With cool designs, muscular styling but no poke, most were only good as efficient appliances for getting around then – gearheads don't want them today. Others can't be forgiven for being badly engineered or for their bad reputation over the years. Let's take a look at the 10 classic muscle cars collectors steer clear of.
10

1974 – 1978 Ford Mustang II
The Ford Mustang is among a handful of cars that have rightfully earned their iconic status. Spinning back through 58 model years of the nameplate, it's easy to pinpoint the period between 1974-1978 as its low-water mark. This was the middle of the '70s fuel crisis, when the Mustang II was launched as an ordinary economy model. Instead of horsepower, EPA ratings were more important.
Coming only with four and six-cylinder engines options (1974), making only 88 and 105 horsepower respectively, is among the reasons why collectors and car enthusiasts shy away from them.
9

1980 – 1983 Dodge Challenger
The original Dodge Challenger was a massive success, but was retired in 1974 when things got ugly for thirsty muscle cars. The second-generation car made an unexpected comeback in 1978, but was not up to snuff to true muscle-car enthusiasts. This was a rebadged Mitsubishi Galant Lambda built in Japan, that didn't look muscular, sound scary, or have insane horsepower (no V8 option).
Motors available were two inline-4s rated for a mere 77 hp and 105 hp. Muscle car buffs were not happy and will never shell out insane amounts of money on it today.
8

1976 -1980 Plymouth Volare Road Runner
The 1976 Plymouth Volare was introduced to replace the Plymouth Valiant. The Road Runner was meant to be the more upscale and luxurious model, but turned out to be a lemon. It got panned so much for its poor build quality and durability that it hurt Chrysler's reputation and almost bankrupted the automaker in 1979.
RELATED: Remember The 1980 Plymouth Volare? It's One Of The Worst Muscle Cars Ever
The 5.2-liter engine only made 120 horses in the Road Runner. A poor-performance, problem-plagued, recall-ravaged classic car like the Road Runner is not collectible.
7

1971 Ford Pinto
Most collectors don't like the Pinto, partly because it's hideous, but the main reason it's hated so much is that it had a fuel tank that would break in rear-end collisions. It was a deathtrap. The design error unforgivably destroyed its reputation and killed its resale value.
Later, the Pinto became a big PR disaster for Ford when it came to light the American automaker had discovered the problem during pre-production testing but ignored it. Apparently, the cost of reinforcing the rear end was still higher than the potential payout to victims; hence Ford decided to continue making the exploding Pintos.
6

1980 & 1981 Mercury Capri RS Turbo
Mercury's version of the fox-body Mustang, the 1981 Mercury Capri RS Turbo, was pathetic. Forget the cool body-color exterior accents and the bulging hood; underneath was a 2.3-liter turbocharged four-cylinder. The factory "turbo" upgrade might sound very interesting until you realize it only managed a paltry 117 hp.
That's not the only thing that bothered adrenaline junkies; it could only accelerate from 0-62 mph in 10.3 seconds. Pushed it to the limit, it couldn't even go over 100mph – horrible even by '80s standards.
5

1974 Pontiac GTO
By 1974, the car considered the first true American muscle car was on its deathbed; it had become a trim option for the Pontiac Ventura. Although it stuck to the true and tested RWD plus big V8 muscle car formula, the body changes it got were found unappealing even by its faithful. Put to the test, it was also sluggish, nowhere near the performance realm of the top GTOs.
RELATED: 10 Awesome Facts About The Pontiac GTO
Only 4806 units were sold in 1974, from a high of 70,000+ units in 1966. Ouch. As expected, it got axed. Many were used, abused, and dumped.
4

1982 – 1985 Chevrolet Camaro
When Chevy released an undeniably beautiful and well-redesigned Camaro dubbed the Iron Duke in 1982, many fans had their hopes up. But that's until they found out it was actually powered by a 2.5-liter 4-cylinder "Iron Duke" engine. This was the first 4-cylinder in a Camaro, and it was also the least powerful engine the model has ever seen.
Capable of only 90hp and 132 lb-ft of torque, it was a universal letdown. 0-60 sprints took 20 seconds, meaning this edition of Chevy's Mustang fighter was the slowest Camaro ever seen. Chevy decided to add some extra spice in 1983, but power only went up to 93hp.
3

1980-1982 Ford Thunderbird
For the uninitiated, the Thunderbird was the more luxurious option when it came to Ford performance cars. It was the car to get for those who wanted style, performance, and technology in one. But that's during its golden years, not the short-lived 1980-1982 generation.
Making 120 horses from a 4.2-liter V8, nothing was performance-oriented about the 1980-1982 Ford Thunderbirds. During those two years, the Ford Thunderbird coupe was competing with chunky station wagons in terms of size, and as expected, its performance was affected awfully. Cars in excellent condition auction for peanuts.
2

1995-1999 Chevrolet Monte Carlo
The 1st generation Monte Carlo, a slightly upmarket version of the Chevelle, was among the coolest Chevrolet muscle cars of the 70s. After it got axed in 1988, Chevy's 1995 revival was a complete swing and a massive miss. It had undergone an RWD to FWD transformation, and there was no rowdy V8. Even worse, body changes were few, drab, and failed to impress the Chevy brigade.
RELATED: 5 JDM Classics Of The '60s We'd Blow Our Savings On (And 5 American Muscle Cars)
It was worse than when it first arrived, and most ended up being unloved and eventually sent to the crusher.
1

1982 Pontiac Trans Am
The Trans Am was Pontiac's attempt to revive classic Pony cars, and from the outside, with some futuristic aggressive styling, it had the flair. But under the hood, the 1982 car was vastly underpowered, producing a measly 90hp in the base model and an underwhelming 165hp when fitted with the biggest motor.
These figures weren't mind-blowing, and its performance was nothing praiseworthy. With so much potential but no performance credentials, gearheads that like exhilarating acceleration are not drooling over the possibility of owning one, although it's considered the epitome of '80s cool by Gen X-ers.
5 Reasons Why American Cars Are Better Than European (And 5 Reasons They Aren't)
Read Next
About The Author