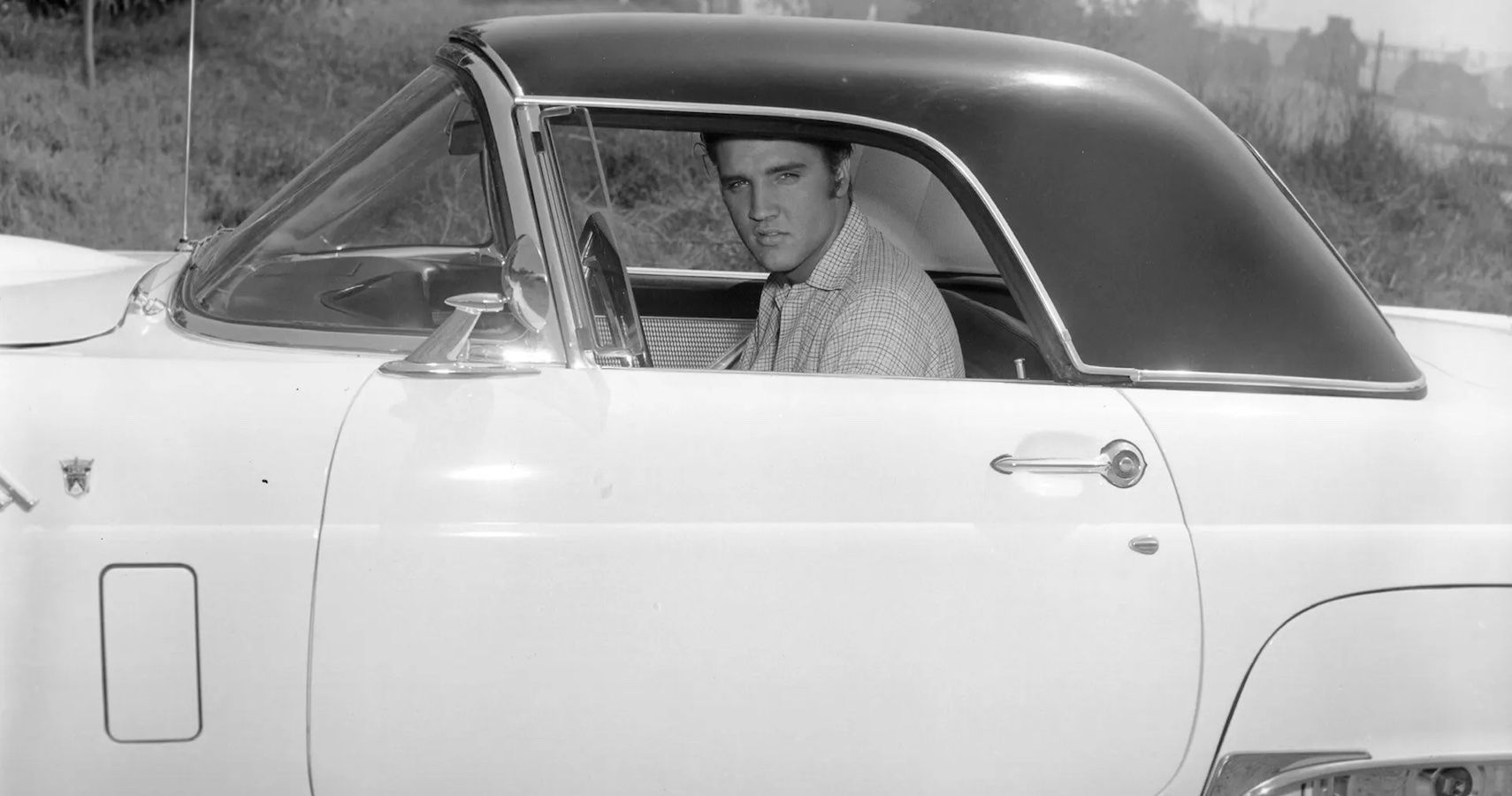 10 Amazing Classic Cars Owned By Elvis Presley
Throughout over two decades in the spotlight, Elvis Presley wasn't exactly a man who kept things low-key, especially when it came to his renowned fleet of dream cars. Known for his flamboyant sense of style on stage, this same sense of blatant excess was also clearly shown in Presley's car collection.
Although Presley was a Cadillac man, beyond any doubt, the King of Rock 'N Roll wasn't a stranger when it came to foreign roadsters and supercars. Ever since his breakout in the mid-1950s, until his eventual demise in 1977, Elvis Presley owned countless automobiles, seemingly in a disposable sense. Although Presley had owned a multitude of vehicles, it wasn't uncommon at all for the late rocker to simply gift a new Cadillac away to various people he'd met. As for Elvis' personal car collection, things were obviously a bit more extravagant for this particular showman. Let's check out the awesome classics he owned.
Related: One Lucky Collector Find Elvis Presley's Custom Built Cadillac Wagon
10
1971 De Tomaso Pantera
The De Tomaso Pantera is an inherent beast and one of the original mid-engined supercars of the 1970s. Powered by a Ford 351-cid Cleveland V8, these early Pantera packed 325 hp and touted a top speed of 159 mph.
Elvis Presley, however, was less than enthused with his own Pantera. After driving his yellow De Tomaso around Memphis, the car reportedly stalled out and refused to get itself going again. Not along after, Presley was relaying this story to a friend back at Graceland. The Pantera had been towed back, but was still rendered inoperable. In the middle of relaying the details of the breakdown, Elvis pulled out a pistol and repeatedly shot the De Tomaso.
9
1957 BMW 507
After being drafted into the United States Army in 1958, Presley found himself stationed in Germany, but was still an established rock star and sought an appropriate way of getting himself around during his stint. The 1957 BMW 507 would end up fitting the role, and would go on to become one of the most valuable cars ever owned by Elvis Presley.
The specific car in question had formerly been owned by famed German racer Hans Stuck, who consequently had the BMW's engine modified for hill-climb events. Originally painted white, Presley reportedly had the entire car repainted in red, as several German fans reportedly left lipstick-smeared kiss marks and their phone numbers upon the 507's bodywork.
8
1956 Messerschmitt KR200
The single-cylinder, three-wheeled Messerschmitt KR200 is definitely out of place here. Its nature is obviously a huge contrast to the massive, flashy Cadillacs and Lincolns which Presley had favored. With only 191cc worth of displacement, this tiny microcar only had 10 hp on tap.
Nonetheless, Presley took a liking to Messerschmitt. However, so did Bernard Lansky, a shop owner who sold Presley the majority of his clothing during the years. At one point, Presley had traded Lansky the Messerschmitt, in exchange for a shopping spree at his store.
Related: This Is The Elvis Movie Car That Every Classic Collector Wants Today
7
1962 Ford Thunderbird Sports Roadster
Produced for only two years, the Ford Thunderbird Sports Roadster was an interesting whale that Presley took a liking to. The Sports Roadster aimed to combine the bulbous, decadent styling of the 1960s Thunderbirds with its original, two-seater layout (although a rear seat was present, but hidden underneath the rear tonneau cover).
Unfortunately, Ford's decision to feature Kelsey-Hayes wire wheels on the 4,563 lb-leviathan had caused one of which to collapse during hard cornering, while Presley was behind the wheel. Although Presley was unharmed, the incident received so much publicity that it caused Ford and Kelsey-Hayes to completely rework the load-bearing capacity of the wheels in question.
6
1970 Mercedes-Benz 600
The Mercedes-Benz 600 Series was an immensely complex and opulent car. So much so that Elvis Presley owned at least two of the famed Grosser cars, and was consequently chauffeured in them throughout the 1970s.
In another incident, Presley had taken a second Mercedes-Benz 600 and gifted it to the local sheriff, Bill Morris. In return, Morris deputized Presley, which resulted in him and his entourage receiving Shelby County Sheriff's Department badges.
Related: The Hair-Raising Story Behind Elvis Presley's Iconic BMW 507
5
1973 Stutz Blackhawk III
The Stutz Blackhawk was one of Elvis Presley's more favorable cars, as he'd owned several of these outrageous coupes during the 1970s. Utilizing a GM chassis with bespoke, Italian-built bodywork, the Blackhawks were highly exclusive in their day.
Elvis had even managed to become the very first public owner of a Stutz, after he convinced the dealer to sell him a prototype, before the model had even been ready for public sale.
4
1975 Ferrari Dino 308 GT4
Technically speaking, Presley owned a Ferrari. However, the Dino 308 GT4 had lacked the famed Ferrari badge until 1976, as the company had opted to market the mid-engined sports car under the Dino nameplate, as they'd done with the 246 GT.
By 1976, Ferrari ended up badging the cars with their own name. Dubbed the "Black Mamba", Presley's 308 was a 1975 model, although ended up featuring the iconic, prancing horse badges.
3
1956 Cadillac Eldorado
Presley loved Cadillacs. So much so, that he has since become synonymous with the brand itself, despite his varying tastes in cars. One notable example of the brand in Presley's car collection is his purple, 1956 Cadillac Eldorado convertible.
Originally painted white, there's a popular legend that Presley had reportedly purchased the Eldorado in Texas, before driving it back home to Tennessee. On arriving, he allegedly pulled up to a local dealer, smashed a handful of grapes on the hood, and asked for the car to be painted in that same shade.
Related: Here's Why Elvis Presley's 1959 Cadillac Was So Expensive At The Time
2
1955 Cadillac Fleetwood 60 Series
In addition to his famed, purple Cadillac, Presley also previously purchased a 1955 Cadillac Fleetwood. Like its counterpart, Presley was also dissatisfied with its factory paint scheme.
After having the car repainted in a special shade of pink, dubbed "Elvis Rose," Presley then gifted the car to his mother, although she'd never learned to drive.
1
1948 Chevrolet Panel Truck
According to curators at the Graceland Estate, Elvis Presley's favorite car was a battered, 1948 Chevy Panel Van, which he kept hidden away from the rest of his esteemed fleet.
Elvis kept the old Chevy around solely as a disguise, utilizing the truck and some old clothes as a means for sneaking away from Graceland and blending in whenever he'd felt the need to escape from the fame and fortune which consumed the majority of his life.