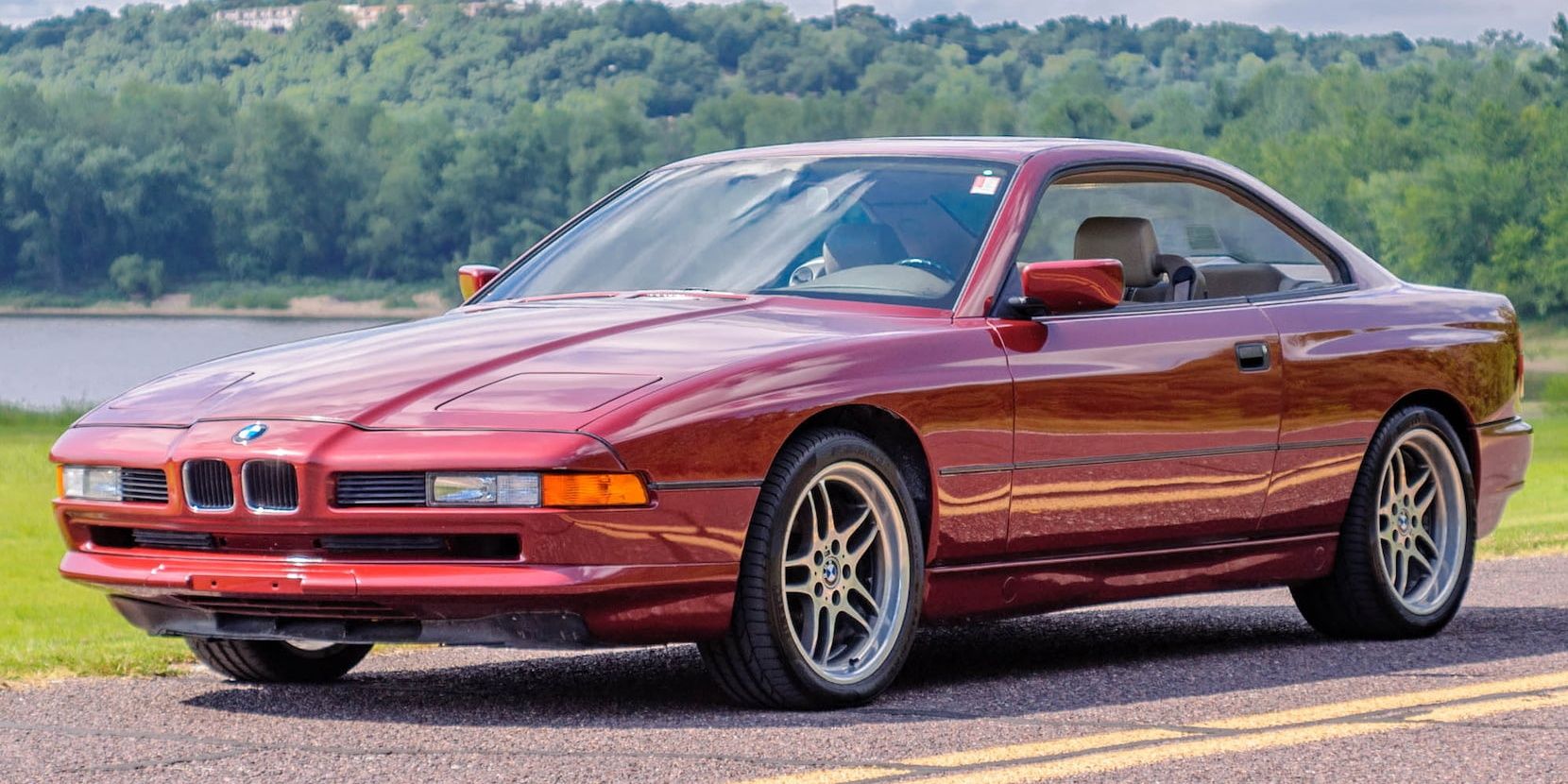 10 Affordable Classic Cars With A V12 Engine
Offering an impressive amount of power with smooth delivery, a V12 engine has long been considered one of the most advanced and highly sought-after powertrains ever to be mounted on a vehicle. Since V12 engines are essentially two straight sixes joined together through a common crankshaft, they are ridiculously smooth and powerful.
With a dozen-cylinder configuration powering some of the rarest and most powerful classic cars on the planet, it's not surprising that V12 classic cars tend to cost an arm and a leg. There are, however, several outliers among the V12 ranks that you can get at a pretty affordable price.
Related: Here Are The Cheapest V12 Engine Cars You Can Buy
10/10

1992 Jaguar XJS – $15,100
The graceful, seductive look of the Jaguar XJS may fool you into thinking it's just another luxury grand tourer. But at heart, the XJS is a monster, with a 5.3-liter aluminum V-12 engine powering the 1992 iteration.
The V12 is paired with a three-speed automatic transmission to produce 263 hp and 288 lb-ft of torque. The 1992 XJS is quite weighty at 4,194 pounds, but the four-wheel independent suspension does a fine job of refining the road manners of the XJS. Over 115,413 units of the XJS were produced, so you can still find one today at a decent price.
9/10

1993 BMW 750iL – $6,000
Everything about the 750iL, from the opulently appointed interiors to the gutsy V12, will make you appreciate the BMW flagship sedan. It's a surprise you can still get the 750iL for less than $10,000. As you open the doors, the interior lights graciously welcome you to a 14-way power adjustable seat.
Under the hood of the 1993 BMW 750iL lies a 5.0-liter V12 engine that produces 296 hp and 332 lb-ft of torque. With a V12, the 750iL can hit 155 mph before losing its breath.
8/10

1992 BMW 850i – $16,800
Introduced as a replacement for the E24 6 Series in 1990, the 850i was the first model in the 8 Series lineup. At the time of release, it was quite pricey, thanks to the extra performance it offers. But today, you can get a neatly used 1992 BMW 850i for just $16,800.
Powering the 1990-1994 850i is a 5.0-liter V12 engine with either a 4-speed automatic or a 6-speed manual gearbox. The V12 cranks out 296 hp and 332 lb-ft of torque. As one of the most advanced BMWs back in the day, the 850i was equipped with an electronic drive-by-wire throttle — a rare technology at the time.
Related: Auction Dilemma: BMW 850i Vs Porsche 928
7/10

1995 Mercedes-Benz S600 – $10,000
The Mercedes-Benz S600 exudes class and luxury almost like no other car from the 1990s. The double-stitched leather dashboard, comfy leather seats, and plush carpets will still impress you today, even if not as much as they did back in the day.
It's not very often you see an affordable car like the S600 with plenty of luxury and a 6.0-liter V12 engine. The V12 is backed up by a four-speed automatic transmission and puts out 389 hp and 420 lb-ft of torque.
6/10

1995 Mercedes-Benz SL 600 – $13,500
The wedge-shaped Mercedes-Benz SL 600 is a good option for those looking for an affordable roadster with traces of luxury in just the right places. The SL 600 received a facelift in 1995, featuring a more extensive set of standard equipment.
The 1995 SL 600 and the S600 are essentially the same at heart, featuring a 6.0-liter V12 that pumps out 389 hp and 420 lb-ft of torque with the backing of a four-speed automatic transmission. In normal mode, the SL 600 floats down the road like a land yacht, but you can stiffen it up when you switch to sport mode.
5/10

1986 Jaguar XJ12 – $11,169
Upon its launch in 1973, the Jaguar XJ12 was the first mass-produced four-door saloon car with a V12 engine. With its decent performance, refinement, superb handling, and relative rarity, it's quite surprising that the XJ12 isn't worth more.
You can get one of the 23,564 XJ12 examples sold for less than $12,000. With the presence of a heavy 5994 cc V12 engine in the XJ12, its ride won't be quite as supple as the XJ6's. But with the comfort amenities of the XJ12, you will barely notice it.
4/10

1997 Toyota Century – $24,750
Before Lexus became Toyota's luxury offshoot, the Century was the pinnacle of Japanese prestige. It's one of those vehicles you pull up in to make a statement of success, as it combines leading-edge technologies and regal styling.
To offer a serene ride, the Century was fitted with the first 5.0-liter V12 engine for a Japanese passenger vehicle. The silky engine cranks out 280 hp and 354 lb-ft of torque. With two inline sixes having their sensors, intake, and throttle valves, the V12 was dubbed "fail-safe."
Related: The History Of JDM's Gentle, Luxury Giant: The Toyota Century
3/10

1993 Mercedes-Benz 600SEL – $28,300
The Mercedes-Benz 600SEL was quite impressive in its time, with a host of innovations and a generous amount of space. While it appears bulkier than the older extended-wheelbase S-class sedans, it's actually shorter, with sweeping body lines that extend upwards towards the tail, forming a gentle wedge profile.
The 600SEL is surprisingly faster and roomier than the pricier Bentley Turbo R. Powering the 1993 four-door Mercedes sedan is a 6.0-liter V12 engine with an output of 389 hp and 420 lb-ft of torque. You can get a neatly used 1993 Mercedes-Benz 600SEL for less than $30,000 today.
2/10

1997 Mercedes-Benz CL600 – $29,754
The CL600 is perhaps the rarest Mercedes-Benz production car in 1997 and still manages to come at an affordable price today. It may lack the feel of a Bentley, but it comes with svelte luxury and an array of technologies for comfort and safety.
The ride quality of the CL600 is good at any speed, and you can't help but appreciate this big, weighty car when driving on a twisting road. With its pillowy ride and cushioned seats, the CL600 is quite good for long-distance trips.
1/10

1973 Jaguar XKE Coupe – $16,900
The Jaguar XKE is a rare beauty that seems to be ahead of its time, as it offers a V12 engine from way back in the early 1970s. It's often compared to the Aston Martin, so you might want to grab one now for less than $20,000 before the classic car market realizes its true value.
The 5.3-liter V12 engine cranks out 237 hp and 285 lb-ft of torque. The big front grille, glassless headlights, clean lines, and classic curves make the 1973 XKE look good even besides modern cars.
Next: These Are The Slowest V12 Cars Ever Made